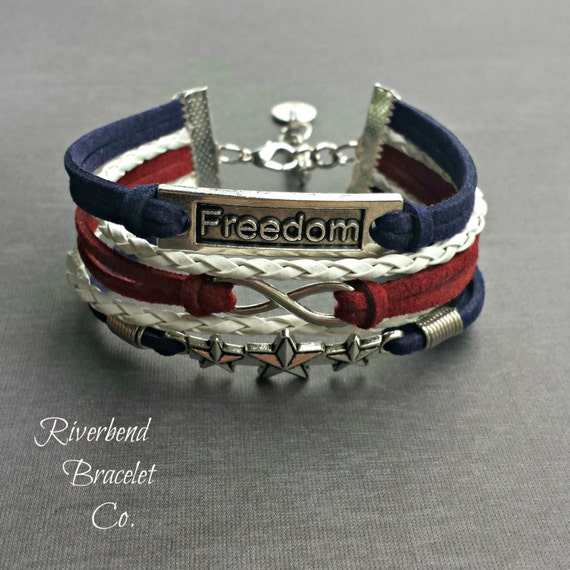 USA Bracelet, Patriotic Bracelet, 4th Of July Outfit Accessories
Freedom, Infinity, Stars Silver Charm Bracelet ⚓ Navy Blue and Burgundy Soft Leather with White Braided Leather ⚓ Measures 6.5 inches with a safety chain that extends to 7.5 inches ⚓ Finished with a Lobster Clasp and medium grade Stainless Steel Chain ⚓ Materials are Vegan friendly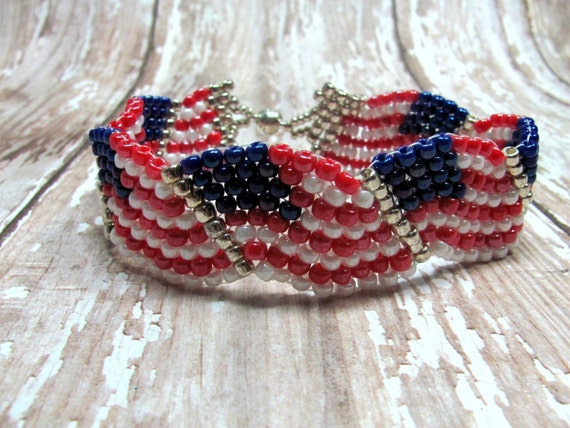 American Flag Bracelet
The American flag bracelet is made using opaque white, opaque dark red luster, opaque royal blue luster and permanent galvanized silver seed beads. The beads are stitched together using peyote stitch. In order to make the flags appear to be waving, I manipulate the peyote stitch with additional thread. What a beautiful way to show your support for the great American Flag!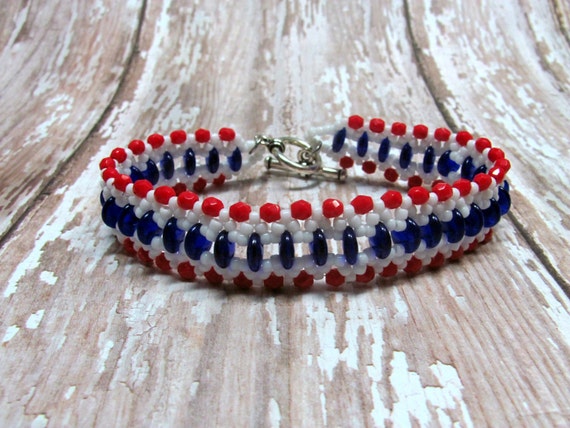 Patriotic Beaded Bracelet
The patriotic beaded bracelet is made using transparent cobalt blue 2 hole Czech glass lentil beads, opaque red Czech glass fire polished round beads, and opaque white Toho seed beads stitched together to create this fun little patriotic bracelet. Hip, hip hooray for the U.S.A.!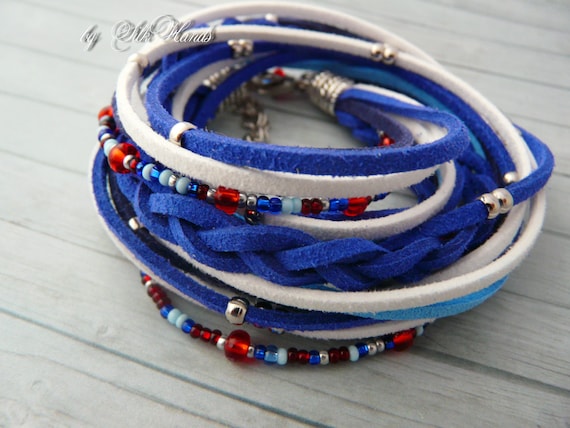 4th of July bracelet
Beautiful bracelet made of blue and white faux suede ( 3mmx15 mm), silver metalic beads & czech beads. This bracelet is made of 9 suede straps. Size : The length of bracelet is adjustable. Just select a size close to your wrist.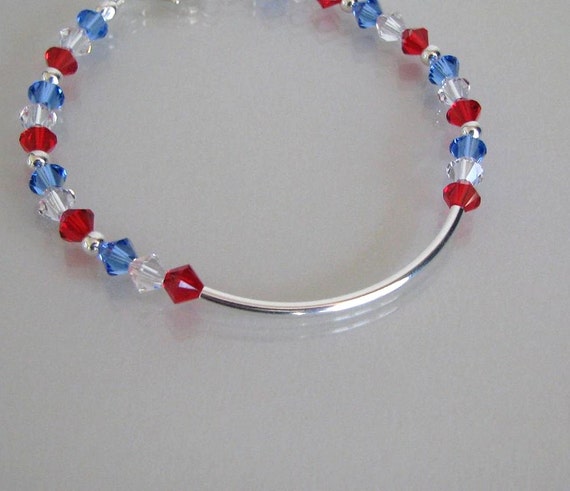 Fourth of July Bracelet, Patriotic Bracelet,
Celebrate the Fourth of July and all USA holidays by wearing this silver and crystal bracelet. Made with Swarovski crystals, 4 sections of red, clear crystal, and blue 5mm bicones, on placed on each side of the *Silver Filled tube bead. Each crystal section is has a *Silver Filled bead separating them. The bracelet measures 7 inches with a 1 inch *Sterling Silver Filled extender and Swarovski crystal hand wired at the end and a *Silver Filled lobster clasp for closer.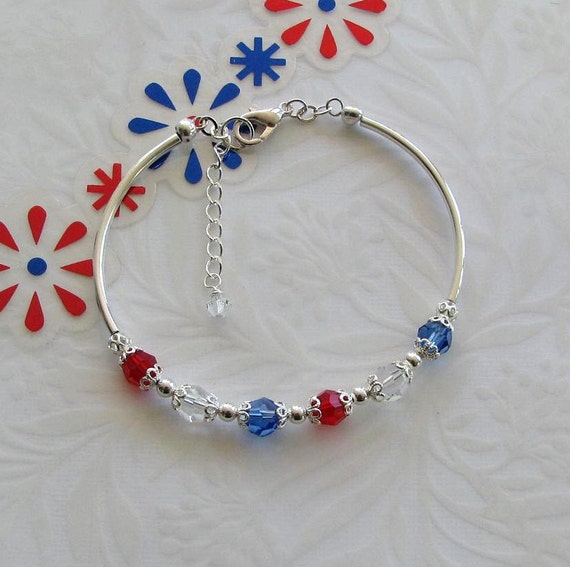 Patriotic Red White Blue Jewelry
Celebrate the Fourth of July and all USA holidays with this red, crystal, and blue bracelet. Made with Swarovski crystals, each crystal has a silver plated bead cap on each side then separated by a silver plated bead. Silver plated cut out beads meet the silver plated bead tube that completes the bracelet.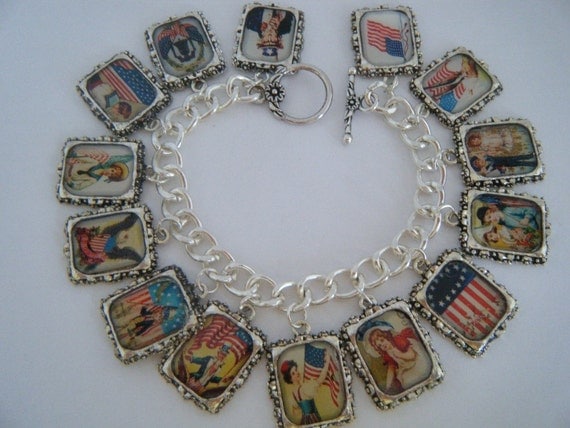 Charm Bracelet Vintage Patriotic July 4th Altered Art
Vintage patriotic pictures perfect for July 4th, Memorial Day, Veterans Day or any day that you want to show your patriotism. Fourteen pictures on a beautiful bracelet made of curb chain with a toggle clasp. Each picture is in its own frame and has been treated with a resin that will not yellow or crack. The bracelet measures 7 1/2 inches long and I can adjust larger or smaller with no extra charge. Each bracelet is hand made when you order it. I will begin working on yours the day you order it and it will be shipped out as soon as it is finished.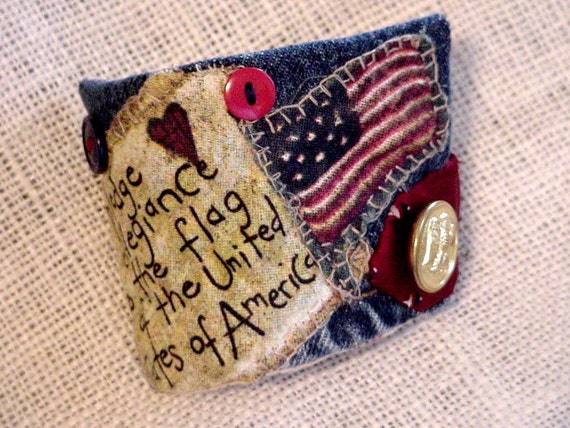 Patriotic Denim Bracelet Original Collage Handmade Blue Jean Shabby
Handmade, original one-of-a-kind item, designed and handcrafted by me, OOAK.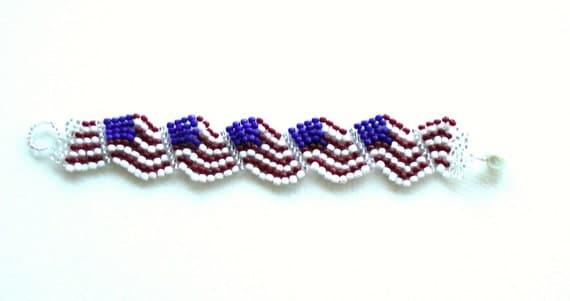 American Flag Bracelet, Patriotic Bracelet, Wavy American Flag Bracelet
Wavy American flag patriotic bracelet . This popular design is made using Peyote Stitch. I love it! This bead weaved bracelet looks great on the wrist! The closure is easy with the loop and the pearl bead.The weaving makes it a little stretchy, so it is very comfortable to wear. Please send me a message if you desire another length. Will be sent to you in a nice gift box.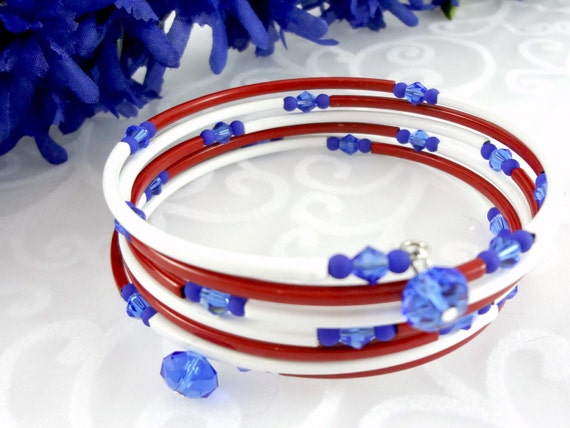 Patriotic memory wire bracelet, Red White & Blue memory wire bracelet, 4th of July bracelet,
Patriotic memory wire bracelet made by me.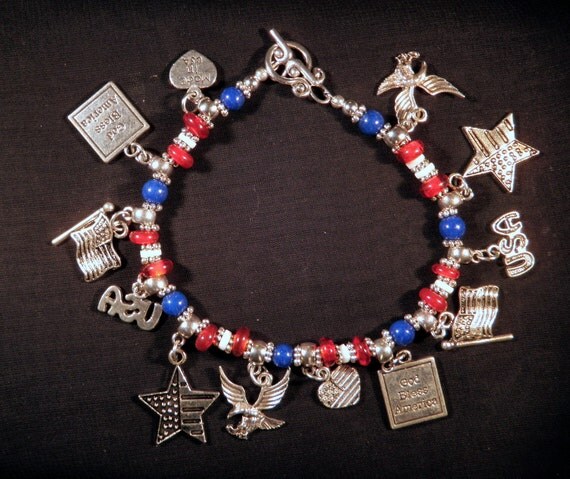 Patriotic Beaded Charm Bracelet
8" long charm bracelet of red, white and blue glass beads with Tibetan silver charms. The 12 charms include 2 each of flying eagle, flag, heart, star, usa, God bless America square. Easy to use toggle is closure that anyone can operate. Tibetan silver does not need maintenance to keep its color so you can wear this bracelet all you want without a care.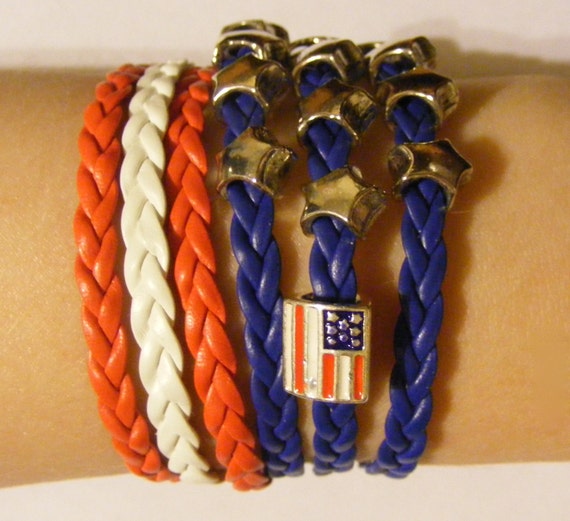 USA Bracelet, USA jewelry
Show off your patriotism with this gorgeous USA flag bracelet! It features a USA flag charm, along with fifteen star charms. It is made out of 100% genuine leather, and fits wrist sizes from 6.5 to 8 inches. It can be made smaller or larger upon request.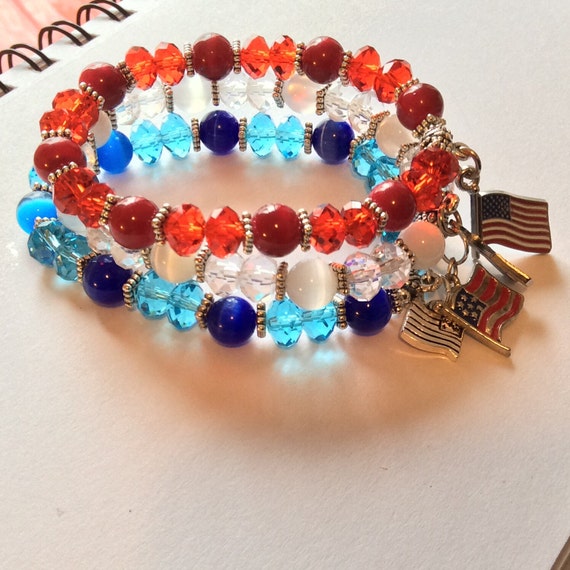 Patriotic charm bracelet trio
Handmade stretch bracelets. Red white and blue cats eye beads 6mm and Chinese Crystal with square spacer beads. Finished off with American flag charms. As with any stretch bracelet there is a chance for breakage to lessen that chance please always roll your bracelets on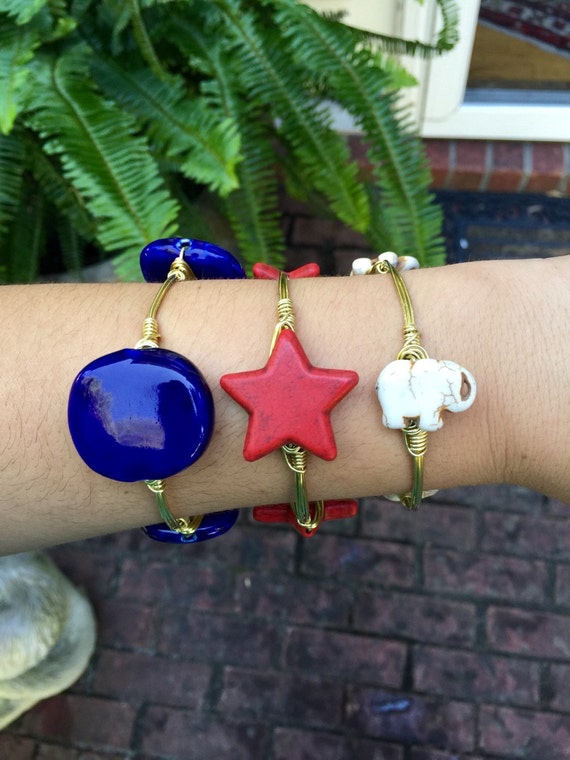 The Republican Stack, Set of 3 Gold Wire Wrapped Patriotic Bangle Bauble Bracelets, 1 White Elephant, 1 Red Star, & 1 Blue
The Republican Stack, Set of 3 Gold Wire Wrapped Patriotic Bangle Bauble Bracelets, 1 White Elephant, 1 Red Star, & 1 Blue Oval. Can be casual or formal and make perfect gifts, I offer free gift wrapping if requested! PLEASE INCLUDE YOUR DESIRED DIAMETER WHEN ORDERING. THE 3 OPTIONS ARE: 1) 2 1/2 inches (smaller wrist) 2) 2 3/5 inches (standard wrist) 3) 2 3/4 inches (larger wrist)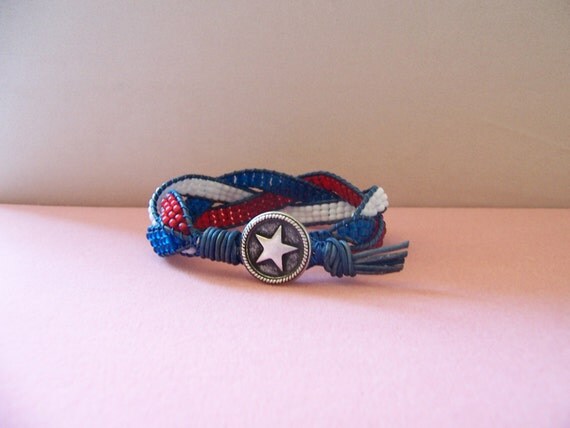 Patriotic Red White Blue Beaded Braided Leather Wrap Bracelet
This patriotic braided wrap bracelet is made with distressed denim blue leather cord and red, white, and blue seed beads. It will comfortably fit a 6 to 6.5 inch wrist. A silver plated star button secures the bracelet. Feel free to contact me with any requests or questions regarding the bracelet. Thanks!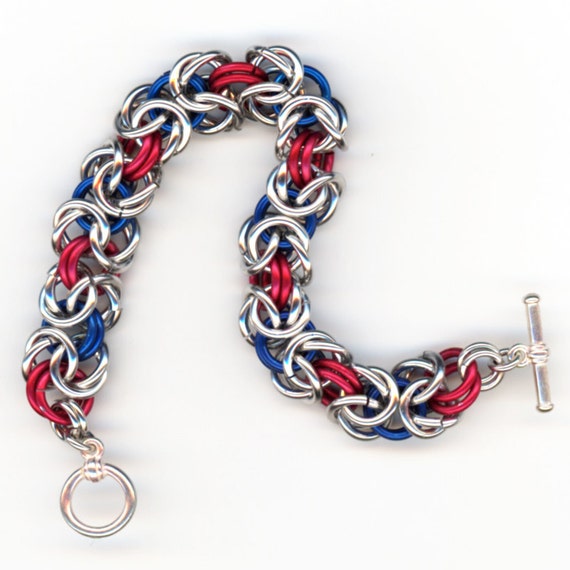 Bracelet Red, Blue Silver, Patriotic, Chainmaille Custom Fit
This bracelet is red, blue and silver and makes a patriotic statement with its chainmaille rings in a weave pattern called Byzantine. The pattern of bright rings repeatis to all four sides of the bracelet. Two opposite sides of the bracelet use red and silver rings as a focal point and the opposite sides use blue and silver. You can see this in the various images. Wearing the bracelet will make red and blue mix and sparkle against the shiny silver color rings. A toggle clasp makes it easy to put the bracelet on.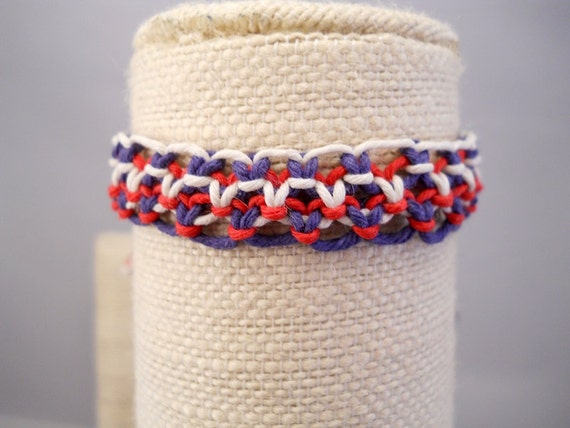 Red, White and Blue Patriotic Adjustable Hemp Bracelet
This bracelet is handcrafted using red, white and blue hemp. This bracelet is made with a slightly wider pattern that has a width of 1/2". This patriotic bracelet is adjustable to fit multiple sizes. Adjusts from: 5"-10.5"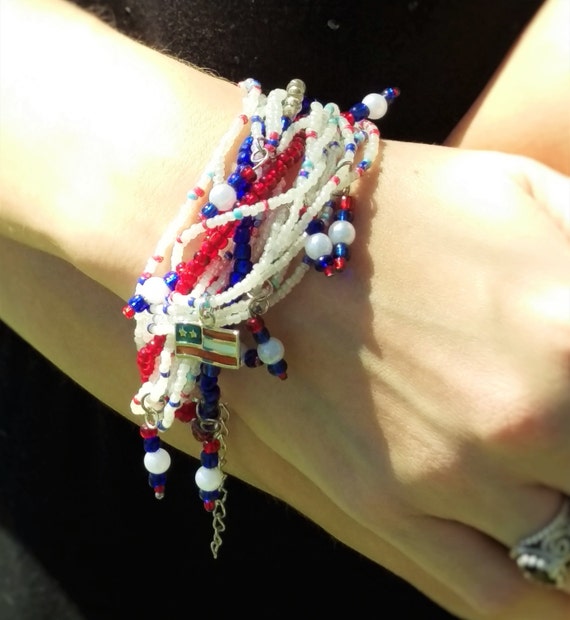 USA - Patriotic Beaded Bracelet
This listing is for one handmade bracelet. Red, white, and blue stand out on this lovely bracelet with it's flag charm front and center. It has a lobster clasp with an adjustable chain that can be adjusted for a 6 1/2 inch wrist up a 10 inch wrist.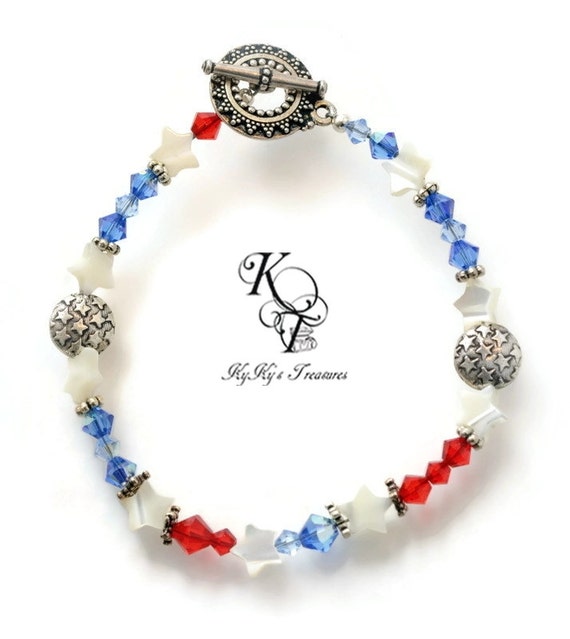 Red White and Blue Bracelet, July 4th Jewelry
Show your patriotism with this lovely bracelet featuring light sapphire, sapphire and light siam (bright red) Swarovski bicone crystals and shimmering mother of pearl star beads. Antique silver star shaped spacers add fun depth. Closes with an antique silver, bali style toggle clasp. **Please note, the pattern of the beads may change slightly depending on the length chosen**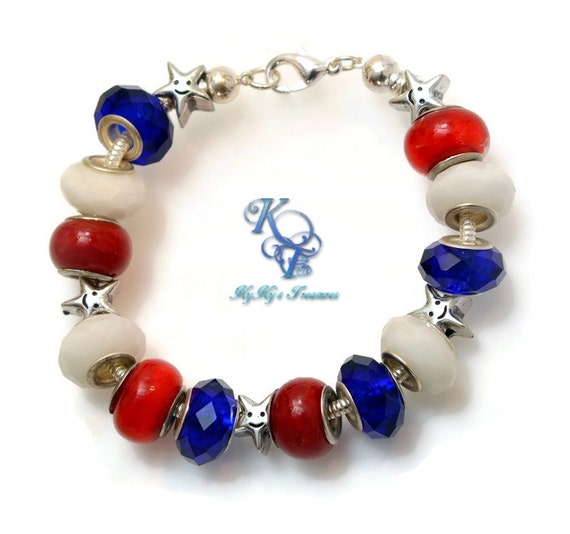 Patriotic Bracelet
Show your patriotism this fourth of July with this super fun bracelet featuring genuine MIOVI large hole beads in assorted red, white and blue crystals. Adorable silver plated smiling star beads space every third crystal. The beads are strung on a silver plated snake chain that closes with a lobster claw clasp. Measures 7".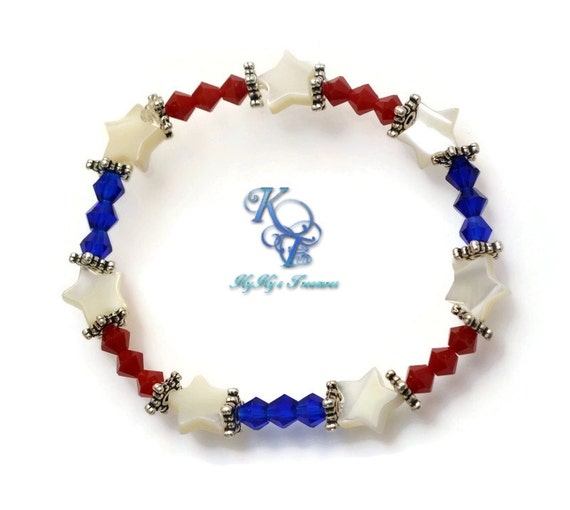 Patriotic Bracelet, Fourth of July
This adorable fourth of July bracelet features brilliant capri blue and red 4mm Swarovski bicone crystals and shimmering mother of pearl star beads. Antique silver star shaped spacers add fun depth and texture. The bracelet is elastic and strung on sturdy elastic bead cord. Measures approximate 5" but will stretch up to 6.5".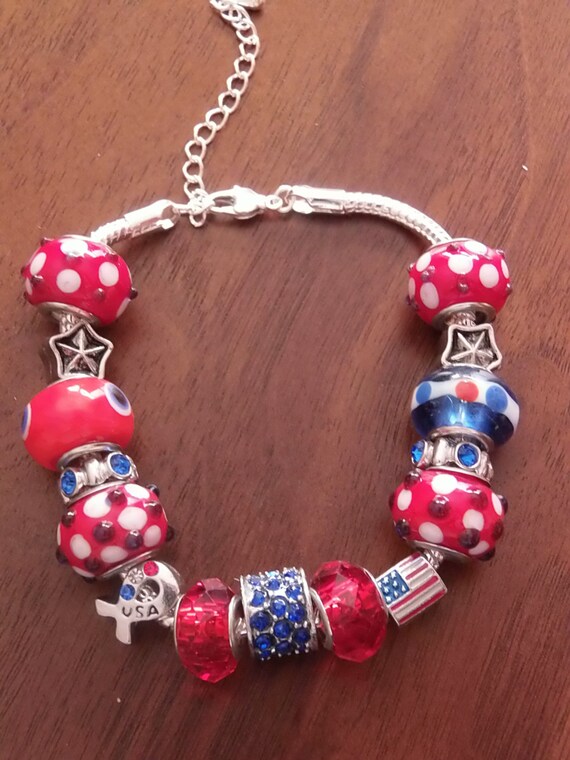 Patriotic Charm Bracelet
Patriotic theme charm bracelet. Silver snake chain bracelet measures 7 inches each and have a 2.25 inch extender chain.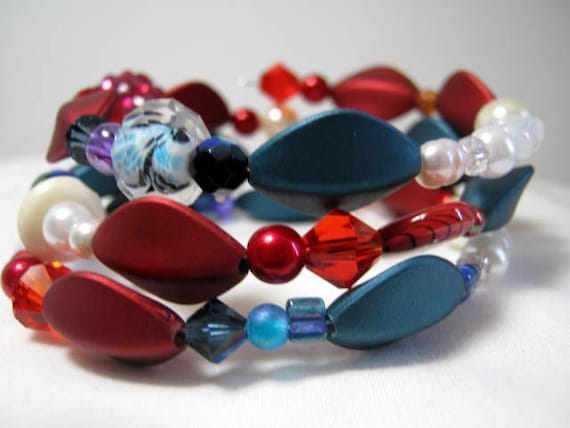 Red White and Blue Patriotic Memory Wire Wrap Bracelet 3 Coil Stackable Jewelry
Three coils make up this beautiful red white an blue patriotic memory wire bracelet. I used a variety of red, white, and blue beads to make this bracelet. Some are seed pod beads. Others are tiny glass pearls. The beading wire is silver and both ends have been turned.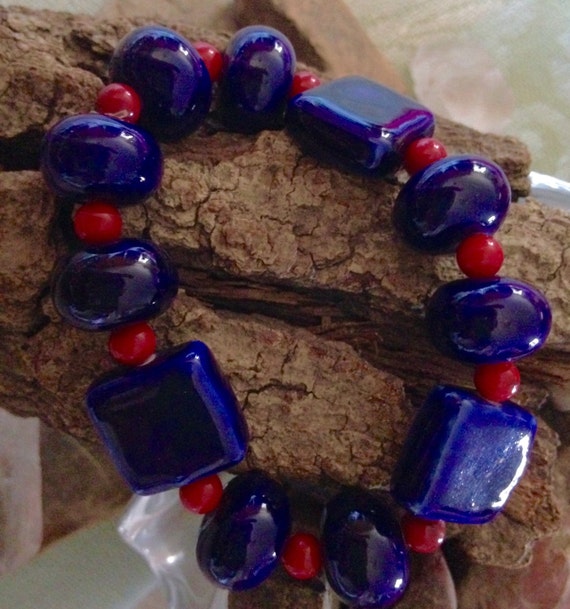 Patriotic Stretch Bracelet
Show your patriotic pride any time with this stretchy bracelet! 14mm by 10mm rondelle navy blue glazed ceramic beads, 16mm square navy blue glazed ceramic beads and 6mm red glass beads; bracelet is about 7.25 inches diameter.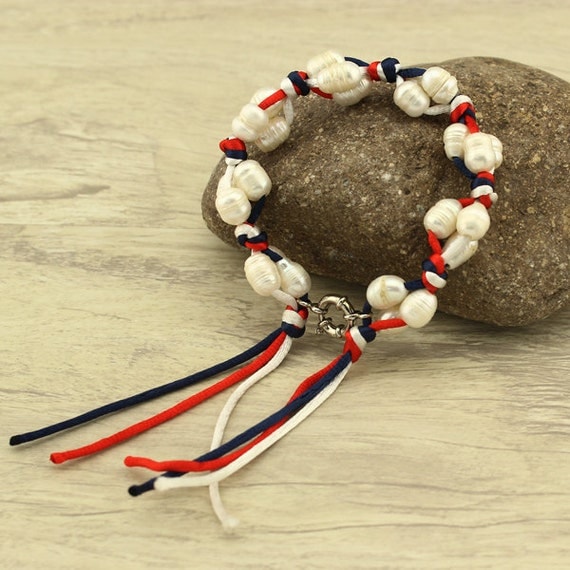 Patriotic bracelet,Freshwater pearl bracelet
Patriotic bracelet,Freshwater pearl bracelet,pearl bracelet,Fourth of July Bracelet,July 4th Bracelet,Independence day pearl bracelet,J-B342 Length: 20 cm Grade: AA Material : freshwater pearls Size: 9-10 m Color: as pic Hole size: 2.5 mm Shape: rice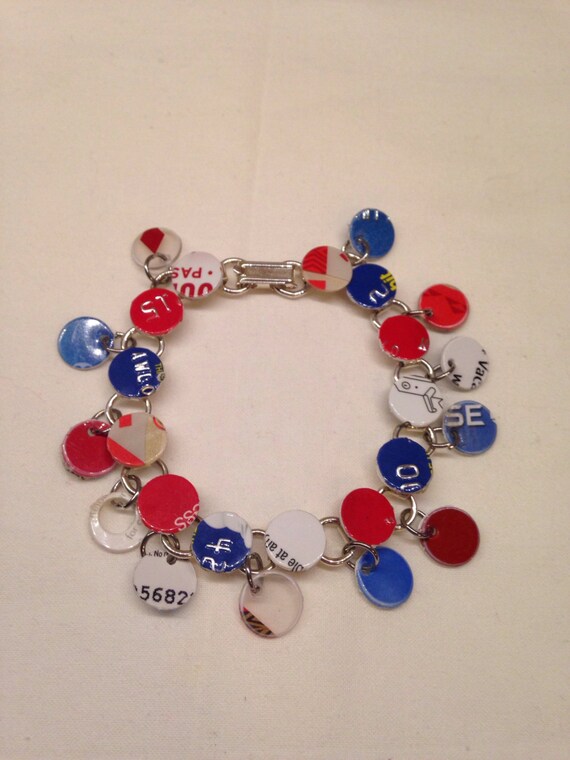 Recycled Gift Card Upcycled Repurposed Bangle Bracelet Patriotic USA Swinger- 8" Double Dangle Silver Bracelet
Just Plain Jane's love for the USA runs deep like the colors of this red white and blue colored bracelet. This bracelet is a fun reminder to keep shopping and recycling. Each gift card is cleaned and cut. It measures 8 inches long. A Fold over silver plated brass clasp finishes the bracelet making it easy to take on and off. A silver plated link bracelet is embellished with the freshest recycled gift cards from my favorite shopper in Nebraska and Colorado. Add this and maybe a pair of matching earrings to your cart and Ill have them in the mail for you in a day!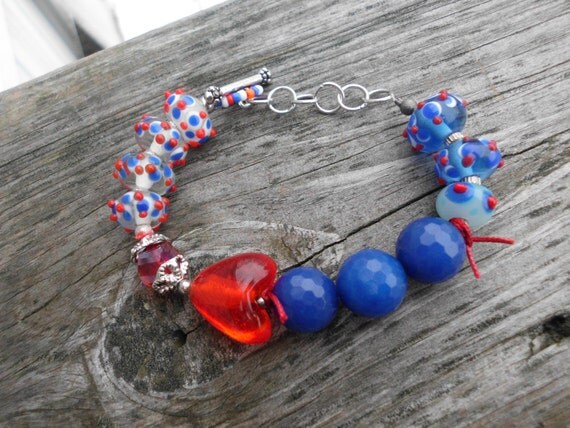 Chunky statement bracelet
This beautiful bracelet is made for a 7" wrist and unfortunately I'm unable to resize. Details: silver plated toggle clasp with handmade beaded closure. 3-13mm faceted blue agate beads, a red lampwork glass heart, a pretty faceted abred glass bead capped with silver bead caps, and different bumpy lampwork glass beads.There are different silver spacers including stardust beads and more.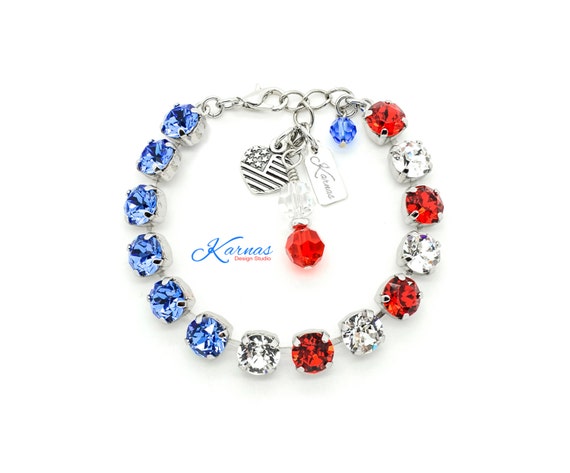 LADY LIBERTY 8mm Bracelet Swarovski Elements
This is one of our exclusive seasonal pieces inspired by the upcoming holiday! This 8mm bracelet made with Sapphire, Crystal, and Light Siam Swarovski Elements was designed to resemble the American Flag and reflect our love of independence and freedom. This is definitely a patriotic sparkler! We are showing the Rhodium setting in our photos and are only offering the Made In USA/Flag charm in the silver finishes. The adjustable bracelet length is 6.5-7.5"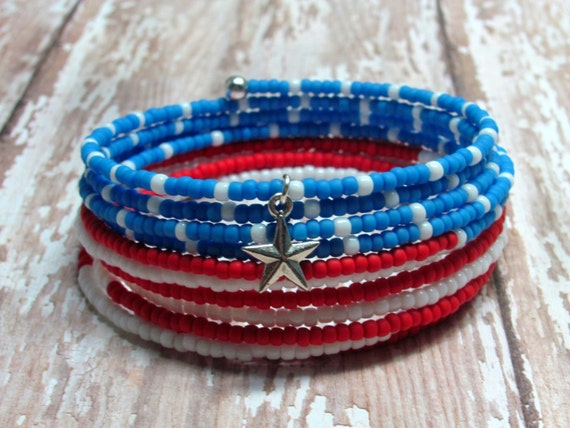 Seed Bead Memory Wire Bracelet, Patriotic Bracelet
The seed bead memory wire bracelet is made using matte opaque pepper red, matte opaque cornflower blue and opaque white large size seed beads strung on silver memory in a modified flag pattern. The bracelet is adorned with antique silver plated pewter star charm. Have fun with this cute Patriotic bangle bracelet! The seed bead memory wire bracelet is basically a one size fits all bracelet, up to and 8 1/2" wrist. The ends of the bracelet are silver plated memory wire end cap beads.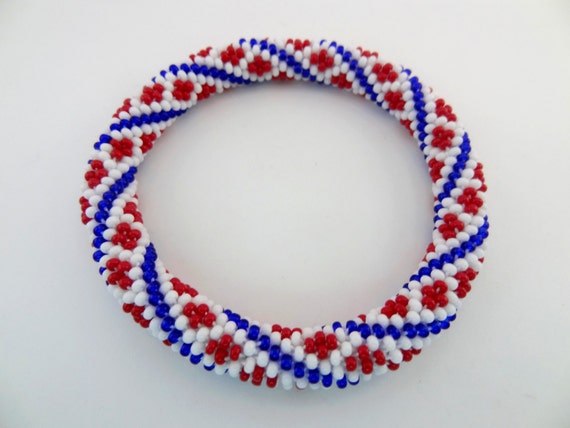 Nepal Roll on Bangle / Patriotic Bracelet
Beautiful patriotic red,blue and white beaded crochet bracelet,beaded with glass seed beads. Easy to wear,just roll them on your wrist. For different look,you can stacked with other jewelry. One size fits all.
Go To
4th of July Bracelets Page TWO
Go To
4th of July Bracelets Page THREE
Go To
4th of July Bracelets Page FOUR
Go To
4th of July Bracelets Page FIVE
Go To
4th of July Bracelets Page SIX
Go To
4th of July Bracelets Page SEVEN
Go To
4th of July Bracelets Page EIGHT
Go To
4th of July Bracelets Page NINE