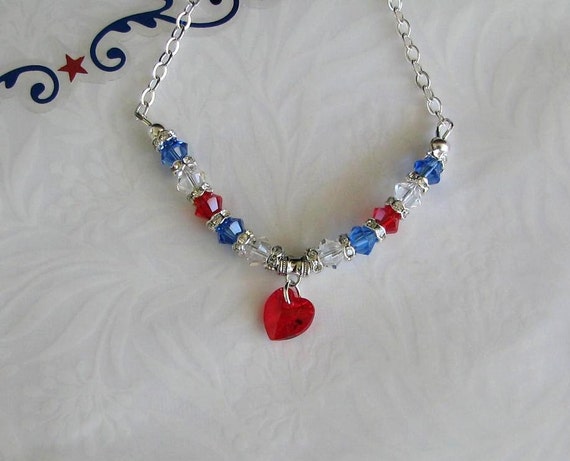 Patriotic Necklace, Patriotic Jewelry, Veteran Jewelry
Celebrate the Fourth of July and all USA holidays with this red, crystal, and blue necklace. Made with Swarovski crystals, each crystal works its way up from a silver plated connector with a Light Siam heart that dangles from the center of the necklace to silver plated soldered chain. Separating each crystal are beveled rondelles that add elegance to this necklace.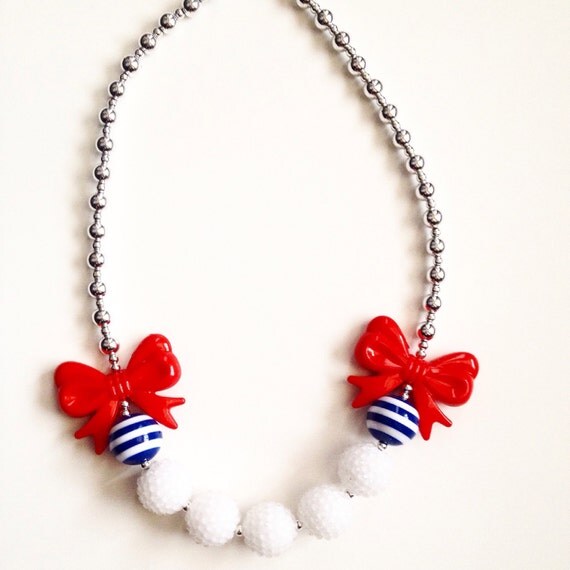 Patriotic red bow necklace
Red bows, white beads, blue stripes and silver beads. Perfect for any patriotic holiday!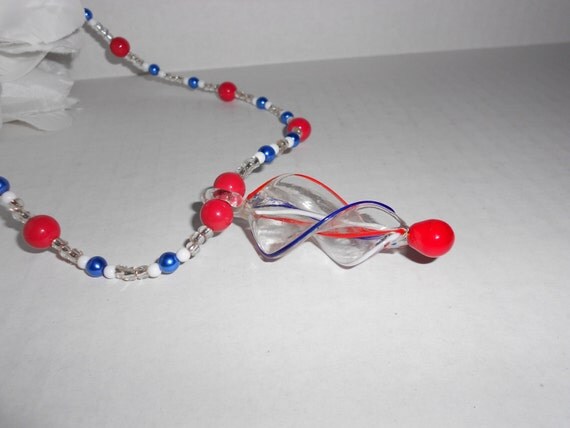 Patriotic Glass Twist Necklace
Clear beaded necklace with red, white and blue accent beads that match the glass twist pendant in the same colors. The necklace measures 23 inches long and is fastened with a silver colored heart shaped toggle clasp. The pendant measures 3 inches long by 1 1/4 inches wide.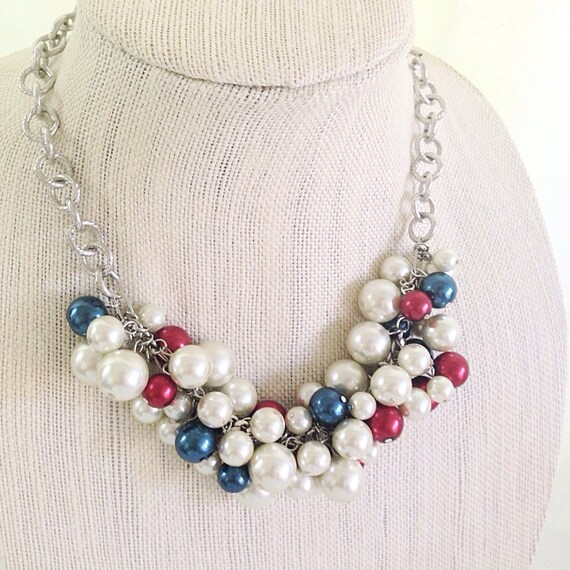 SALE-Patriotic Bib Necklace July Fourth Merica Red White Blue Pearl Star Charm
Red white and blue pearls make up a patriotic statement! Pearls are set in a cluster fashion and attached to a chunky silver chain Adjusts from approximately 18-20 inches Silver lobster clasp Cute star charm has been added to the closure of the necklace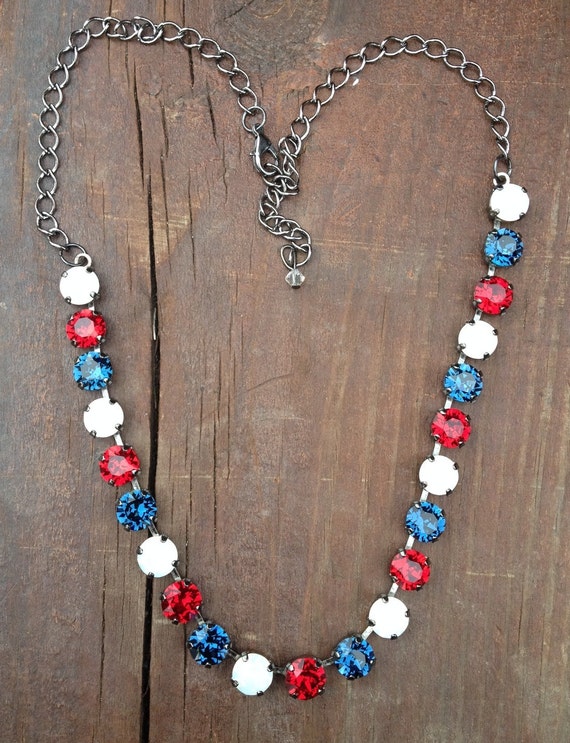 Swarovski Crystal Necklace- USA Proud Patriotic Necklace in Red, White Opal, and Blue
22 Box Swarovski crystal necklace featuring twenty-two 8.5 mm crystals in white opal, red, and blue. This necklace is perfect for summer and all of the summer holidays! Necklace is shown in an hematite setting but can be made in antique silver, shiny silver, copper, or antique gold upon request. All settings are of high quality with rounded prongs to reduce snagging.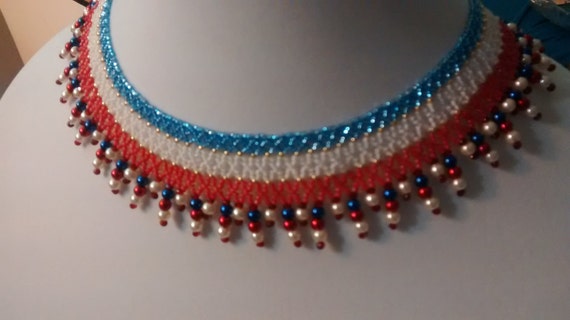 Red, white and blue Egyptian collar.
Red, white and blue Egyptian collar.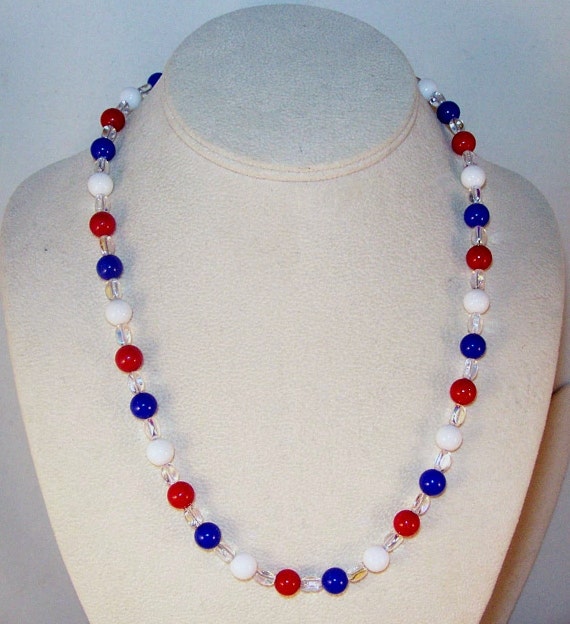 Gemstone & Swarovski Crystal Jewelry - 4th of July Necklace and Earrings
Pretty and fun, this 19" neck is colorful enough to wear anyday. 3 colors of Mountain Jade - Red, White and Blue spaced with sparkling clear AB tri-oval crystals. Necklace has a silver lobster claw clasp and I added a 3" silver extension. The matching earrings have tiny Swarovski crystal stars. I have the earrings showing here on French hooks but I can change them to posts or lever-back earrings if you prefer. Just send me a message with your order and I'll change them for you.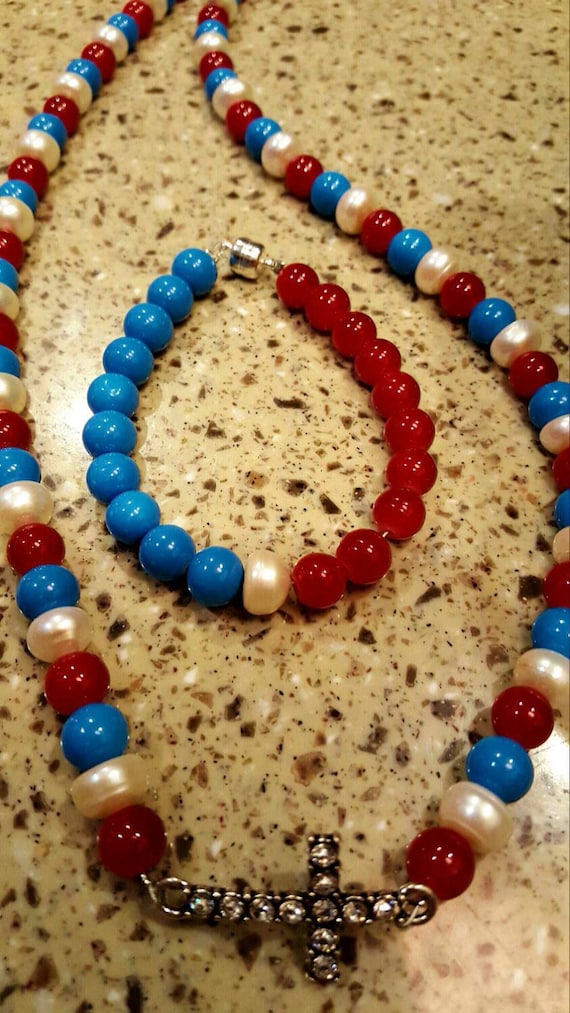 American Colors, Red and Blue Acrylic Beads White Fresh Water Pearl Buttons Silver Rhinestone Adorned Cross, USA
A long 26 inch single strand necklace with very patriotic colors. Red and blue beads are 8mm acrylic beads. It also has 10 mm white freshwater pearls. In the center is a 1 inch silver cross with little clear rhinestone crystals. Matching red white blue bracelet. Bracelet has the same beads with one freshwater pearl. Bracelet is 7 inches long but can be made longer or shorter.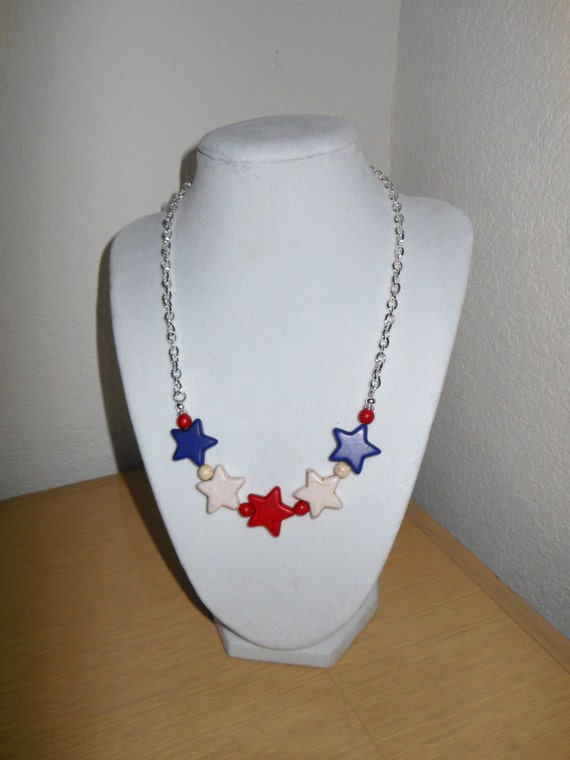 Star Power/Genuine howlite star beads in red white and blue
This necklace I have made with Genuine howlite star beads measuring 20mm each in red white and blue. I have used rounds between the stars at 6mm. I have added a thick cable chain with a lobster claw clasp for closure. Necklace is 18 inches long. This necklace makes a beautiful patriotic statement. Thank you so much for viewing this item, hope you love it.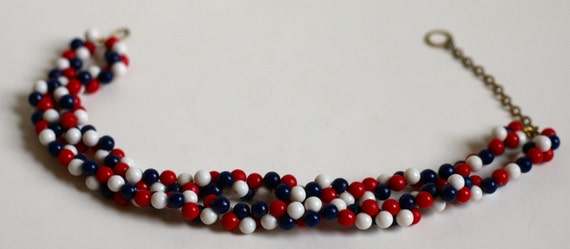 Red White and Blue Double Strand Vintage Choker
Beyond patriotic and super cute braided style beaded choker. Layers measure 12 & 13 inches and come together with a hook clasp and has a 3 inch extender.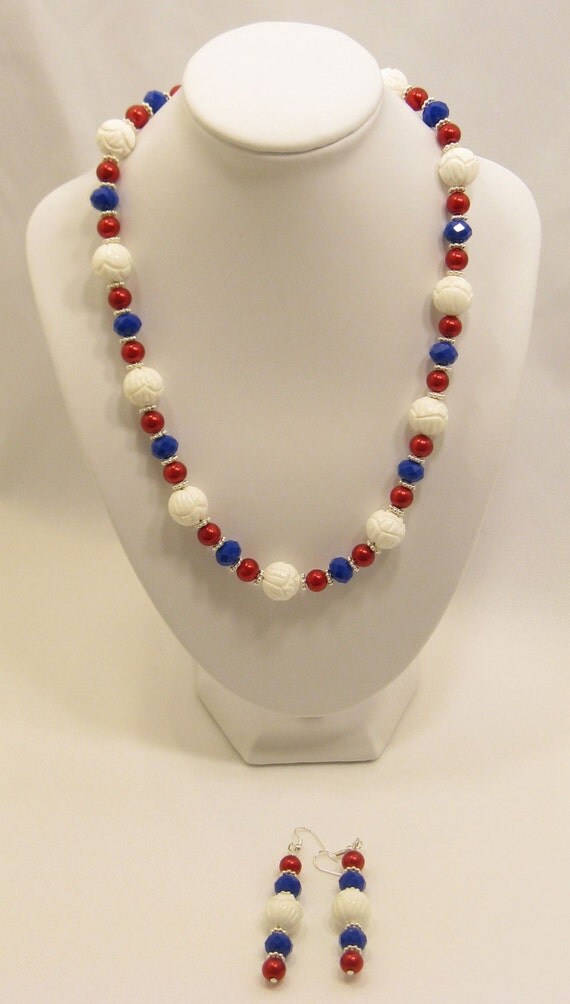 Red, White, and Blue 19" Necklace with Matching Earrings.
Are you patriotic? Proud of your Country? With US elections coming up next year, Republicans, Democrats and Independents may just find a reason to wear this.. This is a great piece made of blue crystals, red glass pearls and white carved stone beads complemented with silver tierracast findings. The earrings hang down just under 3" long.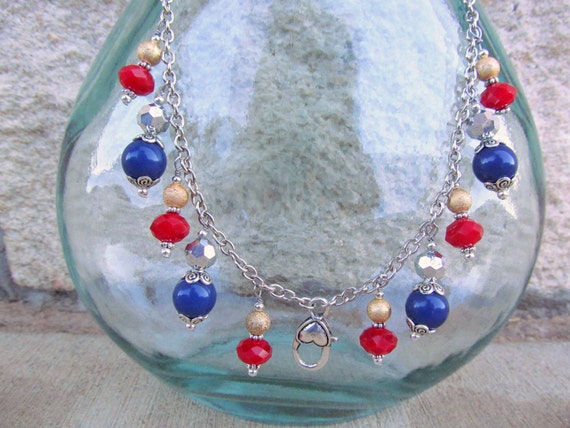 Treasure Keeper Necklace - Lady Liberty
This is base metal chain necklace features the patriotic colors of Red, White, Silver, Gold and Blue 17" length, toggle closure. Lobster clasp is perfect for displaying your favorite Madam Nina Pendant! Madam Nina can lengthen or shorten chain to meet your needs.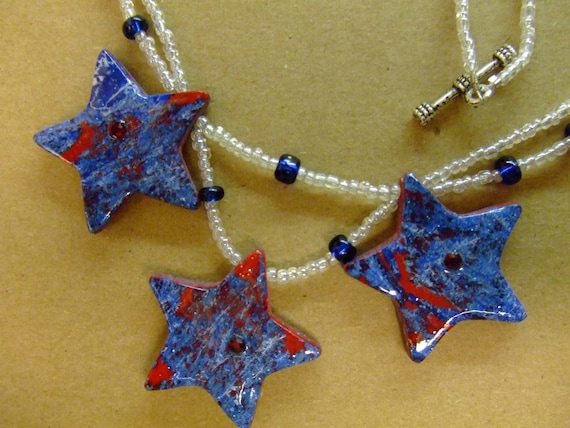 Star Spangled Necklace
Photos of the stars do not give this patriotic necklace justice. Spacing of 7 and 6 were used to represent the 76. Stars measure 1.25 inches, are made of polymer clay and glazed with a high gloss finish. All coloring is made from the clay with a swaroski crystal added to each star.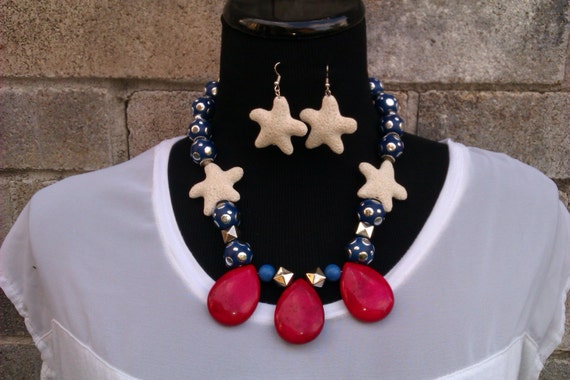 Lava Rock, Natural Stone, and Clay Necklace & Earring Set
This beautiful statement necklace is stunning in patriotic red, white, and blue. It is composed of red natural stones, blue clay beads, and white lava rock stars that make this anywhere from date-ready to beach-ready! Dress it up or down--wear it with your favorite dress or with a t-shirt and jeans. It's perfect for your boho outfit or a patriotic celebration.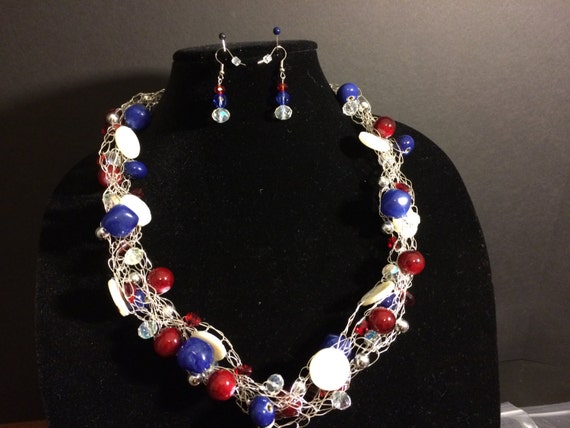 Red White and Blue Necklace and Earrings
This light weight crocheted beaded necklace is made of permanently colored and tarnish free silver wire and crocheted with an assortment of white mother of pearl shell beads, blue and red glass beads, white and silver metallic beads, red and clear crystal beads. A beautiful color combination for a patriate or Armed Service Supporter! This one of a kind necklace can also be worn on any occasion, you can dress it up or wear with jeans and a sweater to run errands or out to lunch with friends. This necklace measures 26 inches long, a little over 1-inch-wide and has 6 strands of beads and includes a Toggle clasp. The matching dangle earrings are included.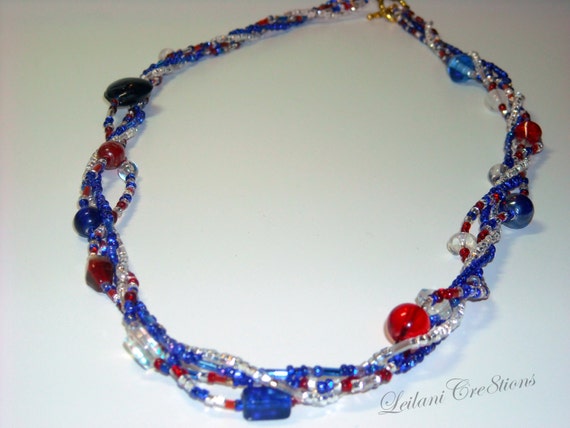 Red, White, & Blue Glass Bead Necklace, 4 Strand Seed Beads
Beautiful Red, White, & Blue Patriotic Necklace made with Glass Beads, Handcrafted - approximately 25" long - gold tone heart shaped toggle clasp - necklace is four strands of intertwined red, sparkling clear, white and blue seed beads & occasional tube beads with larger red, white, and blue glass beads mixed in throughout - one strand is solid blue, second strand is sparkling clear/white, third and fourth strands are assorted red, white, and blue beads - great for yourself, or makes a great gift.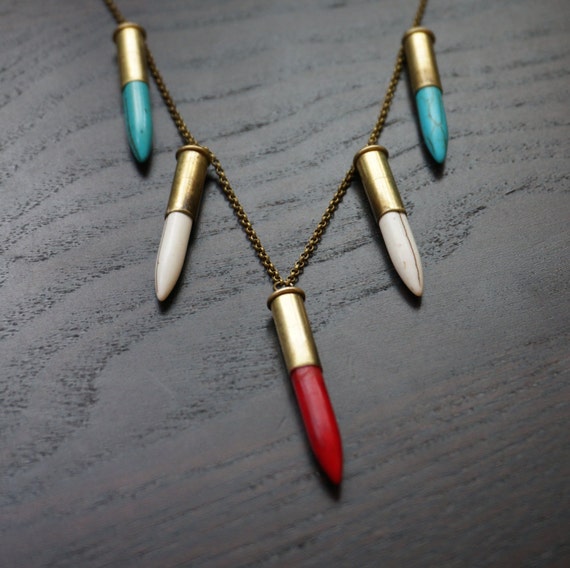 All American Bullet Spike Necklace
.22 bullet casings with red, white & blue spikes hanging from an Antigue Brass chain. Necklace lays above bust on chest. Necklace has a 22" circumference.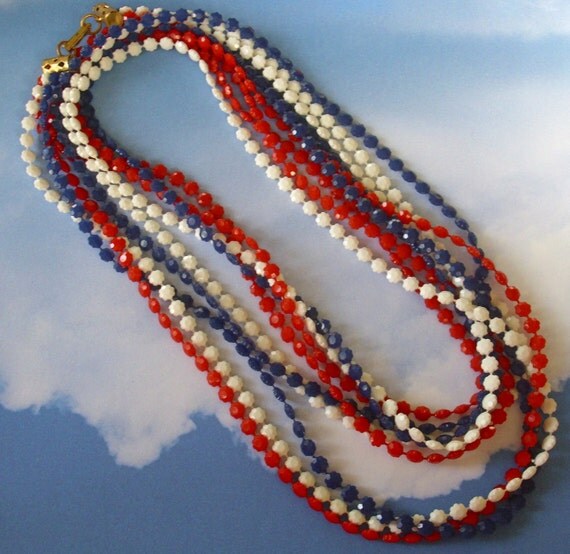 Vintage Red White and Blue Multi-Strand Necklace plus 2 pr Earrings
~Hi there!~ This is a Vintage lightweight plastic Red, White and Blue 3 strand little stars or flowers long Necklace in very good condition. It's 55" long with a fold over clasp. Plus 2 pairs of Vintage clip on Earrings: the blue pair are about 1" wide and the white dangle hoop earrings are 2" long.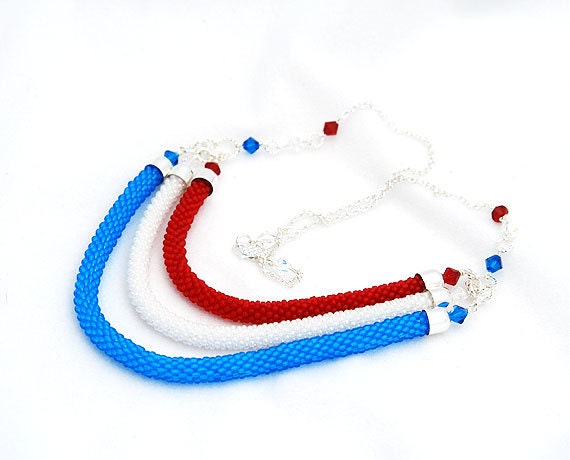 Red Blue White Crocheted Necklace
Stunning necklace crocheted using beautiful seed beads and complimented with Swarovski crystal. Necklace crochet on soft flexible cord makes it comfortable to wear and light weight. The necklace -- 23 inches (the short length) and 26 in.(the long length).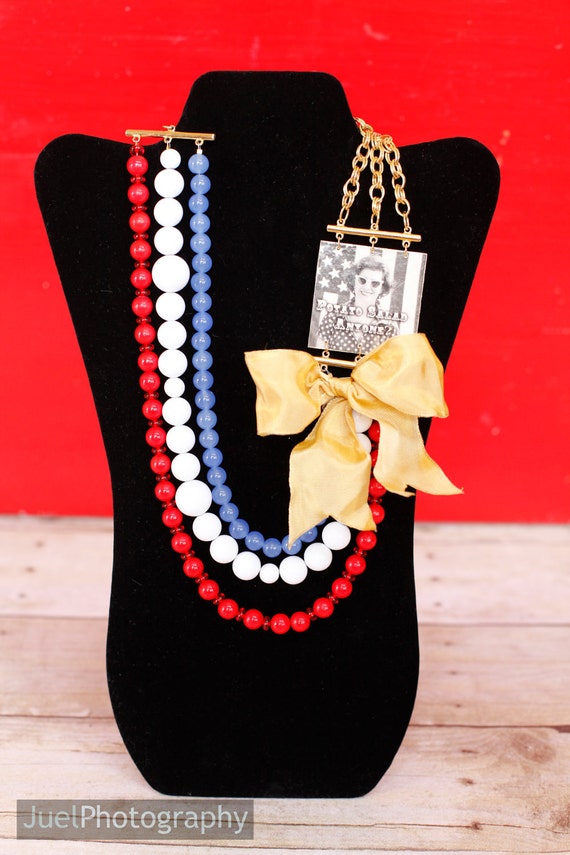 Handmade vintage red white and blue beaded necklace
This is probably one of my most favorite pieces I've created in the past 6 years!! This is my "Potato salad anyone?" beaded necklace. This necklace is actually inspired by my late grandma Harriet! She loved jewelry and she loved the 4th of July!! She also ALWAYS made her famous potato salad every year at that time. Vintage photo of this woman asking "potato salad anyone?" is framed by a triple strand of vintage red, white and blue beads and accented with a triple strand of gold chain along the side and back and an "old gold" grosgrain ribbon. Hook closure. Approx length is 20" of shortest blue strand and red strand is approx. 24 1/2" in length. Will look good with any collar type or strapped or strapless!! Wear with blessings!! I love you, grammy!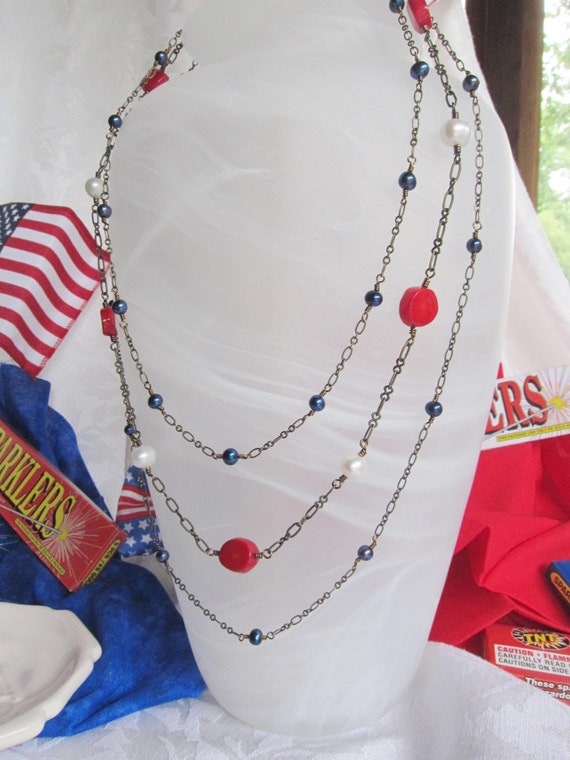 Red, White and Blue Necklace, Multple Strands, Summer Jewelry
This necklace is three strands of small Antiqued Brass Chain linked with Midnight Blue Cultured Pearls, Creamy White Cultured Pearls and Red Bamboo Coral Nuggets. It closes with a small Antiqued Brass Toggle Clasp. Lengths from longest to shortest: 23 1/2", 21", 18 1/2".