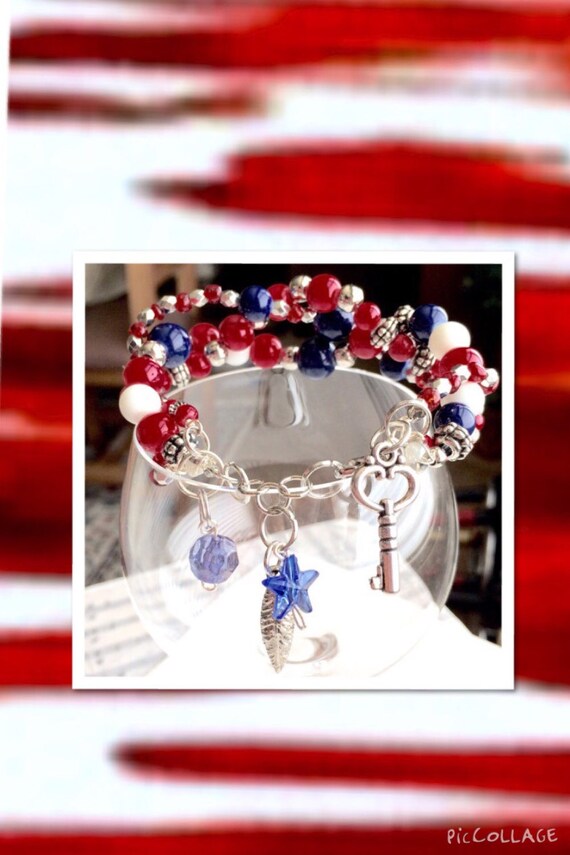 Red White & Blue Charm Bracelet
Creationlily Red White & Blue Charm Bracelet is made in silver wire, in 3 tiers, with red, white and blue acrylic beads and metal beads. It has a sweet vintage silver key charm, a clear blue star charm, a silver colored leaf charm and a clear blue faceted bead charm at its clasp. It's stylish, chunky and colorful!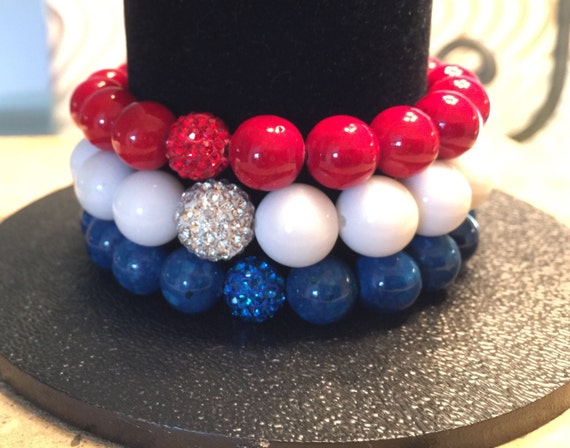 Red White and Blue Bracelet Set
This amazing set of bracelets will be a great addition to any wardrobe. Both beautiful and versitle enough to be worn one or two at a time, or as a set. The blue and red bracelets are both made with 10mm riverstone beads. The white bracelet is made with 12mm white jade beads. All three bracelets are accented with coordinating rhinestone beads.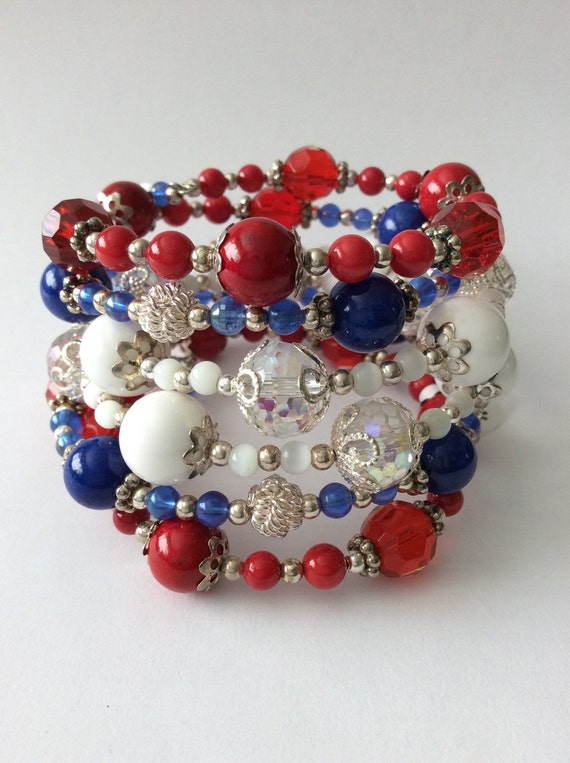 Red White Blue Bracelet, Womens Patriotic Bracelet
Love the Red White Blue combination. Includes gemstones, crystals, silver plated beading in this 6 rows which wrap around your wrist. About 3 inches wide, fits 7.0-7.5 inch wrist. All one piece. Handmade and designed by Josefina Jewelry.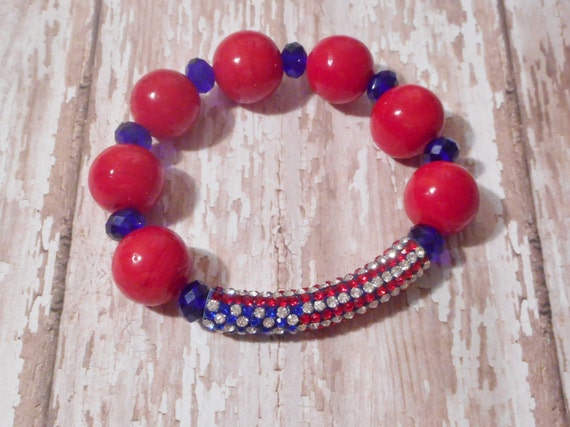 Rhinestone Flag & Glass Beads Stretch Bracelet
Stretch Magic cord is used to hold beads. Stretch bracelet is 7-7.5 inches in diameter. Beads are a mix of glass, acrylic, and stone. Perfect for special or everyday wear!! Ready to ship!!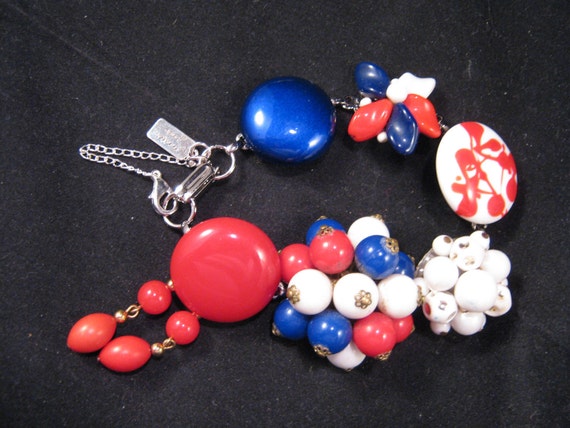 Reclaimed, Vintage Bracelet, Vintage Earring Bracelet, Cluster Earrings,
I just purchased a fresh supply of vintage earrings and most of these fell out of the box together - seems as though they thought they belonged with one another and I couldn't agree more! Beautiful in red, white and blue are six vintage earrings, three of which are clusters and three of which are half-domes (one of the half domes has two dangles attached for some extra flirtatiousness). I like this so much that I may make another one that's very similar to this but then I might be tempted to keep that one for myself! I have added a bit of vintage chain for security and my signature in sterling silver. I think that if Betsy Ross herself were here, this is the bracelet she would choose!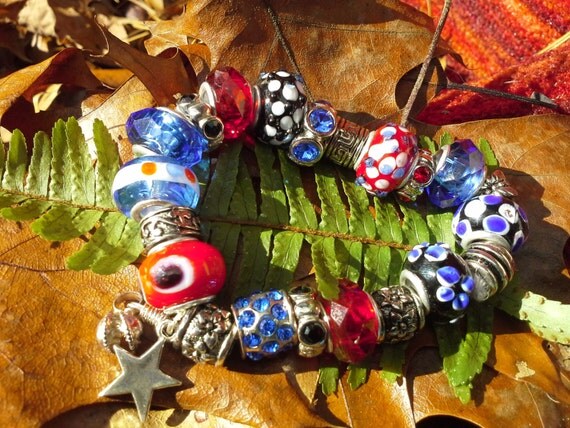 Lampwork/beaded/charm bracelet
This makes me think of the 4th of July. Very patriotic with a star charm. These beads are pretty with eyecatching color! Makes a nice sound when the charms bounce around. This bracelet will fit a 6-6.5 inch wrist. It is made with stretch material, doubled for extra security. Easy on and off, no struggling with clasps.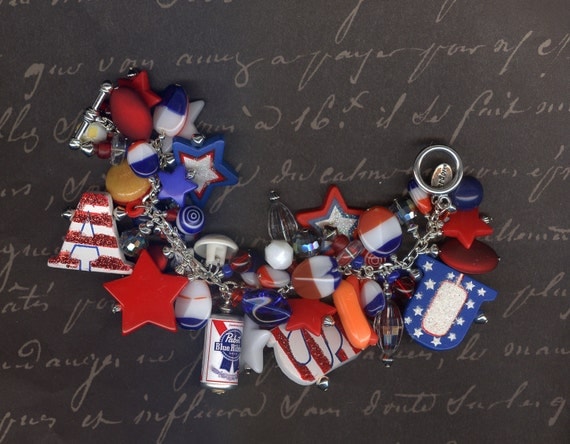 USA red white blue bracelet election Jewelry plastic charm bracelet
An eclectic One of a Kind mix of vintage and newer nostalgic plastic gumball machine and Cracker Jack charms including Pabst Blue Ribbon, hot dog, hamburger, USA, and lots more on high-quality sterling silver plated bracelet with a toggle clasp measuring close to 8 1/2 inches.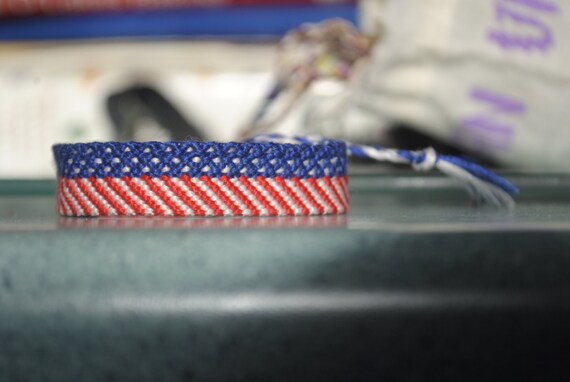 American Flag Thick Bracelet
This bracelet is made in an American Flag pattern. The end has two braids for attachment through a loop at the beginning of the bracelet. The woven part of this bracelet is 5 ½ inches. Total bracelet length is approximately 10 ½ inches. The width of this bracelet is about ½ inch.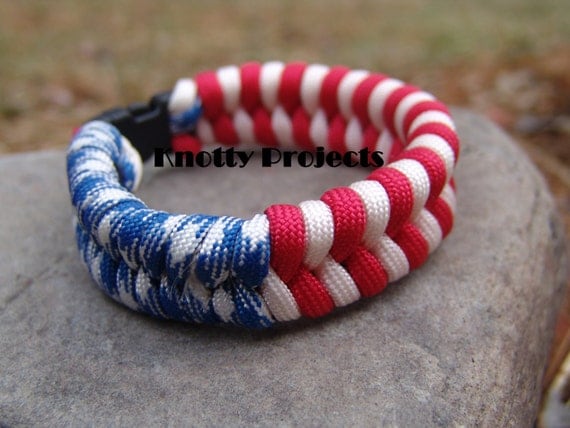 American Flag Paracord bracelet
Handmade from 550 paracord. Fishtail braid designed to look like the flag. Both comfortable and eye catching, great for the 4th of July or any time your feeling a little patriotic. please request size in the comment section when ordering.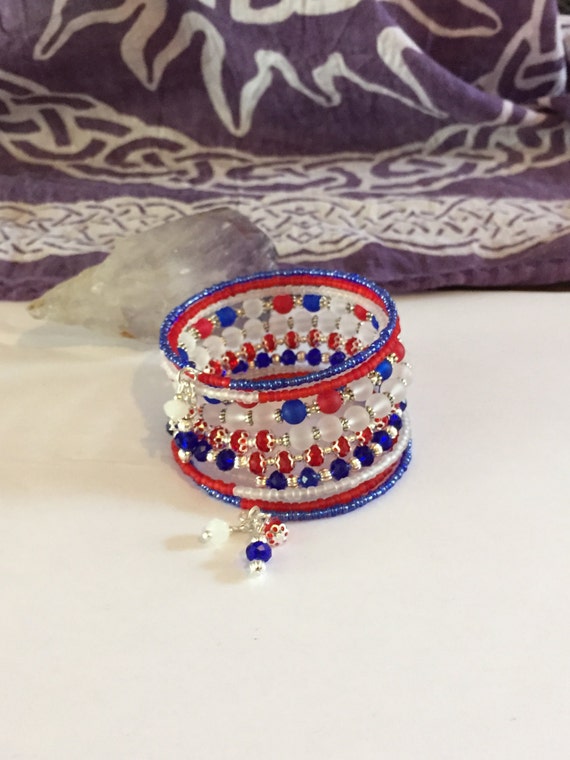 Royal Blue, Red and White Memory wire Beaded Bracelet
A pretty royal blue, red and white coloured memory wire wrap bracelet, made with red, blue and white crystal and glass beads. It has ten loops of different sized crystal and glass beads, with a scattering of silver spacer beads. At each end are a small cluster of beads, which hang elegantly like charms.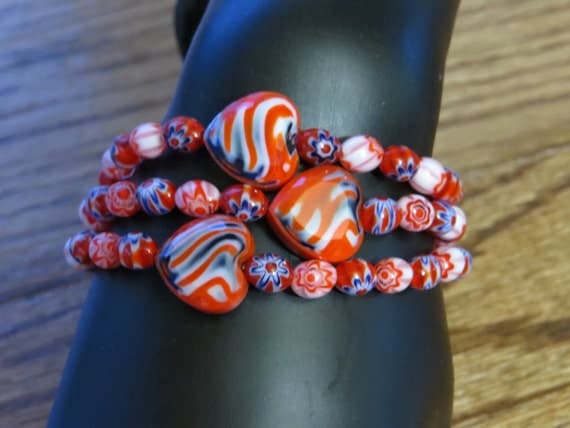 Millefiori hearts bracelets
I have decided to concentrate most of my efforts on my special needs (bibs/cover-ups/bib alternatives for the disabled of all ages, ill and elderly) and infant items and children's capes. I will be clearing out most of my jewelry.) 3 bracelets available. Price is for each individual bracelet. Beautiful red, white and blue millefiori faceted heart lampwork glass beads are the focal point of each bracelet. No two hearts alike. As you can see in the pictures - even the reverse side of the heart is different from the front.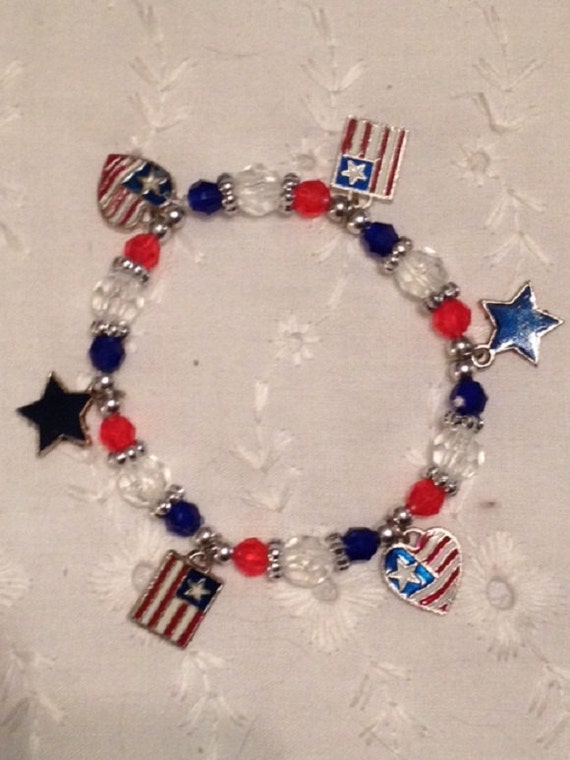 Stars and Stripes forever charm bracelet
Show your American Pride with this beaded charm bracelet! Enamel charms (blue star, heart-shaped American Flag, and American flag charm (two of each) are surrounded by red, white, and blue beads and silver beads). This 6" bracelet is made on elastic cord so it can fit most wrists. A perfect hostess gift for a BBQ or for yourself to show your American Spirit!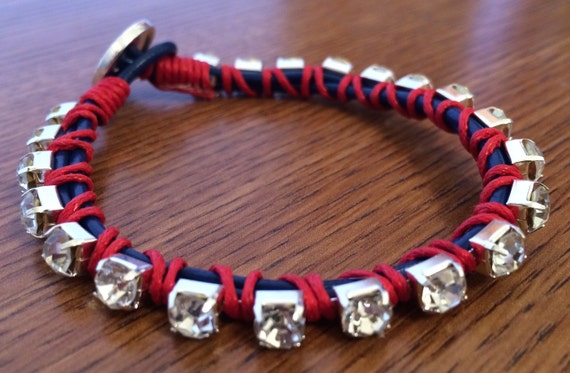 Blue Leather And Red Cord Cupchain Bracelet With Button Closure, Handmade, 7"
This bracelet is so patriotic. Hooray for the red, white and blue! This bracelet features a clear crystal cupchain wrapped with a red cotton cord around a navy blue leather cord. The bracelet secures with a button loop. There is some glue near the button end to help secure the cotton cord. This bracelet is 7" long.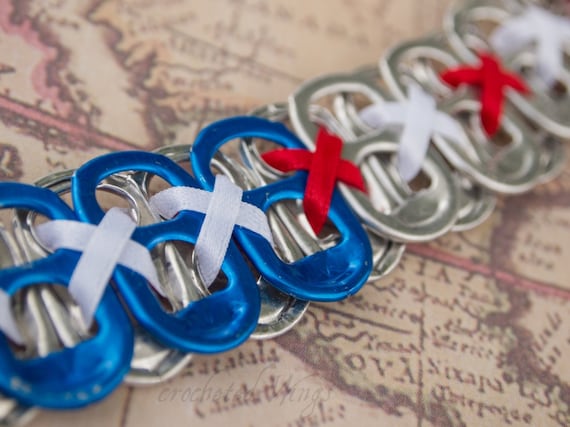 American Flag Colored Pop Top Bracelet with Clasp
This listing is for a pop top bracelet designed after the American flag, ready to ship as soon as you put it in your cart! The addition of colored pop tops makes this bracelet a real eye-catcher. This bracelet measures 8 inches (21 cm) including the toggle clasp. This clasp makes it easy to fit a variety of wrists, and looks much neater than merely tying the ends. This bracelet uses four ribbons, which makes it more flexible than our two ribbon bracelets, and extremely comfortable. (Note that last picture is merely an example of how our bracelets look when worn, and not the bracelet this listing is for.)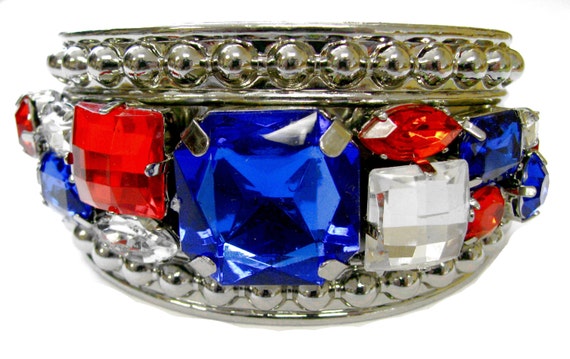 New Silver Tone Embossed Metal Cuff Bangle With Patriotic Faux Stone Decorations
Silver Tone Embossed Cuff Bangle Dia Around 2 x 2.75 Inches, 1.65 Inches Width ,With Around 2 inches Opening That Suits Ladies With Bigger Wrist. Super Eye Catching With Lots Of 0.4 To 1.25 Inch Faceted Faux Stones Shinning On It!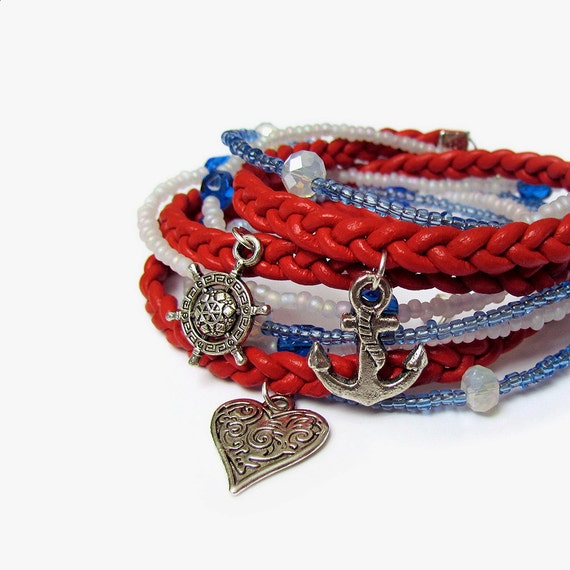 Patriotic wrap bracelet,
This bead and braided leather bracelet with patriotic colors wraps around your wrist three times and has antique colored charms attached that align above each other once wrapped around your wrist. Red braided leather accompanied by tiny seed beads and faceted glass crystal beads to match your sailor outfit. Adjustable with a 5 cm (2 inches) long chain. Total length: 51-56 cm (20-22 inches). Fits smaller wrists: 6-7 inches and wraps tight around your wrist.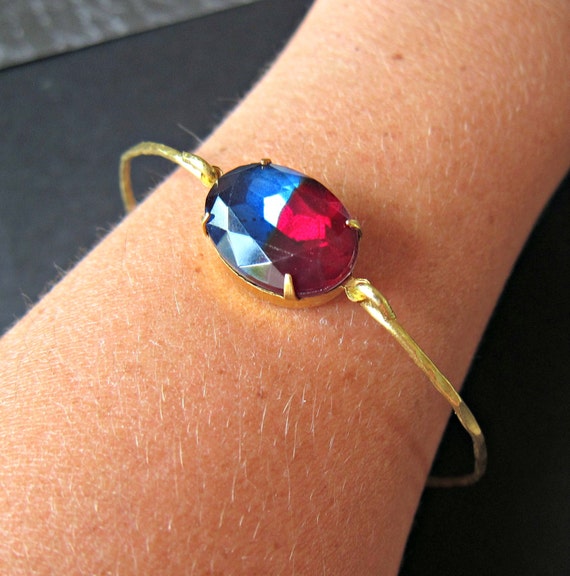 Independance Day- Red, White and Blue Bangle
This bangle has to fit over your hand, it can not be opened. To measure your size, simply measure the widest part of your hand (The knuckles) Or choose from my standard sizes. If no size is given I will make this in my standard 2.5 inch size.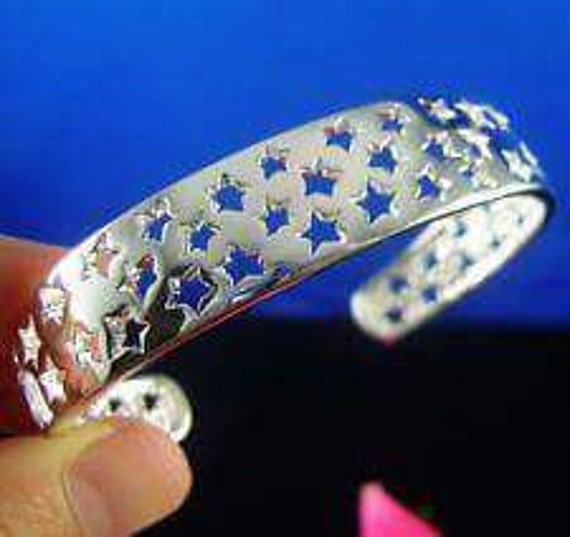 star silver bangle bracelet
Beautiful patriotic star bangle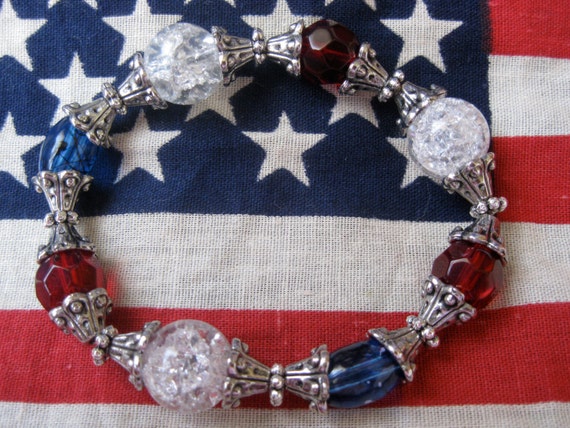 USA Bracelet-7
This is one in a growing customizable collection of red,white and blue bracelets. Beautiful faceted red beads, oval, blue glass beads,clear white crackle beads, and ornate antiqued silver bead caps are joined together on elastic thread for easy wear.The price shown is for the bracelet with one charm added. The charm choices are shown in pic #5.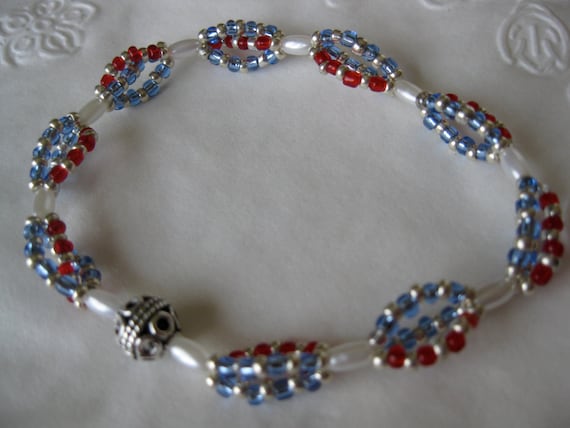 USA Bracelet-2
This is one in a growing customizable collection of red,white and blue bracelets.Red and blue seed beads, white rice beads and one round antiqued silver plated bead are strung on elastic thread in a light and airy design.This bracelet would also work well for a child since the size can be easily changed by me (just let me know!)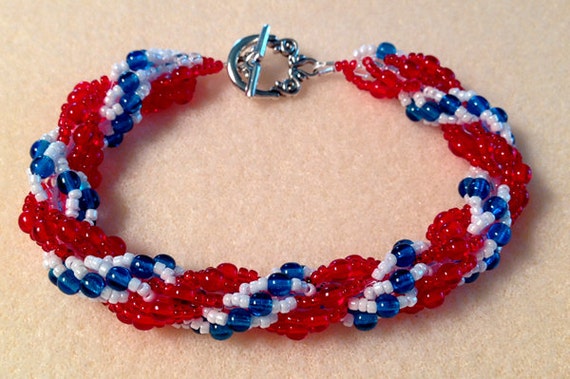 Red White & Blue Spiral Bracelet
Celebrate summer with a patriotic combo of colors! This spiral bracelet is made with Czech pressed glass beads in dark ruby and capri blue, Japanese seed beads in ruby red and white luster, and an antiqued silver-finished pewter toggle clasp. It measures approximately 8 inches, which is necessary for a thicker bracelet like this. I wear bracelets in the 7-inch to 7.5-inch range and this fits perfectly.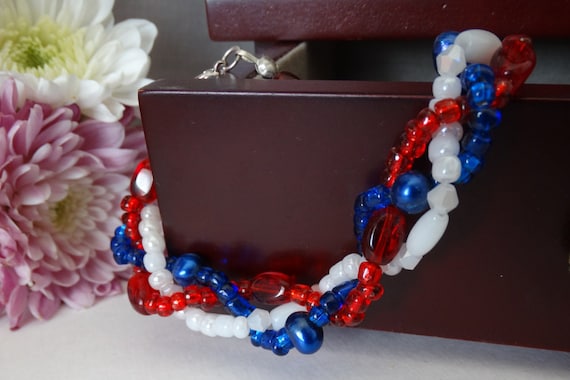 Red White and Blue Three Strand Beaded/Braided Bracelet Large Size with Lobster Clasp
Perfect for July 4th or any other red, white and blue festivities.This bracelet is made from several types of beads from glass, crystal, czech beads, pearls, etc. I have had several requests for larger size/length bracelets, this wonderfully unique piece measures in at 8 3/4 inches(22.2cm). Please message me with any questions you may have. :)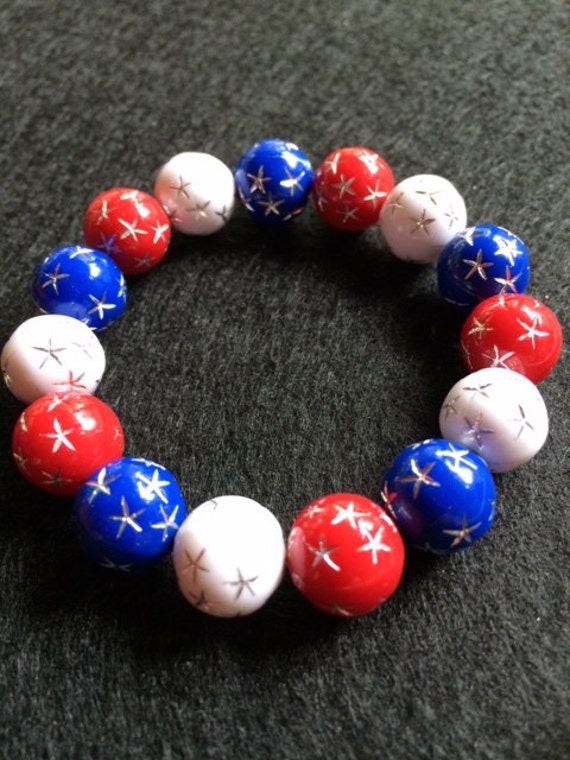 Red-White-Blue Acrylic Round Beads with Stars stretch bracelet
Let your patriotic spirit shine!!! Red, white, and blue 12mm acrylic beads with silver stars. You'll be the "star" of the show with this dazzling bracelet! You will receive your bracelet in an organza bag - perfect for storing or for gift-giving!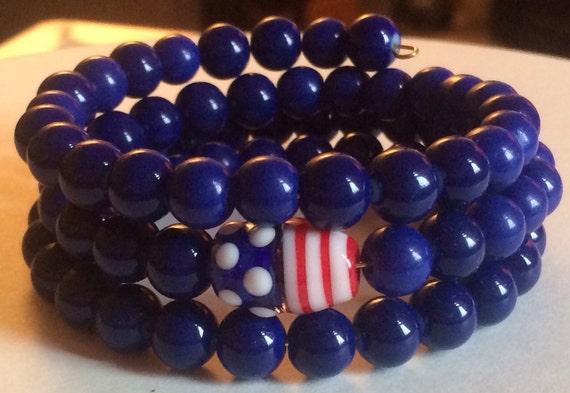 Colorful "Patriot With a Passion" Beaded Memory Wire Bracelet
Beautiful "Patriot With a Passion" bracelet done in memory wire. Has a gorgeous red, white & blue handmade (not by me) lampwork focal bead. Since it is made of memory wire, it is pretty much one size fits all. Would make a wonderful gift!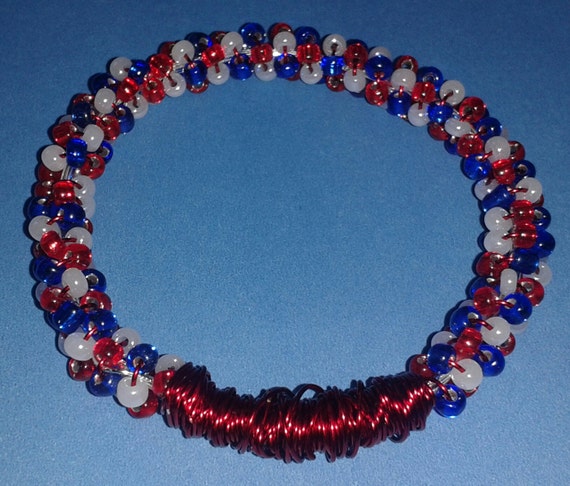 Bracelet - American Bangle
This one of a kind hand made beaded bangle is a wonderful combination of red, white, and blue. Made of glass beads and wire, it will adjust to slide onto most adult wrists. It is 10" round. Fit's comfortably on 6.5" wrist. I am able to make bigger and smaller size if needed.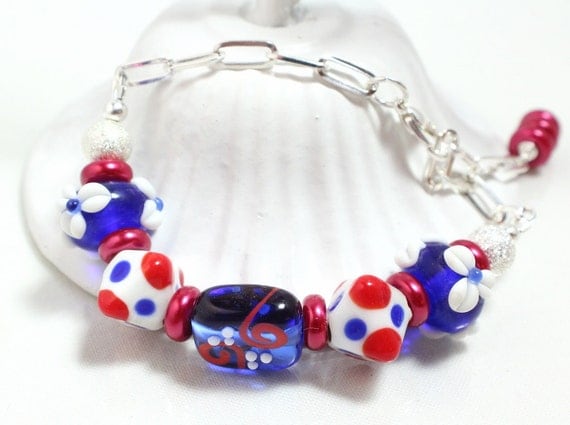 Fourth of July Red, White, and Blue Lampwork Bead Bracelet with Chain
This bracelet, featuring red, white, and blue lampwork glass beads will help you celebrate Memorial Day, 4th of July, and other patriotic holidays in style. Five lampwork beads are separated by red glass pearl rondelles and fastened to cable chain with elongated oval links. A sterling silver plated stardust bead is at each end of the row of lampwork beads. A pretty wire wrapped charm of red pearl rondelles dangles from the end of the chain. I used a lobster claw clasp so that the length of the bracelet can be adjustable to fit just about any size wrist, up to slightly over 8 inches. This bracelet has a contemporary and fun look and will be perfect for wearing with jeans or shorts and your favorite T-shirt or with a cute beach or patio outfit. You will definitely be in fashion at that beach party, cookout, or any other patriotic or political event.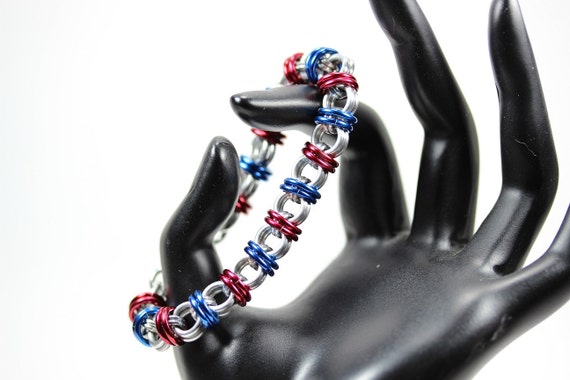 Chainmaille Bracelet, Red, White And Blue
Made with 16 gauge bright aluminum and shiny red and blue anodized aluminum, this chainmaille bracelet can be worn simply as an eye-striking piece of jewelry or as a patriotic fashion piece bearing the colors of the American flag (white represented here by the shiny silver bright aluminum rings). Length including hook clasp is aprox. 7.5 inches.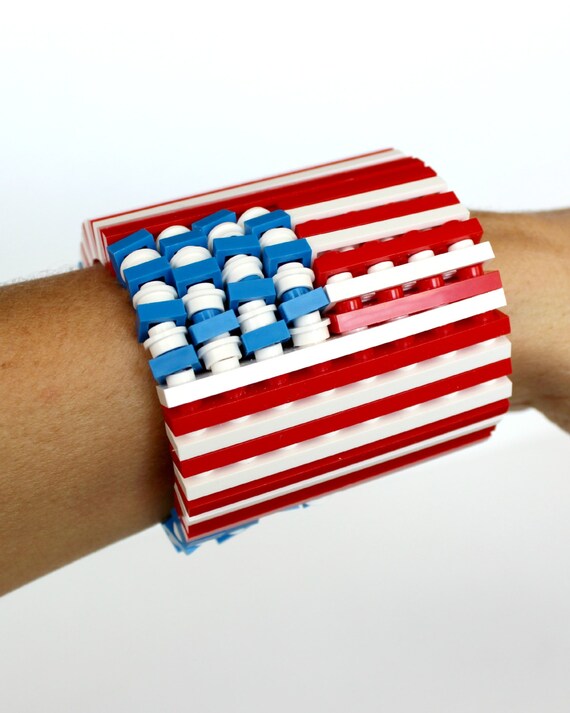 American Flag - LEGO® 1 x 8 Bracelet - LEGO® Jewelry
You're the emblem of The land I love. The home of the free and the brave. ~George M. Cohan This American Flag bracelet is made of almost 150 new LEGO® plates and studs, but still lightweight weighing only 2 oz. It's 2.5" wide on the wrist and has a thickness of 5/16." It's strung together on strong, resilient, non cracking stretchy cord.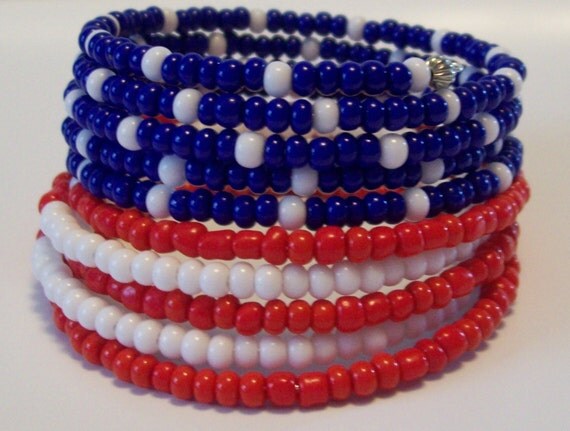 Red, White, and Blue Flag Beaded Memory Wire Bracelet
Beaded memory wire bracelet made in a "flag" design with red, white, and blue Czech glass 6/0 beads and silver plated fluted round beads. Wraps approximately 8 times around wrist. Shipped in a silver foil gift box.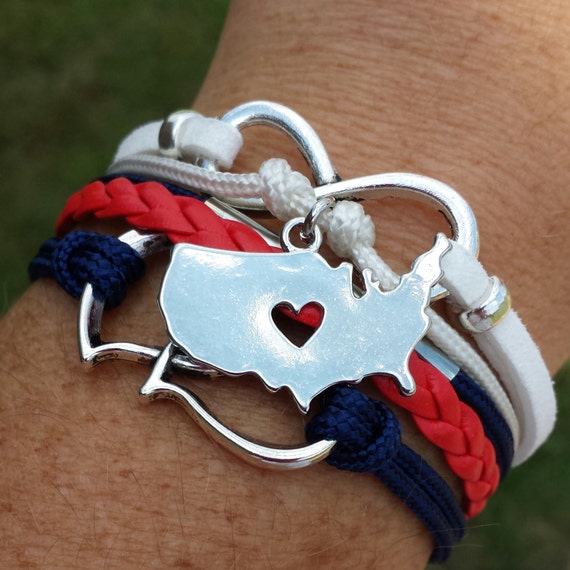 American Patriot July 4 Independence Day USA Multistrand Bracelet with United States Heart Flag Infinity Charms
Lovely multistrand patriotic red, white and blue layered bracelet. Bracelet is adorned with a United States charm and heart and infinity charm, five strands in all. Bracelet measures 6.5" with an adjustable 1" extender chain and dangle American flag charm.
Go To
4th of July Bracelets Page ONE
Go To
4th of July Bracelets Page TWO
Go To
4th of July Bracelets Page THREE
Go To
4th of July Bracelets Page FOUR
Go To
4th of July Bracelets Page FIVE
Go To
4th of July Bracelets Page SIX
Go To
4th of July Bracelets Page SEVEN
Go To
4th of July Bracelets Page NINE