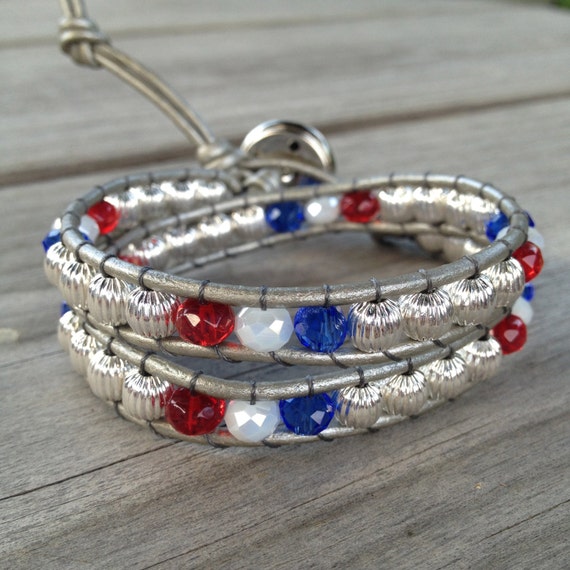 Red, White, Blue and Silver Beaded Double Wrap Bracelet w/ Silver Button
Patriotic wrap bracelet made with red, white and blue faceted glass and silver plated metal beads sewn around silver leather cording with durable thread and finished off with a silver swirl button closure. These bracelets can be worn dressed up or down, alone or stacked. This double wrap bracelet measures 14 inches long from the center of the button to the middle of the first closure loop and 15 inches to the middle of the second loop. It will fit a 6 to 7 inch wrist comfortably. If the bracelet fits with the smaller size, the extra loop can be cut off with scissors.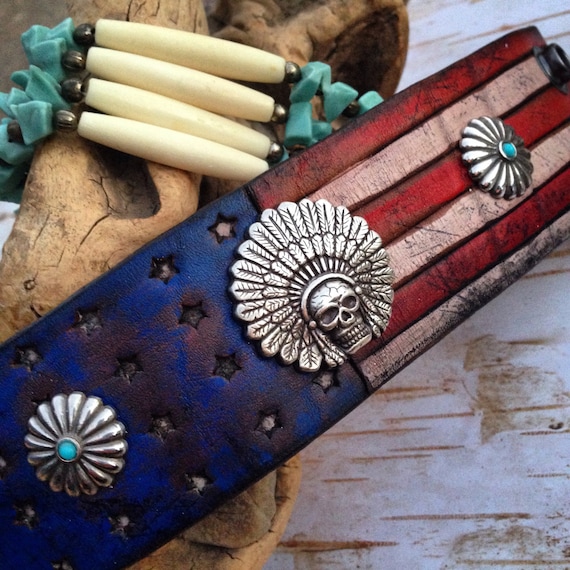 Leather Americana Cuff Bracelet
This leather bracelet is hand-carved, tooled, hand painted and distressed to look as though you've worn this for years. The leather has a protective finish and has been rubbed to a subtle sheen. The bracelet is 2" wide. I attached a large silver Indian headpiece with skull design.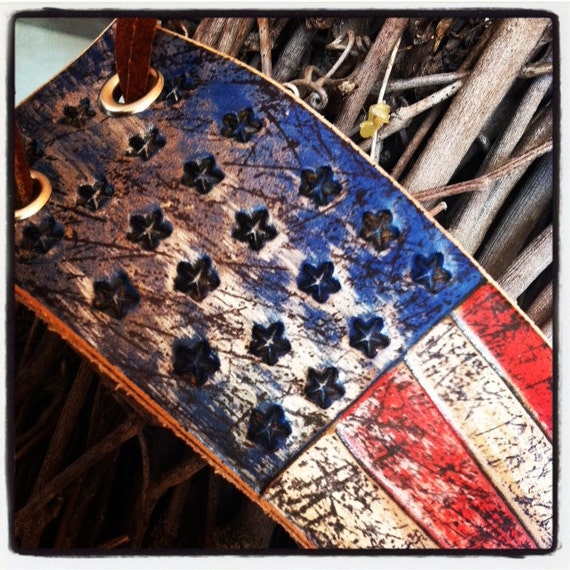 Leather Bracelet / Rustic Cuff / Adjustable / Leather Cuff / Bracelet / Wristband
To the Real American Idols..The Brave Men & Women who have served, are serving & gave their lives so we can live in the Land Of Free.. God Does Bless America. This is a large leather flag cuff with adjustable suede ties. Perfect for Men or Ladies. This is 2" wide. The leather length is 7 3/4" wide with long suede ties. This will fit a 7" - 10" wrist. It's beautifully distressed and so comfortable. I added silver paint to accent on the surface. Silver eyelets.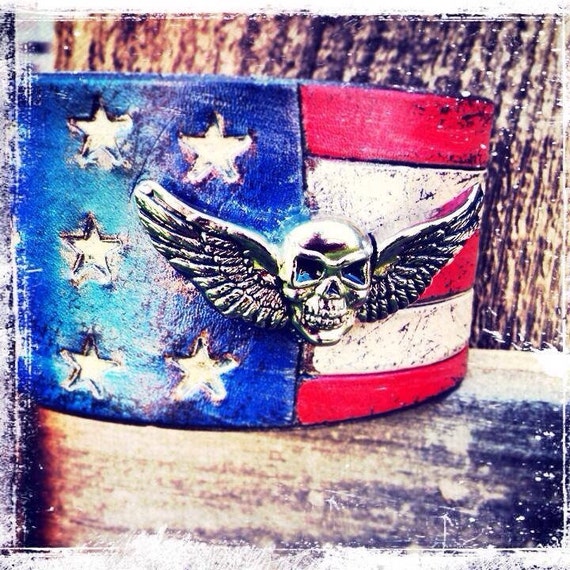 American Flag Leather Bracelet with Skull, Skull Jewelry, Biker, Leather Cuff Handmade
To the Real American Idols..The Brave Men & Women who have served, are serving & gave their lives so we can live in the Land Of Free.. God Does Bless America. This leather flag wristband has a silver skull with wings. Perfect for Men or Ladies. This is 1.5" wide. This is made to fit. It's beautifully distressed and so comfortable. Two large gunmetal snaps.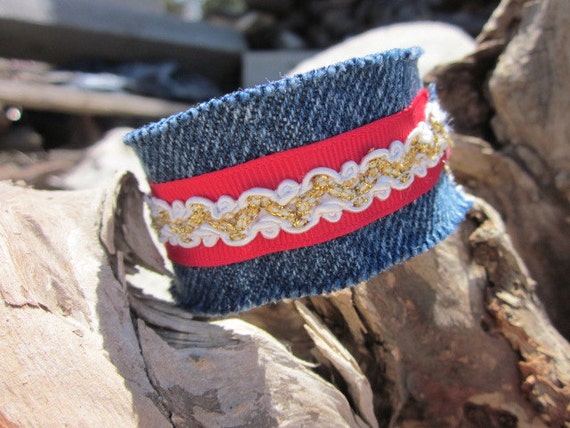 Denim Bracelet with Red, White and Gold Trim
Patriotic Upcycled Denim Bracelet with Red Grosgrain Ribbon and White and Gold Trim finished with Invisible Snap. 1 1/4" x 7 1/4" *Beach Friendly- no metal parts to rust. Hand Wash and Air Dry.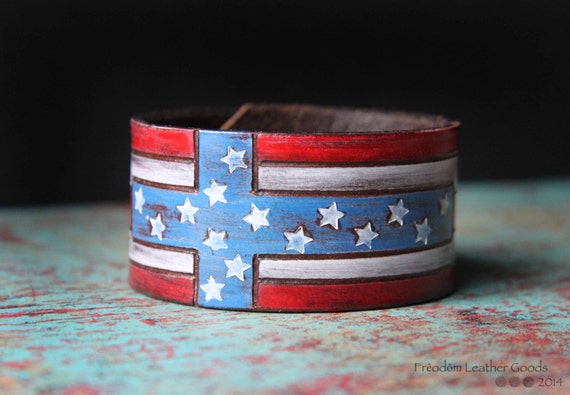 American Flag Cross Leather Cuff Bracelet // 4th of July // Handmade
As I was designing this bracelet I was thinking about how blessed this country has been because of the hand of God. Every day God amazes me by his love and mercy that he pours out to each and everyone of us. I'm not perfect, but I'm sure glad He is!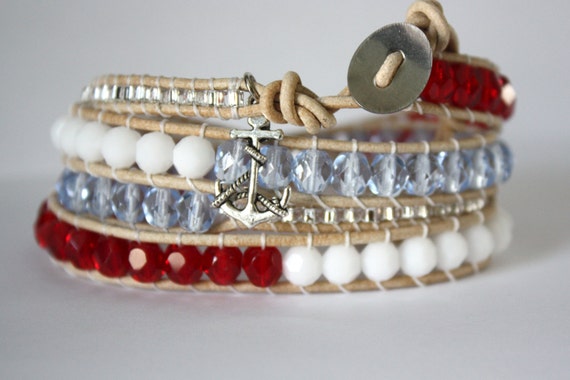 Nautical Red White Swarovski & Blue Anchor 4x Wrap Bracelet
Bracelet wraps 4 times around wrist. -Beaded length: approx 26" in -Total length: approx 26.5" to 30" in -Once you find your custom fit, we suggest cutting off the excess length with a sharp pair of scissors.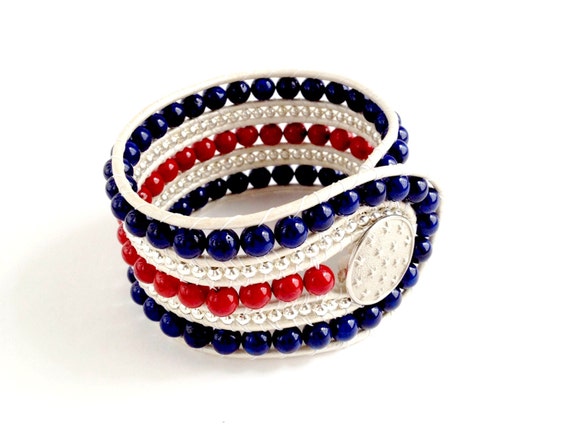 Red, white, and blue 5 row beaded cuff bracelet with star spangled button and optional eagle and bead charms, silver beads, pearl leather
Show your red, white, & blue with style when you wear this 5-row leather & bead cuff bracelet! It's available with optional flying eagle charm and/or red, silver, and blue bead dangle charms if you want a little extra movement & fun! It fastens with a vintage pewter button adorned with tiny stars. I had made another wrap bracelet with these materials as a custom order & thought it would be fun to make a cuff with the leftover beads, leather, & buttons... I love how it turned out! Red & blue 6 mm river stone beads and 3 mm silver plated beads are laddered on with super-strong Wildfire beading thread onto 2 mm pearl Indian leather cord that has a subtle shimmer. It's approximately 7-1/2" from the button to the button hole & will fit wrists up to 7 inches comfortably. You can choose just the bracelet without any charms, just the eagle charm, just the bead charms, or both the eagle and bead charms (this option is pictured in photo 5).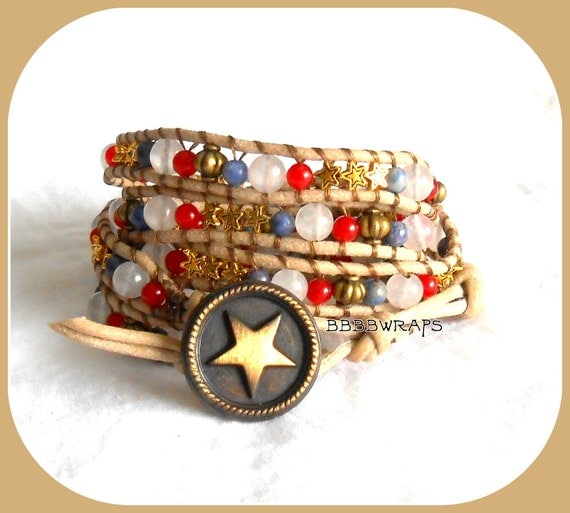 USA Americana Beaded Natural Wrap Boho Bracelet
USA Americana Beaded Natural Wrap Boho Bracelet 34 35 36 Bracelets Size: Can be adjusted (33/34/35 inches ) button 3/4 inch diameter 4mm and 6mm beads Glass beads,waxed rope,pewter button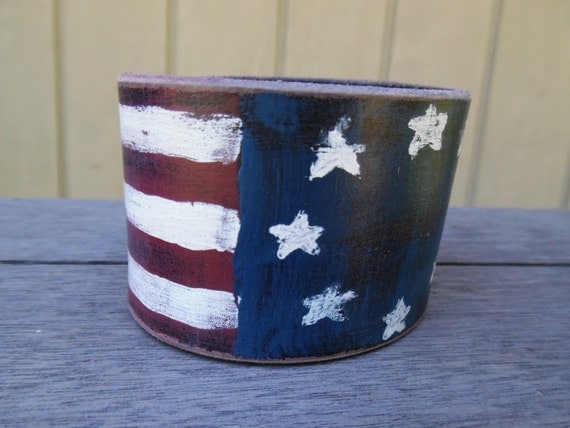 Stars & Stripes American Flag Red White Blue Faded Distressed Upcycled Painted Leather Cuff Bracelet
This awesome cuff bracelet was created using a retired, black leather belt. The belt has been painted in a stars and stripes, American flag theme with a circle of stars in the center. After being distressed and treated with a protective leather sheen, it has a rustic, faded look that gives it lots of character and depth. The lovely cuff closes around your wrist with a brushed silver snap. Wear this bracelet to help celebrate the 4th of July, or just whenever you're feeling extra patriotic! Recycling and celebrating the U.S.A. look great together.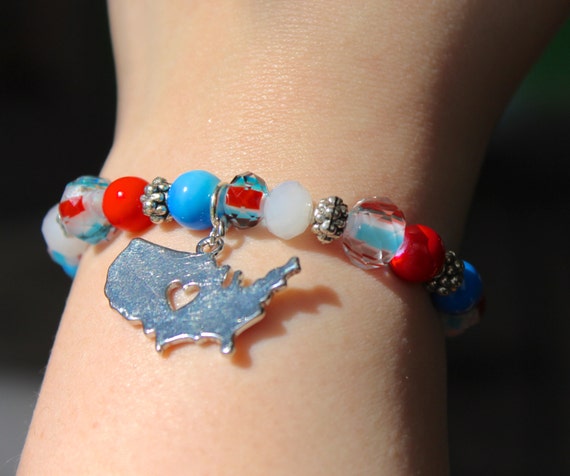 Red White and Blue Crystal Bead USA Silver Charm Bracelet
This is a beaded bracelet made out of red, white, and blue crystal and glass beads with silver metal spacers. It has a silver USA charm with a heart in the center. It has an elastic center that would fit a 7' wrist comfortably.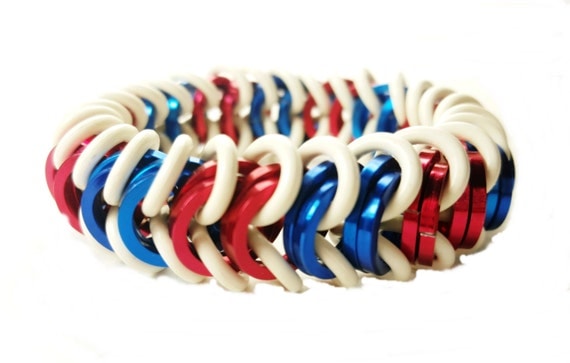 Red, White, and Blue Stretch Bracelet - Unisex
Show your patriotism, and your style, with this red, white, and blue stretch bracelet Materials: Anodized Aluminum Rubber Size: Internal Diameter: 6 3/4 Inches (not stretched) Width: 3/4 Inches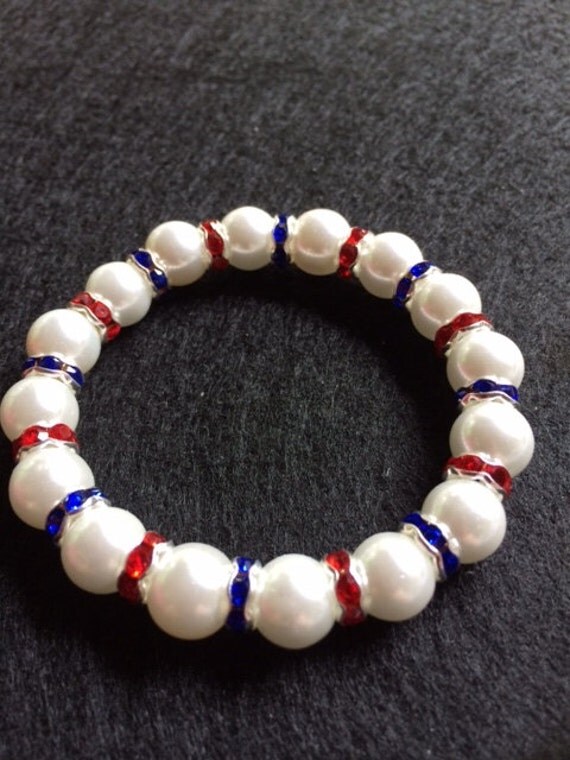 White Glass Pearl with Red and Blue Rhinestone spacers stretch bracelet.
Elegance meets Patriotic in this beautiful red, white, and blue pearl bracelet! Wear it proudly! You will receive your bracelet in an organza bag - perfect for storing or for gift-giving!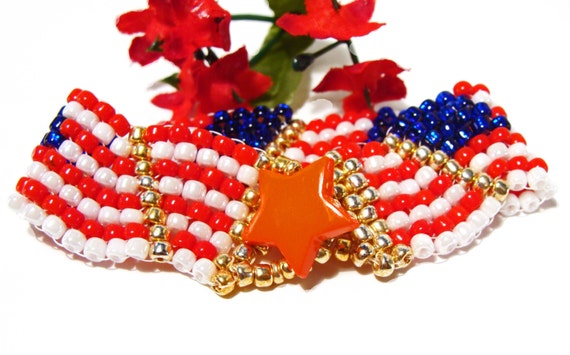 Waving Handmade Beaded Red, White and Blue Flag Bracelet with Gold Accents
Show off your patriotic spirit with this "Waving" handmade peyote stitch beaded red, white and blue flag bracelet with gold accents. You will be a hit at all the July 4th and other patriotic celebrations. This bracelet is a 6 1/2 inch (small) but if you need a larger size just measure your wrist and choose from the drop down menu. It will take a few days to complete and then your bracelet will be on it's way. • Red, White and Blue Glass Seed Beads • Gold Glass Seed Beads • Red Acrylic Star Closure • Fireline Beading Thread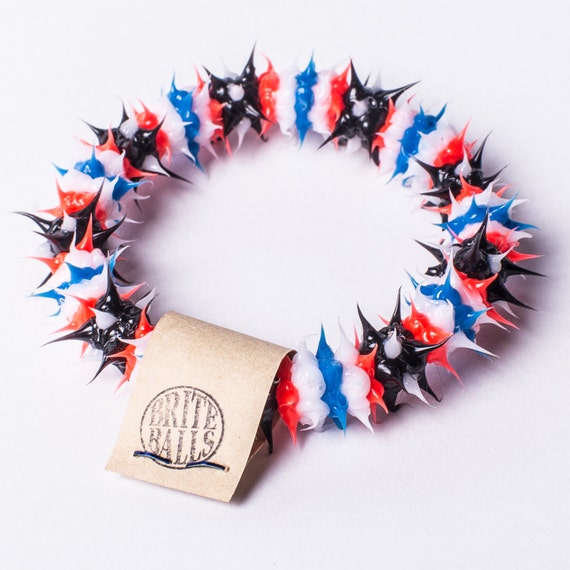 4th of July Brite Balls Bracelet
Brite Balls are made out of a soft, squishy, and extremely durable silicone. They are easy to clean with mild dish soap and warm water. This bracelet is perfect for children with it's bright colors and soft texture. The beads are beaded onto stretch cord. Therefore, one size fits all.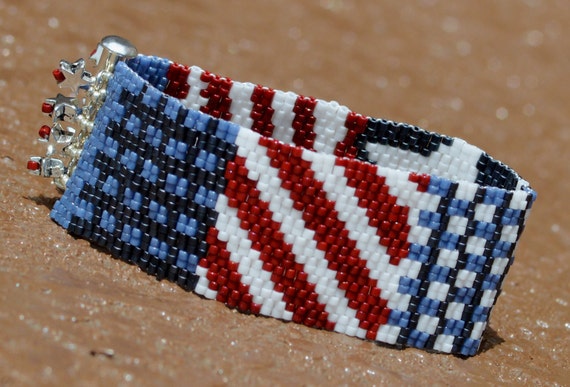 AMERICANA 2-drop Peyote beaded bracelet cuff in Red, White, and Blues
Just in time for Independence Day, or any time you want to show your patriotic spirit! I LOVE red, white, and blue! I've used delica beads to create this bracelet. It measures approx. 1" wide, and, when fastened, measures approx. 6 1/2" long. The magnetic slide tube clasp is embellished with metal star spacers.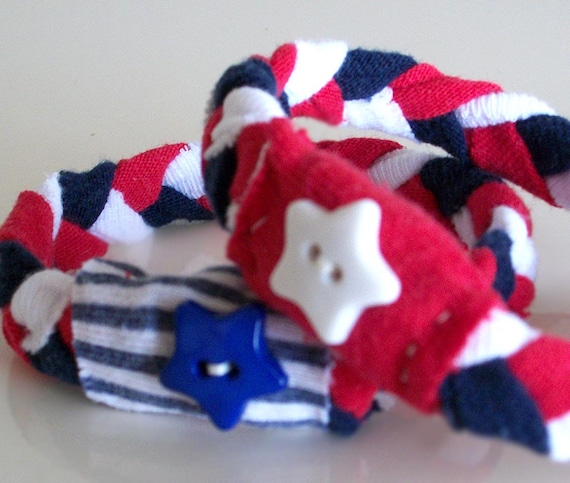 Freedom Bracelets Upcycled Cotton T-shirt Red, White and Blue - Ready to Ship
Get ready for Patriotic fun this summer. Great bracelets for Memorial or the 4th of July celebration. 100 percent cotton fiber. Soft cotton up-cycled, recycled t-shirts in red, white and blue. This listing is for three bracelets.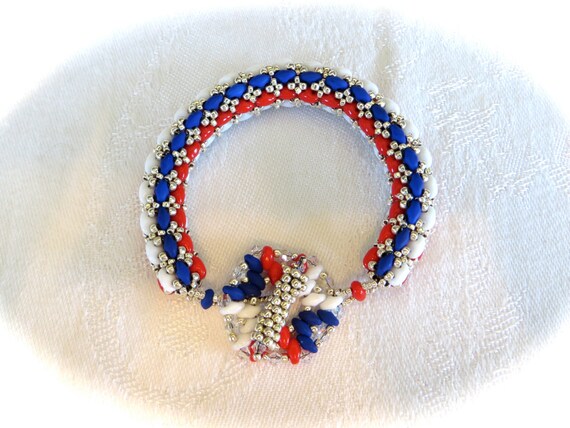 Red White and Blue Stars and Stripes Beadwoven Bracelet 2081
Love, love, love this pattern by a wonderful designer, Jill Wiseman! I wanted to convey "stars and stripes," a nod to our American flag, so I modified the original design to make the colors go lengthwise. Red, white, and blue glass beads with silver accent seed beads were handwoven (using a very strong beading thread) to create this bracelet. The same beads were used to create a beadwoven toggle clasp. The piece is quite flexible, undulating like our flag blowing in a breeze! It measures 7-1/8" long, a little less than 1/2" in diameter, and will fit a small wrist;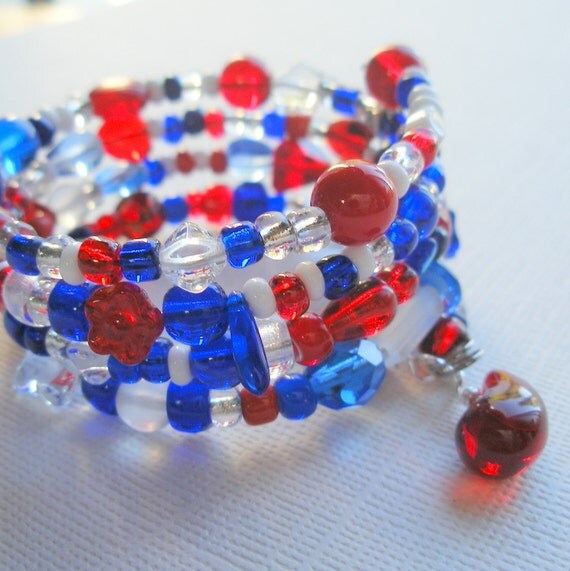 Wrap Bracelet with Red White and Blue Glass Beads and Memory Wire
Memory wire is such a great bracelet finding! It stretches to wrap around your wrist and then keeps its shape no matter how many times you take it off and put it on. This one will fit a wrist up to about 7-1/2" comfortably and wraps around 4 times. The bracelet is made of red, white and blue glass beads of every shape and size. Fun bracelet to wear any time of the year, but especially appropriate during U.S. patriotic holidays such as the 4th of July.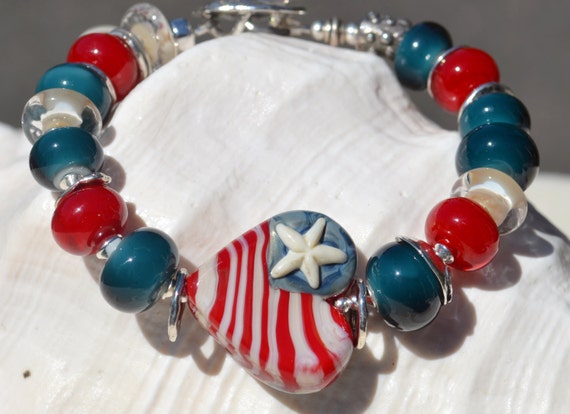 OLD GLORY-Handmade Lampwork and Sterling Silver Bracelet
I totally enjoyed making this patriotic bracelet!! I surrounded Sabrina Koebel's awesome artisan lampwork Americana heart bead (has such a vintage feel!, I just love it!) with a wonderful array of coordinating artisan lampwork beads and almost all handmade artisan sterling silver components ( 4 bead caps & a dotted slider bead). I completed it with a simple handmade artisan toggle clasp and three danglies including artisan lampwork beads and a sterling silver charm with the word "FREEDOM" on it!!!! God Bless America!!!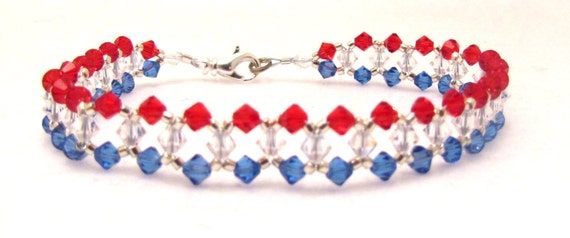 God Bless America Crystal Anklet
Show your support for the Red, White and Blue. This stunning cross-weave 9 inch anklet is strung with 4mm bi-cone Light Siam, Sapphire and Clear Swarvoski Crystals and closed with a simple silver lobster clasp. This anklet can be custom-made to your size, just add your size requirement in the message when placing your order.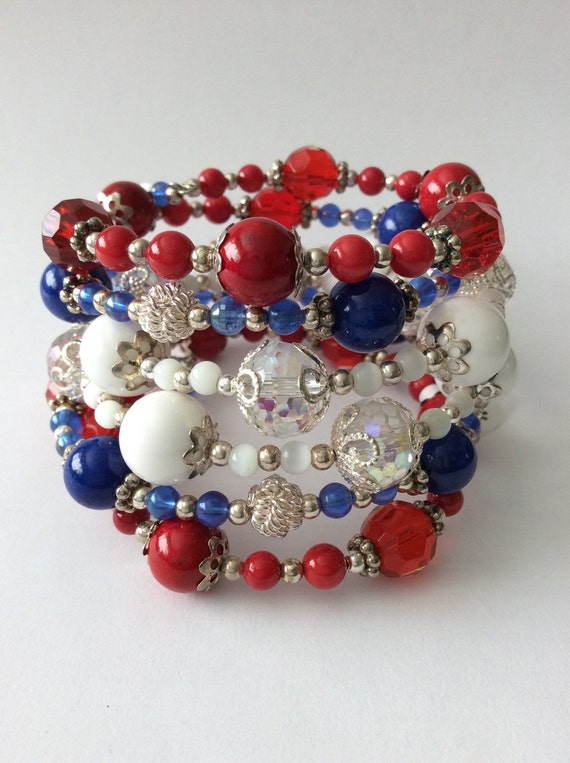 Red White Blue Bracelet
Love the Red White Blue combination. Includes gemstones, crystals, silver plated beading in this 6 rows which wrap around your wrist. About 3 inches wide, fits 7.0-7.5 inch wrist. All one piece. Handmade and designed by Josefina Jewelry.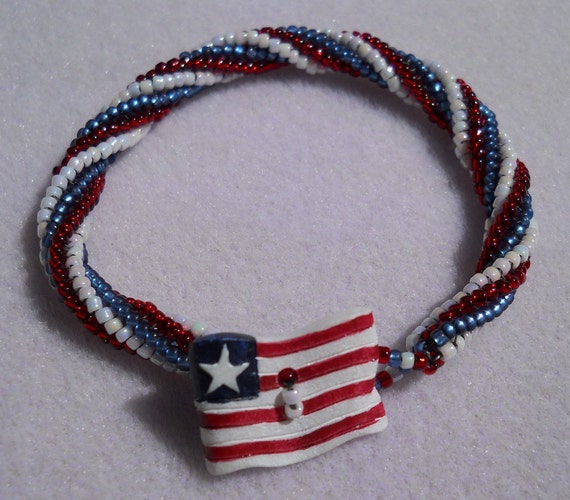 The Patriot
A Patriotic Twist in red, white and blue size 11 glass seed beads. Beaded using herringbone (ndebele) twist method and features a cute plastic flag button as a clasp. Measures 7 1/2" long (19 cm) by 1/4" wide. The button measures 7/8" X 5/8". Wear your pride on your wrist! Gift boxed.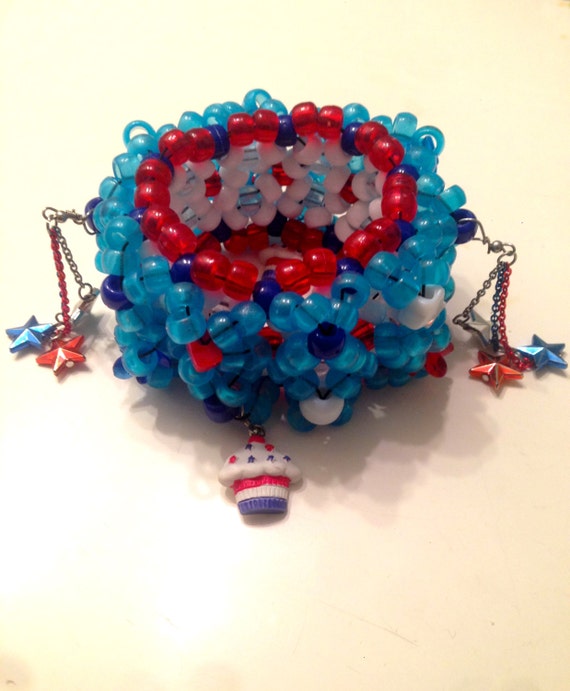 Red White And Blue Kandi
Double layer Xbase cuff with two American flag muffin charms and two 3-star dangling charms. The second layer of the cuff has a big variety in cute star and other types beads. This fabulous red white and blue glow in the dark cuff is perfect for any American themed event or outfit, or if you just wanna be patriotic!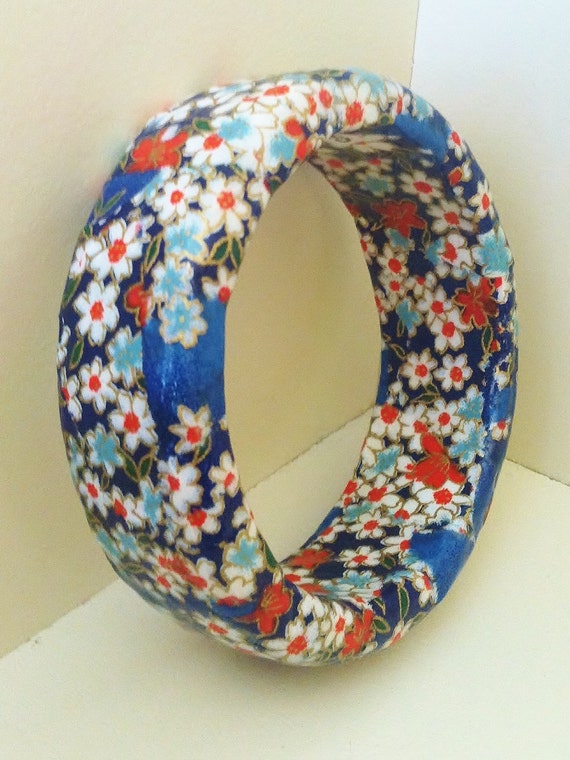 Liberty Floral Print Hand-Decoupaged Wood Bangle by cadencedesigns on etsy
Amazing liberty floral-print paper in bold red, white, & blue--This is a lovely Japanese floral paper featuring a royal blue background with white, red, and light blue blossoms exploding onto it! The paper has then been sealed onto a wider-width wood cuff-style bangle. Even though this has the lovely bright colors- it would look amazing with a solid color or all white outfit! Wear it on vacation or bring a bit of vacation to your everyday life! Fun for a patriotic, yet stylish look as well!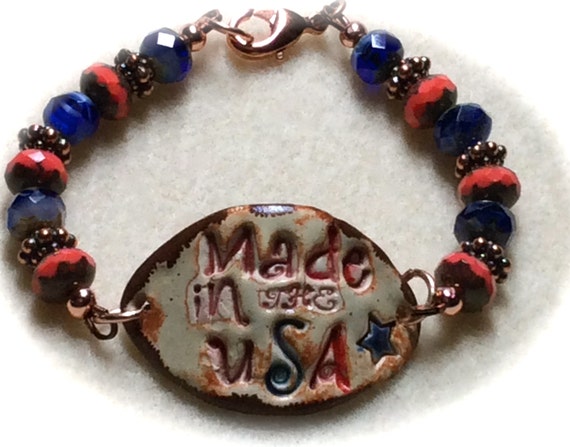 U.S.A. Born and Raised
A ceramic bracelet bar designed by Suzieqbeads and surrounded by red and blue faceted beads proclaims your patriotism! All fashioned in a boho style bracelet measuring 7 inches in size. Add a note and I will resize it for you!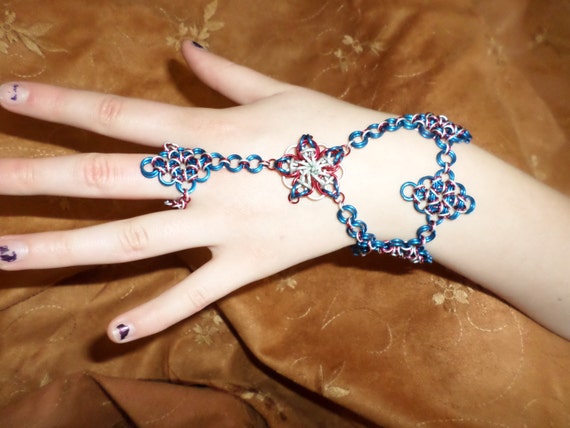 Red White and Blue Japanese Handflower
This patriotic handflower is light and bright and tons of fun! The weave is primarily a Japanese 12-2, and has a Celtic Visions star centered on the back of the hand. Fits up to an 8" wrist. Can modify sizing slightly upon request.
Go To
4th of July Bracelets Page ONE
Go To
4th of July Bracelets Page TWO
Go To
4th of July Bracelets Page THREE
Go To
4th of July Bracelets Page FOUR
Go To
4th of July Bracelets Page FIVE
Go To
4th of July Bracelets Page SIX
Go To
4th of July Bracelets Page SEVEN
Go To
4th of July Bracelets Page EIGHT