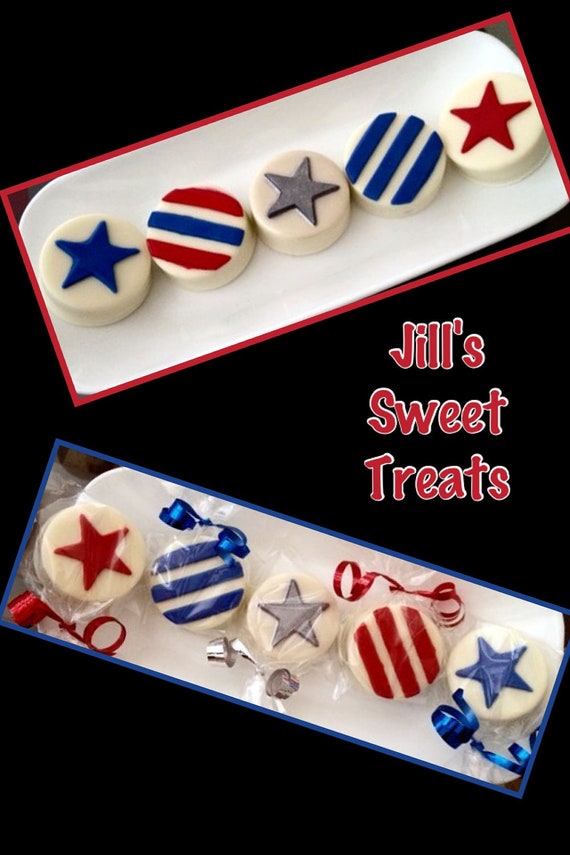 Stars & Stripes - Chocolate Covered Oreos
We offer a wide variety of chocolate covered oreos. 12 oreos are included for the price listed. Great as gifts for partys,, showers holidays etc. Oreo cookies are dipped in chocolate and sprinkled with toppings.
Patriotic Chocolate Dipped Oreo Cookies (12) Gift Boxed Fourth of July Gifts "Fuzzy Ducks
Premium Dark Ghirardelli Chocolate Twice Dipped Patriotic Oreo Cookies; 12 Boxed Warmer States (70 degree's +: Packaged in FDA Insulated Packaging with Ice Gift Boxed - Ready for Gift Giving Perfect Item for Corporate Gifts, Parties, Celebrations, Party Favors or Friend-to-Friend Gifts
Patriotic Chocolate Covered Oreo Cookies - Set of 12 (Patriotic Assortment)
Set of 12 Patriotic Decorated Oreo Cookies Great Gift for our Military Heros Great for 4th of July Wedding Favors Great for 4th of July Celebrations
Patriotic Chocolate Covered Oreo Cookies - Set of 12 (Stars)
Set of 12 Patriotic Decorated Oreo Cookies Great Gift for our Military Heros Great for 4th of July Wedding Favors Great for 4th of July Celebrations
AMERICAN Chocolate Oreo Cookie Tin with Americana Patriotism Messages
Perfect gift to Celebrate America or express gratitude & appreciation for all Veterans, Military Servicemen & Women, anyone in the Military, any American patriot. A perfect hostess gift to bring or serve at a Memorial Day or 4th of July BBQ or event or to take with you to a fireworks outing. Barbara's collection of freshly enrobed Chocolate Oreos each foil-wrapped with heartfelt Americana/ USA -themed messages. Any American will love this! Each genuine Oreo cookie is smothered in milk chocolate, wrapped in foil and then each has a special message in red-white-blue colors. Contains 16 hand-foiled Chocolate enrobed Oreos in a beautiful tin. The flavor and detail of these cookies are amazing. Can be gift-wrapped in gift box with ribbons and Americana Themed message.
Patriotic Oreos Gift Box of 9
These delicious Oreo® Cookies are wrapped in decadently delicious fine Belgian Chocolates--Dark, Milk White--and decorated with hand-crafted Royal Icing Patriotic Decorations and Red White and Blue Star Confetti. Each cookie is tucked inside a clear cellophane bag, and heat-sealed at both ends for freshness and quality. These cookies are a perfect choice for parties. Use them as a delicious dessert item...or indulge yourself and have one with a tall glass of ice cold milk!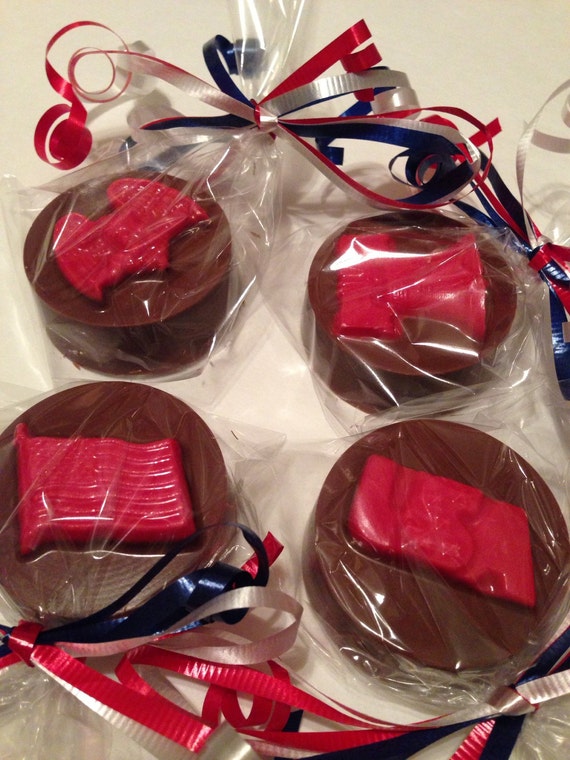 12 Chocolate Covered Oreos Patriotic Memorial Day 4th of July TEAM USA Flag
Qty of 1 = 12 Super Cute and Yummy Chocolate Covered Oreos Patriotic Theme These are perfect for Patriotic Theme Party Favors Memorial Day 4th of July TEAM USA Flag Liberty Bell Eagle Red White and Blue Theme Oreos measure approximately 2 " diameter x 3/4" deep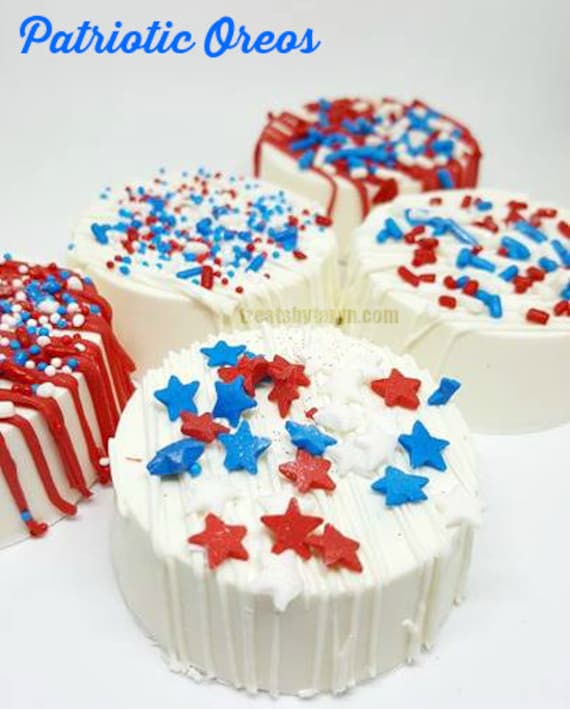 Patriotic Oreos. 4th of july treats. Patriotic treats
Delicious Patriotic chocolate covered oreos! Made to order with the finest chocolate available. Great for gift baskets, party favors, candy tables, or just for everyday! Listing is for a dozen. Each Oreo will be individually wrapped. Treats will be packaged to ensure no damage during shipping. If you wish to send these as a gift, please mention that when you place your order.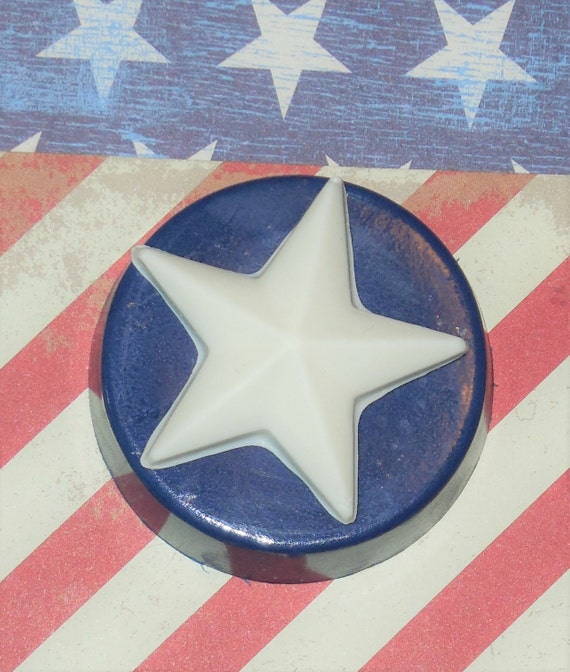 12) STAR Chocolate Covered Oreos*Party Favor
This listing is for (12) Star themed Chocolate Covered Oreos Each will arrive in a clear cello bag tied with matching curly ribbon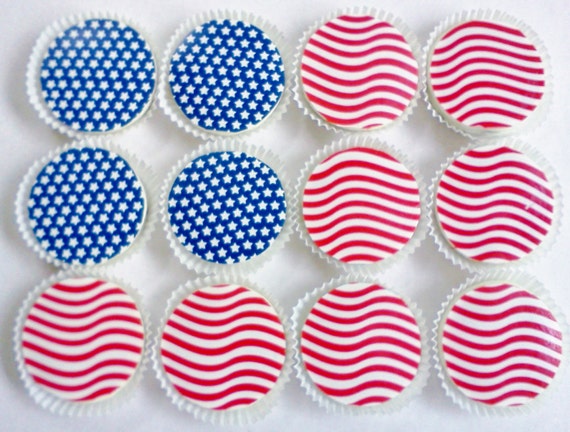 1 Doz STARS and STRIPES Designer Chocolate Covered Oreos 4th of July Memorial Day USA
-One dozen Oreos -White, Milk, or Semi-Dark Chocolate (will not show through our solid print Design) -Red, White, and Blue "Stars and Stripes" cocoa butter design ***Please choose: Box A -6 of each of the two designs -OR- Box B -4 Blue/White Stars and 8 Red/White Stripes Designer Oreos as shown in our listing photo.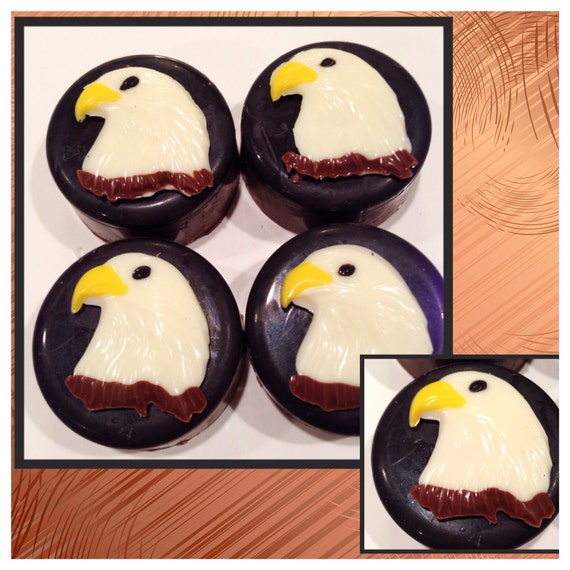 Eagle Scout, Eagle Head Chocolate covered oreosCustomized - Eagle chocolate set of 12
ooking for the perfect addition to your Eagle ceremony? You have come to the right place!! These beautifully detailed chocolate oreos will definitely get some attention on your special day! These are BIG! 2" round and 1" thick choclate drenched oreos, with a chocolate eagle on top makes these not only beautiful, but absolutely delicious!Multi colored eagle features a custom tag of your choice! Oreos and lollipops are made from only the highest quality chocolate, and can be produced in an assortment of colors/themes! These are a beautiful, unique, and personal touch to any event!!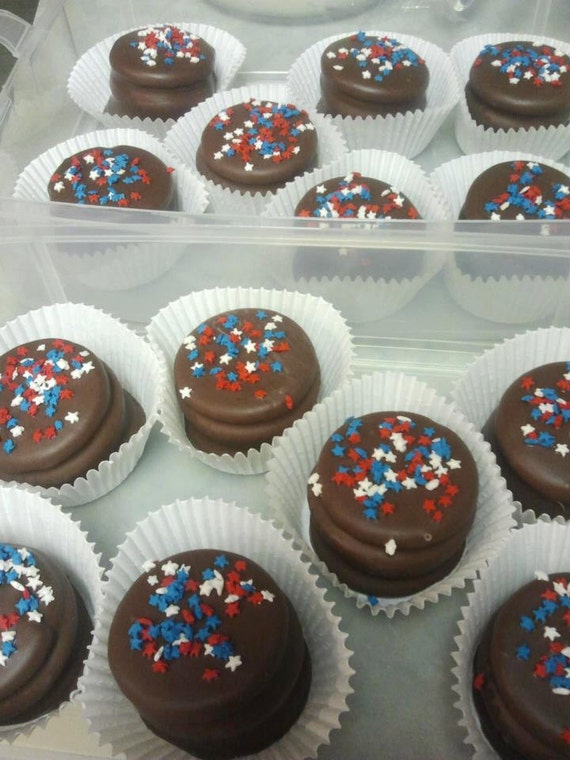 Chocolate covered, Reeses stuffed Oreos
This listing includes: (12) 4th of July inspired oreo reeses bites! Individually placed in a baking cup and wrapped in a clear bag with a ribbon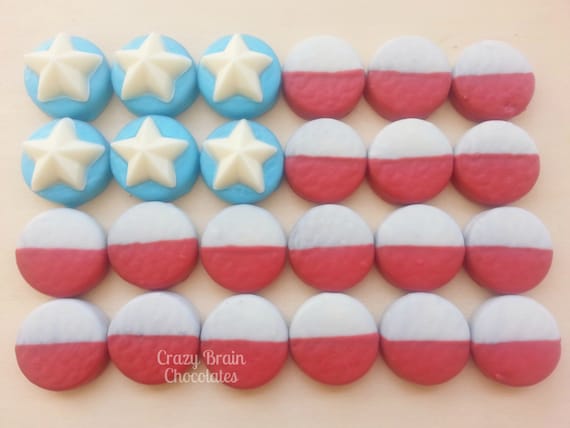 American Flag Oreos
Each order comes with a 2 dozen (24) Ladybug Oreos, freshly made when you order! Treats come individually wrapped in plastic wrap.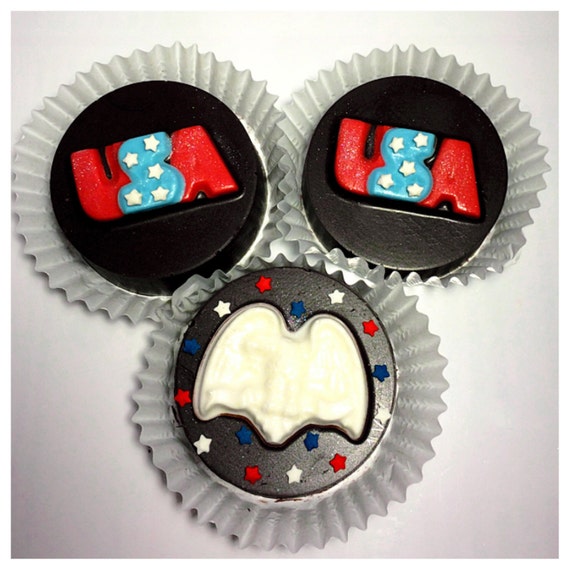 Patriotic Belgian Chocolate Oreos
Handmade Belgian Chocolate Patriotic Oreos. These make wonderful desserts for Memorial Day, 4th of July, or any day celebrating being an American! :) -Quantity: Choice of 12, 24, 36, 48 Oreos (individually wrapped w/ribbon)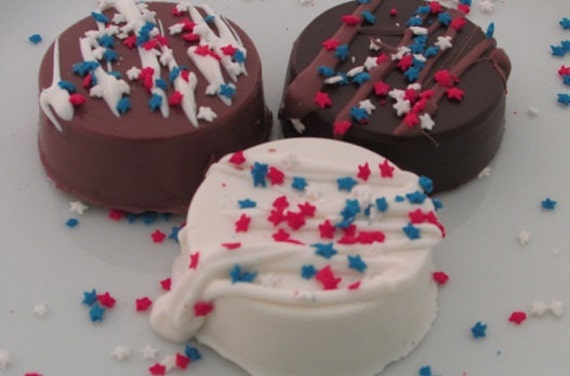 Red, White Blue Chocolate Covered Oreo Cookies 1 dozen
Your choice of milk chocolate, white chocolate or dark chocolate covered Oreo cookies with Red, Blue and White mini edible star sprinkles.