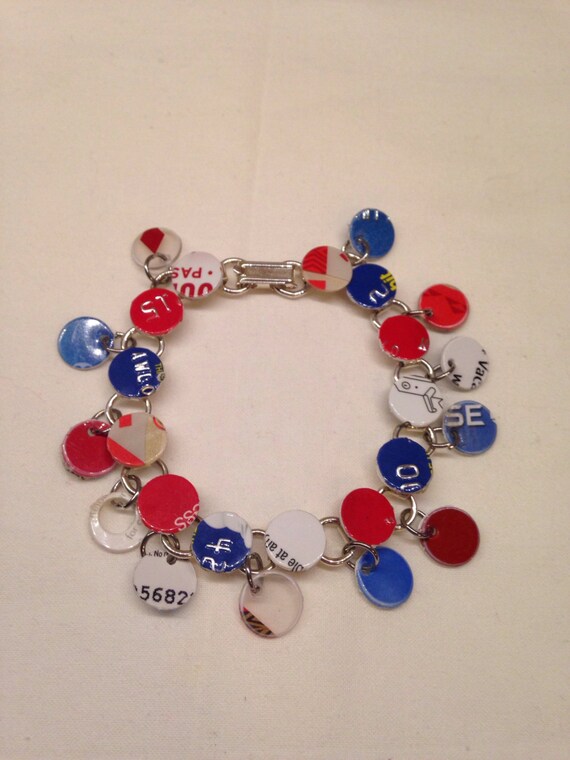 Upcycled Repurposed Bangle Bracelet Patriotic USA Swinger- 8" Double Dangle Silver Bracelet
Just Plain Jane's love for the USA runs deep like the colors of this red white and blue colored bracelet. This bracelet is a fun reminder to keep shopping and recycling. Each gift card is cleaned and cut. It measures 8 inches long.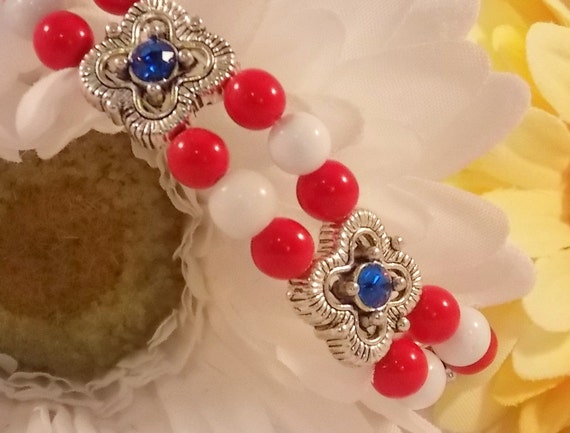 Patriotic Bracelet
Show your patriotism with this red, white and blue bracelet. This stretch bracelet is approximately 8" in length and is strung on Power Cord with the knots glued and hidden behind the spacers.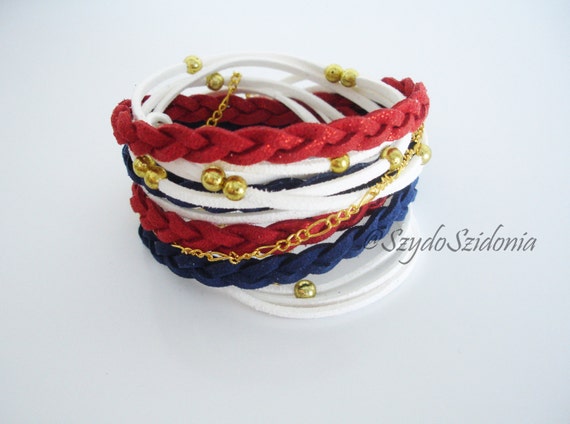 Girls Gift, Patriotic bracelet
I made this braided bohemian style bracelet with high quality faux suede cord, golden beads and golden chain.The bracelet is in ONE single piece. Colors : red, navy blue and white with golden accents. Total length is 12.5 inches (31 cm ) , can easily fit up to 6 - 8" wrist.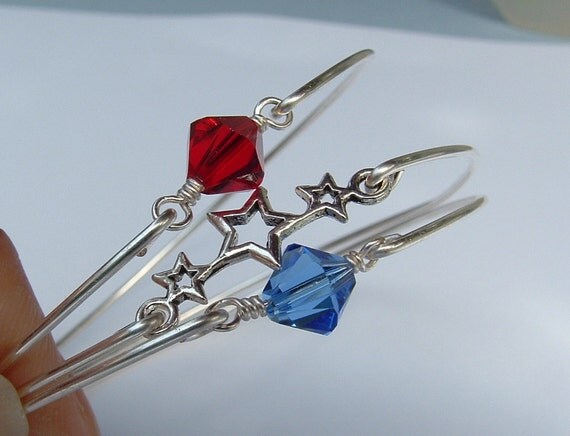 Set Of 3 Birthstone Star Bracelet Set , Star Bangle, Star Jewelry
Set Of 3 Birthstone Star Bracelet Set , Star Bangle, Star Jewelry, Patriotic Jewelry, Patriotic Bracelet, Gift For Her, Holiday Gift For Her This listing is for a set of three bracelets . First bracelet features red swarovski crystal transformed into a lovely bracelet Second bracelet features three star silver charm bracelet and third bracelet features sapphire blue swarovski crystal bracelet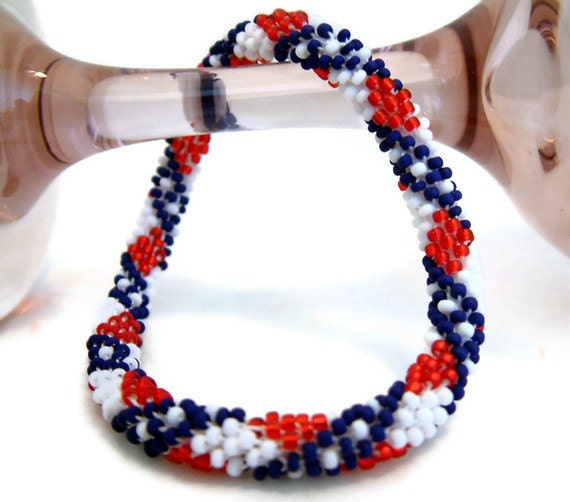 Patriotic Bracelet Bead Crochet Bangle Stars & Stripes Series Diamonds In The Sky
Beautiful patriotic bead crochet rope bracelet! This lovely beaded bangle is made with a mix that includes hundreds of top quality glass seed beads. The brilliant red and white diamonds swirl around the white-studded spiral of cobalt blue. The bracelet is 1/4" in diameter and approximately 7 3/8" in circumference. It stretches slightly to roll on and off easily, and although it is light and comfortable it is also tough and durable!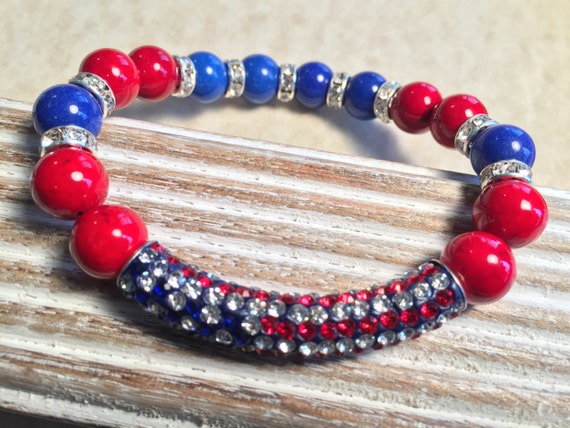 Patriotic Bracelet
This fun bracelet is the perfect accessory for Independence Day, Memorial Day, July 4th or anytime you're feeling patriotic. Makes a great gift for military families. Made with 10mm red and blue riverstone beads. Bling is added with a rhinestone tube accented with crystal rondelles.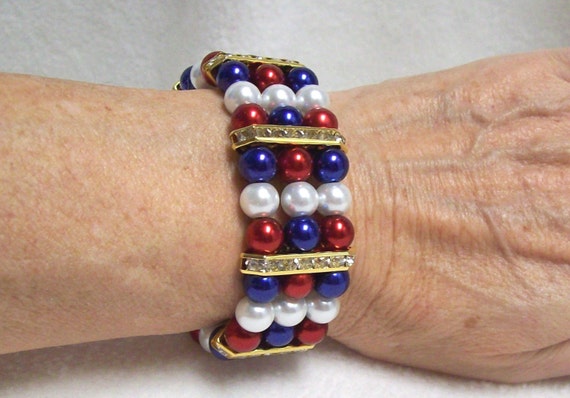 red white blue bracelet, red white and blue bracelet, patriotic gift, patriotic
Patriotic Red White & Blue Glass Pearl Stretch Bracelet is approx 7.5" in diameter and has golden rhinestones. It is stretchy and approx 1" wide. Comfortable and fun to wear with your summer clothes.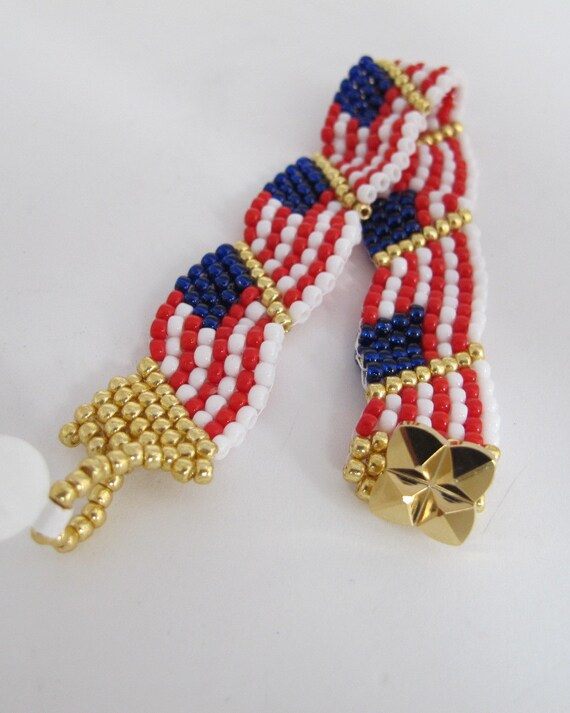 Waving flags Free Shipping
This 7 inch red,white and blue waving flag bracelet is made with seed beads and a plastic button. very patriotic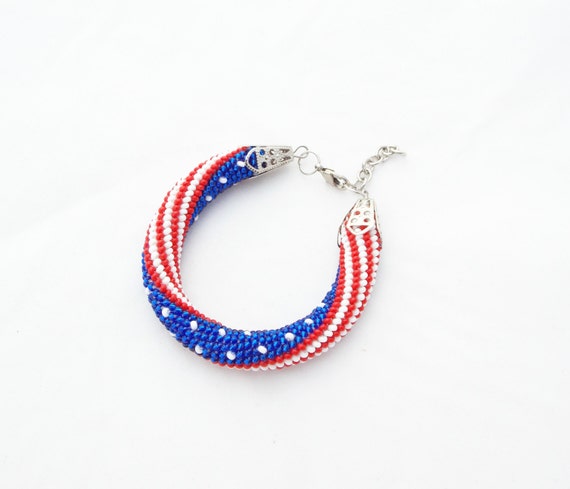 American flag bracelet Red white blue bracelet american bracelet
American flag unisex bracelet Colors: red,white, blue 100% handmade gift packedge shipping worldwide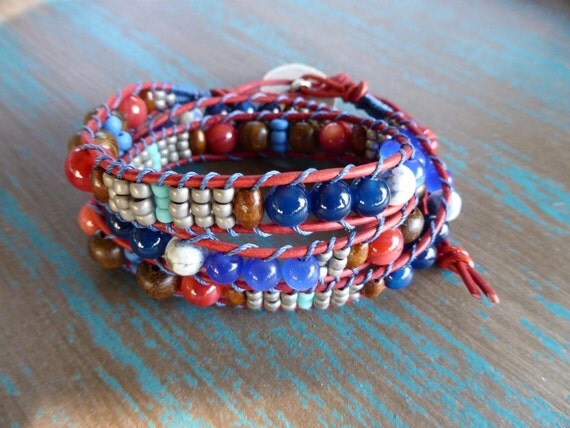 Red Bracelet ~ Triple Wrap ~ Bohemian Earthy Hippie Gypsy ~ Patriotic Bracelet
This unique bracelet can be worn by anyone to show off a spirited, yet earthy look. Its subtle combination of blues and red make it a perfect accessory for 4th of July, but its incorporation of metal and wood beads also make it a year-round piece. It features a unique pattern of red, blue, silver-tone, and wood beads, stitched using a thick and sturdy nylon beading cord between two strands of 1.5 mm distressed crimson leather cord. The look is finished off with a trendy metal button. This bracelet has an adjustable closure option to accommodate various wrist sizes. The triple wrap length fits 20 – 23" (6 ½ - 8" average wrist size). Wear it on the smaller closure when you want a tighter fit. Wear it on the larger closure when you want a loose fit, or when you are stacking several bracelets up your arm and need a wider bracelet at the top.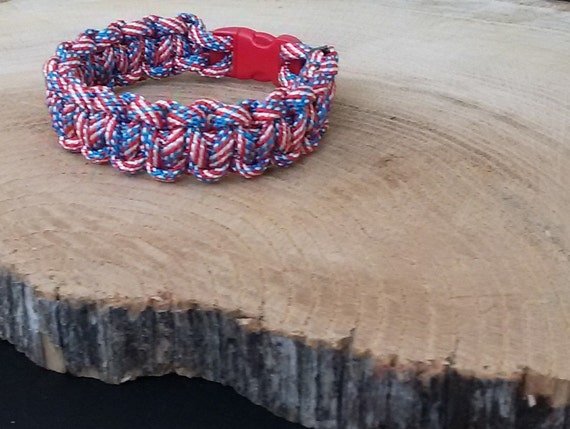 Paracord Bracelet - Red White and Blue American Flag Cobra Weave Survival Bracelet -
This is a handmade paracord survival bracelet using 550 paracord. The color is red white and blue. This is a patriotic USA American flag bracelet. This bracelet is custom made just for you. You can choose the length of the bracelet and the color of the buckle from the the drop down list above when you order.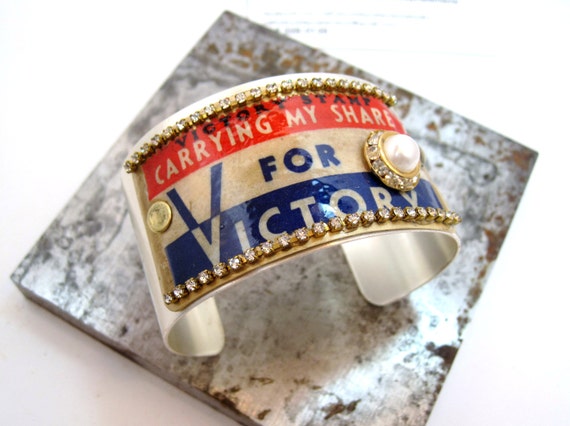 Up-cycled, repurposed cuff bracelet, Vintage Victory Stamp metal cuff bracelet
I truly love vintage ephemera---old paper items! Stamps, calling cards,photos, advertising signs and more~~~~These cuff bracelets are my way of using the original paper in a totally different way and preserving a bit of the past. This cuff has a vintage paper Victory Stamp. I hand cut brass sheet, and sealed to the stamp to the sheet. It was curved to fit the brushed aluminum cuff. Swarovski crystal chain was added along with a vintage rhinestone button, then the entire surface sealed and protected with a jewelers grade resin. This stamp is securely riveted to the aluminum cuff. Cuff is 1.5 inches wide, It can be adjusted and will fit a 7-8 inch wrist nicely~~~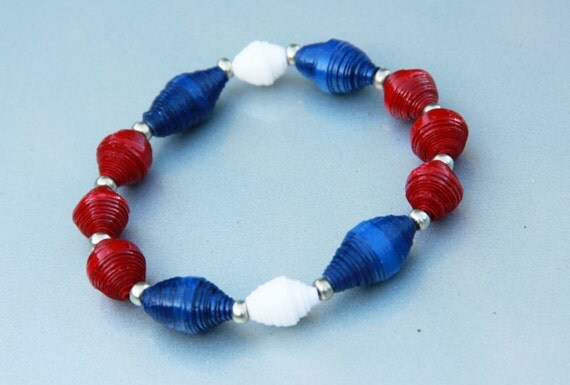 Red, White, & Blue Patriotic Bracelet
This is a beautiful patriotic bracelet. Each bead is hand rolled paper, which is then sealed three separate times in lacquer. The lacquer coats not only seal the bead, but give it a shiny, glossy coat. The white beads do have a glitter shine that is added between the 2 and 3 lacquer coat. Each paper bead is separated by a pewter seed bead. Made with a stretchy band that will fit most wrists.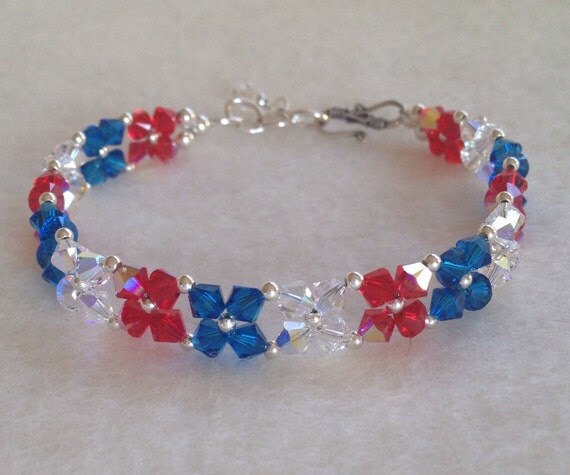 Red White and Blue Bracelet . Patriotic bracelet .
Red White and Blue Swarovski Crystal Bracelet. Wear this on Memorial Day, Fourth of July, Veteran's Day, Labor Day, Election Day, or anytime you are feeling Patriotic. Makes a perfect gift for military wives or mothers! The design and pattern of the Swarovski crystals really make this bracelet sparkle! Hand woven with 3 different shades genuine Swarovski Crystals and .925 Sterling Silver. Fits 7 -8 inch wrist.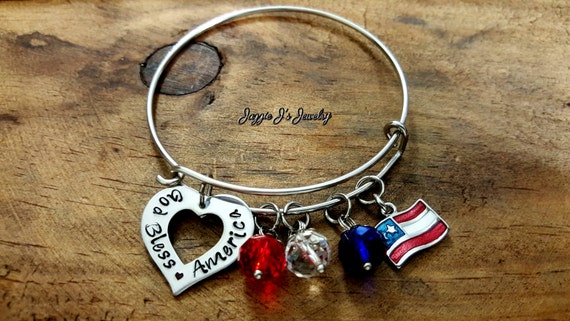 God Bless America Bangle, Patriotic Bracelet
God Bless America Bangle, Patriotic Bracelet, USA Bracelet, Red White & Blue Bangle, 4th of July Bracelet, Handstamped Heart America Bangle Approximate 12 Gauge - 2mm Adjustable - 65mm-75mm Inside Diameter (Fits Up To 7" Wrist) Hand stamped aluminum charms Stainless steel bangle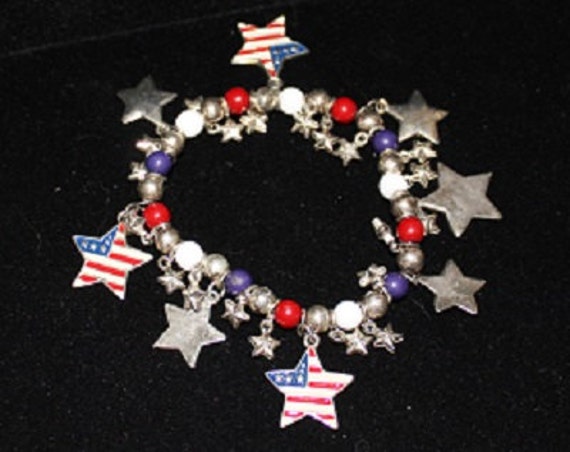 Vintage Patriotic Bracelet, USA, Flag, July 4th, Stars, Stretch Bracelet, 313144
Vintage Patriotic Bracelet, USA, Flag, July 4th, Stars, Stretch Bracelet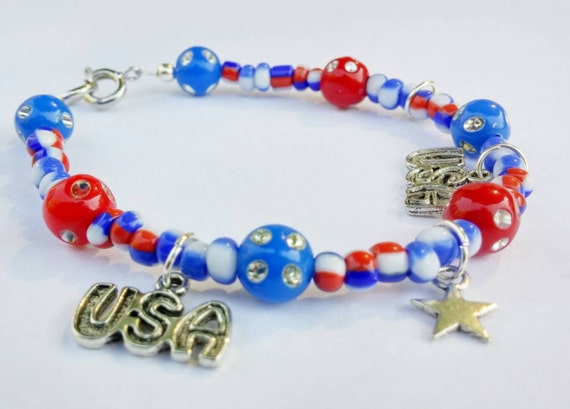 Patriotic Bracelet, USA Bracelet,Red, White and Blue
Show your pride in your country! This fun patriotic bracelet will take care of that. Hand made beaded red, white, and blue beads and USA charms along with star charms. Bracelet measures approximately 7 inches.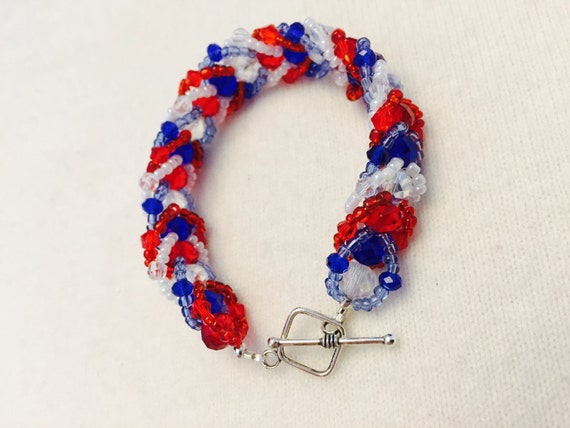 6 3/4 inch Patriotic Bracelet Free Shipping Gift Wrapped
This hand beaded bracelet is all about red, white, and blue. The spine of the bracelet is a running pattern of the three colors in rondelle, or round, crystals. Then seed beads in all three colors complete the pattern. The toggle clasp is a delicate diamond shape in silver tones. The bracelet is about 6 3/4 inches around with the toggle clasp closed, so it will fit a small to medium sized wrist between 5 3/4 and 6 3/4 inches around. The width of the bracelet is about 3/4 inch wide. It has a nice drape and weight. The bracelet will arrive in a white box tied with a white ribbon ready to give or to add to your own bracelet collection. #81501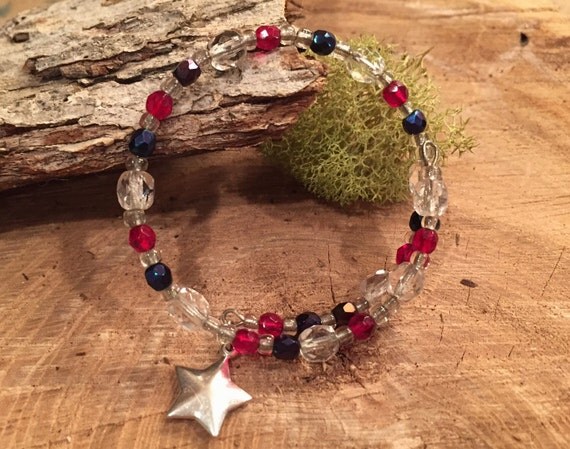 Patriotic Bracelet with Sterling Silver Star Charm
Genuine sterling silver star charm and red, blue and clear czech glass beads is a must have for a young girl's jewelry collection if she is a patriot at heart. Celebrate the USA! - Bracelet is made on sturdy memory wire that will expand from 5" all the up to 7". - Beautiful glass beads - never plastic - Sterling Silver Charm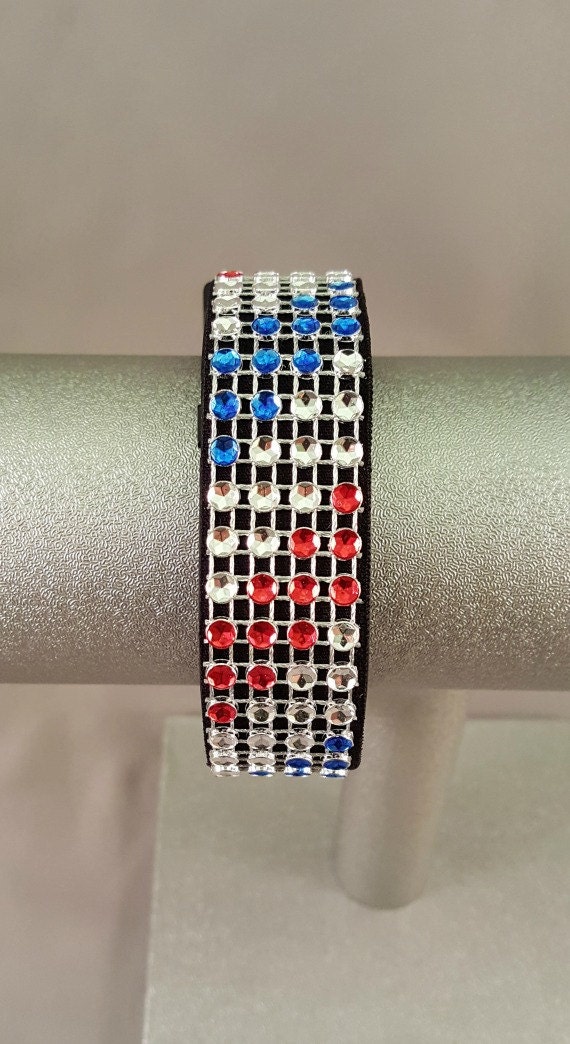 Fit Bling Silver Patriotic Bracelet Cover - Charge HR, Flex, Surge, Fitness Tracker, Wearable Tech, Fit Fashion, Bracelet
FitBit Fit Bling Silver Patriotic Bracelet Cover - Charge HR, Flex, Surge, Fitness Tracker, Wearable Tech, Fit Fashion, Bracelet. Looking to add a little style to your FitBit? This Patriotic Bracelet Cover is just what you need. This is the great gift for anyone that is patriotic or you want to gear up for the 4th of July! Great way to cover up that FitBit at a wedding or special event.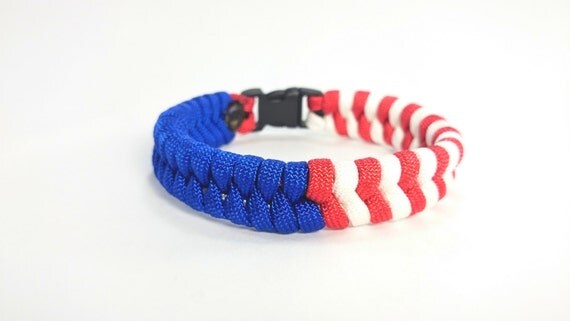 American Flag Bracelet, Patriotic Jewelry,
American Flag Paracord Bracelet. Paracord bracelets are a trending jewelry piece. These cool bracelets are comfortable and come equipped with a 1/2" black plastic contoured side-release buckle. Great for those who love the outdoors whether it be hiking, camping or hunting. Or, even for those who just want a fashionable piece of arm candy.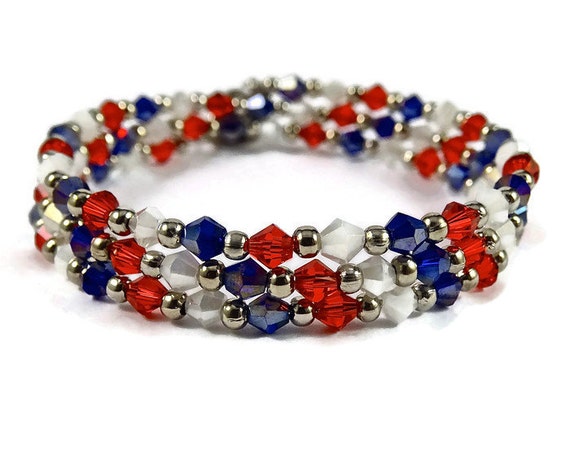 Red, White and Blue Bracelet, Memory Wire Bracelet
Red, White and Blue Bracelet, Memory Wire Bracelet, Patriotic Beaded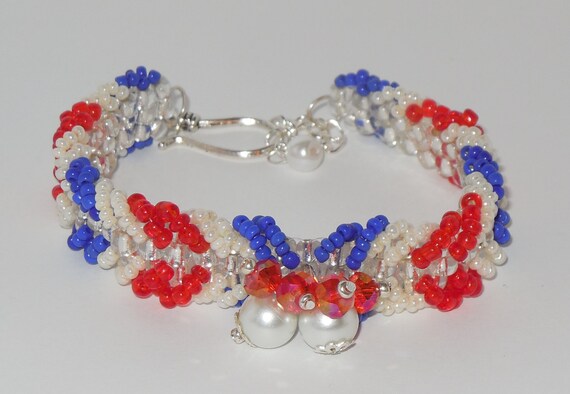 Red, white and blue - Patriotic Handmade Beaded bracelet
Beautiful bracelet made using seed beads. It has an extension chain to fit a wrist size anywhere between M and XL.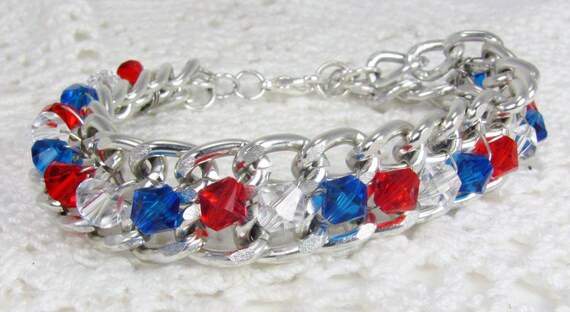 Arm candy bracelet - patriotic jewelry red white and blue crystal and chain bracelet
Red white and blue, arm candy representing the American flag made with chain and Czech crystals. Each crystal was carefully wired wrapped by hand into the links of the chain. This bracelet can be worn with many outfits and stacked with other bracelets. Perfect addition to your patriotic outfit or as a gift for somebody especial for the American holidays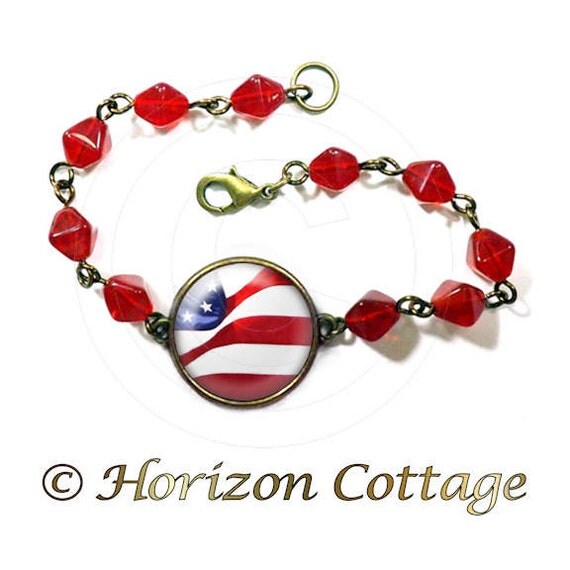 American Flag Bracelet - Patriotic Glass Dome Bracelet - Fly Your Colors
American Flag Bracelet - Patriotic Glass Dome Bracelet - Fly Your Colors Fly your patriotic colors with this American Flag bracelet! SIZE: The options include 7" or 8" but if you have a specific size you would like, just let me know during or after checkout. I make each of these as they are ordered so I can make it any size you like.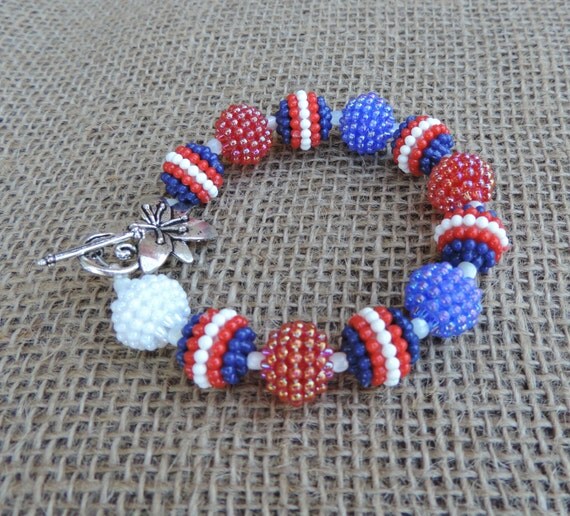 Patriotic bracelet
Get your red, white and blue on with this cute bracelet. Patriotic and shows American pride. Made with beads made of tiny seeds. Cute for holidays or any time of year. Measures about 8 1/2 inches and secures with silver flower toggle.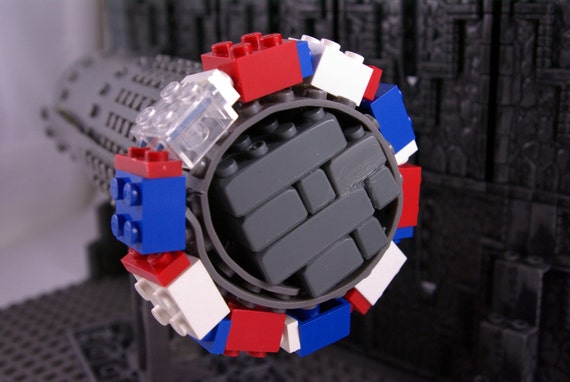 Lego and Mega Blocks Red, White and Blue Bricks Patriotic Bracelet Handmade
Bracelet made from up-cycled Lego Brix and Mega Blocks. Lego and Mega Blocks Red, White and Blue Bricks Patriotic Bracelet Handmade. It has 2 elastic cords holding it together. Sized at about 7 inches around. I get Lego and Mega Block bricks from all over. I only use the "good" ones. I recycle ones with teeth marks and heavy cuts on them. But the ones that make the cut, so to speak, might have scratches on them from being played with in a previous life.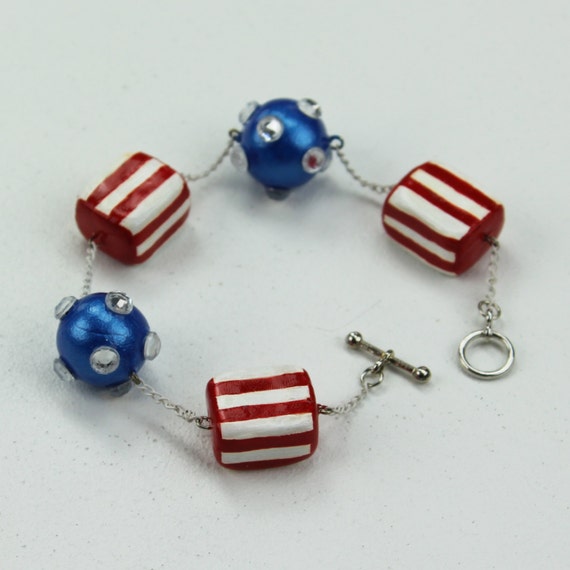 Patriotic Bracelet
I make a variety of jewelry from polymer clay, general purpose acrylic paint, and metal fixings. I coat all of my handmade pendants in a protective gloss, so wearers should have no problem sporting these pieces in any season.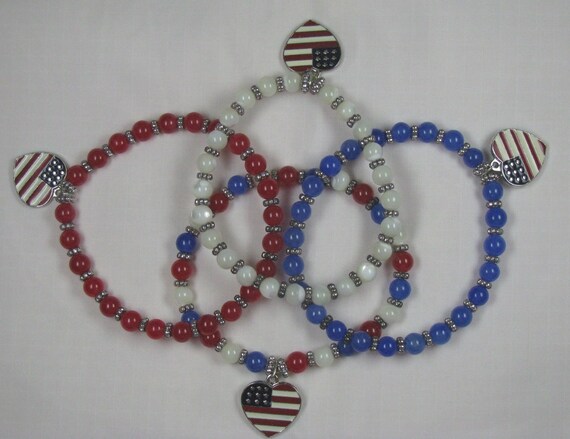 Set of 4 Flag patriotic bracelets
Celebrate our love for the red, white and blue with these cute beaded stretch bracelets. Keep some and give some away! Each hand beaded bracelet is about 7 inches in length and user friendly. Strung on clear stretch cord, they are fun to wear . Each has silver tone accents and has a cute enameled heart shaped flag pendant as shown. The set includes: (1) each of 6mm rounds of Bleached Mother-of-Pearl, 6mm rounds of dyed Red Quartz, 6mm rounds of dyed Blue Quartz, and one with all 3 alternating colors in 6mm rounds. Each one sports its own flag pendant. All at our low bargain prices...what can you lose? Celebrate freedom! PS The stones used in the piece will be labeled on each bracelet, and individually packaged.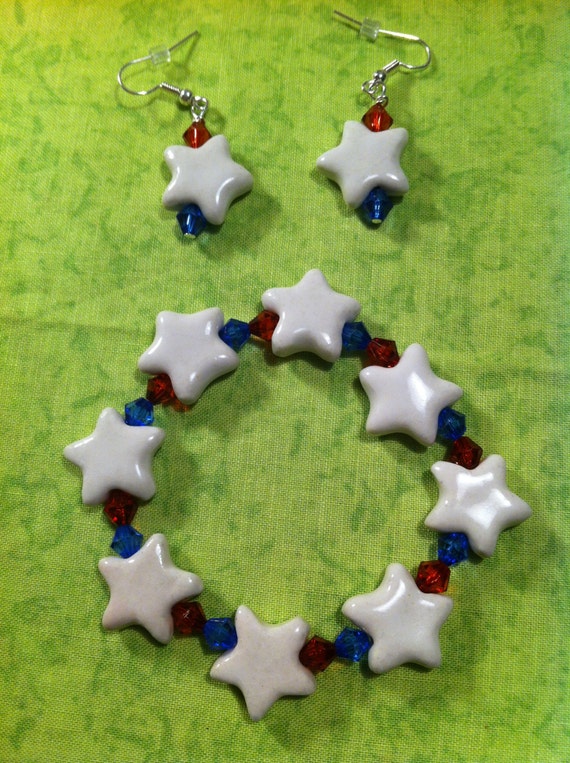 Patriotic Bracelet and Earrings Set - Stars
Patriotic bracelet and earring set. Stars are 17x17mm white puffed porcelain beads. Each is separated by red and blue acrylic bicone beads (6mm). Stretch bracelet will fit 7.5 to 8 inch wrist. Earrings hang approx 1 inch in length. Closure for earrings is silverton french hook with clear rubber stoppers.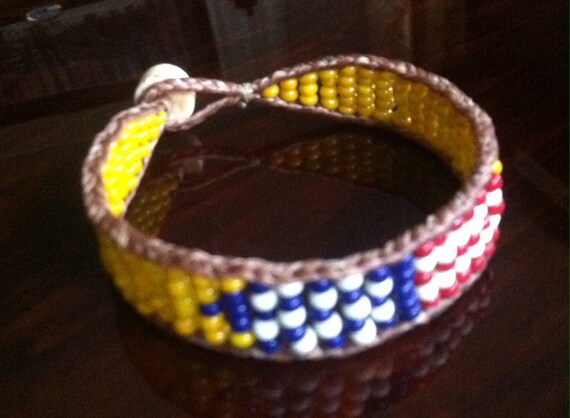 glass beaded patriotic bracelet fits 7'' wrist.
glass beads, 7 inch, bone hasp, American flag design. this bracelet is well made and can be ordered in any size.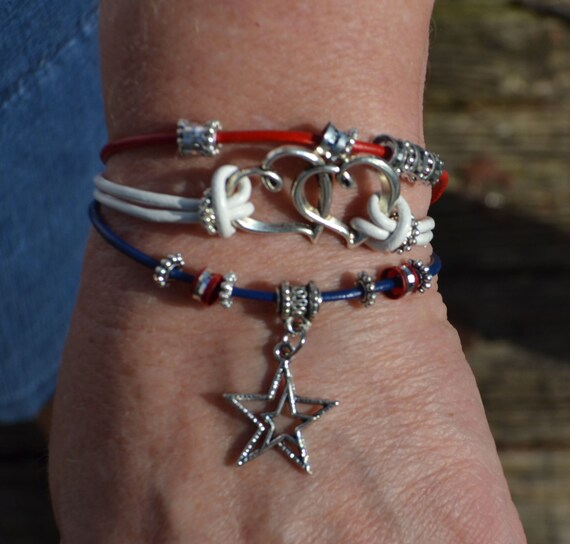 Stars and Strips Patriotic Bracelet (Carry the Heart of a Warrior)
This bracelet was inspired by the men and women of the Armed Forces. I have three and my heart goes out to them everyday. It was a fun piece to make. Wear this bracelet with pride and think of the men and women that serve you and our country everyday. The bracelet measures 71/2" it also has a magnetic clasp for easy release. It is designed with a lot of love in Tibetan silver charms and aluminum beads. The cording is 2mm leather in red, white and blue .
Go To
4th of July Bracelets Page ONE
Go To
4th of July Bracelets Page TWO
Go To
4th of July Bracelets Page FOUR
Go To
4th of July Bracelets Page FIVE
Go To
4th of July Bracelets Page SIX
Go To
4th of July Bracelets Page SEVEN
Go To
4th of July Bracelets Page EIGHT
Go To
4th of July Bracelets Page NINE