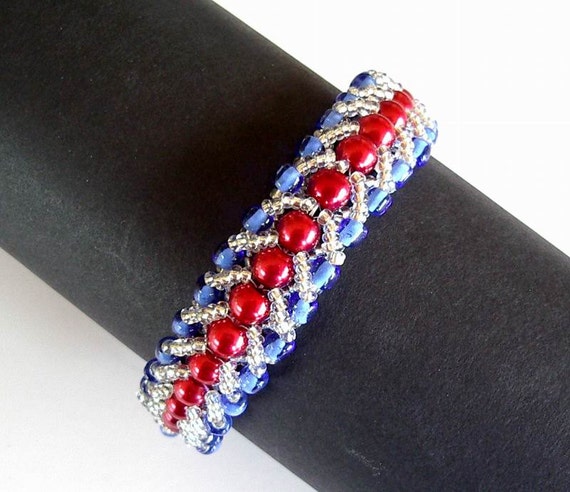 Beaded Bracelet Jewelry Red White Crystal Blue Patriotic American Flat Spiral Stitch
Lovely red glass pearls in 6mm size make up the center of this patriotic bracelet. Side beads include both small royal blue glass 4mm beads and crystal glass seed beads.. This bracelet was made with the flat spiral stitch and includes a silver color ball and socket or snap clasp that is easy to put on and very secure. The bracelet measures 5/8" wide by 7" in length when closed.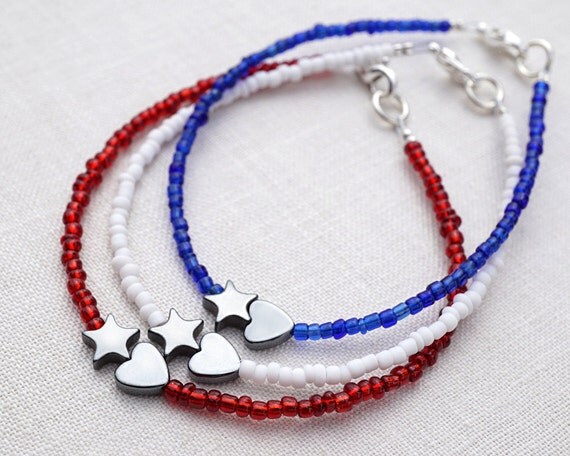 Patriotic Minimal Bracelet, USA Flag Stacking Bracelet Set
Patriotic Minimal Bracelet, USA Flag Stacking Bracelet Set, American Friendship Bracelet, Star Heart Bracelet, Blue White Red Thin Bracelet The perfect time to get your patriotic colors on :) The heart and the star are made from hematite stone and they are polished like a mirror. The heart and the star size is 6 mm. All closure components are sterling silver.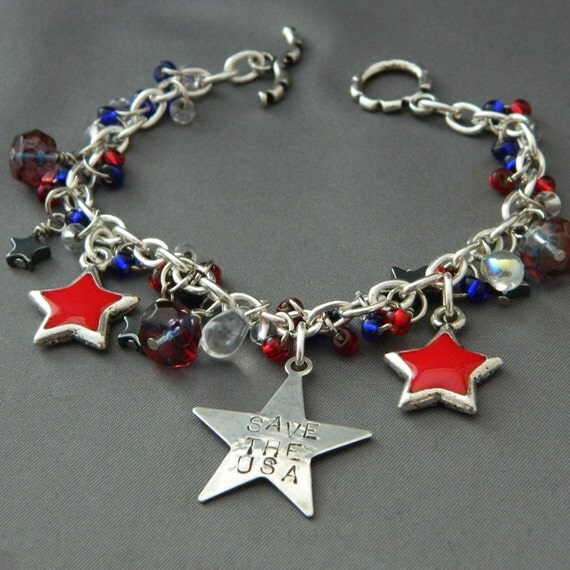 God Bless the USA Patriotic Charm Bracelet
This bracelet is made with all kinds of red, white and blue goodies! On a silver basemetal cable chain, I added a sterling silver star with "God Bless the USA" on one side and the other, "Save the USA". There are small glass seed beads in red, clear and blue, AB glass tear drop, hematite stars and red star charms. It measures 7.75 inches long.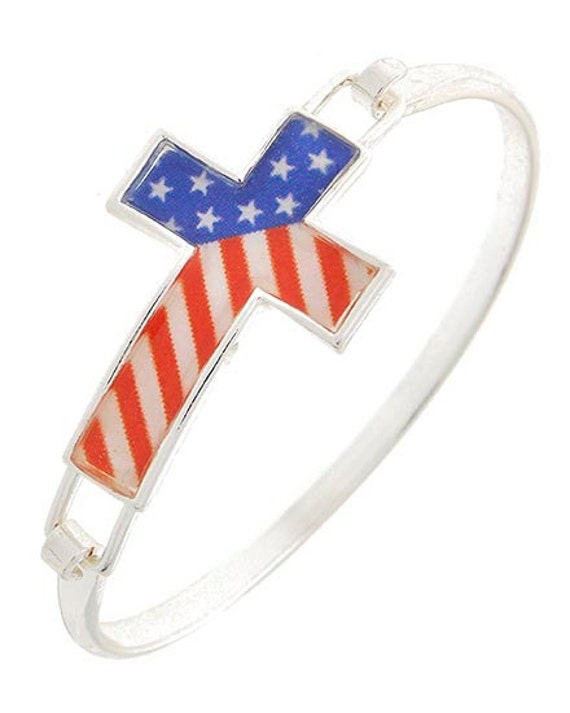 Patriotic Flag Cross Bracelet - American Flag Cuff Bracelet
Patriotic American Flag Cross Cuff Bracelet Patriotic cross bracelet, perfect for showing your American pride! A hook closure makes it super easy to get on and off. One size fits most. Multi Color American Flag Print Epoxy / Lead & nickel Compliant / Cross W/american Flag / Hook Cuff Closure / Bangle Bracelet • DIAMETER : 2 1/4" • TOP FACE : 1" W X 2" L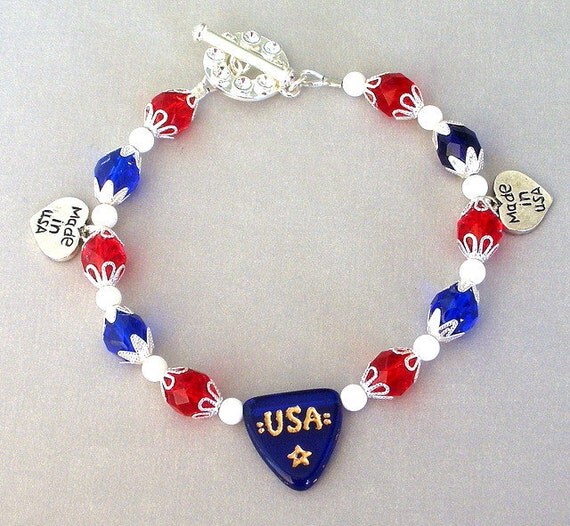 Red, white and blue bracelet, patriotic bracelet
This lovely patriotic red, white and blue bracelet has 8mm ruby red and cobalt blue Czech fire polished glass beads framed by silver plated beadcaps with little white mountain "jade" spacers. The center bead is a cobalt blue Czech glass bead with the words "USA" and a star etched on it. I've hung two sweet antiqued silver heart charms (one side says Made in USA, the other side is a U.S. flag), and finished the bracelet with a gorgeous Swarovski crystal studded toggle clasp.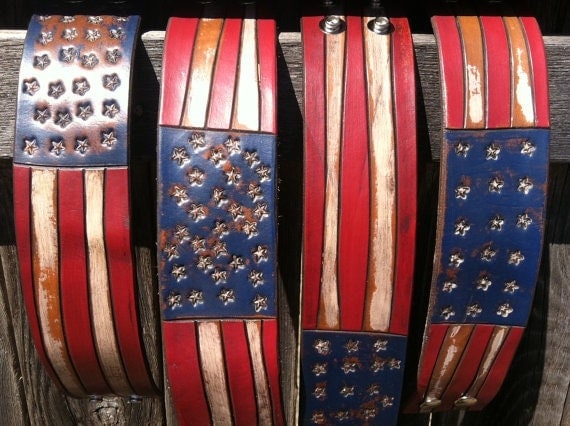 American Flag Jewelry, Leather Bracelet
Perfect for Veterans, Bikers, active Duty and proud moms,dads and children love this style. It's rustic, and so patriotic and very comfortable. Also choose from 2" width and 1.5" width. The snaps will be a silver gunmetal unless you request a brass or silver. Gunmetal is the most popular.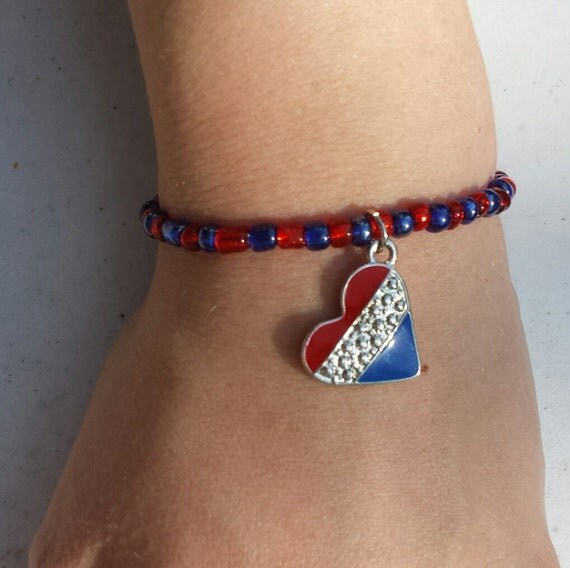 Patriotic Red Blue Beaded Stretch Bracelet with Heart Pendant. Handmade Jewelry
This one of a kind stretch bracelet is great for independence day! It stretches for easy slipping on and off. It is made with red and blue glass beads and a heart pendant. The pendant is red, blue and silver colors. Lead and nickel free.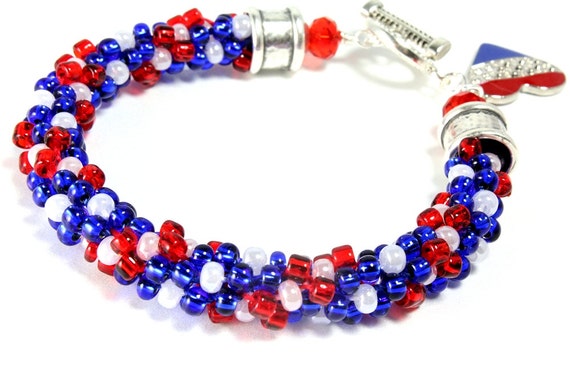 Patriotic Kumihimo Bracelet, Red White Blue Kumihimo, Heart Charm
Wear this red, white, and blue kumihimo bracelet for the Fourth of July of any patriotic holiday, or wear it just because. Matsuno red seed beads and Czech pearl white and royal blue seed beads are woven using an ancient form of Japanese braiding called Kumihimo. This intricate design is finished with barrel-shaped antique silver plated pewter end caps, red crystals, and a decorative toggle clasp. Dangling from the end of the bracelet is a red, silver, and blue enameled heart charm, adding an extra touch to the American pride that this bracelet represents. Measuring 8 1/4" from end to end, the bracelet will fit an average to slightly larger size wrist. If your wrist measures 6 1/4" - 7 1/4" when measured at the wrist bone, this bracelet with fit you comfortably with some room for movement. It will fit a larger size wrist, but more snugly.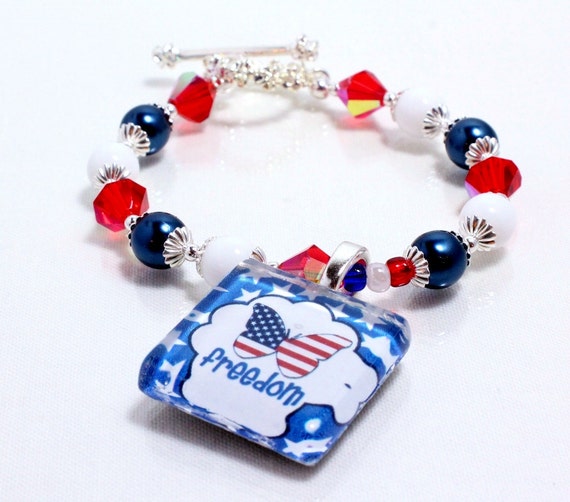 Fourth of July Bracelet, Red White Blue
Celebrate America's freedom on Memorial Day, Fourth of July, and other patriotic events and holidays and show your patriotic pride with this 7 1/4 inch patriotic bracelet. Red Czech bicone aurora borealis crystals, white Czech druk beads, and blue glass pearls with silver bead caps and spacer beads are strung on heavy-duty beading wire, and a one inch square glass tile charm that displays a patriotic logo with a red, white, and blue butterfly "American flag" on a background of blue with white stars dangles in the middle from a sterling silver plated Aanraku bail. The word "freedom" is below the butterfly.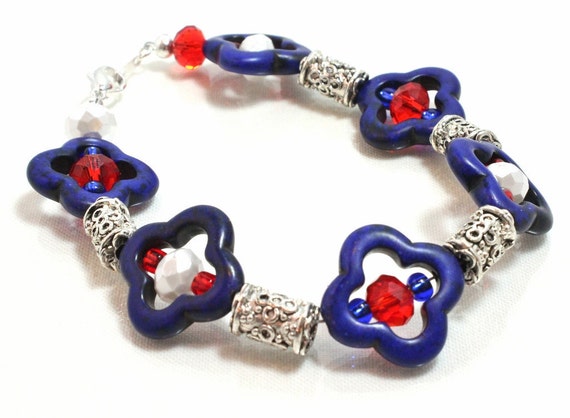 Fourth of July, Patriotic, Crystal and Magnesite Bracelet
This red, white, and blue bracelet will help you show your patriotism in style on Memorial Day, 4th of July, and other patriotic holidays! Lapis blue magnesite open flower shaped beads frame red and pearl white crystals and red and blue seed beads. Between each flower I have placed a silver plated pewter Bali tube bead. The bracelet closes with a silver plate lobster clasp. The inside circumference is 7-1/2 inches to fit an average to larger size wrist.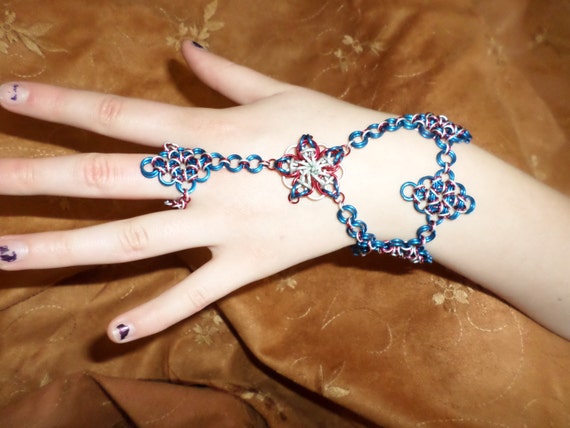 Red White and Blue Japanese Handflower
This patriotic handflower is light and bright and tons of fun! The weave is primarily a Japanese 12-2, and has a Celtic Visions star centered on the back of the hand. Fits up to an 8" wrist. Can modify sizing slightly upon request.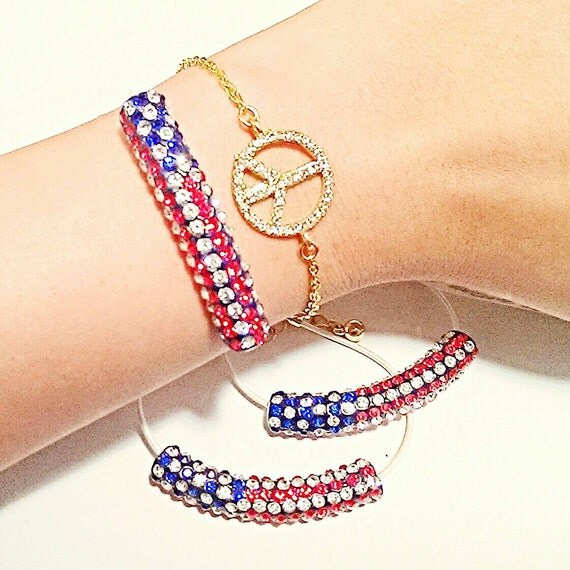 4th of July Rhinestone Bracelet with Patriotic American Flag Charm on White Leather Cord
Feeling patriotic? Celebrate the 4th of July with this super-sparkly American Flag Bracelet or rock it in honor of our veterans and armed forces. Rhinestone American flag charms in red, white and blue with a pearlescent white leather cord and gold plated hardware add a dash of the American spirit to any outfit. USA!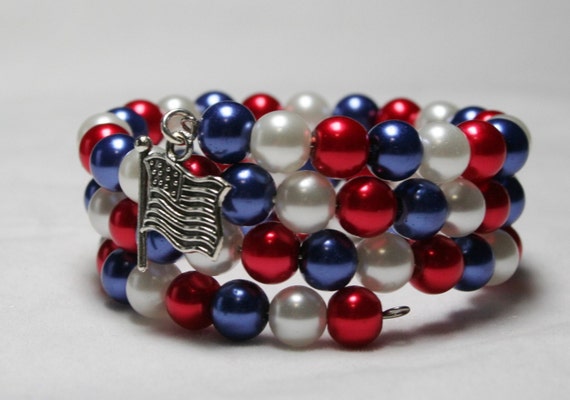 4th of July, Red, White and Blue Bracelet
Are you ready for the 4th of July?? This stunning Red, White and Blue Pearl bracelet is the perfect accessory for those Independence Day celebrations that are right around the corner. This bracelet is lightweight and comfortable to wear.(Listing is for 1 bracelet.) Made with stainless steel memory wire, one size fits all since it easily wraps around any wrist. You will want to gently wrap the bracelet around your wrist following the natural curve of the wire in order to preserve it's shape.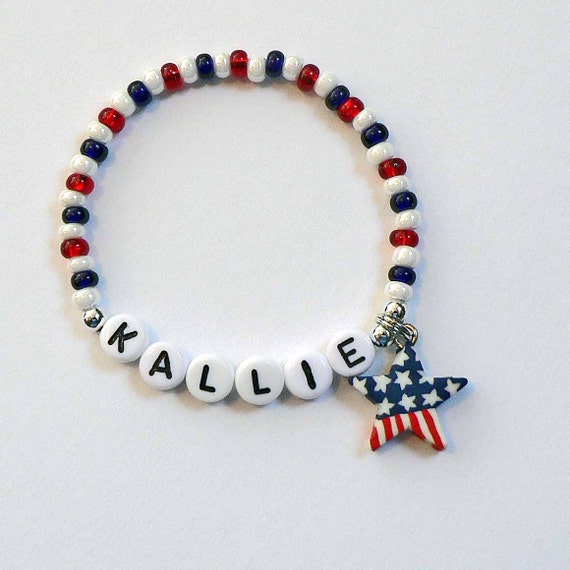 Patriotic Personalized Name Bracelet Red White n Blue Star Charm Memorial Day 4th of July Election Year Little Girl Jewelry
Be ready for Memorial Day, the 4th of July, Labor Day & an election year in your patriotic personalized bracelets!! You choose the personalization. You can also opt for no personalization. Both bracelets are made on durable stretch cord. This listing is for (1) bracelet. Pictures shown are examples.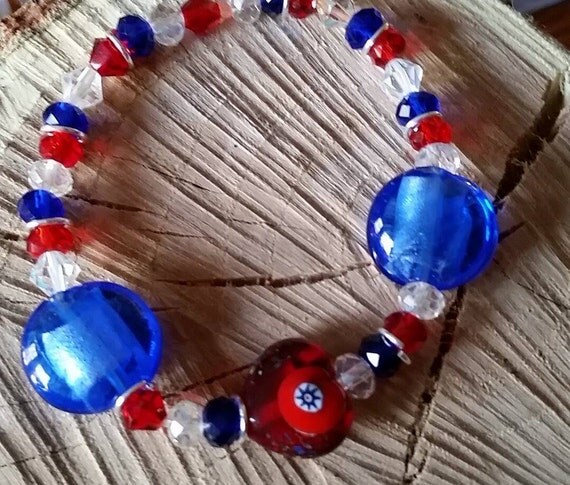 Red, White, and Blue Patriotic Glass Bead Elastic Bracelet
This glass bead bracelets with an elastic band even the wicked witch of the east would be dying to wear. Unstretched size 7 - 8" (17-20 cm), but will accommodate most wrist sizes.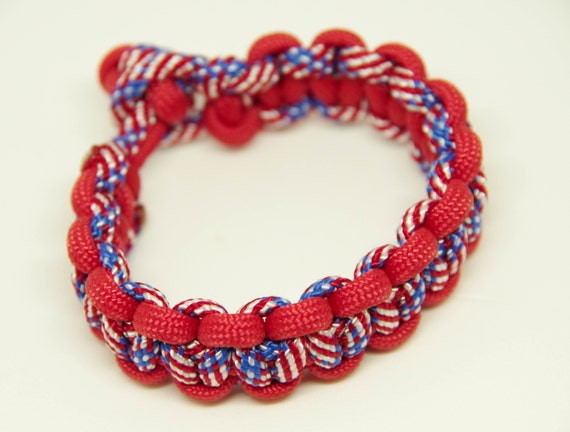 Red and Patriotic Multi Paracord Bracelet - Solomon Bar, Size Small
A fun and inexpensive way to show your color sense! This bracelet is made of 550 lb strength parachute cord (paracord) which consists of a nylon cover over a 7 strand core. Paracord comes in many colors and can be knotted into numerous designs. This design is called a Soloman Bar and since it is fastened with a knot and a loop, can be reversed and worn either side out. I like the knot and loop better than a buckle, since there is nothing to break. Bracelet Colors: Red and Patriotic Multi (red, white and blue) Overall bracelet length: 7 3/8 inches Overall bracelet width: 3/4 inch Fits Wrist*: up to 6 inches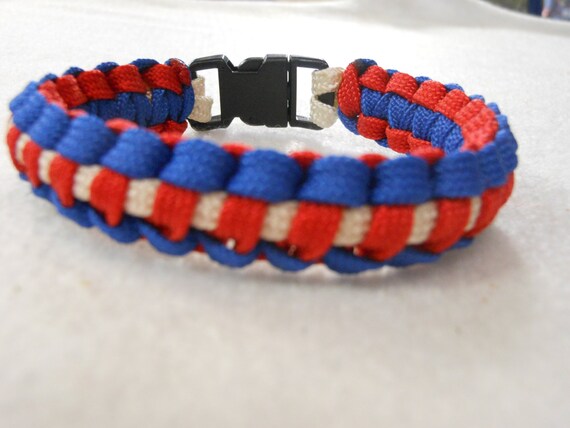 Patriotic American Flag Paracord Bracelet
American Flag colored paracord bracelet. For those who love our country! This is a Medium sized (8.5 inches) bracelet. Other sizes available including: Small (7.5 inches), Large (9.5 inches) and Custom. Please specify if size desired is other than Medium or else I will assume you wish to purchase a medium size.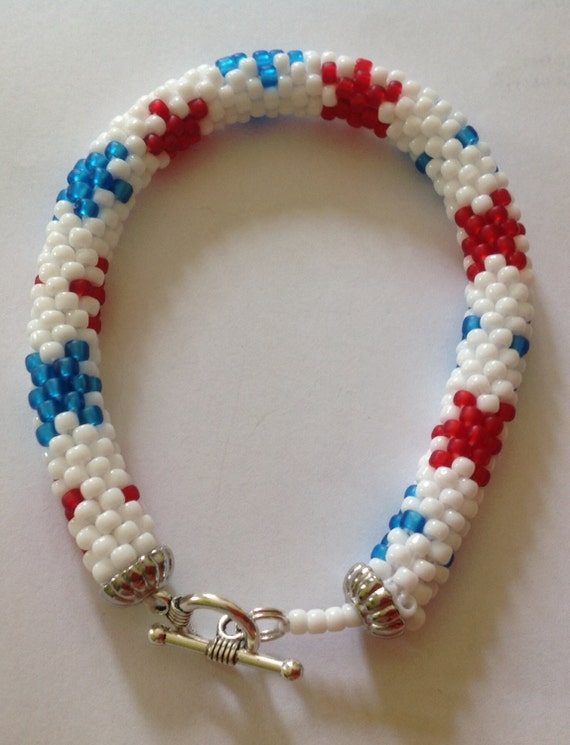 Red, White, and Blue Patriotic, Crocheted Bead Rope Bracelet. 8 inches from the toggle end
These Patriotic, July 4th, bracelets are about 8 inches long. I started on these early so I will have plenty of time to customize for you! There are well over 400 Japanese, round, glass, beads, all even, in this bracelet and crocheted with 100% cotton thread.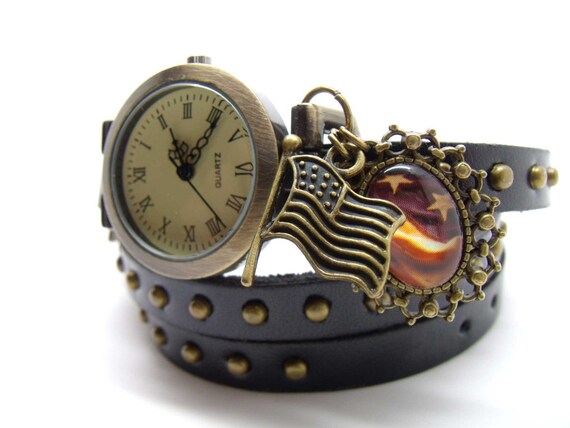 Vintage Leather watch Bracelet Watch three laps wrist watch Wrap Watch
Do you want to change the flag or change another charm? Contact me and I will make a watch for you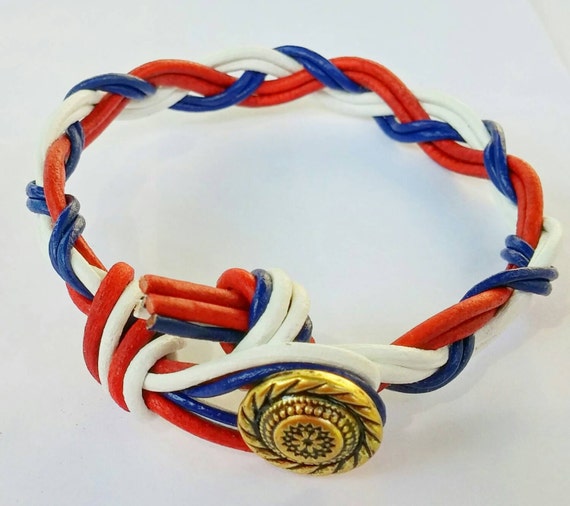 Patriotic Leather Bracelet/Patriotic Jewelry
Cool patriotic leather bracelet. Red, white, and blue unisex leather bracelwt with a golden button. Fits a wrist between 7 and 8 inches. Hand made in the USA. Free first class shipping in the US and all purchases over $20 get a free gift.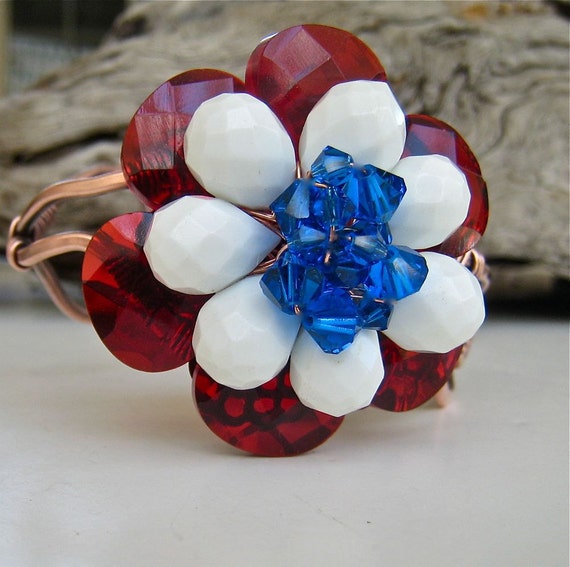 Red White Blue PATRIOTIC bead FLOWER copper cuff bracelet OOAK
One-Of-A-Kind copper cuff bracelet. The red, white and blue beads make up this pretty patriotic flower. The red glass beads hold the faceted white briolette beads. The blue Swarovski crystals make up the center. The flower is about 2 inches across and 1 inch thick. It's a stunner!!!! It's all wirewrapped onto a handmade copper wire cuff. Very sturdy!!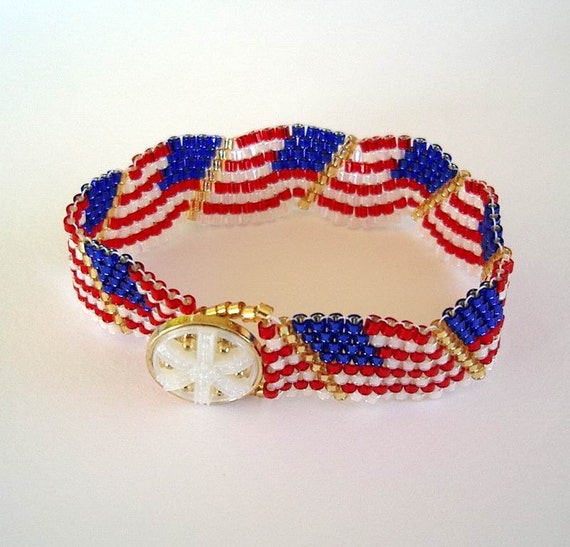 Wavy US Flag Beaded Bracelet Red White Blue Patriotic American Flag Day
Red, white and blue Delica brand glass seed beads with silver linings to give them extra sparkle make up this patriotic bracelet composed of wavy American style flags with gold flag poles. This bracelet was made with the peyote stitch and includes a white and gold button and bead clasp that is easy to put on and very secure. The bracelet measures 3/4" wide by 6 7/8" in length. A really superb bracelet for Flag Day, Fourth of July, Memorial Day, Veteran's Day or just anytime!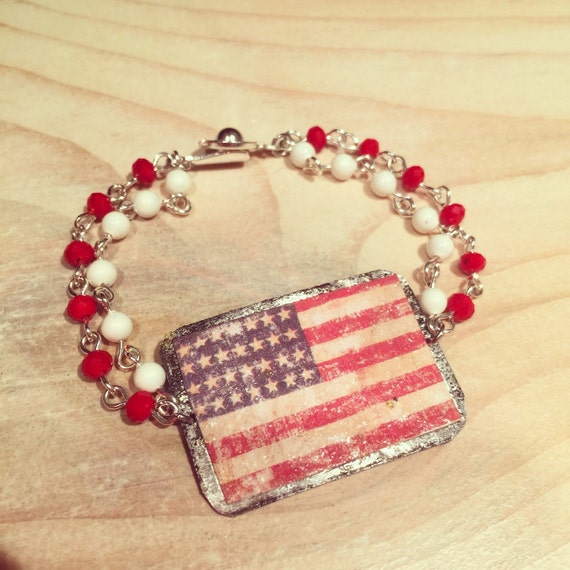 American flag bracelet patriotic beaded ready to ship Fourth of July
American flag image sealed on blackened aluminum and accented with small red and white hand-linked beads. Easy closure.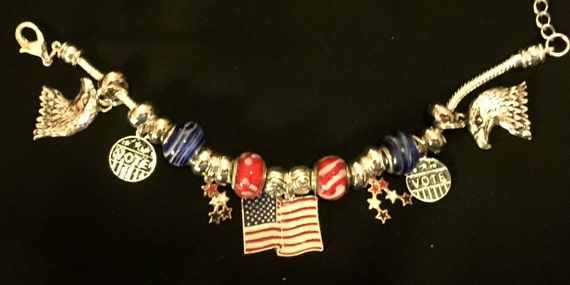 Patriotic "Get out and vote" or July 4 hand made charm bracelet - size 7 -
I make custom one of a kind charm bracelets for friends and family based on their professions, interests, hobbies, special occasions, and families. I can make one for you! Just let me know what theme you'd like me to build on. I'll do up a bracelet (and matching earrings if you like), send you a photo for your approval, and once you approve, send you the jewelry. So simple!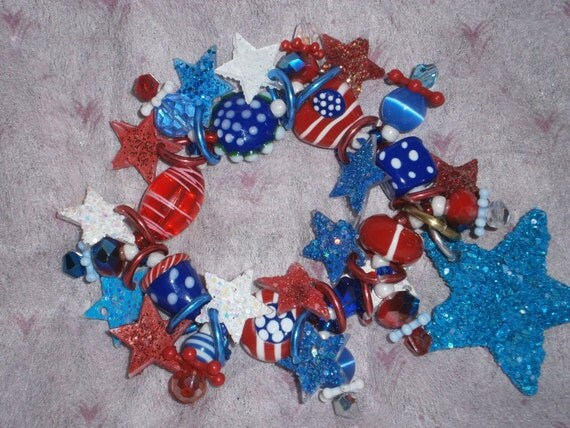 Stars and stripes bracelet/ America/ USA/ Patriotic/ beadiebracelet
This festive bracelet is perfect for any holiday that celebrates America. It has glass beads that are red white and blue. The stars are plastic. This bracelet measures 7 " on stretch cording. Very fun!! Comes with a gift bag. Thanks for looking!!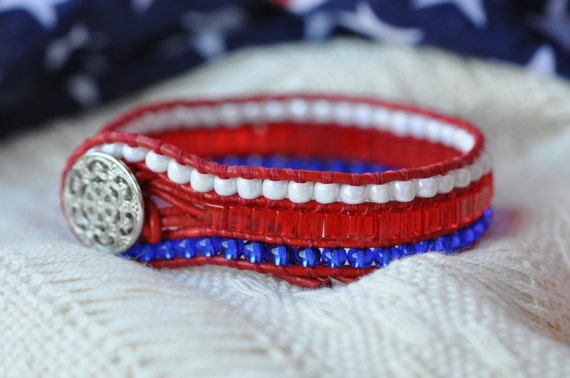 Handmade Red Leather Patriotic Cuff, Red White and Blue Beaded 3 Row Cuff Bracelet, Single Wrap Cuff
Show your patriotic with this Red, White and Blue beaded red leather cuff bracelet. Your pride for your country will show when you wear this patriotic cuff bracelet. I used one outside row of transparent blue seed beads and a row of white iridescent seed beads on the other. Fire engine red square transparent beads run down the center of this red leather bracelet. A silver round filigree metal button finishes the piece. Button may vary depending on availability,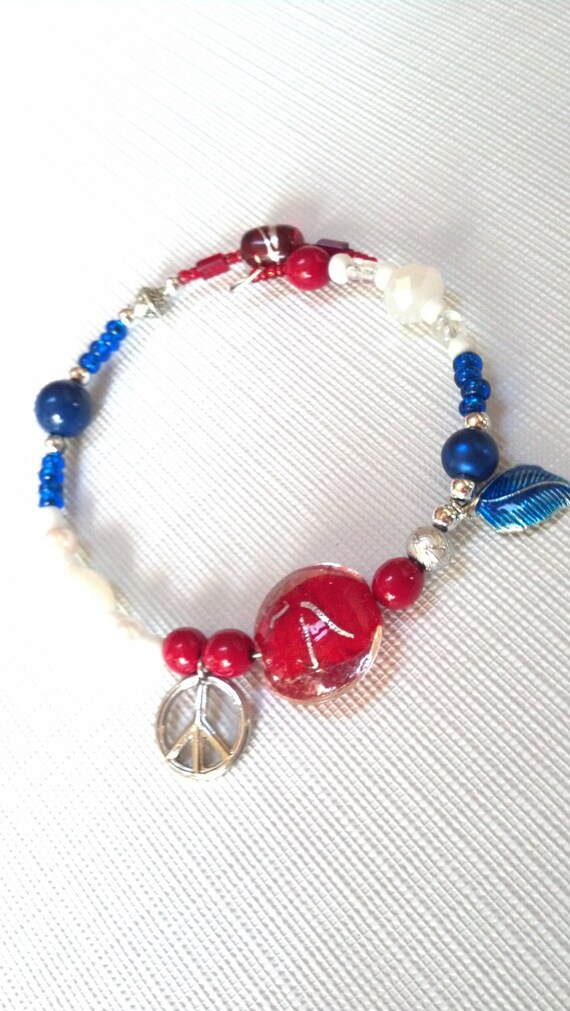 Red, White and Blue Patriotic Bangle Bracelet, July 4th
A Simple yet interesting Design , this Fun, Bright and Patriotic Design will take you right thru the Summer or anyday of the Year! Made using Gunmetal Silver Memory Wire, it will always keep its shape and is bendable and comfortable. Open, rounded edges are perfect for easy on and off and may even be worn as an Anklet!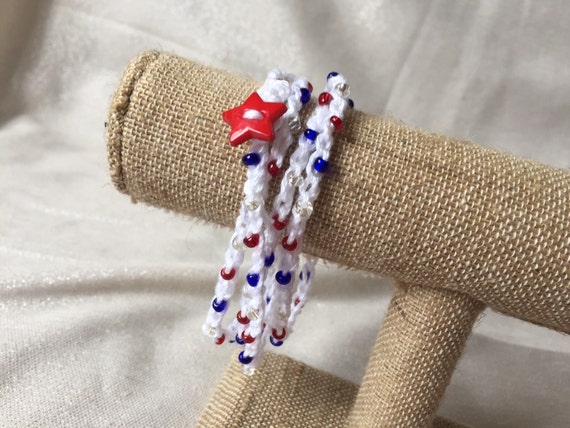 White Patriotic Crochet Wrap Bracelet
39" White cotton yarn bracelet crocheted with red, white and blue beads held together with a red star button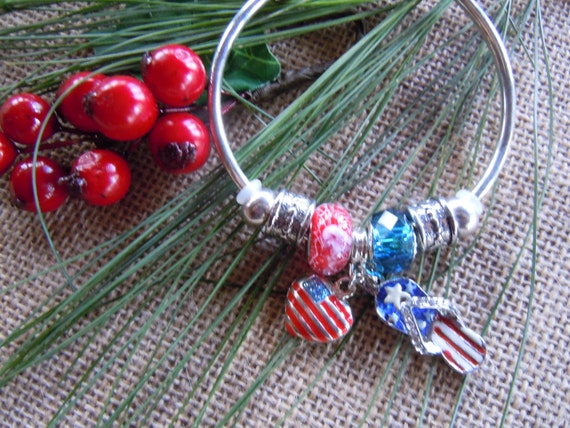 Patriotic Charm Bracelet
A unique Patriotic Charm bracelet. This one features the enamel heart with the flag colors and a Red, White and Blue Flip Flop!!! Yep, with a rhinestone accent to boot. Together with the red and blue glass beads it is set on a silver tone cuff.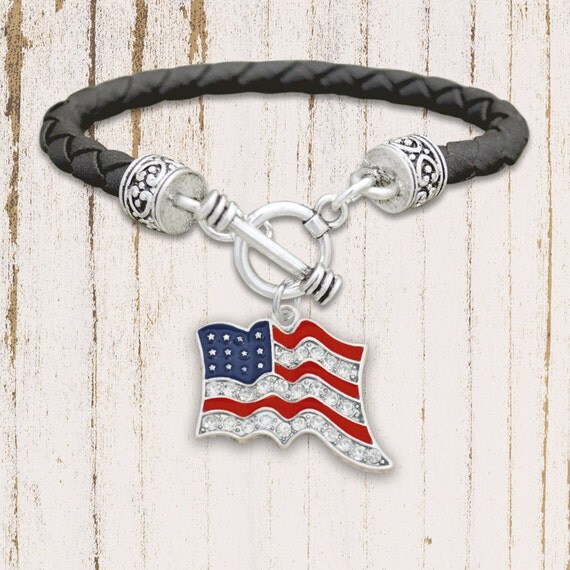 American Flag Leather Bracelet- 50331
All of our products are lead, nickel, and cadmium free and coated to protect from tarnishing. The charms are standard medium sized, and measure around one inch. Charms are cast in pewter, plated with sterling, then antiqued to show the beautiful detail of each piece. Necklaces measure 18 inches, bracelets measure 7.5 inches, and ear wires are made from hypoallergenic stainless steel. Rings, cuff bracelets, and stretch bangles flex to fit most sizes. Slider pendants work as a necklace or omega pendant or scarf accessory.
Go To
4th of July Bracelets Page ONE
Go To
4th of July Bracelets Page TWO
Go To
4th of July Bracelets Page THREE
Go To
4th of July Bracelets Page FOUR
Go To
4th of July Bracelets Page FIVE
Go To
4th of July Bracelets Page SEVEN
Go To
4th of July Bracelets Page EIGHT
Go To
4th of July Bracelets Page NINE