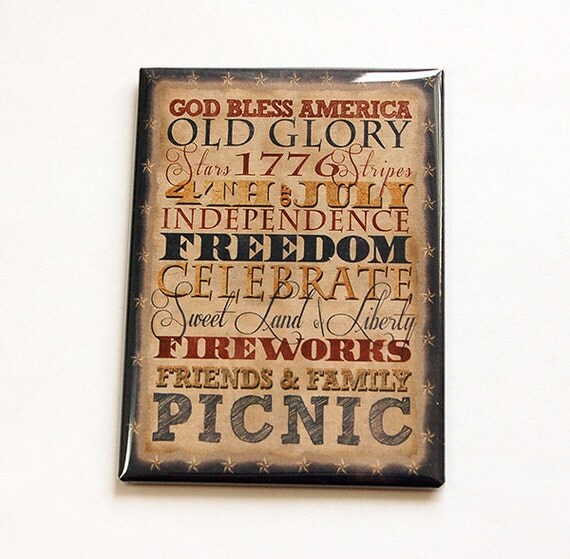 USA Magnet, Patriotic Magnet
The patriotic magnet measures 3.5" x 2.5" (64 mm × 89 mm). I made this magnet using a Tecre punch. It makes a sturdy magnet with the design sealed behind mylar. This provides protection and a nice glossy finish. On the other side is a magnet (as show in the last photo).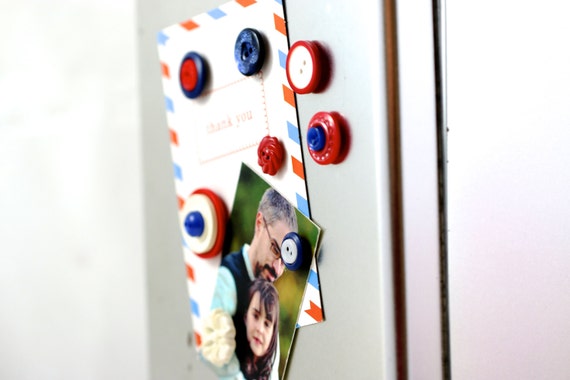 Patriotic Magnet Set (8)
This set of 8 vintage button magnets come in a steel gift tin with a clear lid, wrapped in a colorful ribbon and ready to gift! The Red, White & Blue theme would be a thoughtful gift for a proud veteran. They'd also be great patriotic office decor for 4th of July, Memorial day, Labor day, and every other day! They feature the strongest magnets* available (also called neodymium magnets) that can hold *at least* 7 sheets of paper each. These are very sturdy magnets that won't fall off your magnet board or fridge. I hate it when that happens, and it never does with these reliable magnets.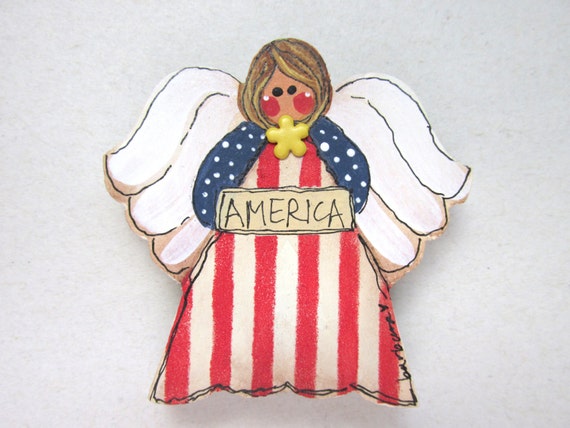 Patriotic Americana Angel Magnet, Patriotic Magnet,
Patriotic Americana Angel Magnet, Patriotic Magnet, Angel Magnet, Americana Magnet, Small Angel, Red, White, and Blue Magnet, Tole Painted A great little hostess gift for summer BBQ's or for those who love angels. This is a wood shaped Angel that has been painted with acrylic paint. The angel measures 2 1/2 inches tall and 2 1/4 inches wide. She has been hand painted featuring a sign which says "America". Her clothing depicts the American flag.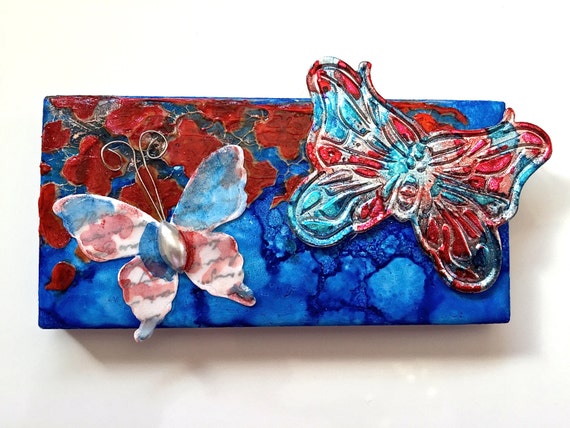 4 x 2 in. Up-Cycled Alcohol Ink "Patriotic Butterflies" Tile Magnet
Anyone who is patriotic and loves butterflies will enjoy this vibrant alcohol ink tile magnet! Made with an up-cycled tile that has been hand painted with alcohol ink and embellished with an embossed foil butterfly and a tissue script butterfly, this tile magnet has been sealed with two coats of Karmar Varnish and two coats of Krylon Clear Acrylic Spray. The magnets on the back of the tile are very strong and will easily hold multiple pieces of paper at one time.
Patriotic Girls Clean Dirty Dishwasher Magnet
Are your dishes clean or dirty? Use this fun dishwasher magnet to indicate if your dishes are clean or dirty. This 3 inch dishwasher magnet is ready to gift and includes a white organza gift pouch and gift tag. Makes a great hostess gift or gift for a friend or yourself! Handmade in the U.S.A. by Aloha Girls Gifts.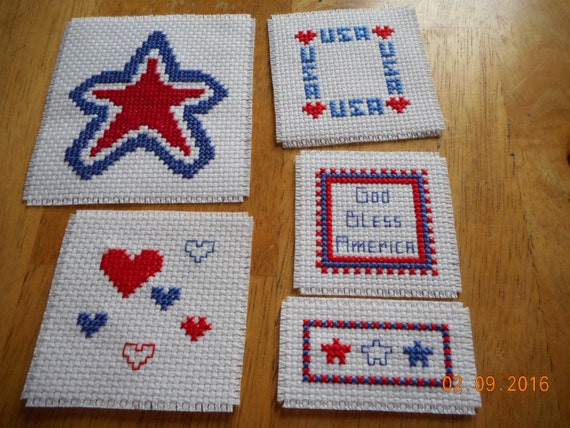 Patriotic Magnets cross stitch magnets SET OF 5 kitchen magnets locker magnets
This set of 5 Patriotic Magnets is done in cross stitch on 14ct aida and features: RED, WHITE, & BLUE STAR, USA with hearts, and GOD BLESS AMERICA with stitched border, RED, WHITE & BLUE HEARTS and RED WHITE & BLUE STARS. The back is finished with iron interfacing for a neat, smooth surface. The interfacing makes them a little stiff while maintaining the lightness of the aida cloth. The magnet is applied with red liner tape. They measure approximately 3 1/4" x 3 1/2" to 2 1/4" x 1 1/4"They were made in my smoke free home. These patriotic magnets: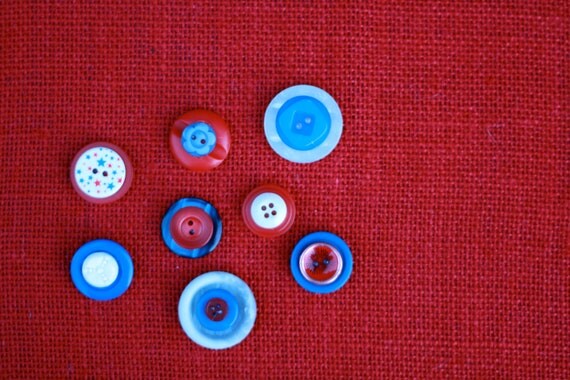 Red, White, and Blue Button Magnets- Set of 8 -
Want an extra button magnet set for your Burlap & Lace magnetic board? Or would you like a set of beautiful magnets for your fridge, locker, etc? These ready to ship Red, White, and Blue Button Magnets would compliment our All-American Boy or Patriotic Boards perfectly! Receive these 8 button magnets for just $7.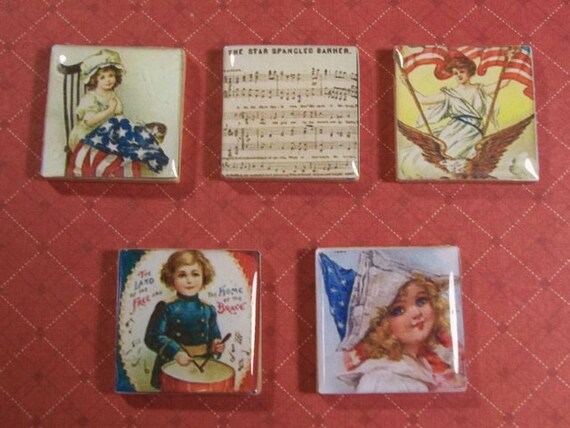 PATRIOTIC-- Magnet Set-Magnets--Gift Box Included
A 5 piece set of 1" wood magnets. The images I use are from digital artists. After adhering the images, I use an epoxy dome which may be wiped off with a damp cloth. The Neodymium Rare Earth magnets on the back are VERY strong and will hold several pieces of paper. No more papers sliding down the frig!!!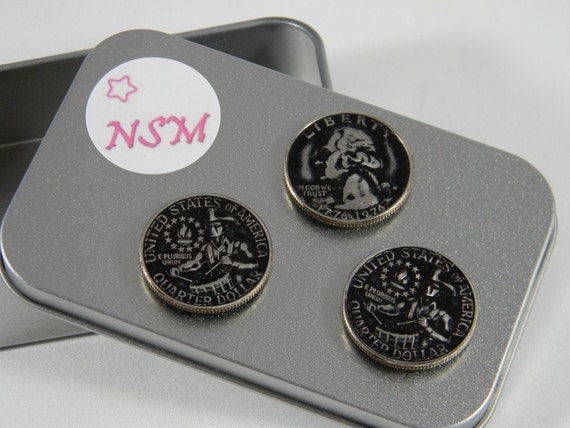 U.S. Bicentennial Quarter magnet set - Patriotic magnets
This spectacular magnet set is crafted with 3 genuine U.S. Bicentennial Quarters and N48 Neodymium magnets. This set has a 1776 - 1976 date showing on the visible side of the magnet set. The actual coins and dates you will receive are shown in the first picture of this listing (the four other pictures may be of a similar set). Coins are selected for the best quality with the least amount of wear possible.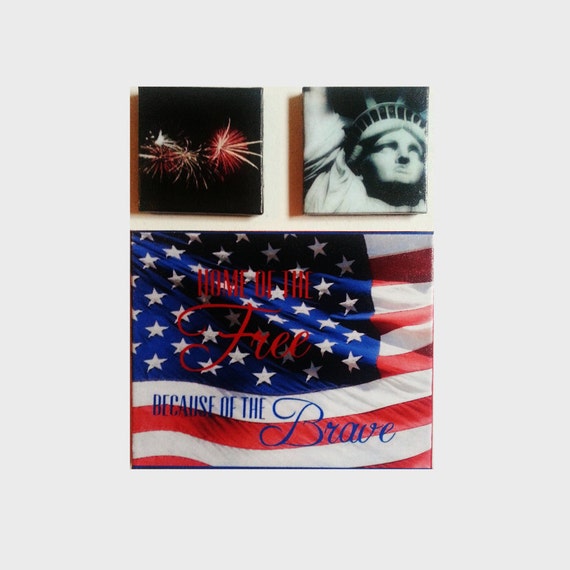 Patriotic Magnets
Home of the Free Because of the Brave canvas wall art with matching magnets makes a beautiful addition to your patriotic decor. The picture is decoupaged onto an 8x10 canvas and hand painted sides and edges all topped off with a coat of glossy mod podge to seal and protect as well as to add a glossy shine. This would be perfect for 4th of July or Americana decor in your home. The patriotic magnets are 4x4 stretched canvas magnets. One is a photo of fireworks and one is our Statue of Liberty. The photos are decoupage around the top and sides. They have a felt backing and 2 long magnet strips to hold any papers or photos securely in place on your refrigerator. Would be great for home or office.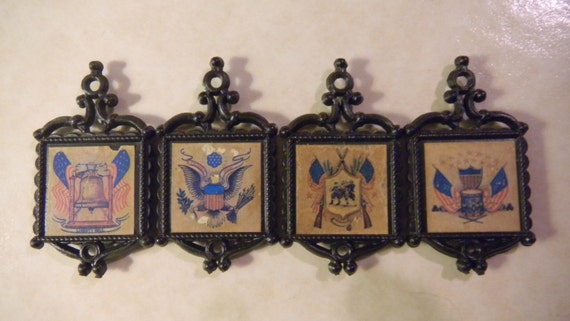 Vintage,Magnets,Patriotic,Patriotic Magnets
This is a set of 4 Patriotic Colonial Style Magnets hailing from the 1970's era. They measure 2 1/2 inches in length and 1 1/4 inches in width. They are in excellent condition save for two magnets that have a little wear( Photo 4). Photo 2 reveals the back. They are a great addition for magnet collectors and those who collect patriotic memorabilia.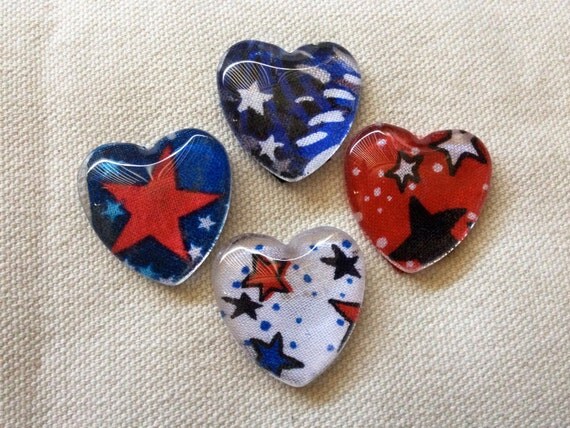 Love America July 4th Magnets
These glass heart shaped magnets are all about America! They have very strong magnet on back and would look so great on the fridge on Independence Day. Get them soon, the 4th is coming. Priced just right!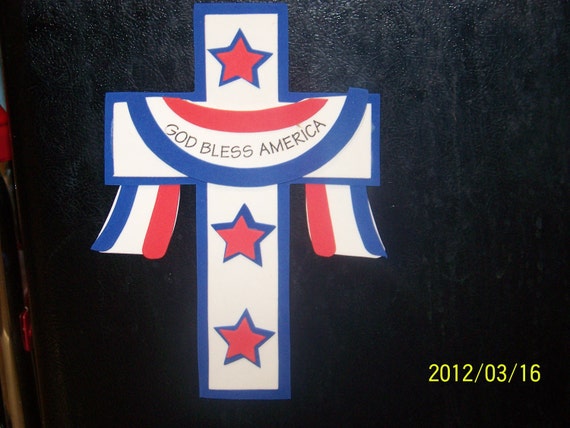 God Bless America magnet
a cross shaped magnet in patriotic colors. It has the saying "God Bless America" on it. It is about 5" x 7" and can be placed on any magnetic surface. Made using craft foam and markers.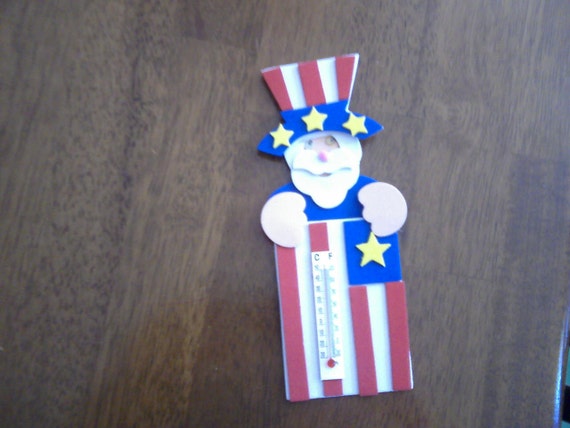 Uncle Sam magnet
patriotic magnet with a thermometer on it, for decoration. It is about 7" tall.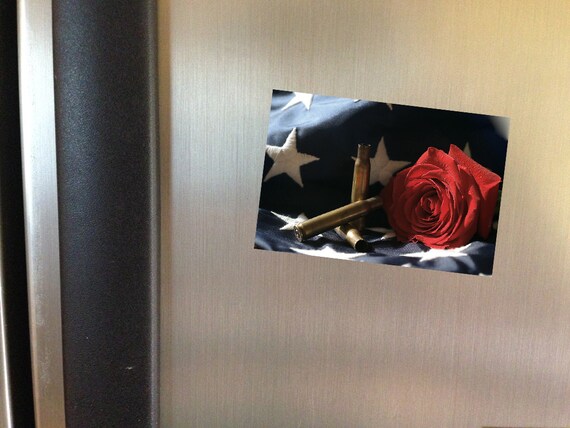 Patriotic Refrigerator Magnet, Fridge Magnet
~Art for your Fridge! ~ 2.5 x 3.5 inches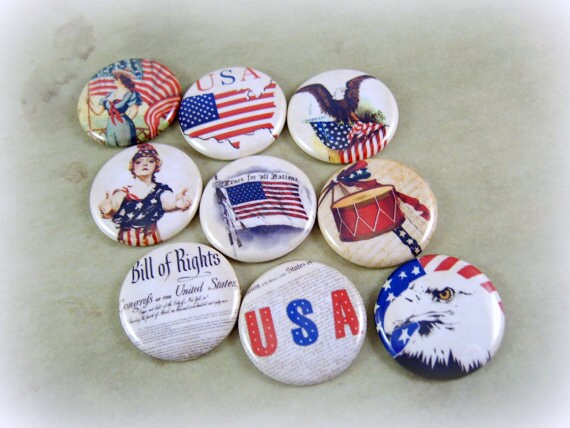 1" Inch Patriotic Flat Back Buttons, Pins, or Magnets 12 ct.
Vibrant & stunning 1" (25mm) handmade cabochons that are available in flat back for your DIY projects, hollow back as a topper for your interchangeable jewelry, pin back for wearing and now magnets. DESCRIPTION *PATRIOTIC 12 Count. *The photo listing is just a small sample from the sheet. Designs may vary. *Different quantities available, just ask and a custom listing can be made for you. MORE INFO ~Handmade by us in our workshop in Tennessee using two professional button presses. ~All imagery used is purchased from digital artist with permission to use in small business. ~Custom orders and large quantities welcome. ~If you do not see something here in the shop, I can probably find it for you. ~We can help you with your fundraisers, family reunions, weddings, or any large scale event. ~Any of our products can be made with your own photo or personal artwork. ~Don't hesitate with any questions, ever!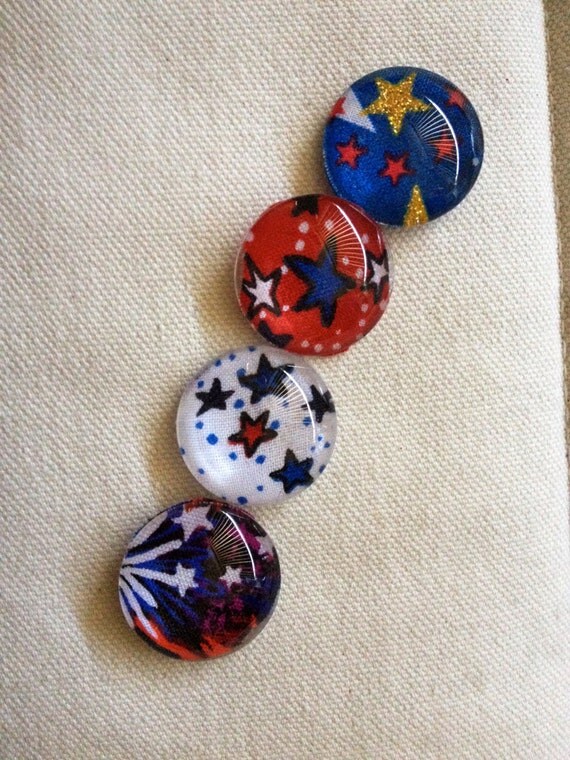 Patriotic Magnets
These Magnets are so beautiful in red, white and blue! Loaded with stars. They have very strong magnets on the back to hold snugly to the fridge or on your RV! Get them while they last.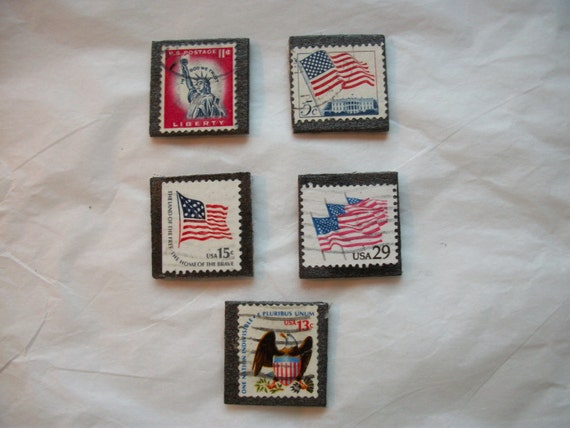 5 Postage Stamps USA Flags, Statue of Liberty, Bald Eagle, Patriotic Magnets
This is a set of 5 Postage Stamps USA Flags, Statue of Liberty, Bald Eagle, Patriotic Magnets. Stamps have been post marked. Square - 1" x 1"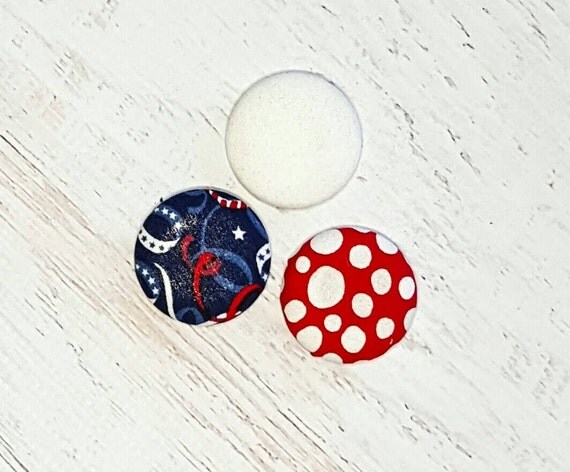 Patriotic Magnets - Fourth of July Magnets -
This is a set of three 1 1/2 inch fabric button magnets. Your set will include one white magnet, one red dot magnet and one navy ribbons magnet. Your magnets will arrive in an organza drawstring pouch making them the perfect hostess or housewarming gift for the summer picnic and BBQ season.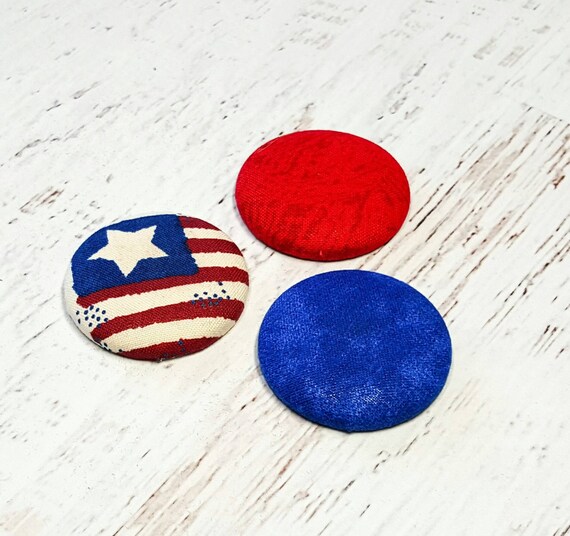 Strong Magnets - Button Magnets - Fourth of July Decor -
This is a set of three 1 1/2 inch magnets in an Americana fabric. The patterned button is accented with a red and blue magnet.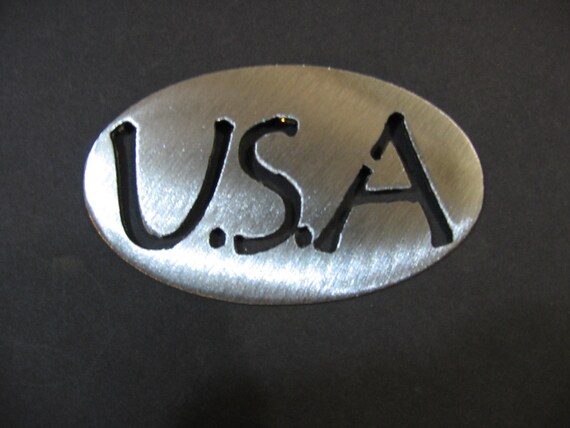 USA AMERICA Patriotic MAGNET- holds 5lbs Fridge Locker Steel door Decorative useful small gift item
This is a USA magnet that measures approx. 3" wide - made of steel that has been hand polished and coated with a clear polyurethane. This magnet holds up to 5 lbs!! It is amazing, will take care of all those pesky papers that keep sliding down your fridge. Also great for your kids lockers or to use on Magnet boards. A great value!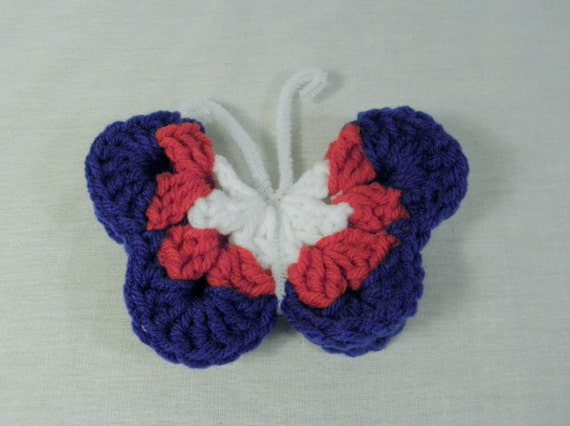 New hand made crochet butterfly fridgie magnet Patriotic red white blue refrigerator kitchen decor
Handmade crochet butterfly refrigerator magnets or Fridgies! Each one measures aprx 5" inches wide by 3" inches tall (not including antenna). This particular one is done in patriotic colors of red, white and blue with white chenille antenna. If you purchase this butterfly and would like to request a different color antenna. Most all basic colors are available. Just msg me to make sure I have it first. Also, some have requested the Butterfly with no magnet on the back. If you prefer not to have a magnet on the back just let me know.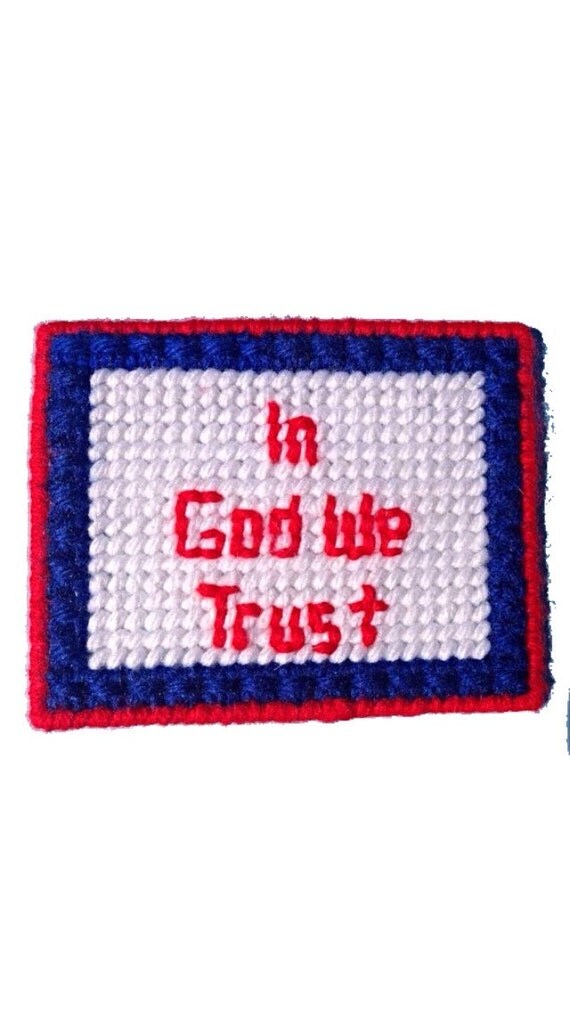 Patriotic In God We Trust Magnet
In God We Trust. 4 words with such a big impact! This magnet is ready to hang on your fridge! Great for any time of the year, but especially for patriotic holidays. Measures 4" long x 3.25" tall. 1" magnet on back.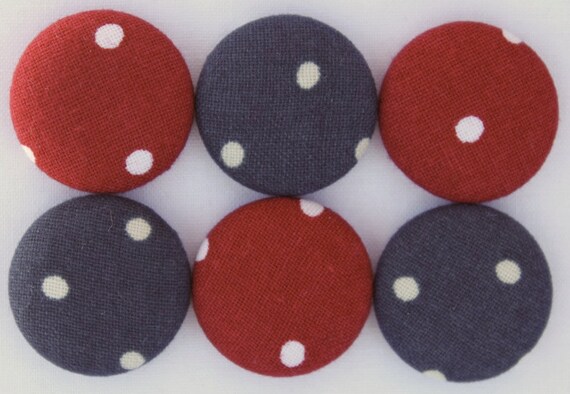 PATRIOTIC FABRIC MAGNETS -- 6 fabric button magnets
red, white, and blue polka dots print fabric-covered button magnets * set of 6 * 7/8" (size 36) * SUPER STRONG -- strong enough to hold posterboard or 8+ sheets of paper * nicely packaged for gift giving * perfect for home office, playroom, kitchen, or nursery * fully lined so no metal shows through the fabric * magnet back sample shown in photo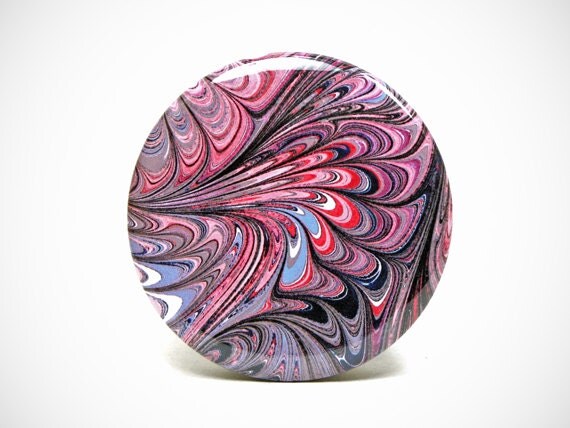 Marbled Magnet 7 Faded Red White & Blue Marbled Paper 2.25 inch
Hand pressed magnet featuring a faded red, white & blue marbled bouquet pattern. The design is from a variation of one of my hand marbled papers.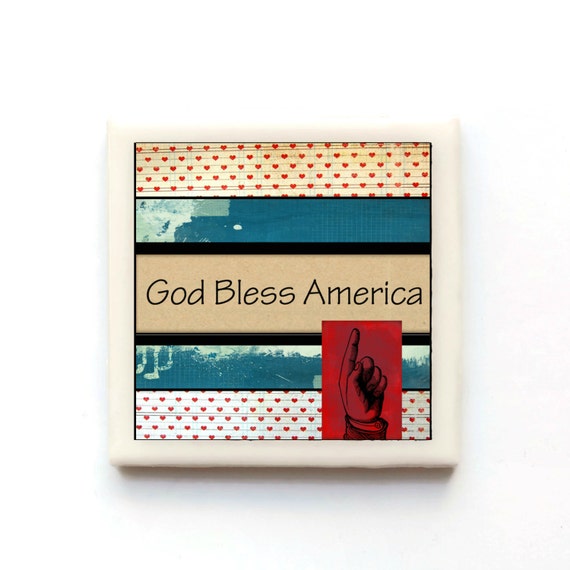 God Bless America - Tile magnet
Fancy up your fridge with a fantastic magnet from Biscotti Designs. This ceramic tile magnet is finished with a gorgeous glass-like glaze. Two magnets on the back of each tile for extra sticking power! Measures 3x3"
Glass magnets set in red white and blue
Glass magnet set with 4 large one inch round glass magnets and 5 small 1/2 inch round glass magnets (9 magnets total ). Hand painted in patriotic red white and blue, each one will be unique and slightly different than photo. Some glass magnets are marbled, some solid. Leave comments at time of sale if you have a preference for how many of each. Otherwise I will send a variety similar to photos.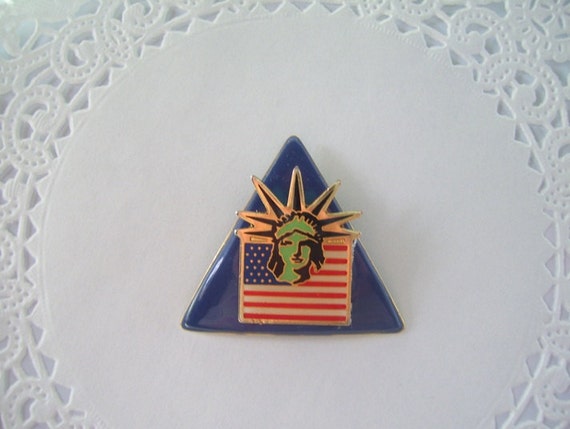 Refrigerator Magnet (231) - Upcycled Jewelry - Statue of Liberty
A patriotic magnet crafted from a vintage Statue of Liberty/U.S. Flag pin and vintage earring and waiting to be displayed in your home or office! Add a little sparkle and glitter to your refrigerator or give as gifts. The magnet measures a little over 1-1/4 inches. Packaged ready to give as a gift or just keep for yourself! No two are alike. I am happy to combine shipping if you purchase more than one item from my shop.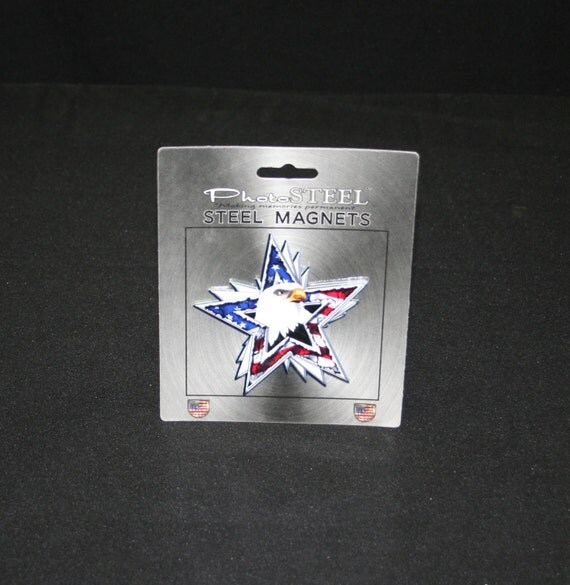 Magnet Star Flag w/ Eagle Head
ALL MAGNETS ARE LASER CUT AND ARE APPROXIMATELY 4″x4″. – STAR FLAG W/ EAGLE HEAD– MADE OF 14 GAUGE STEEL, WITH TWO HIGH POWER MAGNETS ON THE BACK. MADE IN THE USA!!!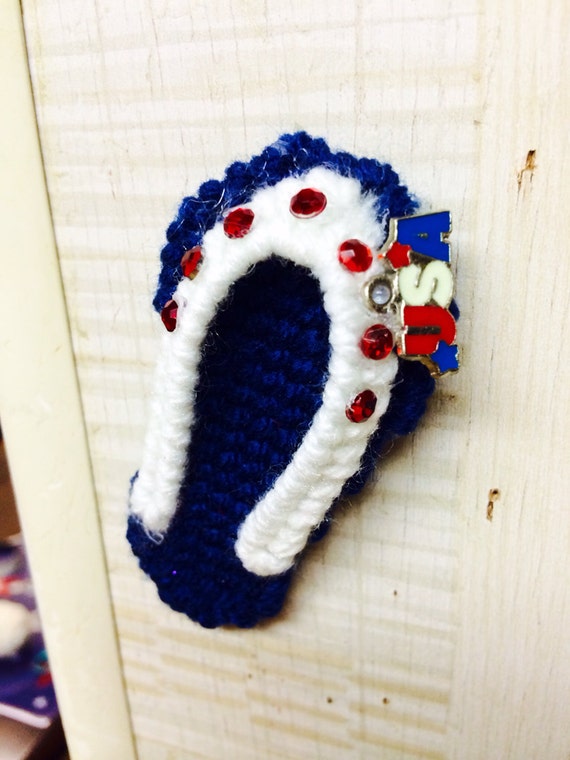 July 4th Flip Flop Magnet
This is done in one day. Makes a great party favor. Sent out next day. If you would like it by a certain date please let me know. 30
Go To
4th of July Magnets Page TWO
Go To
4th of July Magnets Page THREE
Go To
4th of July Magnets Page FOUR
Go To
4th of July Magnets Page FIVE