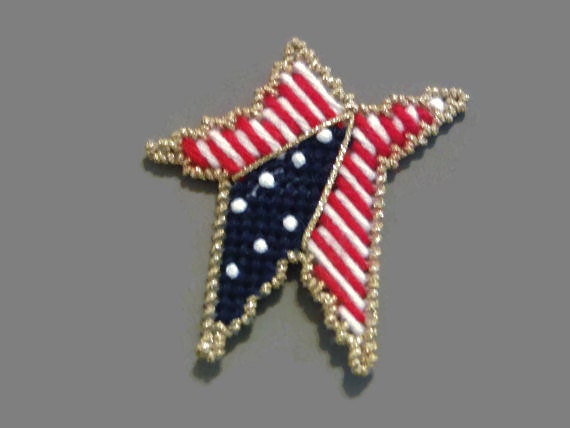 Patriotic Star Magnet
Patriotic Star Magnet, Plastic Canvas, Red White and Blue, Fourth of July, Independance Day, Needlecraft Decor, Refrigerator Magnet I made this magnet using plastic canvas and worsted weight yarn ( 100% Acrylic). I place five small magnets on the back using hot glue. Colors: Red, White, Soft Navy and Gold Metallic Cord Magnet measures: 3 3/4 H" 3 9/16 W"
Proud to be an American, 4th of July Celebration, Patriotic Theme Bottle Cap Magnets
Choose from 11 bottle cap magnets in this "American" theme to show your patriotism or share with family and friends. Powerful magnet makes these caps not only fun but useful.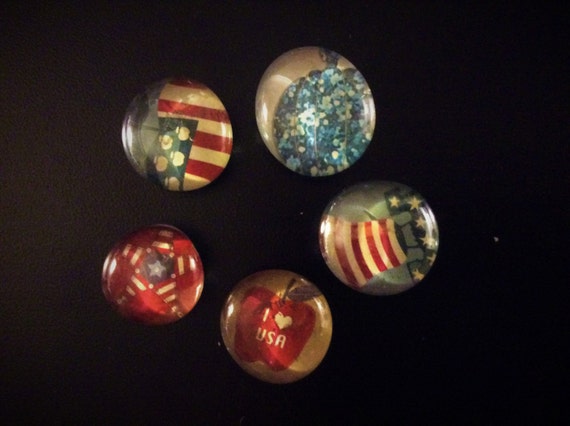 Patriotic Magni-Magnets (Set of 5)
Round magnifying glass magnets with patriotic USA theme. Sturdy magnets hold firmly to your refrigerator, filing cabinets, or locker.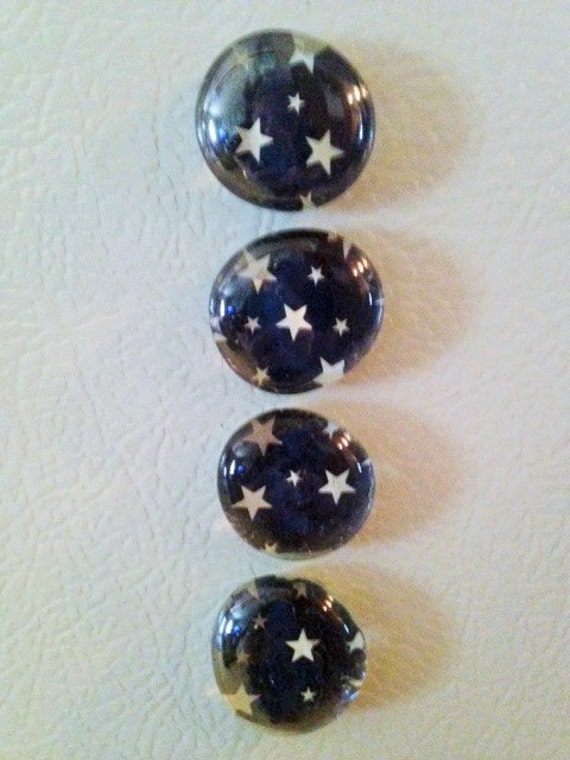 Night Star Fridge Magnets~Patriotic Fridge Magnets~Set of 4 Magnets~
These are adorable night star magnets for you fridge, approximately 1 inch in size around. They are made of simple items, scrapbook paper, glass gems, glue & a button magnet, but they make your kitchen look a little more decorative. These handmade glass magnets make amazing housewarming gifts!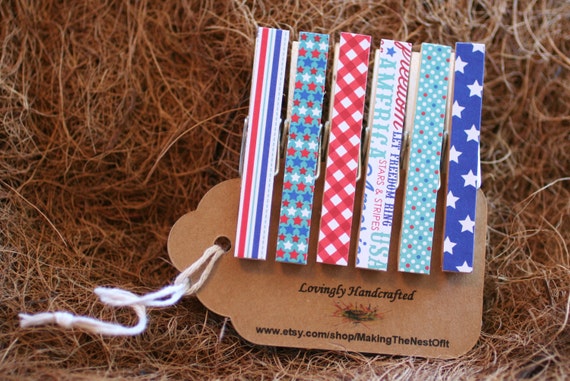 Patriotic, Red White Blue, Standard Clothespins, Set of 6
Patriotic red, white and blue standard clothespins in a set of 6. This set of 6 wooden clothespins is a standard size 3" in length and is covered with printed coordinating papers on the front and back, or magnet backs. Stars and stripes are perfect for the 4th of July, or any time! These have been coated several times with a sealant, so the surface is durable. All items are carefully handcrafted and packaged in a clean, smoke-free environment. Please see the photo showing examples of the beautiful packaging your item will arrive in. All items are wrapped and arrive with a gift tag, for ease in adding to a care package, or sent solo as a special surprise.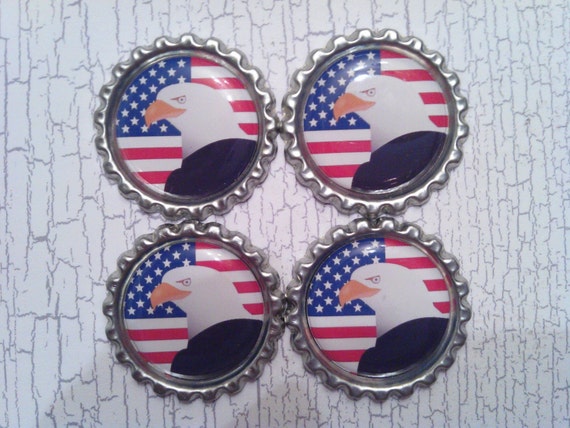 American Flag Bald Eagle USA Patriotic 1 inch bottle cap magnets fridge refrigerator kitchen craft room work space
American Flag Bald Eagle USA Patriotic 1 inch bottle cap magnets. Perfect for school or work gift exchanges. Nice stocking stuffers too!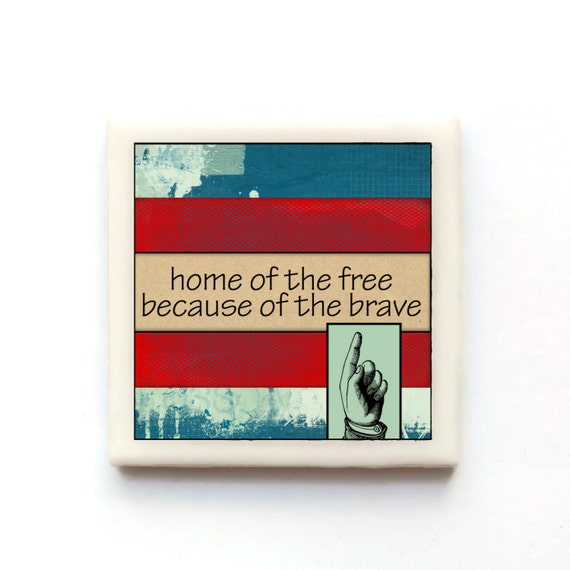 Home of the free because of the brave - Tile Magnet
Fancy up your fridge with a fantastic magnet from Biscotti Designs! This ceramic tile magnet is finished with a gorgeous glass-like glaze. Two magnets on the back of each tile for extra sticking power! Measures 3x3"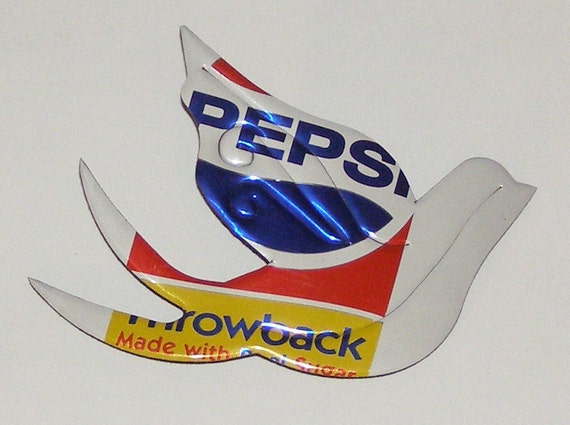 Dove Magnet - Patriotic Red White Blue Yellow Cola Throwback Soda Can
DOVE MAGNET - PATRIOTIC RED WHITE BLUE YELLOW COLA THROWBACK SODA CAN 4" x 3"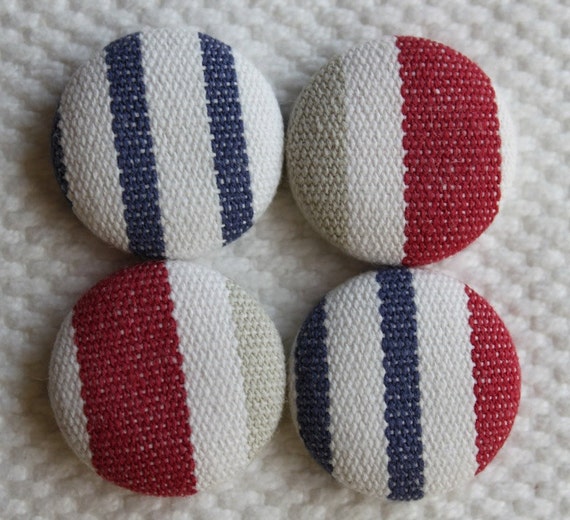 NAUTICAL FABRIC MAGNETS – 4 classroom fabric button magnets -
red, white, and blue ticking stripe fabric-covered button magnets * set of 4 * 7/8" (size 36) * SUPER STRONG -- strong enough to hold posterboard or 8+ sheets of paper * nicely packaged for gift giving * perfect for home office, playroom, kitchen, or nursery * fully lined so no metal shows through the fabric * magnet back sample shown in photo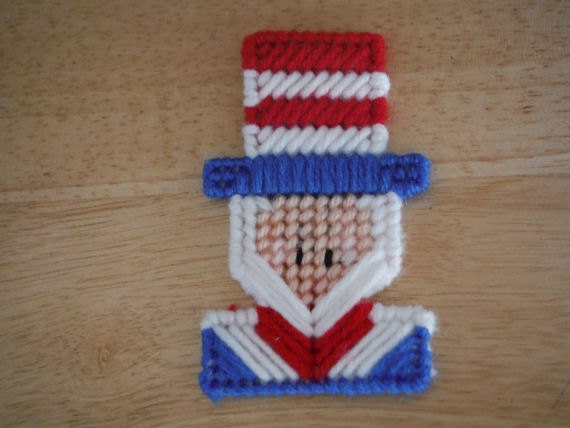 Uncle Sam Magnet, plastic canvas
Uncle Sam Magnet, plastic canvas, needlepoint item, Independence Day, July 4th, refrigerator magnet, Memorial Day, patriotic decoration Here you have Uncle Sam with his red, white and blue hat & matching outfit magnet. Colors: Red, White, Blue, Black, Light Peach and Light Pink.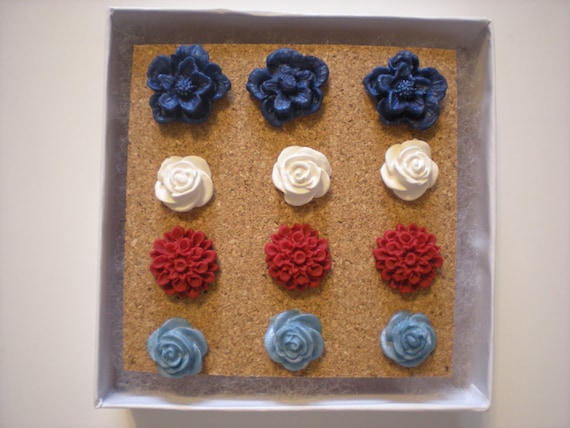 Flower Thumbtacks, Flower Magnets, Pushpins
Turn your note board or refrigerator into a colorful garden with this lovely mix of flowers. You will receive 12 flowers total, with your choice of a magnet or thumbtack adhered to the back with the strongest glue available. The magnets are small but very powerful Neodymium, or Rare Earth, magnets. Make sure to choose magnets or thumbtacks when you order. They make a great gift and come packaged in a gift box with a ribbon tie. These make wonderful housewarming gifts, hostess gifts, holiday stocking stuffers, party favors, dorm room and office accessories, and new job gifts. You'll find many uses for these cheerful little flowers!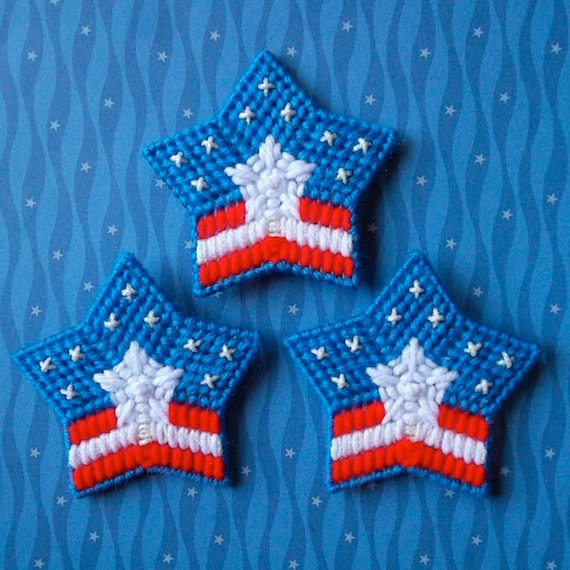 Plastic Canvas: Red, White and Blue Star Magnets (set of 3)
This listing is for 3 holiday-inspired star magnets, perfect for summer decorating fun. Each star is sewn in hot red, white, blue and iridescent white yarns. They will make a cheerful addition to your Fourth of July picnic, or hold that all-important cookout shopping list for the family reunion. Also, consider giving this gift as a "thank you" to a veteran in your life.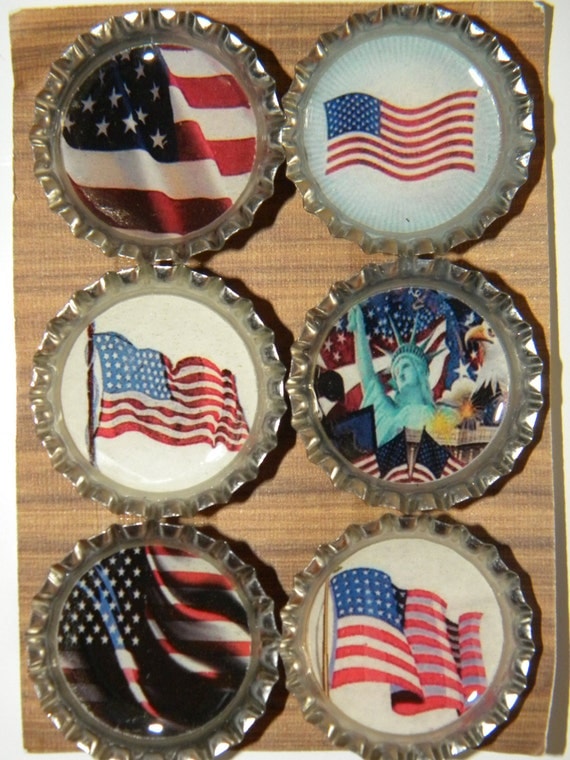 Patriotic Flags Bottle Cap Magnet 6 Pack
Display these small flag magnets with just as much pride as your full-sized flag. Even a little bit of patriotic flare shows great pride and patriotism! None of these bottle caps actually came off of a beer bottle! No sticky, stinky caps here! The 6-pack comes attached to a piece of card stock in a plastic zip-top baggie, there may or may not be a hanging hole in the baggie from a display hook.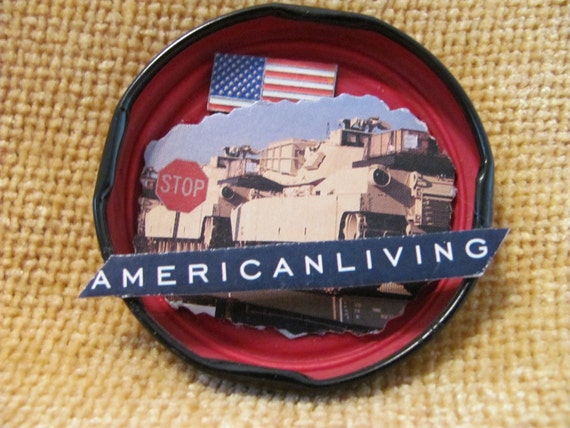 American Living Collage Magnet
Three dimensional collage composed on a painted recycled metal jar lid. Magnet measures 2.25 inches. This magnet is one of a kind! Portrays American living as most of us know it. You know, complete with the military machinery paid for by god fearing tax paying dollars and then the flag waving high as it symbolizies more atrocities then I think I need to go into mentioning right now.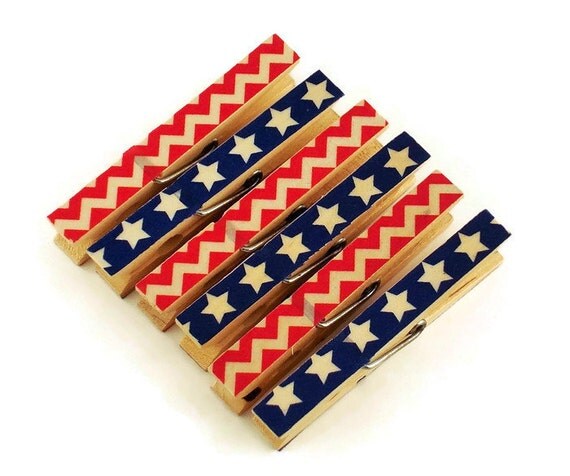 Clothespin Magnets Altered Clothes Pins Decorative Clothespins in Americana
Decoupaged decorative clothespins. These clips are great for holding photos, closing chip bags, etc. Size- approximately 3 inches long Quantity - 6 *Optional magnet backing available. Strong neodymium rare earth magnet attached at "spring center" of clip. Hand made by me 4 u!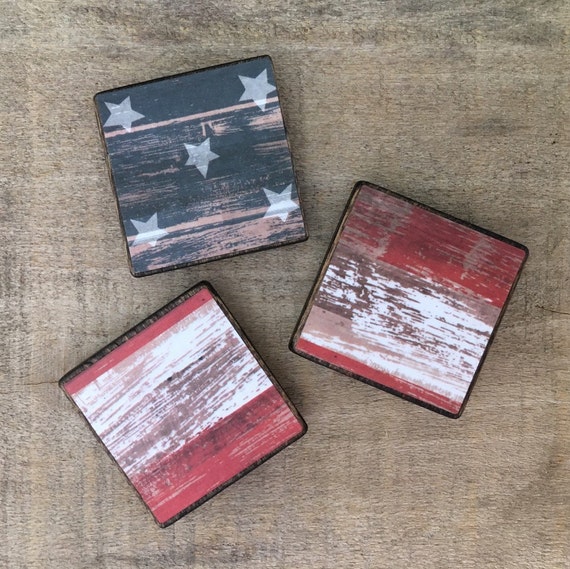 Kitchen magnets, wooden magnets, wood magnets
This listing is for a set of THREE magnets. You will receive (1) with stars and (2) with stripes. Patterns will vary on each magnet. You can use these in your kitchen, craft room, the kids room or school lockers! Any magnetic surface you'd like! Or give them as a fun and personal gift! Each magnet measures approximately 1.6 x 1.6 inches.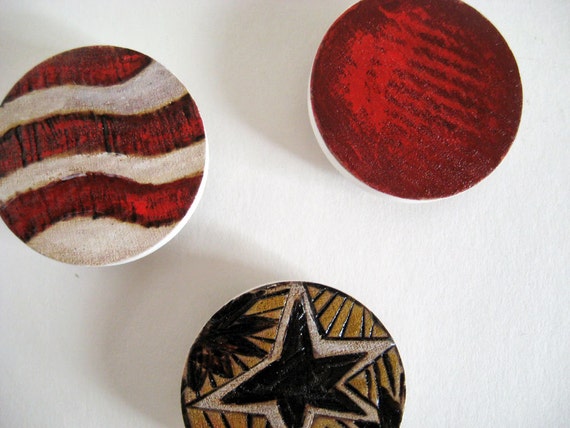 Stars and stripes , red white and blue , kitchen decor ,
Stars and stripe wood magnets in red white and blue are suitable for office as well as your home refrigerator to hold your notes, lists and that article with the great tips you just tore out of the newspaper. Pyrography on reclaimed wood gives an extra dimension even when over-painted in red and blue. Each magnet is about 1 1/4 inch diameter. Magnet is strong. One set of three magnets.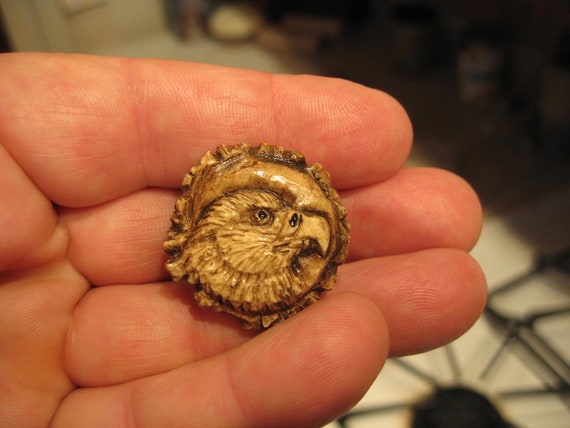 Bald Eagle head carved antler reproduction magnet
I am lucky to live in one of the areas in our country where we have a large population of Bald Eagles! I see them daily along the local rivers and roadways. I feel proud every time i see our National Symbol flying overhead or even just sitting in a tree, or fishing at a local lake.It makes me think of all our brave service members enlisted to preserve our freedom so we may be free as an Eagle.Also a great gift for Eagle Scouts! (Any 3 or more items from my shop valued over 15.00 ship for free in the USA!)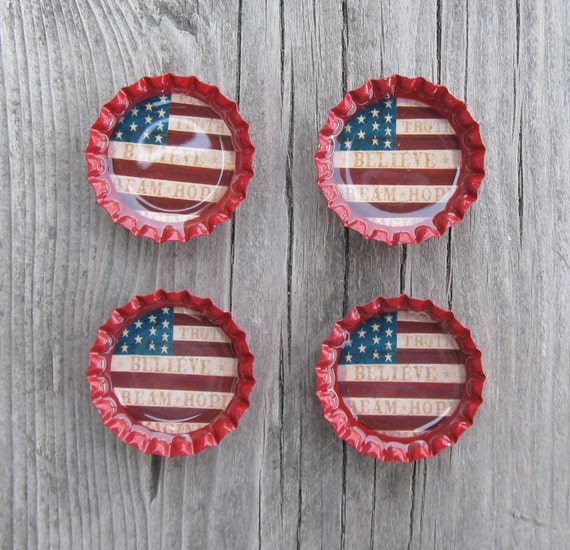 Red White and Blue American flag bottle cap magnets
Red White and Blue American flag bottle cap magnets in red gift ideas under 10 housewarming gift American flag bottle cap magnets in red. Set of four magnets. These have strong round magnets on the back. The images are sealed under a hand poured scratch resistant resin.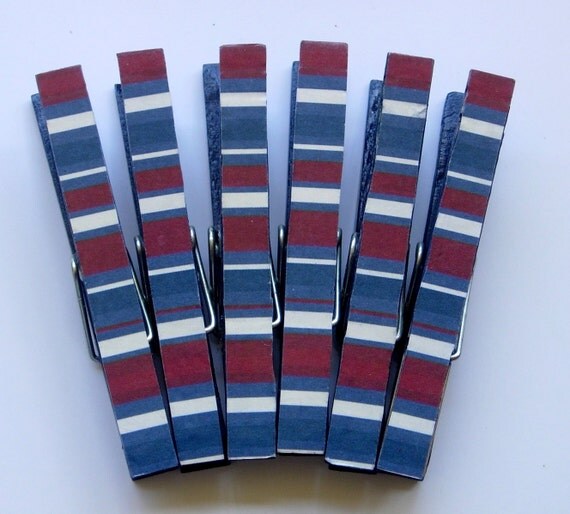 Decorative Red White & Blue clothespin magnets, set of 6
This listing is for a set of 6 sturdy natural wood clothespins, carefully covered with decorative paper and finished with two coats of clear acrylic for durability. Each pin measures 3-1/4" x 3/8" and has a strong 7-coil spring.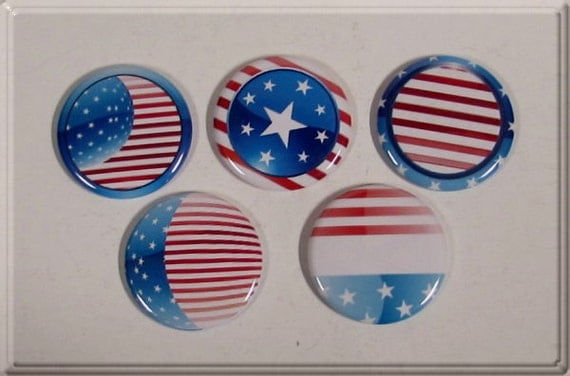 Magnets...Stick 'em up with our fun and functional 1.5" round metal magnets
Magnets..."Patriotic" Series...Lightweight aluminum...Stick 'em up with our fun and functional magnets. Holds refrigerator notes, photos, dress up a school locker, room or workspace. Adds stylish fun to any room or office! Check out my shop sections for viewing. 1.50 inch diameter. Set of five •Metal shell •Flat magnetic back •Mylar/UV protecting cover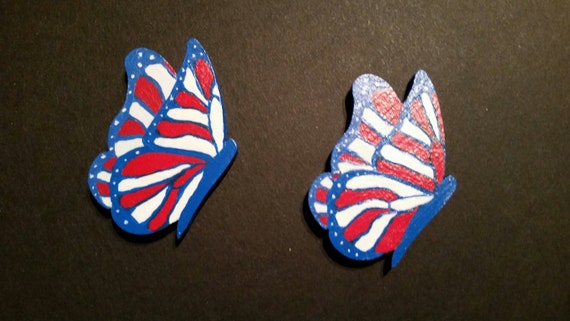 Red White & Blue Wooden Butterfly Magnet
Our beautiful patriotic butterfly will look great anywhere you can place a magnet. Each one is hand cut and hand painted all paints used are made in the USA. The butterfly is 2" long by 1.25" wide. A new way to display the Red White & Blue. Get yours today.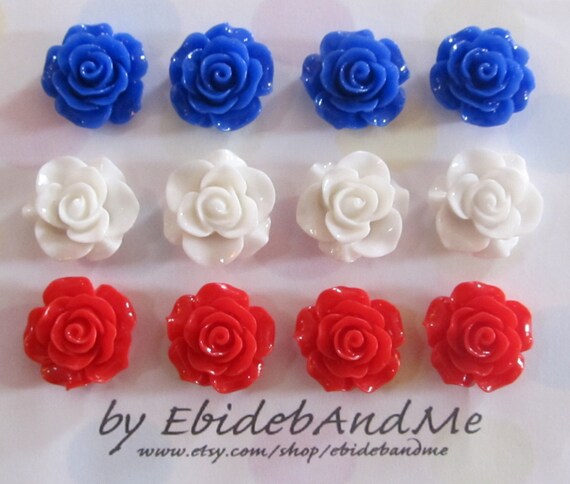 Cute Flower Thumbtacks or Magnets - set of 12
Set of 12 pretty assorted flower magnets or flower thumbtacks (your choice!), perfect for beautifying your fridge, corkboard, locker, or filing cabinet! Colors are Red, White, and Blue, and flowers measure 20mm. (25mm=1inch).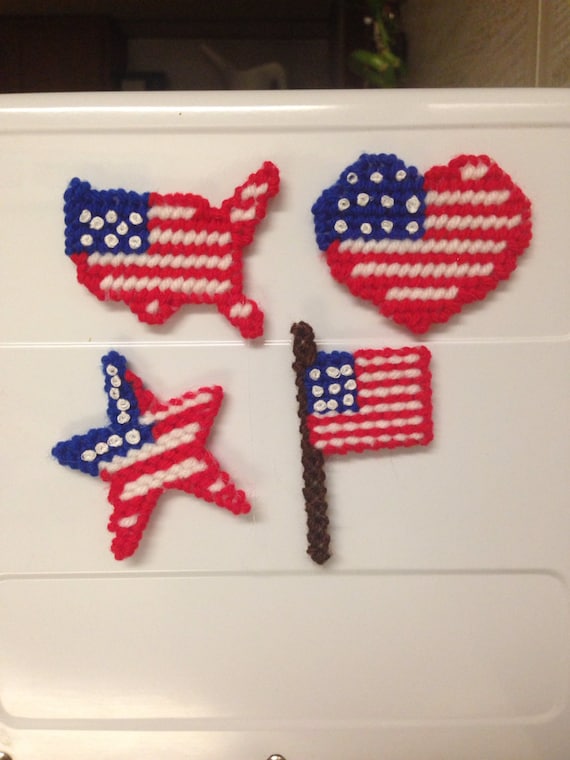 Set of July Fourth Magnets
This will brighten any July 4th great set of magnets. great for party favors and summer parties the set is 4 magnets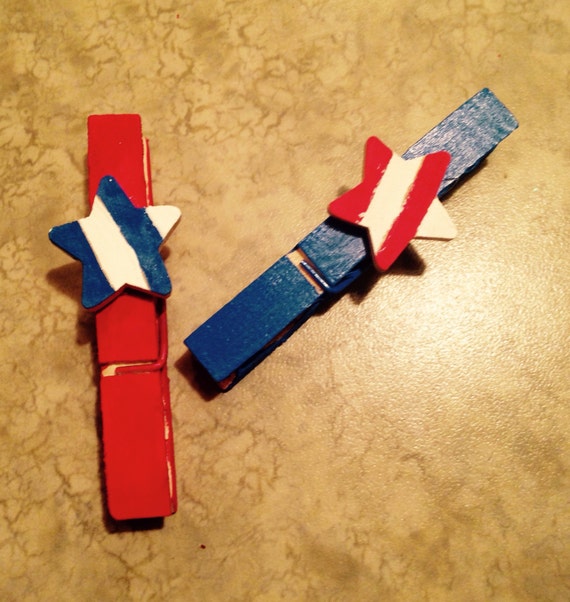 Red, White and Blue Clothes Pin Refridgerator Magnet Accessory
This item is a perfect refridgerator or dry erase board accessory. Hand painted using acrylic based paint for the colors red, white and blue. Perfect for hanging your favorite photos, to do lists, special notes, or shopping lists. Purchase includes two magnetic clothes pins. If you would like to order in bulk, a discount will apply. Includes (2) clothes pin magnets.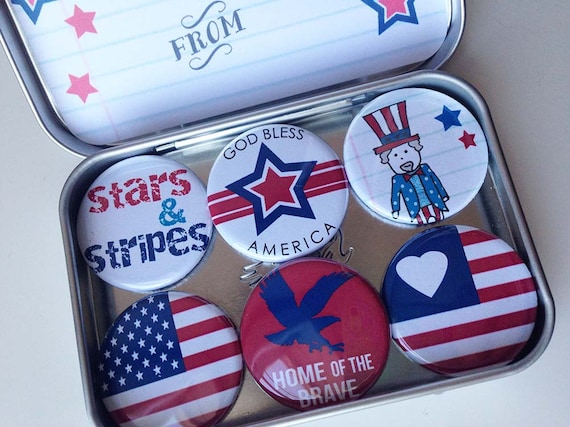 God Bless America magnets - gift set - 6 super magnets
A set of 6 super magnets to remind you of The United States of America. These make a great gift for the 4th of July, or simply decorate your fridge with a little red, white & blue! The magnets are designed and made by me. They are 1.25" diameter covered with mylar plastic to protect the design and allow for cleaning (with a damp cloth), with a strong ceramic magnet on the back, created using a professional grade button maker.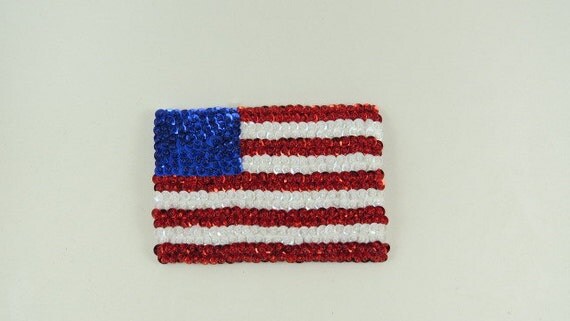 Kitchen Magnet, Glass Beaded Magnet
Whether your ready for Memorial Day, Fourth of July, or just want to show your support for our troops, here's a very colorful flag magnet to do just that. The magnet is made from glass beads and sequins, each one is individually sewn on by hand to felt using embroidery thread . The magnet is approximately 2 3/4" x 3 3/4" at the widest points. Made in my smoke free home.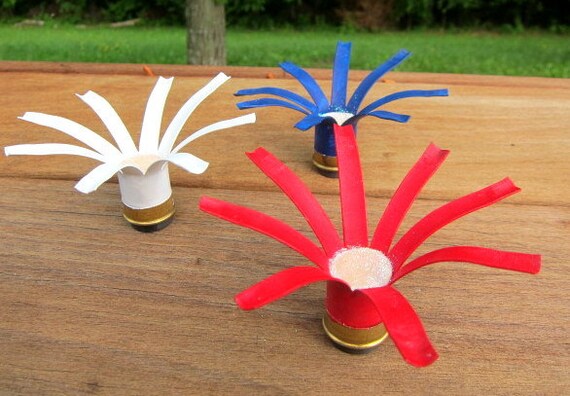 Shotgun Shell Magnets Flowers Red, White and Blue Set of 3
Shotgun Shell Magnets Flowers Red, White and Blue Set of 3 These flower magnets made from empty shotgun shells would definitely be a conversation piece at your kitchen table. Each flower is hand painted, and you will receive one red, one white and one blue flowers. If you would like different colors, just send a message along with your order. The centers of these flowers come with a white glitter center, but this is also able to be customized with any other color. The magnets are rated at a grade 5 strength, and they are bonded to the bottom of the flowers with a high performance adhesive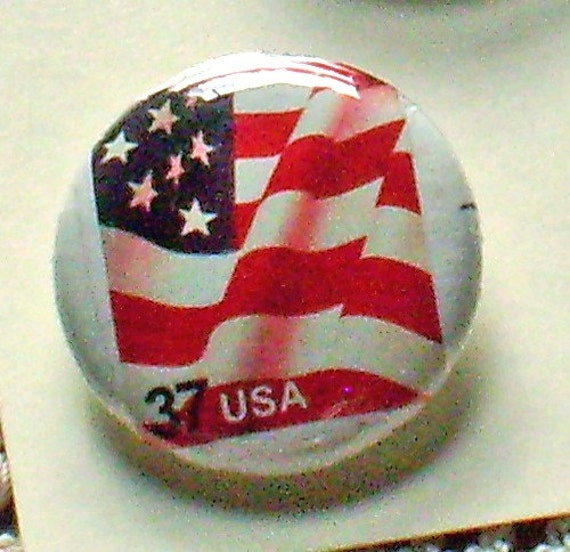 USA Patriotic Quartet 1 inch pinback Button Vintage US Postage Stamps
This is a great set of vintage United States Postage stamps preserved as the tiny works of art that they are. These are four iconic Flags. Perfect for the 4th of July or any political rally. These are 1" sized BUTTONS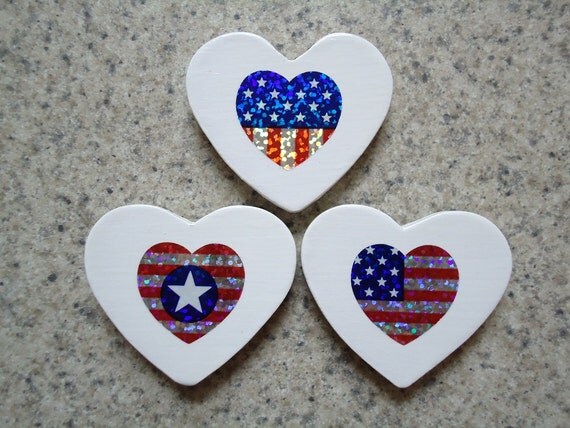 Set of 3 Patriotic Holographic Flag Hearts on White, Wood Heart Magnets - Kitchen Decor
I made these beautiful patriotic magnets using wood hearts that I have painted with white acrylic paint and acrylic sealer. On the front are holographic flag stickers. These heart magnets measure 1 1/2" in length each and 1 3/4" in width each. On the the back of these are 1/4" button magnets.
Go To
4th of July Magnets Page ONE
Go To
4th of July Magnets Page TWO
Go To
4th of July Magnets Page THREE
Go To
4th of July Magnets Page FIVE