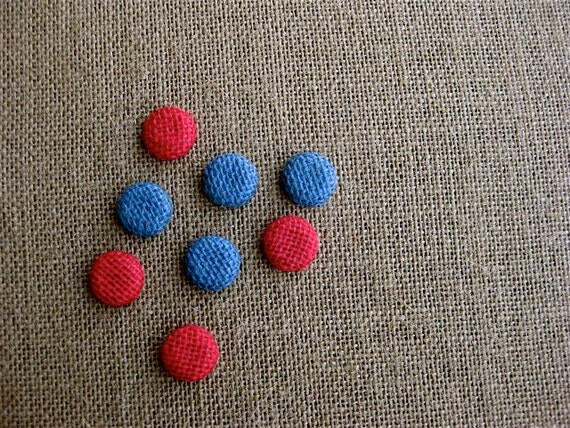 Red and Navy Blue Burlap Covered Magnets- Set of 8
Want an extra burlap covered magnet set for your Burlap & Lace magnetic board? Or would you like a set of beautiful burlap magnets for your fridge, locker, etc? These ready to ship Red and Navy Blue Burlap Covered Magnets would be a perfect addition to your home or office. Magnets are approximately 3/4" each.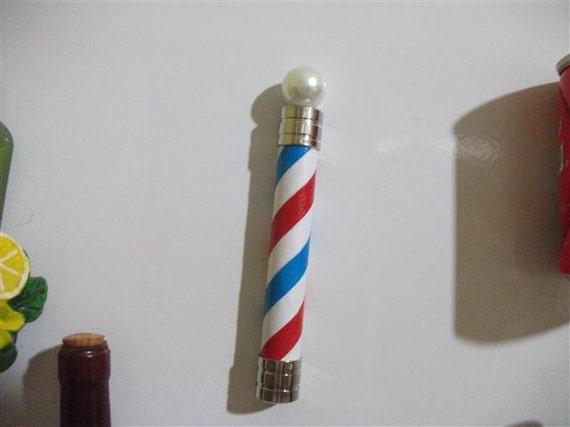 Barber Pole Magnet
I made it with paper, cylinder magnet, pearl bead and metal caps. Lenght = 7,5 cm = 3'' Diameter = 0.8 cm = 0.3''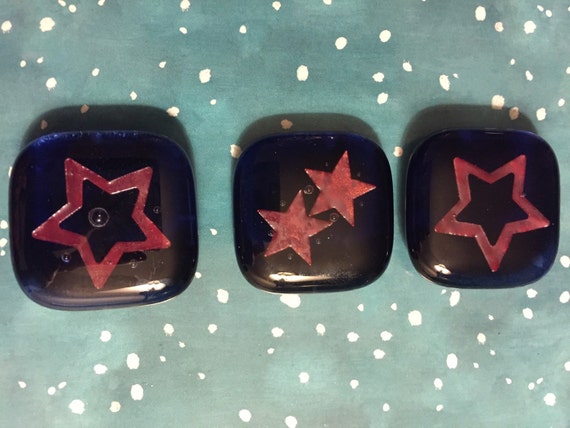 Fused glass 4th of July magnets patriot blue magnets with red copper stars. 3 in the set.
Fused glass magnets made in my home studio and fused In my electronically controlled kiln. Great holiday decor or perfect for year round decor for the patriot. I used small but strong magnets.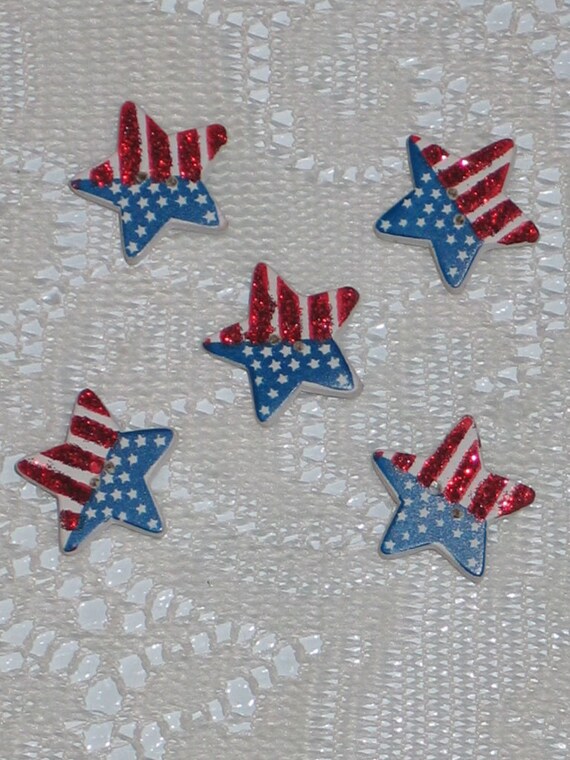 5 Decorative Magnets - Stars & Stripes Button Magnets
Add a patriotic touch to your fridge or memo board with 5 (star-shaped) stars & stripes button magnets, crafted from decorative buttons. A cute holiday accessory! Finished size: 1 1/4", 1/2" magnets on the back.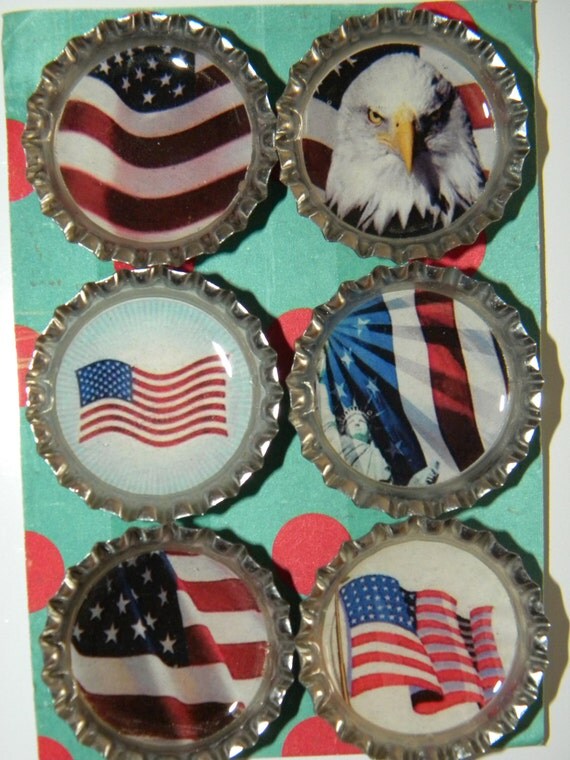 Patriotic Flags Bottle Cap Magnet 6 Pack
Display these small flag magnets with just as much pride as your full-sized flag. Even a little bit of patriotic flare shows great pride and patriotism! None of these bottle caps actually came off of a beer bottle! No sticky, stinky caps here! The 6-pack comes attached to a piece of card stock in a plastic zip-top baggie, there may or may not be a hanging hole in the baggie from a display hook.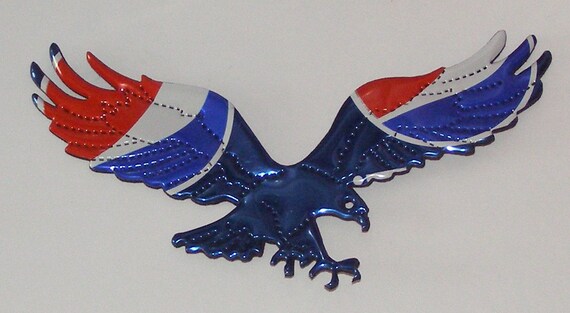 Eagle Magnets - Blue, Silver, Gold, or White - Pepsi Cola Soda Can (R)
EAGLE MAGNET - BLUE PEPSI COLA SODA CAN (R) Measures 4 3/4" X 2 1/2"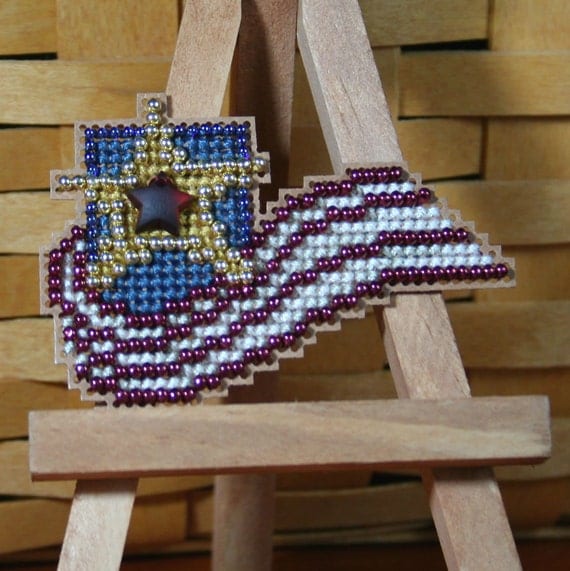 Stars and Stripes Beaded Cross Stitch Ornament, Pin, or Magnet - Free U.S. Shipping
I love the antique look of this representation of the American flag designed by the talented people at Mill Hill. I stitched Stars and Stripes on antique brown perforated paper, than added the gold, antique cranberry, and dark denim beads. After I trimmed away all the excess paper, I added the red glass star, which nestles perfectly inside the larger gold star. The finished piece measures 1.75" x 2.5" (4.45cm x 6.35cm) and will add a patriotic flair however you choose to display it.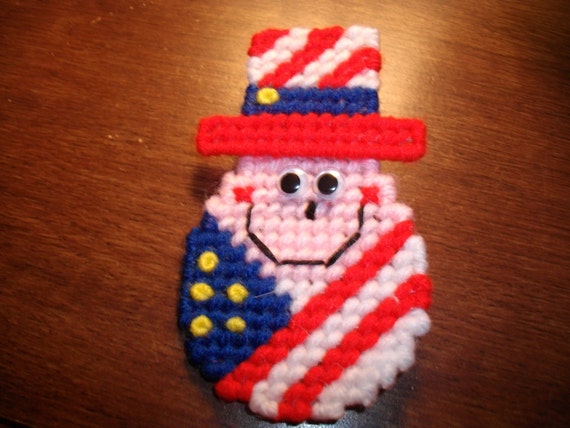 Uncle Sam Pin or Magnet
Uncle Sams hat is sewn separate and then attached. He is all decked out in his patriotic suit His googly eyes will watch the 4th of July fireworks with you Great gift for anyone.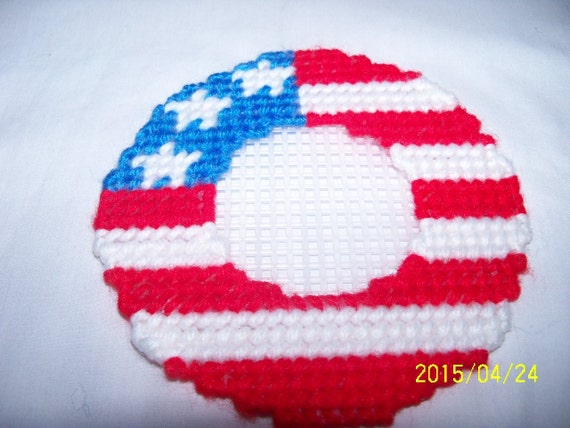 Stars And Stripes Picture Frame Magnet
Stars And Stripes Picture Frame Magnet.Made with plastic canvas.Done in yarn colors of red,white,blue.Size : 30 holes W x 29 holes H.Thank you.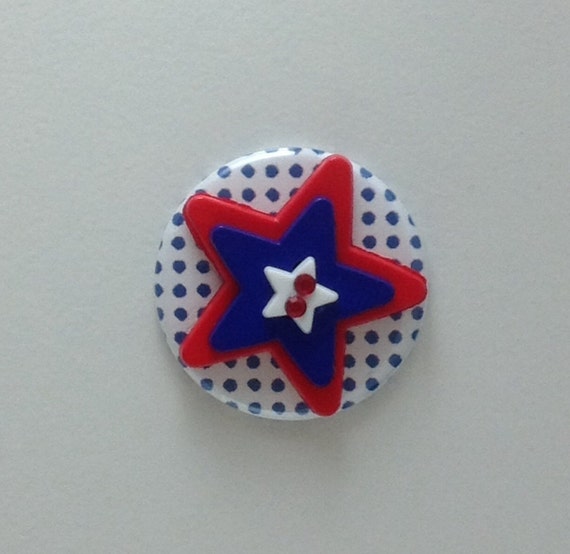 4th of July button
*This shop is about CHOICES. All my buttons can be made into: 1. Interchangeable badge reels covers 2. Pins 3. Magnets 4. Necklaces This listing is for ONE 1.5" Mylar button with metal flat back decorated with Fourth of July star embellishment with rhinestone center.. These buttons are tough, durable, and can be wiped clean. You will choose your product type from the drop down boxes at checkout.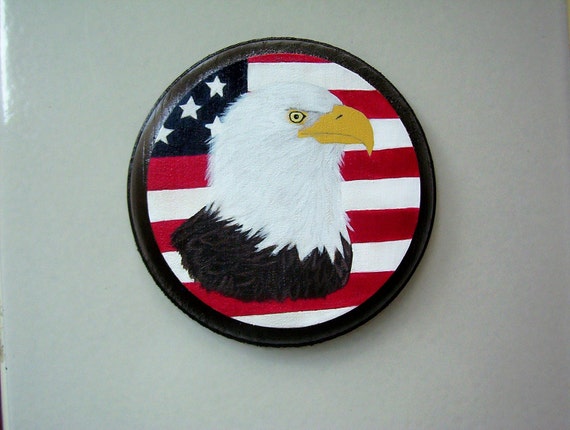 Eagle Freedom Magnet
The Eagle Freedom Magnet is painted in acrylics on a 4" round wooden plaque. The frame and back of the plaque are painted in a dark brown. A 1" X 1" strong square magnet is adhered to the back. The entire plaque has been varnished to protect the paint from handling. The magnet has been signed by me with the year of creation on the back. It will be shipped, well wrapped for protection, in either a small box or a padded envelope.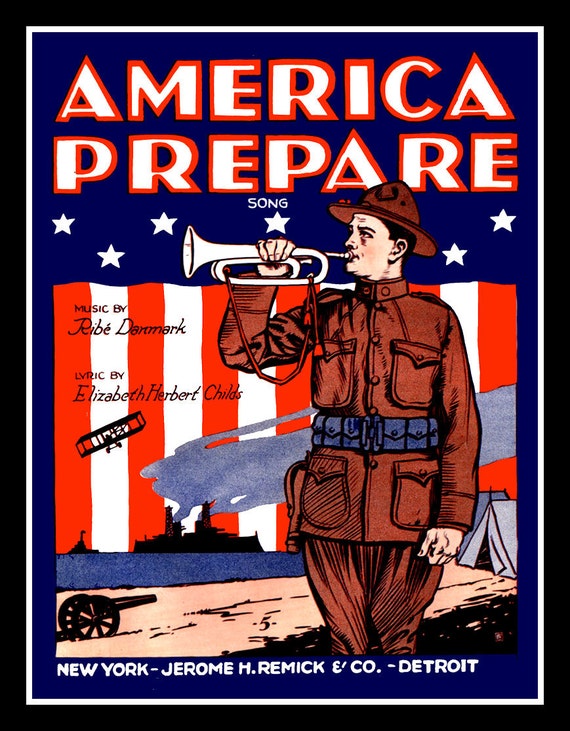 WWI America Prepare Refrigerator Magnet - free US SHIPPING
Super refrigerator magnet featuring an illustration from a vintage music sheet with a bugler WWI soldier. Approx. Size: 3.30" x 4.30" Vintage designs are digitally cleaned and enhanced by myself. All designs are printed on glossy Premium Photo Paper to ensure a professional and high quality image replicating its original vibrant colors and great detail.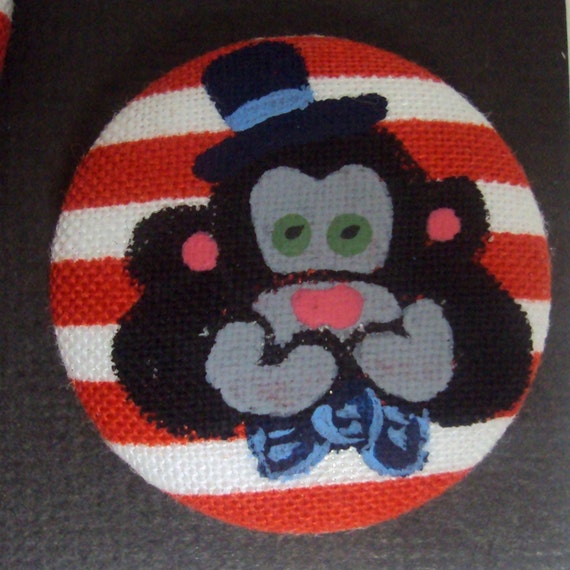 See no evil, Speak no evil, Hear no evil Cotton Button Monkey Magnets
Recently one of my good friends moved into a new apartment. When I asked him what he would like to furnish it he told me "monkey magnets." Of course, no problem. Who wouldn't want monkey magnets to adorn their fridge?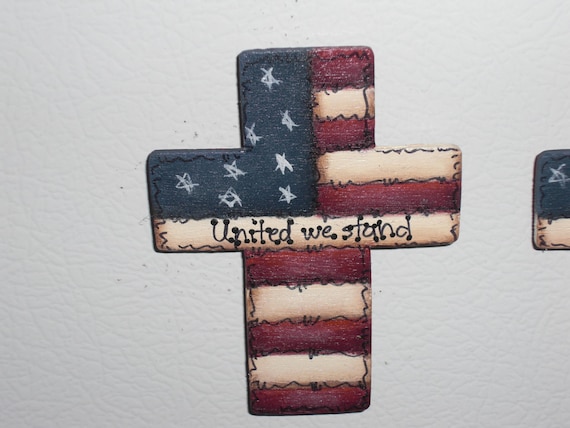 Americana wood magnet
This listing is for one wooden cross magnet. It is the american flag with a phrase in the middle of cross. It measures 2 1/2" by 3 1/4". You can choose the phrase from these four. Count your blessings We love USA United we stand God bless America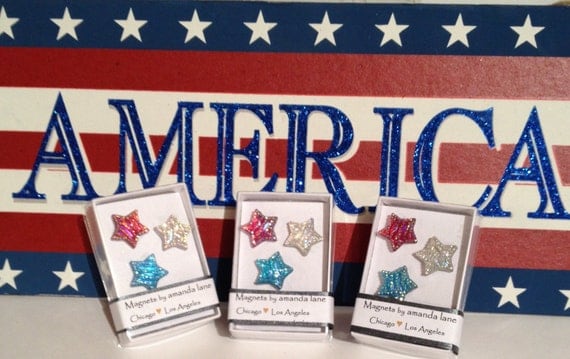 Star Magnets
Hooray for the red, white and blue! Decorating for 4th of July? Need a hostess gift for a backyard bbq? How about giving a box to your guests. Fill a basket with stars and add a star tag with instructions for guests to take one when they leave. What about leaving a box sitting on each desk in your office with a note "Have a Happy 4th". They make a perfect "little something" for neighbors and friends. There's also Memorial Day, Veterans Day, Voting Day and Election Helper Thank You. Being patriotic is in vogue any day! Happy celebrating with these darling sparkling accents! There are 3 star magnets per box - a red, clear and blue. Gift box is white with a clear lid. We add a neodymium rare earth magnet to the back to give these star magnets muscle! Each star can hold the weight of 8 sheets of 8.5 x 11 printer paper. These adhere to most metal surfaces.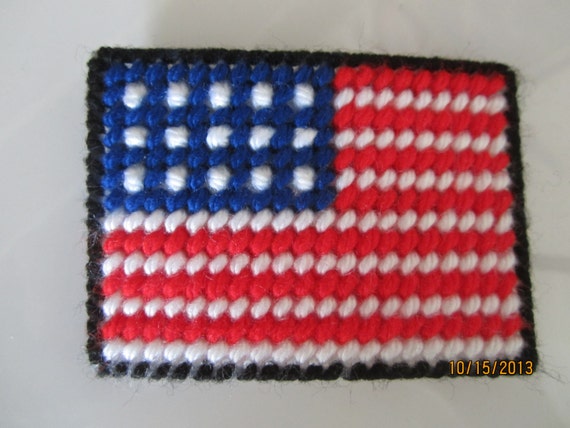 American flag refrigerator magnets
The needlepoint flag is approx. 3 X 2 inches in size with a felt backing and a magnetic strip.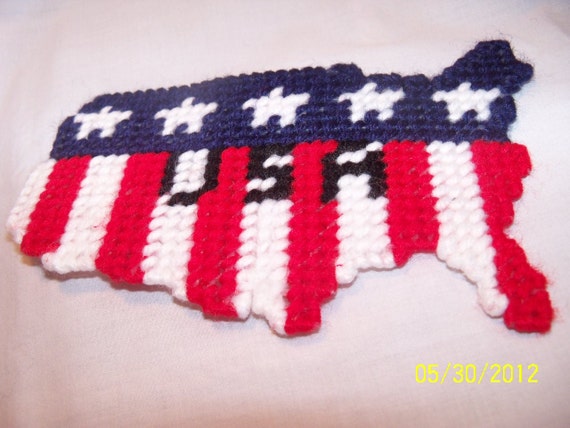 United States - U. S. A. Magnet
U.S.A. refrigerator magnet ,also have a magnet strip glue on the backside..Made with plastic canvas,done in yarn colors of red,white,blue,black.U. S. A. letters in black, and white stars..Size : 38 holes W x 25 holes H.Thank You,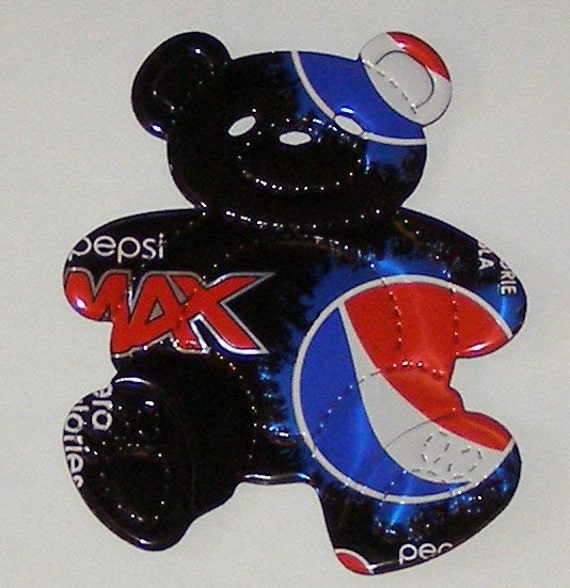 Teddy Bear Magnet - Pepsi MAX Soda Can
TEDDY BEAR MAGNET- PEPSI MAX SODA CAN Measures 3 1/4" X 4"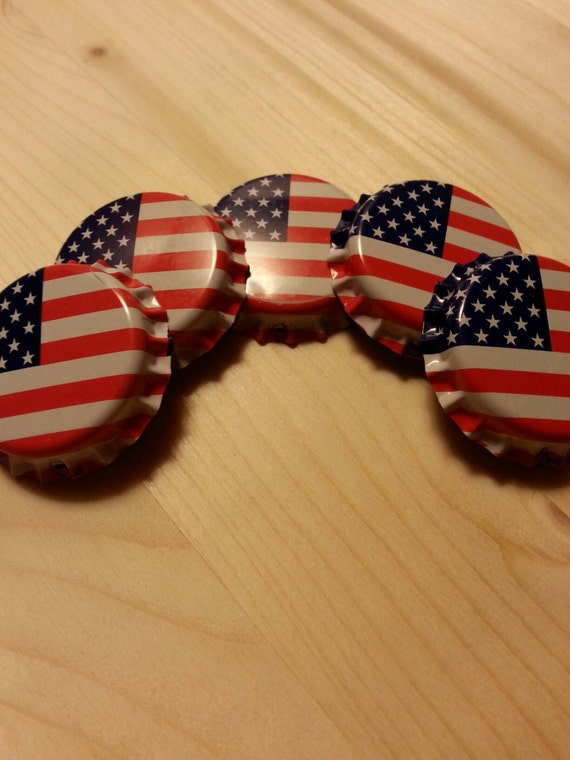 Man Cave USA BEER CAP Magnets (set of 5)
Put them on your truck! Put them on your kegerator! Hold up your man plans! USA! USA!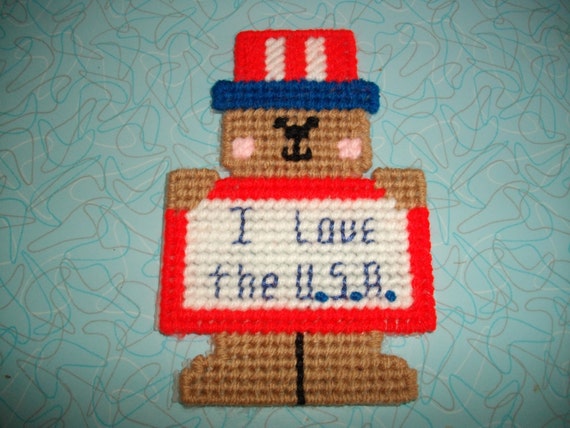 Uncle Sam Bear
This Is Uncle Sam Bear. He loves the USA. This is a magnet.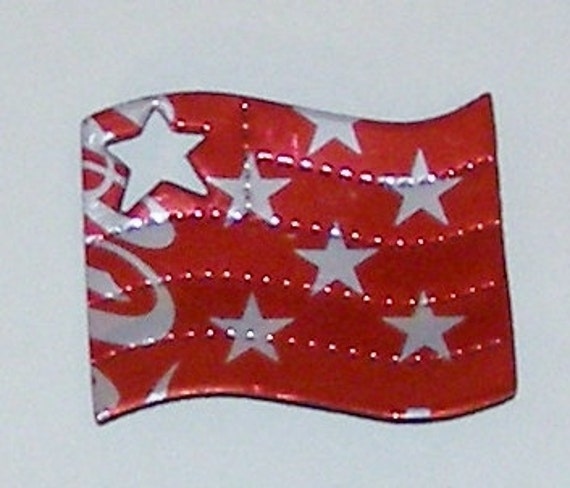 Flag Magnet - Coca-Cola Soda Can
FLAG MAGNET - COCA-COLA SODA CAN 2"x2" ---- Listing is for the 1st flag only. ---- 2nd photo is the size in hand.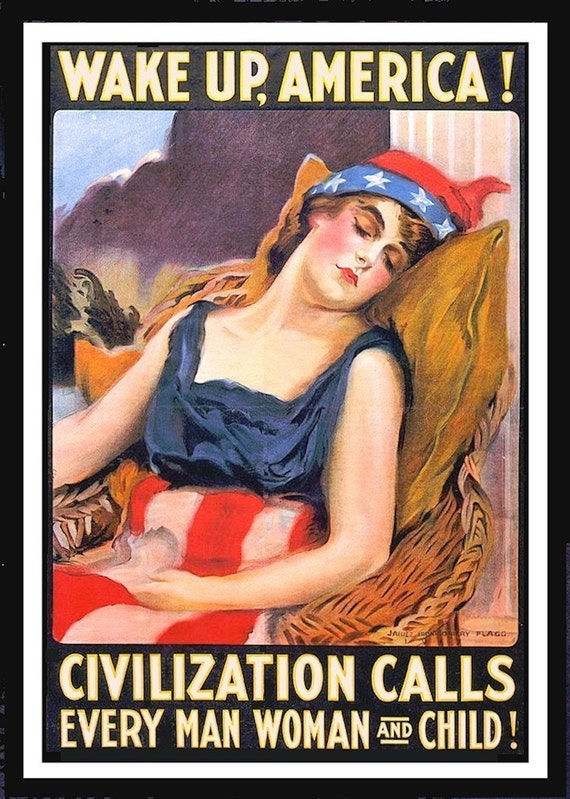 Lady Liberty Asleep War Poster Refrigerator Magnet
Great image from a vintage war poster of Lady Liberty asleep. Caption reads: Wake up America! Civilization Calls. Approx. Size: 3.50" x 5.00" Vintage designs are digitally cleaned and enhanced by myself. All designs are printed on glossy Premium Photo Paper to ensure a professional and high quality image replicating its original vibrant colors and great detail.
Go To
4th of July Magnets Page ONE
Go To
4th of July Magnets Page TWO
Go To
4th of July Magnets Page THREE
Go To
4th of July Magnets Page FOUR