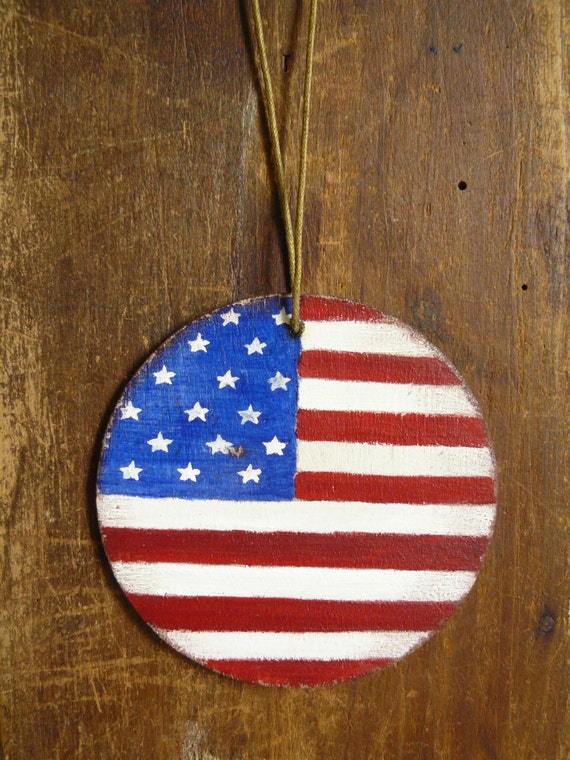 USA flag, gift for traveler
One wooden (plywood) tag with hand painted United States flag on both sides. This patriotic ornament can be used as luggage tag or pendant. It's hand painted with acrylic paints, protected by lacquer and fastness to light. If you are going to a trip to the other country it's perfect idea for a luggage tag. Your luggage will stand out! thickness: 0,3 cm = 0,12 inches diameter: 9 cm = 3.54 inches length of cotton cord: 11 cm = 4.33 inches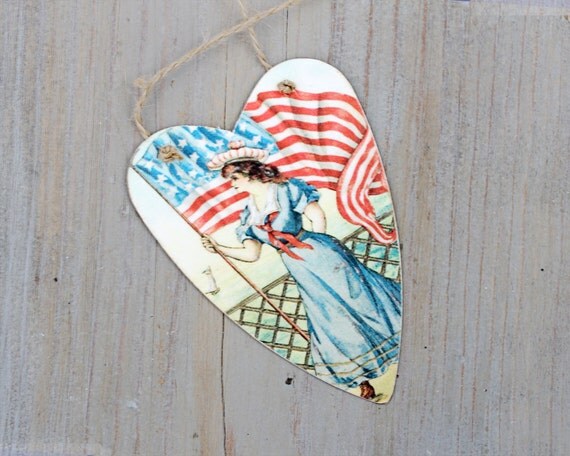 Patriotic Lady Tin Heart Tag, Independence Day Decor
This charming tin heart tag is decoupaged with a vintage illustration of a patriotic lady holding an American flag. It's sanded a bit at the edges to add character. The back is blue, and a loop of twine is added for hanging. The heart measures 4" high and 2 3/4" at its widest. It can be used as a gift tag, an ornament, or just as a sweet thing to have hanging around!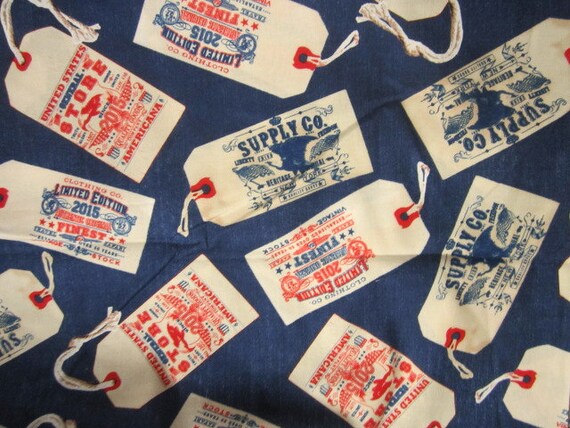 Americana Tag Fabric Patriotic
This listing ids for some wonderful Americana fabric by Windham Fabrics, simply titled Limited Edition. It features tags that look like old feedsack pieces. It is a nice weight cotton with a lighter feel and I know could be used in so many different projects. I am selling this fabric BY THE YARD. I have 4 yards total. All of my fabrics are kept in a dsmoke free homer and I am carfeul to keep them out of the hot California sunlight.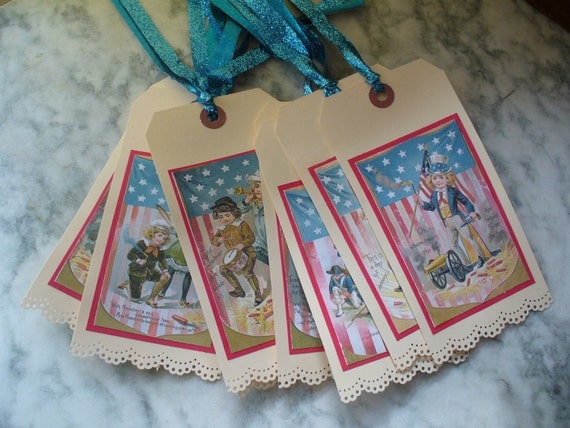 Large 4th Of July Gift HangTags
This listing is for 8 gift tags. Tag measures: 3 1/8 x 6 1/4 inches Blue glitter ribbon Large 4th of July patriotic hang tags have vanilla card stock tags with doily bottom trim. Pre-strung with blue glitter ribbon. For your own gifting ideas and blank on the back. Can be used for gift bag tags, gift baskets, wine bottle gift tags, decorating, picnic garlands, holiday party gift tags. Great for the 4th of July.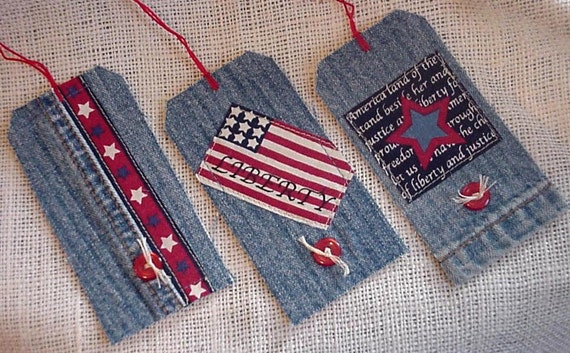 Americana Denim Tags Stars Stripes Patriotic Blue Jean Fabric Gift Tags Tie Ons
Upcycled from a pair of denim overalls that have been well worn, I have created these new, fun Americana faded denim gift tags that measure approx. 4 3/4" long x 2 1/2" wide. The denim tags show some of the original seams or hem stitching and are adorned with patriotic cloth pictures and words and red buttons are hand-stitched on with white embroidery floss. The denim front is adhered to a paper shipping tag for the backing for writing your sentiment and is machine stitched around the outside edge. The denim edge is left raw and unfinished to give a primitive look. Red embroidery floss is added as a string for the tie ons. These patriotic gift tags/hang tags are nice everyday all occasion gift tags or tie ons, great tag for a gift for a military soldier in a care package box sent overseas or for a veteran, or anyone who just loves the red, white and blue, it can be a special keepsake, use in scrapbooking, cardmaking, use for labeling and organizing, tie on a handmade kitchen goodie with recipe written on it. Just use your imagination for other possibilities.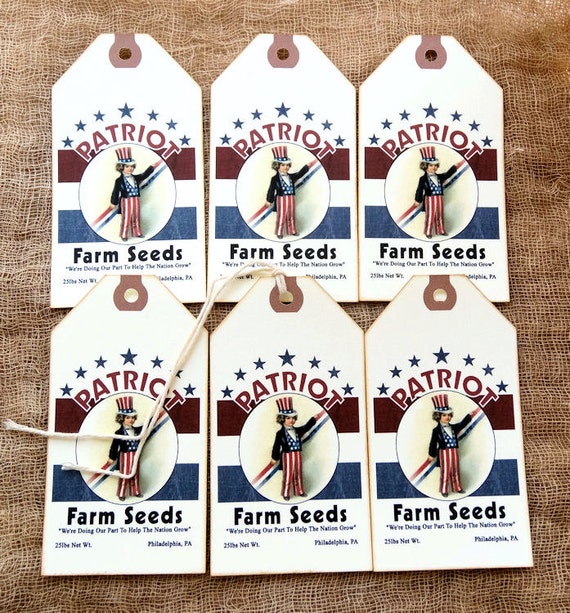 Primitive Americana Patriot Seed Feedsack Gift Tags or Hang Tags #1256
You will receive the 6 tags pictured above. Tags are available with or without a string, you will need to make your selection when purchasing. If you want the holes but no string send me a message and let me know. They are perfect to add to a gift or use in your scrap booking or craft projects, they can be used for so many things. Each tag measures approx. 2-1/4" by 4".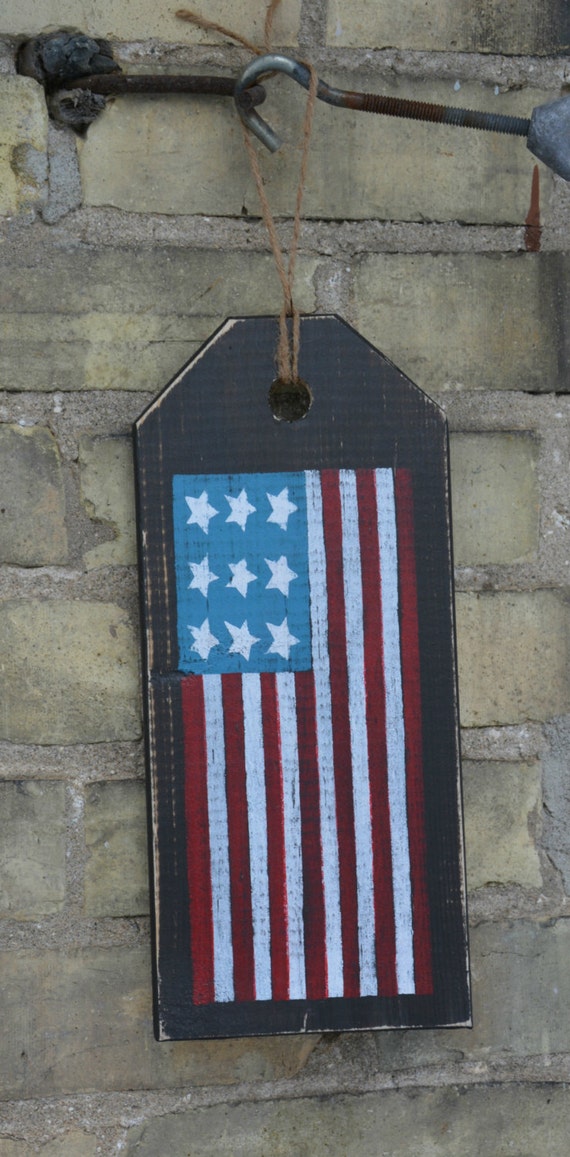 American flag tag
Show your patriotism with this tag. This rustic American flag tag is hand painted, distressed and sealed for a wonderful aged look. It's one of a kind texture and appeal is perfect for just about any room in your home. Either hanging on the wall, a cabinet or a door this unique tag will add character and charm to any home, beach house, cabin or cottage. It measures 12"x51/4" and hangs with jute twine.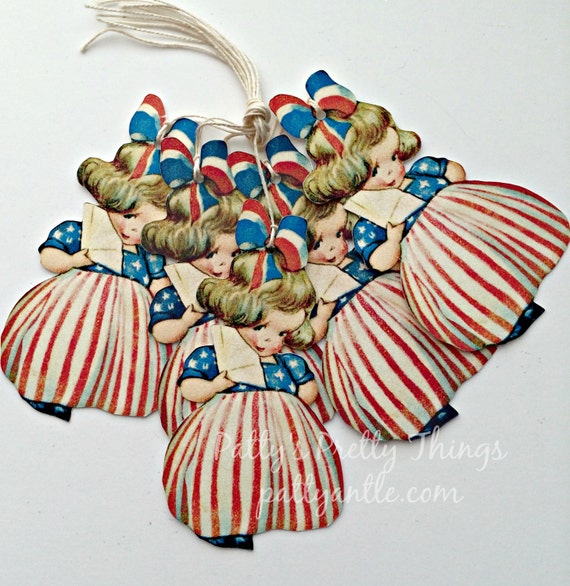 Patriotic Girl Gift Tags
These handmade vintage patriotic girls are adorable! There are 5 in a package, they are 5 x 2 1/2 inches in size and vintage cotton strings are included for hanging them to the perfect package.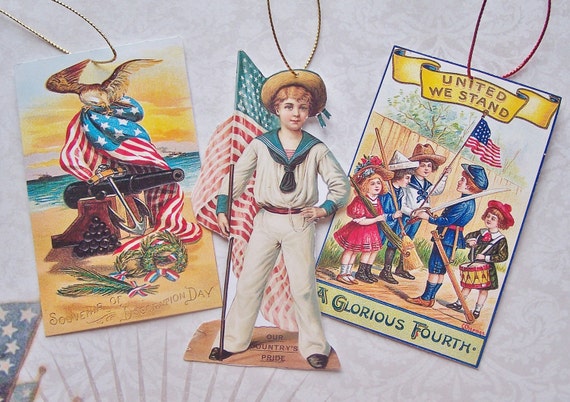 Patriotic 4th of July Gift Tags Ornaments Victorian Handmade Vintage Inspired - Set of 16 Package 1
These are 16 beautiful handmade vintage-inspired gift tags. They are printed on heavy premium double-sided matte paper and have been individually cut out by hand. Each tag has a red, gold or silver twine, and victorian patriotic image. The images have been taken from royalty-free clip art cds and are high resolution. The tags measure approx. 2 1/4" x 3 1/2" in length depending on the shape of the image.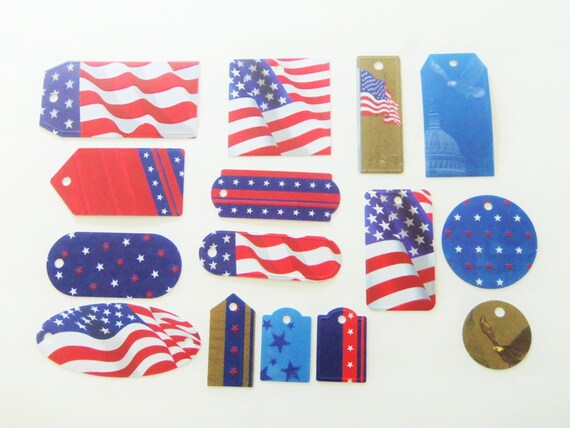 Planner Stationary 21 Tags and Tabs
21 Patriotic tags and tabs for Memorial Day or July 4th Great tags with flags, eagles, stars and stripes, red white and blue. Can be used in a journal, planner or organizer or the tags can be hung from drinks during your 4th of July BBQ. Great drink markers! Some of them are gift tags or hang tags and some are tabs to mark pages in your divider. Includes all 21 tags/tabs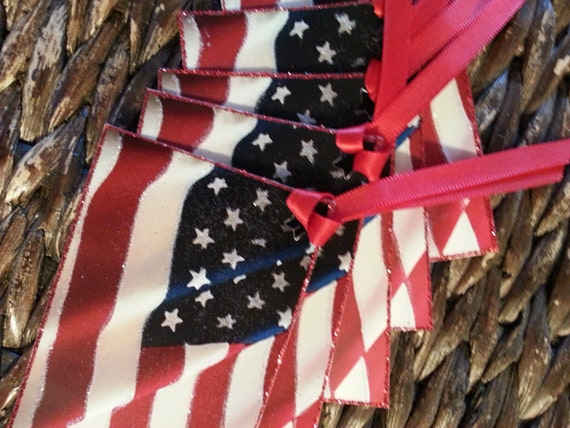 4 Large American Flag Gift Tags
Add a fun, patriotic touch to your gifts with these lovely American Flag gift tags. The pretty flag design is laser printed in my home studio on satiny photo card stock, then lightly accented with fine glitter to add just the right amount of sparkle. Their satin ribbons make it easy for you to attach them to your gift or to use as decor. Wonderful as scrapbooking embellishments, as well! More about these beauties: ○ 2.5" x 3.5" ○ Back is solid white and easy to write on ○ Satin Ribbon for easy attachment to ... anything! ○ Packaged in resealable pouch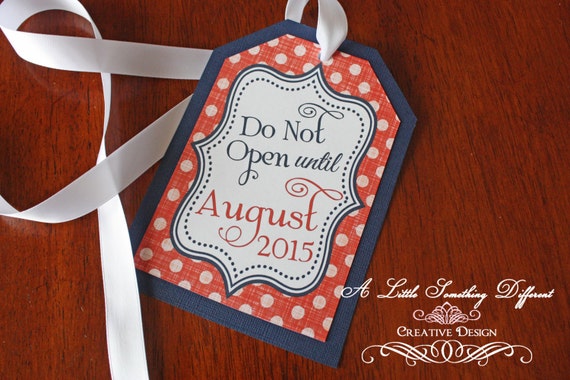 Maternity Photo Tags: Patriotic themed Do Not Open Until....
This tag measures approximately 5.5 inches in length; it is a 2 layer tag.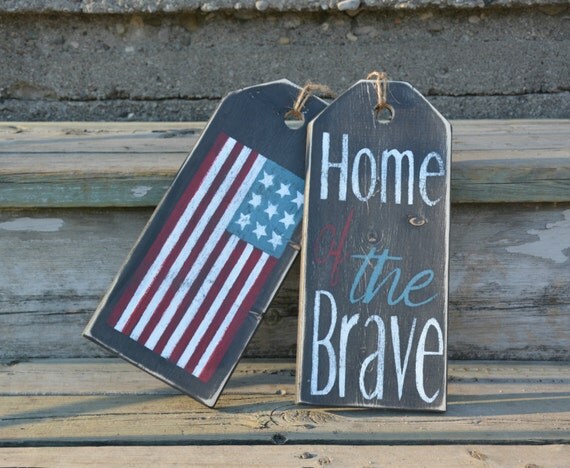 Front door decoration. American flag front door sign
Show your patriotic spirit with these all American, "Home of the Brave" tags, you can hang them all year or on holidays such as the 4th of July, Memorial Day, Labor Day, etc, and give your guests an American welcome. This rustic tag set is hand painted, distressed and sealed for a wonderful aged look. It's one of a kind texture and appeal is perfect for the front door of your home. Either hanging on the wall, a cabinet or a door this unique tag set will add character and charm to any home or cottage, and make your guests feel right at home. It measures about 11 1/2"x12" and is nailed together at an angle to hang nicely. The tags hang with jute twine.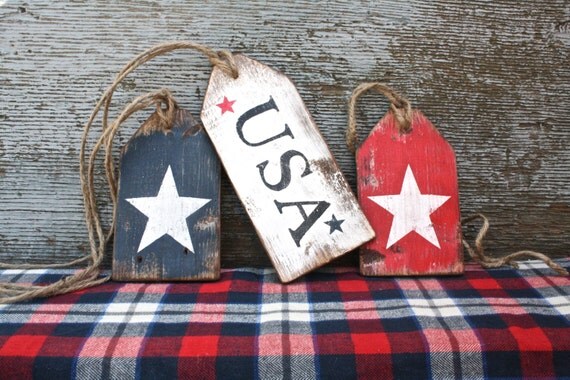 Wood Tags Patriotic Labor Day Decor American Flag
Distressed Wood USA Tag SET . Super Rustic!!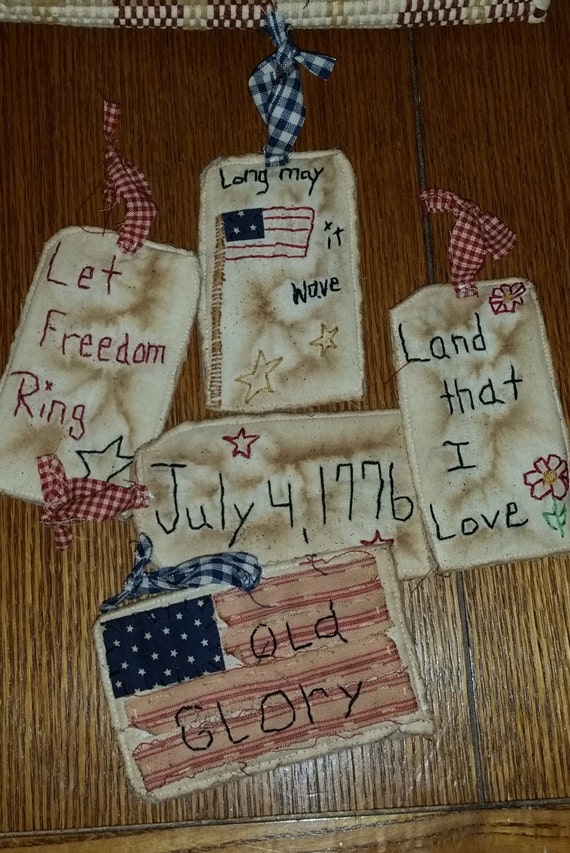 Primitive Americana hang tags/4th of July/Fourth of July/makedos
5 primitive grungy Americana/4th of July hang tag ornaments. Each muslin tag measures 5" x 3" with a homespun hanger. Each has an embroidered saying, stars, or fabric design.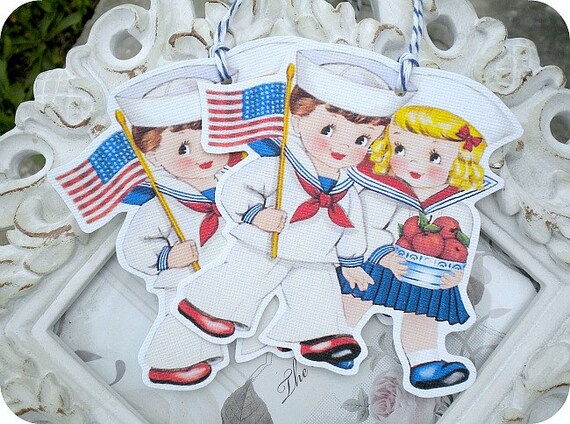 Vintage Patriotic Kids Tags - Set of 6 - Vintage Inspired - Cottage Shabby Chic - 4th of July
*Printed on linen cardstock. *Navy and white baker's twine *Hand cut *Available in any quantity.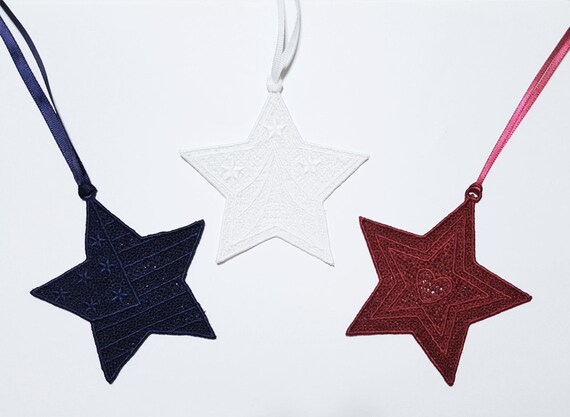 Freestanding Lace Ornaments - Patriotic Stars, Set of Three
Set of three freestanding lace patriotic star ornaments. One red, one white, one blue. Size: approximately 3.02" W x 3.88" H each Machine embroidered with premium Robison Anton Rayon Machine Embroidery Thread. Perfect for holiday decorating - use as: tree ornaments, wreath decorations, a gift tag, a handmade card decoration, a scrapbook embellishment, or a window adornment...or tuck into a holiday card. Each elegant ornament includes 1/8" coordinating ribbon for hanging (approximate 14") - can easily be removed.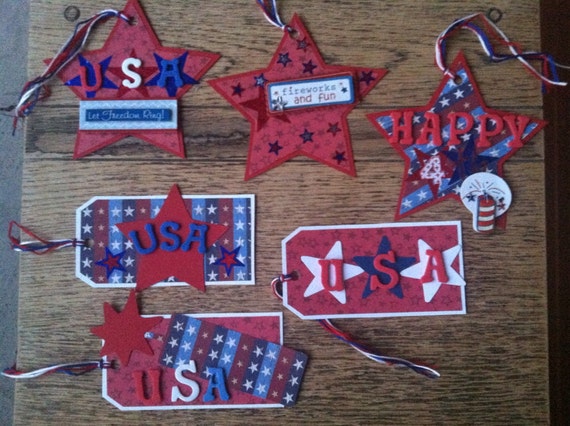 Gift Tags, 4th of July, Set of 6, Holiday Tags, July Fourth, USA, Gift Tags
You will receive 6 handmade gift tags celebrating the 4th of July in colors of red, white and blue! They all measure just over 4".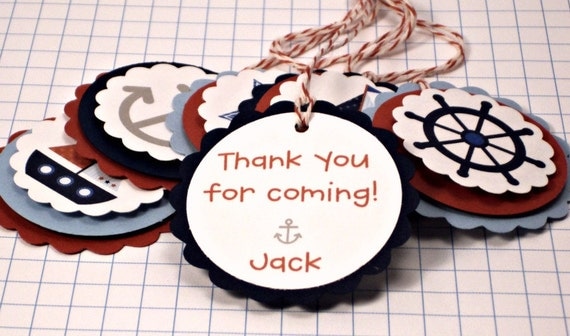 Nautical Favor Tags - Set of 12
Personalized Favor Tags to use on all your party favors, treats, gifts, etc. Card stock scallops and a sweet image are layered with foam adhesive to give everything a super fun 3-D effect. Tags measure 2 inches in diameter and are strung with coordinating ribbon. Larger tags made upon request! You will receive an assortment of 12 favor tags.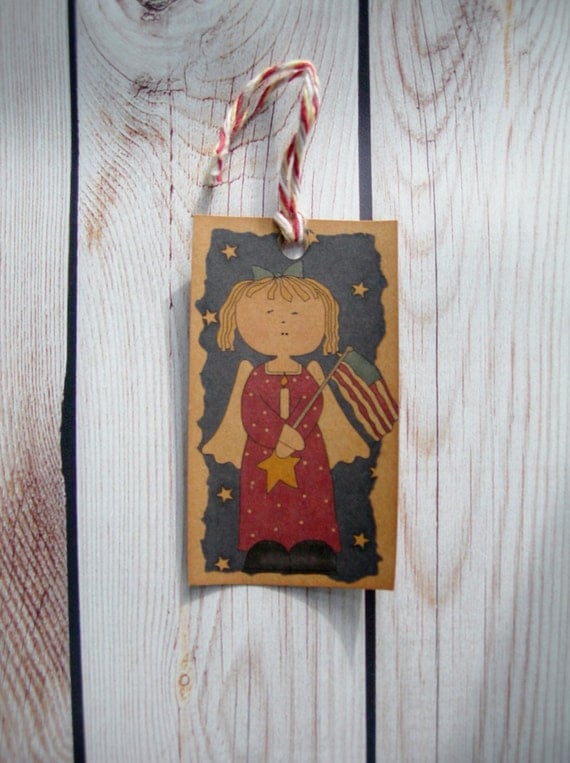 American Hang tag primitive Angel DIY craft supply Fourth of July paper
Hang Tag Gift Tag Primitive Americana Angel Fourth of July Paper craft 18 Tags Rectangle approximate size 2" x 4" Pre-Strung red multi cotton string Square Cut edge Kraft Cardstock Solid color back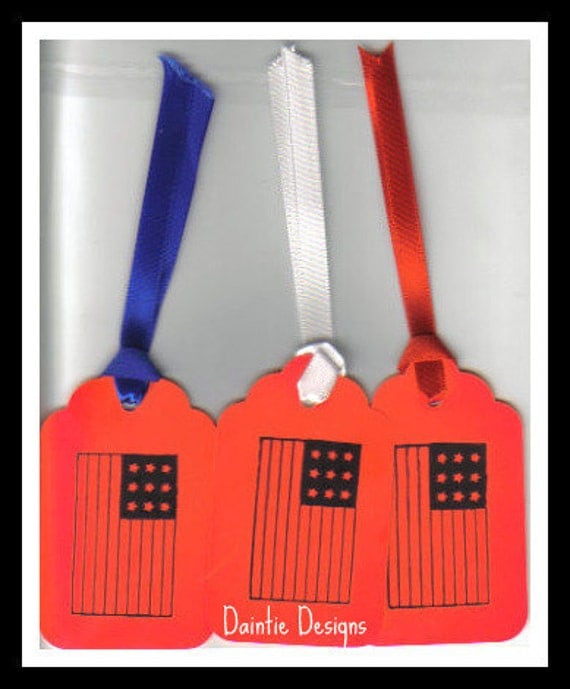 USA Red Tags Set of 3
USA Red Tags Set of 3 This listing is for a set of 3 USA flags on red thick card stock with pretty red, white, and blue ribbons as shown in the picture. Very nice quality.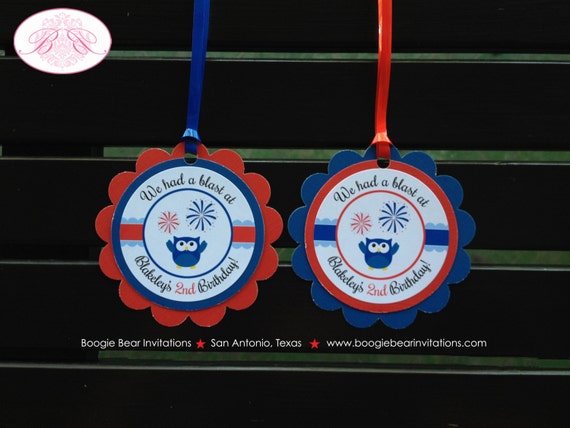 4th of July Birthday Party Favor Tags
We had a blast! These lovely favor tags will be a perfect addition to your 4th of July party theme. The favor tags feature 2 fun designs with your honoree's name and age in red and blue color tones - so cute! The beautiful favor tags are perfect size for attaching to goodie bags, or your anywhere you want to add decoration to your party theme. These fun favor tags are part of the "Blakeley" party theme. This listing is for the following: • 9 Favor Tags - Choose from 2 designs or select a mix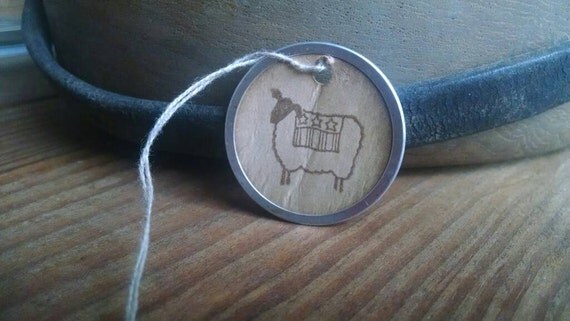 Americana Sheep Gift Tags, Metal Rim Gift Tags with sheep, set of 12, sized 1 9/16'
These metal rim tags have been hand stamped with a sweet Americana Sheep. Each pre strung tag measures 1 9/16". You will receive 12 tags with each purchase.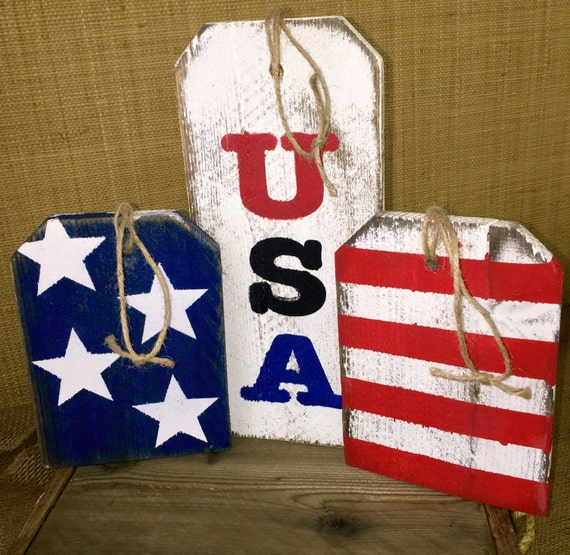 USA, Stars 'n' Stripes Rustic Large Wood "Gift" Tags » Handmade & Painted, Rustic Distressed "Pallet" Wood Sign
USA, Stars 'n' Stripes Rustic Large "Gift Tag" Signs ●⊰⊹ These distressed USA, Stars 'n' Stripes Rustic Large "Gift Tag" Signs will add a classic rustic touch to your patriotic decor. Designed for the 4th of July these tags will easily fit Americana Decor and are a great way to celebrate America's birthday!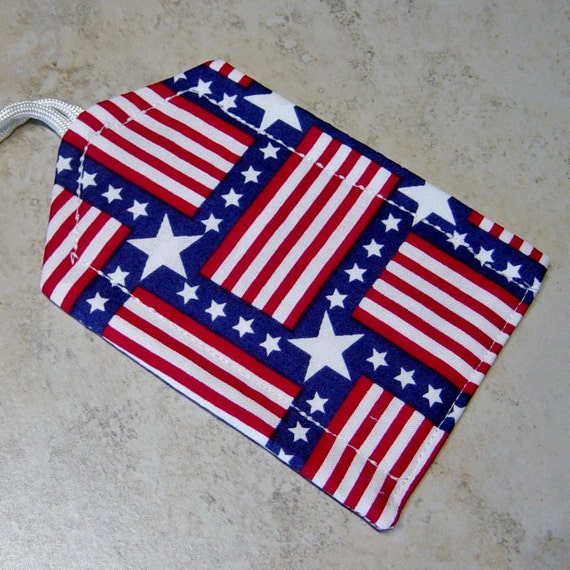 Luggage IDTag, Patrioic Red,White,Blue Flag Print Fabric
This luggage ID tag is made up in a quality cotton red, white and blue stars and stripes patriotic fabric. The tag is interfaced to give it good body and there is a clear vinyl pocket on one side of the identification tag. It comes with a blank cardstock name tag that you can fill in with your info. The vinyl pocket will easily fit a standard size business card as well. There is a matching sturdy cord to loop through your luggage handle. Measurement of fabric tag is 5 1/2" x 3 1/2" and sturdy cord is additional 5 1/2".
Go To
4th of July Tags Page ONE
Go To
4th of July Tags Page TWO