Dichroic Glass Pendant, Fused Glass Jewelry
This unique and beautiful pendant was made using a mixture of different glasses including breath-taking pieces of dichroic glass and has a silver plated bail. The wonderful thing about the dichroic glass used is its tenancy to change colors as it's viewed from different angles and under different lighting. The colors of this pendant are truly stunning! The color variations in this piece are captivating . This patriotic pendant is made with red, and blue dichroic glass. The middle is partially fused white glass. It measures approx. 1 1/2 inches high by 1 inch wide at it's widest points without the bail.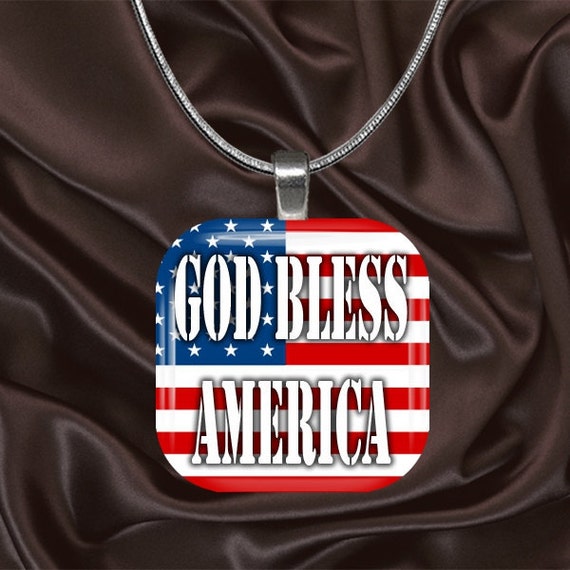 God Bless America Glass Tile Pendant with chain
This beautiful handmade pendant necklace is made from high definition digital art printed on top quality photo paper. Please note that pendants are shown larger than actual size to show detail. The actual size of the pendant is 1"X1". The photo is covered by a one inch crystal clear square of puffy glass giving the photo a 3D effect. The corners of my pendants are slightly more rounded than the traditional square pendants. The back of the pendant is also sealed with a glass like sealer and is smooth against the skin. All pendants are made to order so please allow 3 days for production before shipping. Placement of photo may differ slightly from picture. Custom glass tile earrings can be made to match most pendants.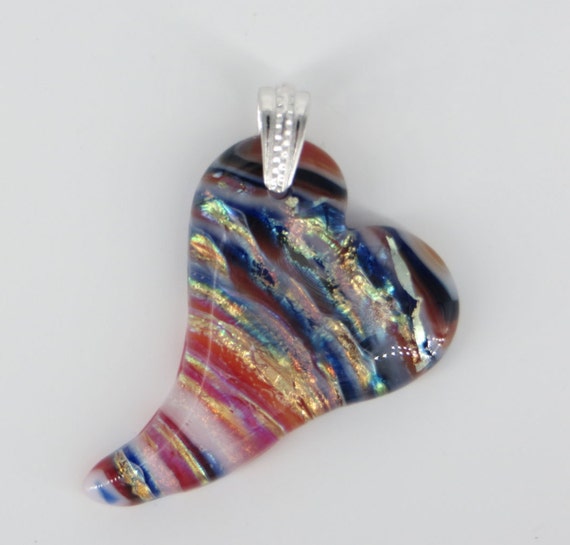 Handmade Fused Glass Heart Pendant
This fused glass pendant is gorgeous. It measures approximately 2 1/4" x 1 1/2". It's made with red, white, and blue glass. The different pieces of glass were fused together (colors stacked on top of one another) and then cut into slabs. Several of these slabs were then placed side-by-side in the kiln with a layer of dichroic glass placed on top and then fully fused. Once fully fused, the glass was cut into the heart shape and refused to smooth out the edges.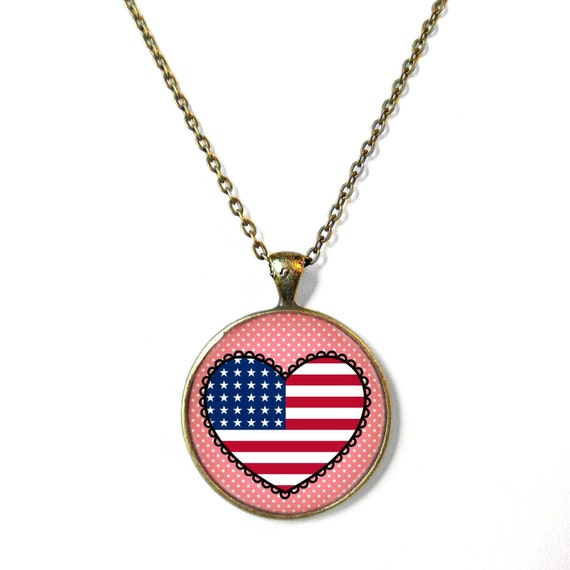 Conversation Heart with American Flag Necklace
Each pendant is about 1" across. -Each necklace comes with a 24" bronze chain. (need a shorter chain? just request it in the 'notes to seller box' at checkout!) -Pendant images are protected using high quality resin so the image will not scratch or fade.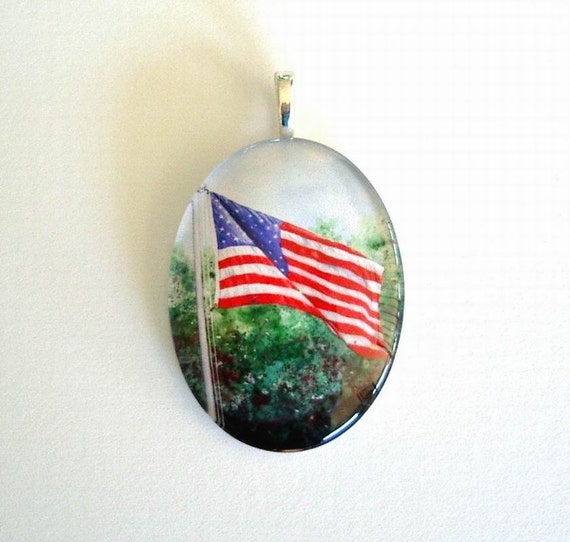 American Flag Art Glass Oval Pendant Old Glory Red White Blue United States Flag
A United States flag waving in the wind and reproduced from my watercolor artwork is featured on this lovely 1" x 1.5" oval glass pendant. Why not wear artwork depicting Old Glory around your neck to show your patriotism?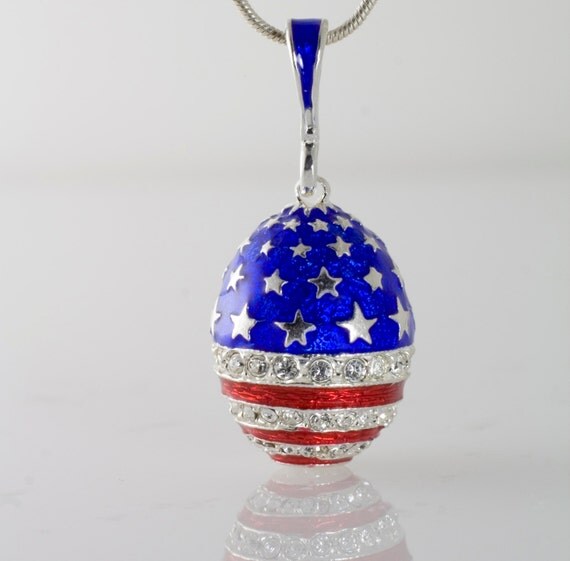 American Flag Sterling Silver Patriotic Pendant. Egg Red White Blue
Sterling silver enameled pendant with Swarovski crystals. The upper half of the egg is covered by royal blue enamel and shining stars are elevated over the enameled surface. Three red enameled lanes at the lower half of the pendant are separated from each other by the lanes of Swarovski crystals, creating an image of red and white stripes. A larger Swarovski crystal is set in the middle of the star at the bottom of the flag. The egg is 0.75" (20 mm ) without the bail - 1.25" (30 mm ) with the bail and 0.5" wide.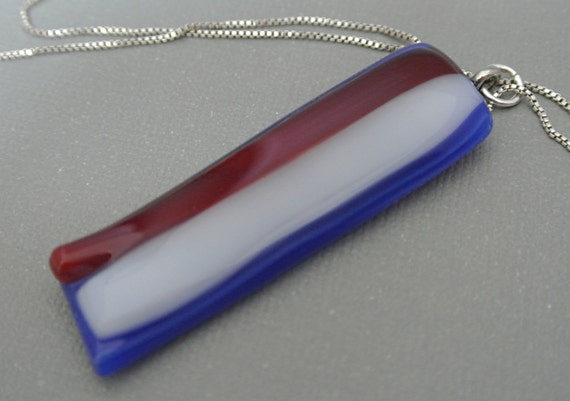 Red White and Blue Fused Glass Pendant
Red White and Blue Fused Glass Pendant - I created this stunning glass pendant by fusing red, white, and blue glass. This is a very fun, modern piece that would be perfect for the fourth of July! ♥ This pendant measures approximately 3/4" wide and 2 1/4" long. ♥ An 18" silver-toned chain is included. ♥ All of my items are beautifully packaged in sturdy boxes so they will be sure to arrive safely to you.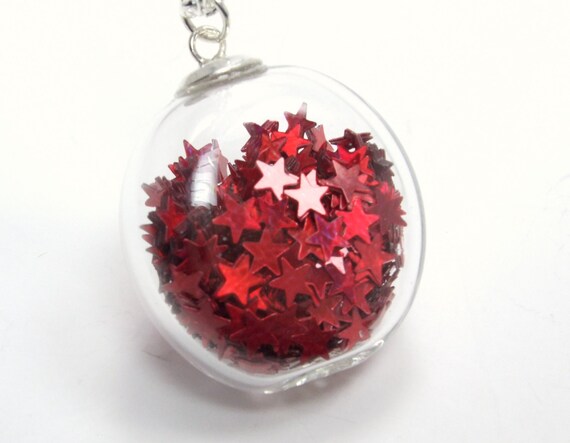 Fourth of July Collection-Glass Bubble Necklace Flat Red Glitter Tiny Star
20mm (approx 7/8 inch) round flat hand blown glass Filled with tiny red reflective star glitter that moves freely and permanently sealed with a sterling silver piece 18 inches long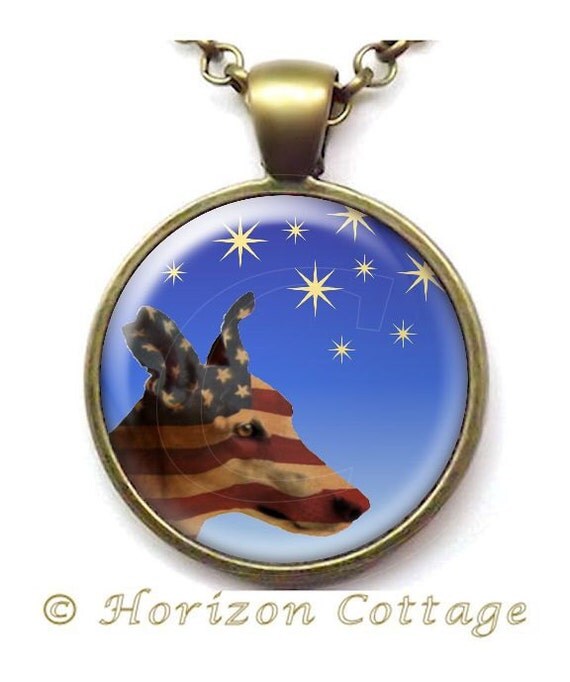 Greyhound - Antique American Flag - Starry Sky - Art Photo Pendant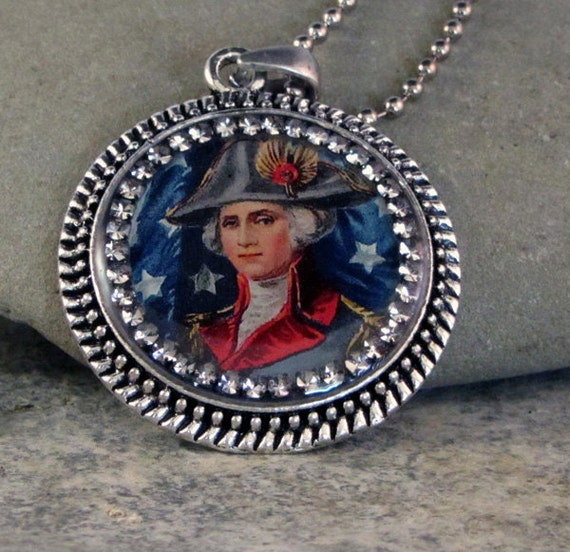 Silver Finish Resin Pendant - George Washington
This patriotic antique silver finish resin pendant has an image area of approximately 1 1/8" and features an image reproduction of George Washington surrounded by rhinestone chain. The pendant is sealed with crystal clear jeweler's grade resin, has an antique silver finish bail and hangs from a 24" antique silver finish chain. The pendant will be packaged securely in a box for shipment.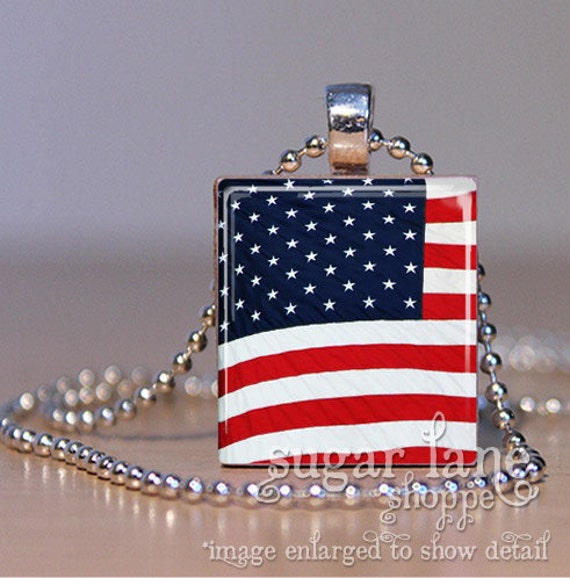 American Flag Scrabble Necklace
Each one of my hand-crafted, made-to-order pendants are .75" x .83" and are created from an actual recycled Scrabble tile. Though the tile is protected with a water resistant seal, it is not waterproof, so please remove before swimming, showering, etc! ♥ All of my pendants come with a FREE 24" silver-plated ball chain necklace.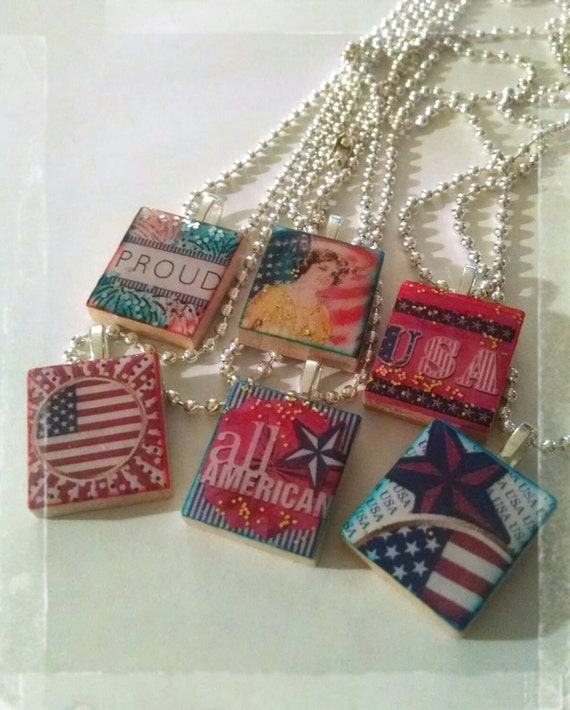 Americana Scrabble Tiles Necklaces
Americana Scrabble Tiles Necklaces. Ball chains. Let me know which one you are interested in.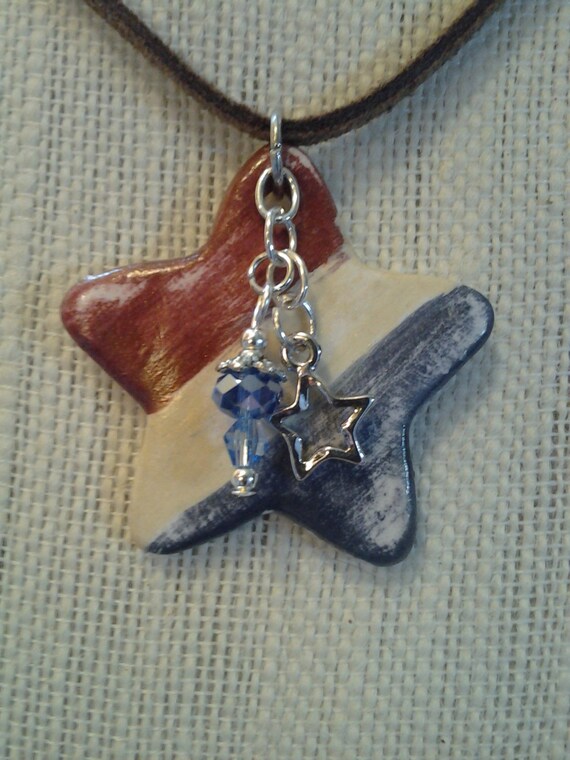 Essential oil diffuser pendant
ON SALE!!! Patriotic star and beaded charm essential oil diffuser pendant. Add a drop or two of your favorite essential for all day diffusion. Approximate size 1 1/2" x 1 1/2", Shipped on a cording of leather...which can be customized as to length...please specify in additional note to me prior to shipping.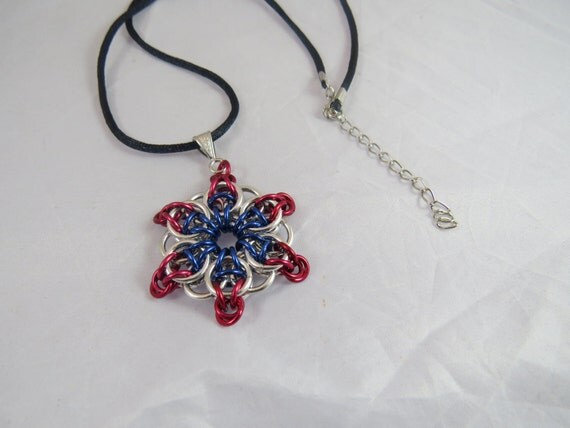 Celtic vision pendant in red, silver, and blue
The pendant is made with aluminum and anodized aluminum rings in red and blue and is approximately 1 and 1/2 inches in diameter. The necklace is adjustable to between 18 inches to 20 inches. Together they weigh about 0.25 oz.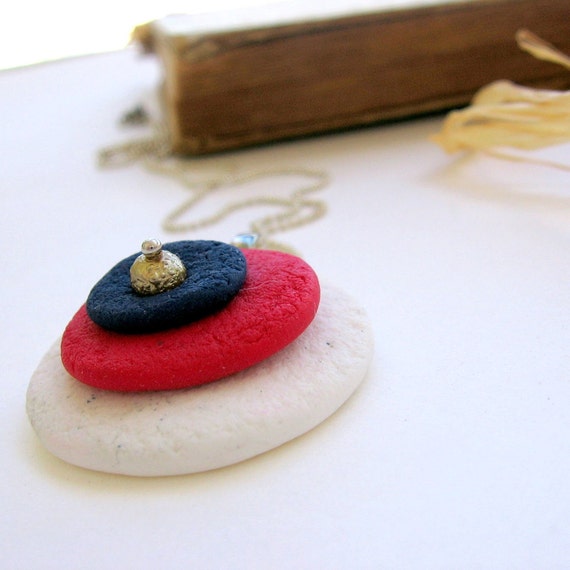 Liberty Circles - White Blue And Red Hand Sculpted Pendant - OOAK
One of a kind 4th of July tribute hand made pendant. Layers of hand sculptured polymer clay distressed with texture, enhanced with glass bead at the center. 1 1/8 inches (28mm) pendant hangs on 18 inches (45.5cm)long silver tone ball chain.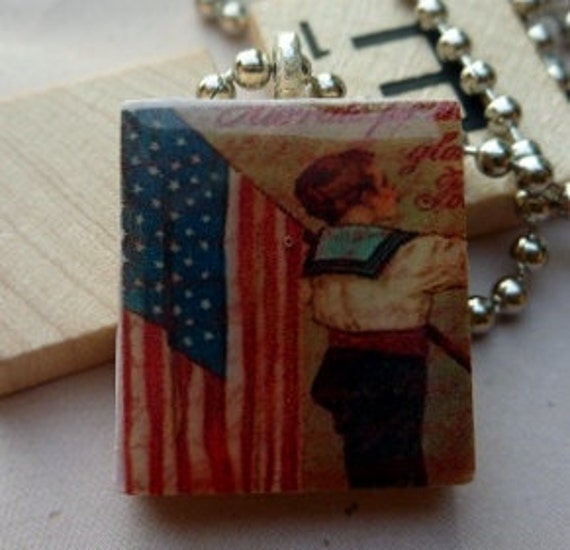 Scrabble Tile Pendant-Magnet-Wine Charm-Key Chain-Little Boy with American Flag
A fun and affordable gift for someone special or just for yourself. Great gifts for US Military families or Patriotic themed party. I made these out of old Scrabble tiles, decoupaged the digital art onto the tile, and sealed it with a water resistant resin. *Each tile comes with an 24" silver plated ball chain and gift bag. (You can cut the chain to fit any size you like) *All Scrabble tile jewelry is buy 3 get 1 free.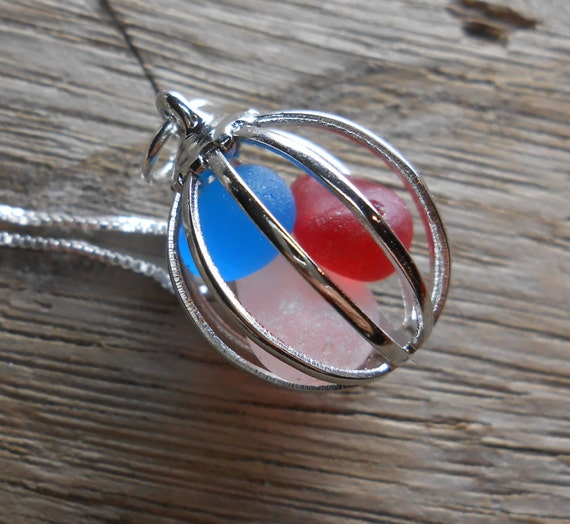 Faux and Real Sea Glass Necklace, Cage Jewelry, BORN In THE USA
Three stunning pieces of genuine and faux seaglass.... White is genuine! These three little babies are kept completely safe in their silver plated cage and they come on your choice of chain!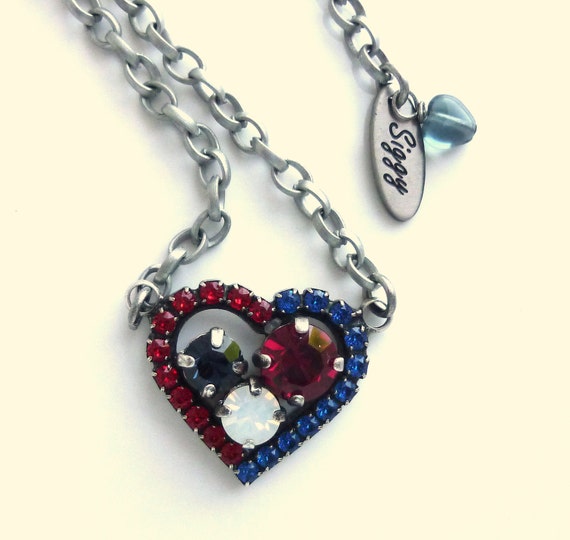 Swarovski crystal heart necklace, red white and blue, 4th of July bling, Siggy Jewelry
Swarovski crystal heart shaped necklace in patriotic red white and blue, made with genuine CRYSTALLIZED™ - Swarovski Elements. What a better way to show your patriotism this 4th of July, than this cute heart shaped necklace. The stones are set in antique silver plated setting and the chain is adjustable up to 18 inches long.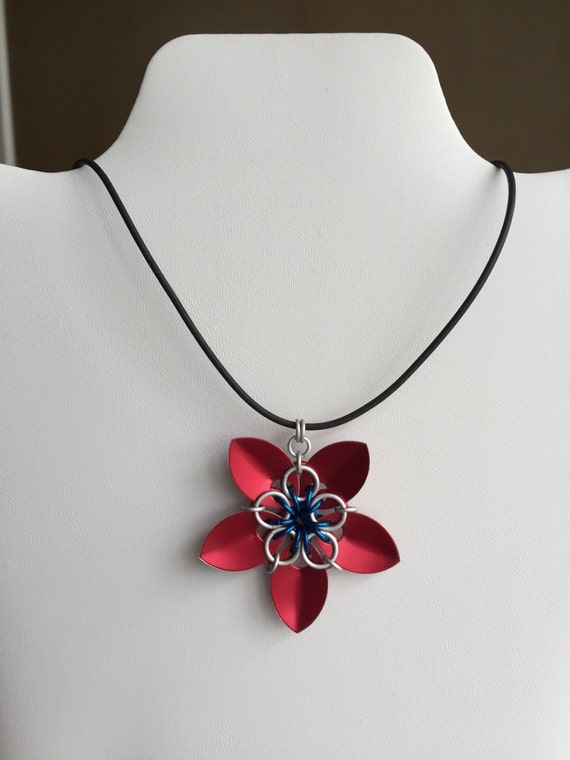 Scale Maille flower in red, white and blue
Scale maille flower in red, white and blue. Scale and chain maille isn't just for Renaissance festivals and jousting.....with a modern twist, it makes great accessories for any look. Hand made using anodized aluminum scales and rings. Pendant diameter is about 2". Comes on a 16" rubber cord with lobster clasp and 1.5" extender.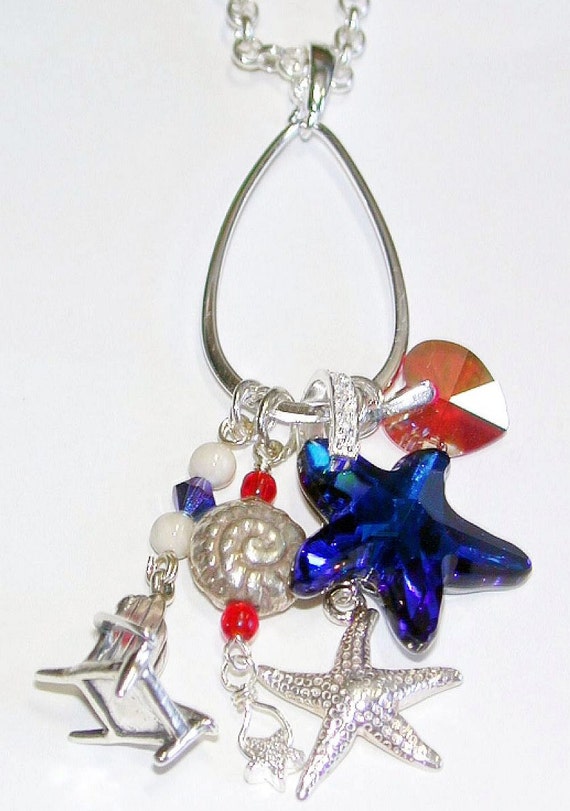 JBB Ocean Starfish Bermuda Blue Handmade Swarovski Pendant-
This Fourth of July Beach Celebration pendant is lush with beach charms in Sterling Silver and Swarovski Crystals beginning with a large Starfish in Bermuda Blue. The color is an absolutely smashing dark electric blue that personifies Liberty Blue. Suspended from a teardrop shaped sterling bail along with a wonderfully dimpled ss starfish, a ss Nautilus Shell with a diamond dusted ss mini star, a red Swarovski Heart, and to take it all in, a ss Beach Chair charm. The pendant measures 3 1/2" long. All findings are sterling, including the Cubic Zirconia Bail on the Blue Swarovski Crystal star. This pendant sparkles like the Fireworks on Independence Day! What a perfect gift for the cookout hostess!
MATURE Funny Freedom Motherf*cker American Flag Necklace -
-Each pendant is about 1" across. -Each necklace comes with a 24" bronze chain. (need a shorter chain? just request it in the 'notes to seller box' at checkout!) -Pendant images are protected using high quality resin so the image will not scratch or fade. -Metal is nickel and lead free and can be worn by anyone with metal allergies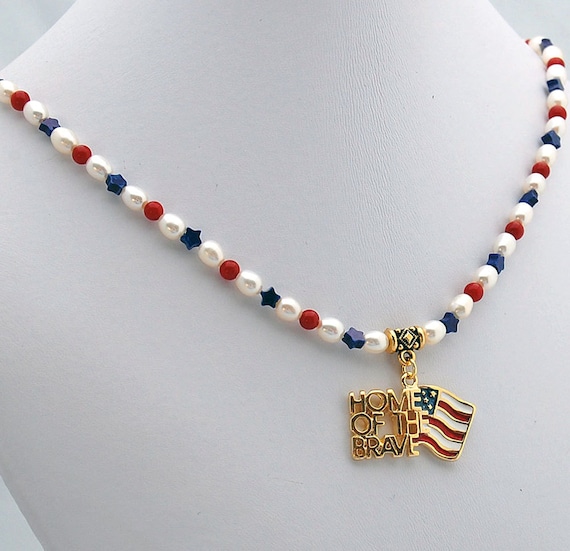 American Flag Home of the Brave Red White & Blue Natural Stone Choker Necklace
Pearls, red jade and blue howlite necklace. Red, white & blue choker is perfect for the gold tone American Flag & Home of the Brave pendant. The necklace is approximately 16 inches long with a 4 1/4 inch extender chain and a spring clasp. 22
Go To
4th of July Pendant Necklaces Page ONE
Go To
4th of July Pendant Necklaces Page TWO
Go To
4th of July Pendant Necklaces Page THREE
Go To
4th of July Pendant Necklaces Page FOUR
Go To
4th of July Pendant Necklaces Page FIVE
Go To
4th of July Pendant Necklaces Page SIX