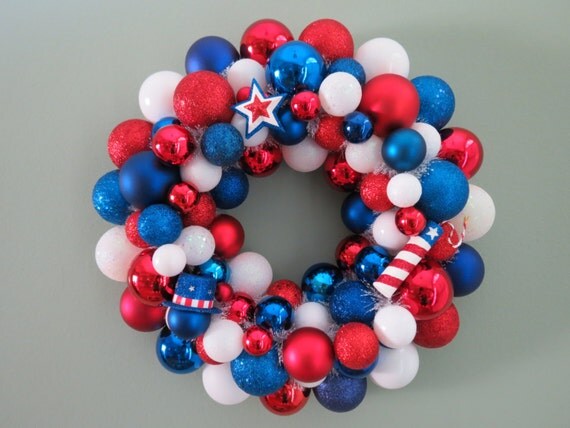 Patriotic WREATH USA Red White Blue
Created with multi-sized and -textured red, white, and blue shatterproof ornaments, it measures 16 inches across. Three glittered ornaments, a firecracker, star, and hat are set in amid the balls. A hanger is fastened to the back for easy displaying from a hook, nail or wreath hanger. All of the ornaments are shatterproof except for the flags. The ornaments are attached to a sturdy wire-reinforced urethane ring covered with white tinsel garland.
USA FLAG PATRIOTIC Ornament Wreath 18.5" wide with Eagle
USA FLAG PATRIOTIC Ornament Wreath 18.5" wide with Eagle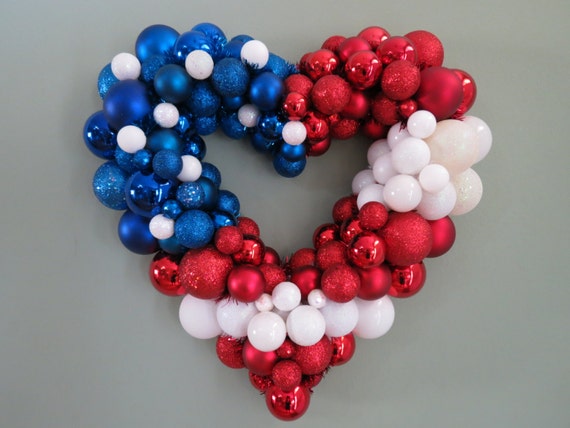 USA PATRIOTIC FLAG Heart Ornament Wreath 19" Patriotic Wreath
(This wreath is 19", which is wider than my standard round wreaths, so it requires a larger box and higher shipping cost for mailing.)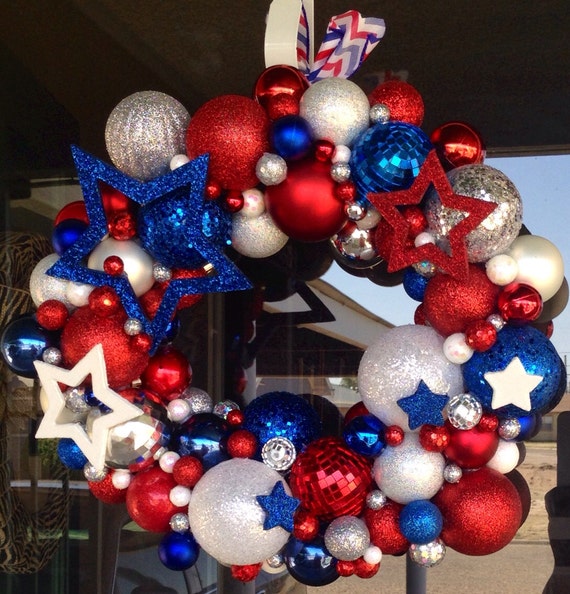 Red, White, & Blue Patriotic Ornament Wreath
Custom made ornament wreath. Can be done in any combination of colors or solid colors. Beautiful shatter-proof and glass ornament ball wreath with an assortment of matte, glitter, and shiny Ornaments. Add a unique, handmade, festive flair to your holiday decor! The wreath can be elegant with just one color, or festive with an assortment.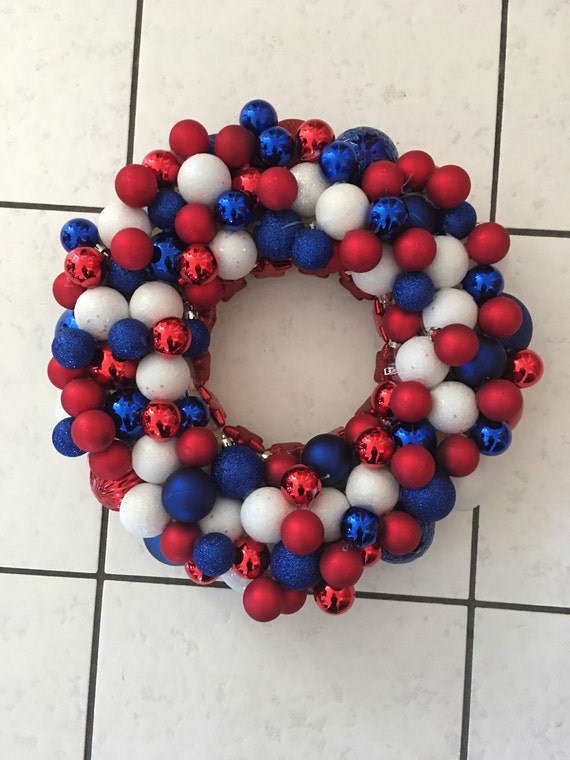 Patriotic Ornament Wreath/Centerpiece
A wreath/centerpiece made from shatterproof and glass ornaments. The wreath is 14" in diameter. Made on a 10" straw wreath.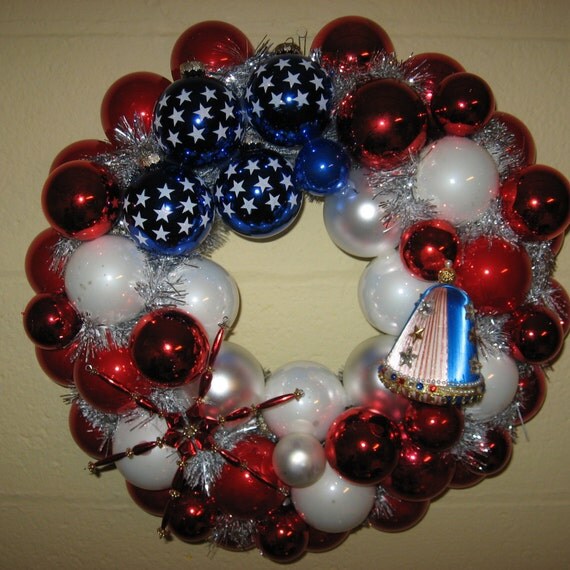 Vintage Christmas Shiny Brite Ornament Wreath Patriotic
Super cute Christmas ornament wreath handmade with vintage Shiny Brite ornaments, vintage satin ornament and vintage beaded ornament highlighted with mini lights, run on batteries (included). Lights blend into design and barely noticeable when off. Wreath made with a nice mix of vintage/retro Shiny Brite glass ornaments, newer glass and shatterproof ornaments. Measures 15" in diameter and about 4" deep, ready for immediate hanging. Lots of sparkle and super cute. Blends well with any decore.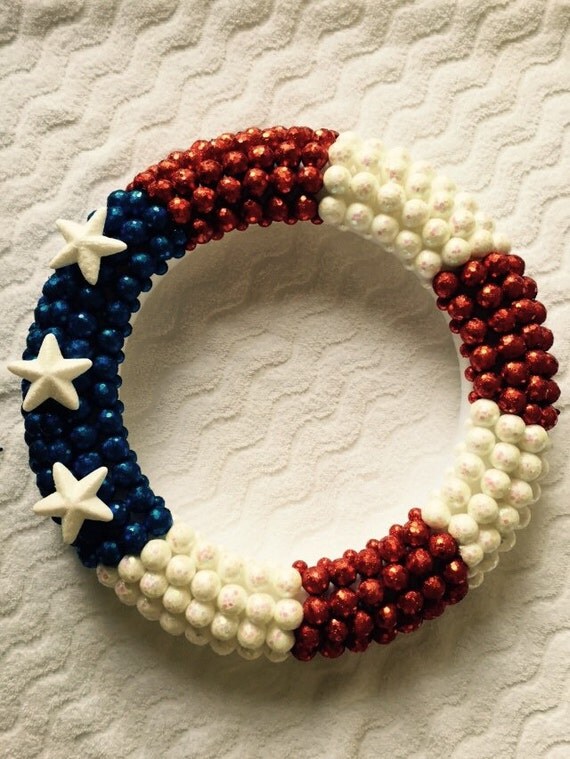 Patriotic Wreath, 4th of July Wreath, Flag Wreath, Military Wreath
This is a unique patriotic wreath. This represents our Flag, our men and women, our country and most of all our Freedom! This wreath represents your home. This item is handmade with new materials. I used a 14 inch foam wreath, wrapped it with ribbon. I then applied over 150 glittered styrofaom balls individually. 3 styrofoam stars have been applied to complete this beautiful wreath.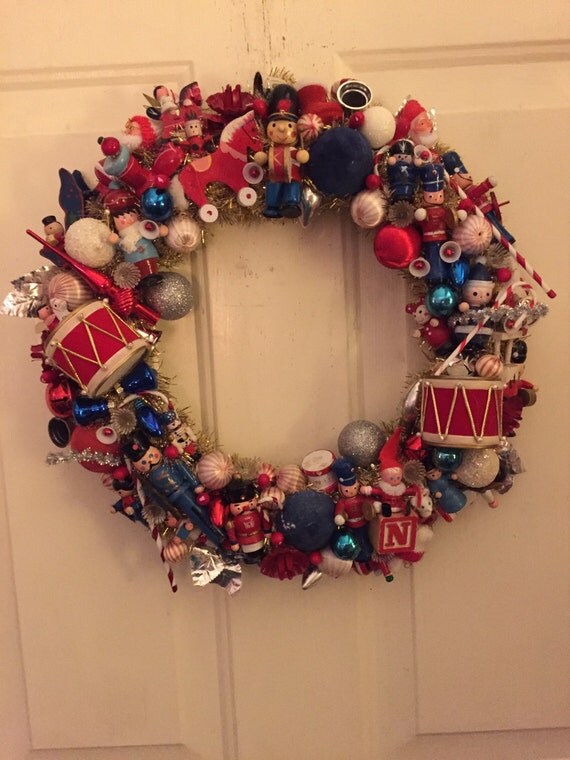 Red, White, Blue & Soldiers Too
Ornament encrusted wreath measuring 17" across. Thickly covered in vintage wooden soldier and police ornaments with tons of red, white and blue doodads, ornaments and all vintage goodies tucked into all crevices. Wonderful for Christmas but could also be used for the 4th of July. Please ask if you have any questions. Thanks!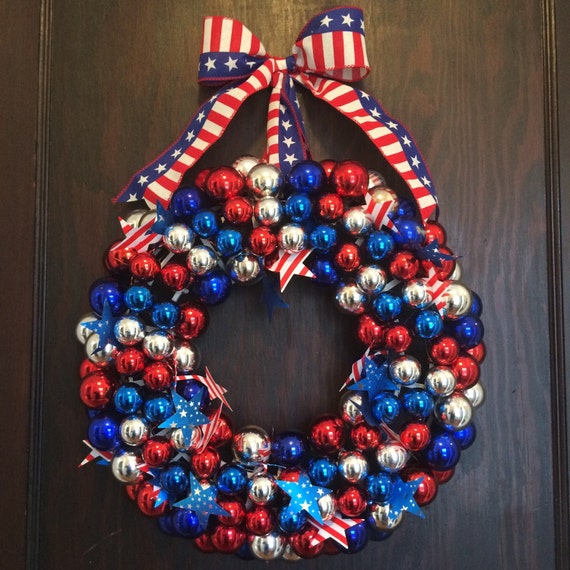 Patriotic Wreath
Greet your guests for ANY Patriotic Holiday with this gorgeous piece! Stunning, yet elegant at the same time. Made from red , silver, and blue shatter proof bulbs and hung by your choice of one of our gorgeous Patriotic burlap bows . Measuring 22" ( with 6" bow drop) band 4" in depth, which makes it perfect for a storm door. This piece is sure to be a favorite of yours and your neighbors! It's a fabulous addition to any door year round as well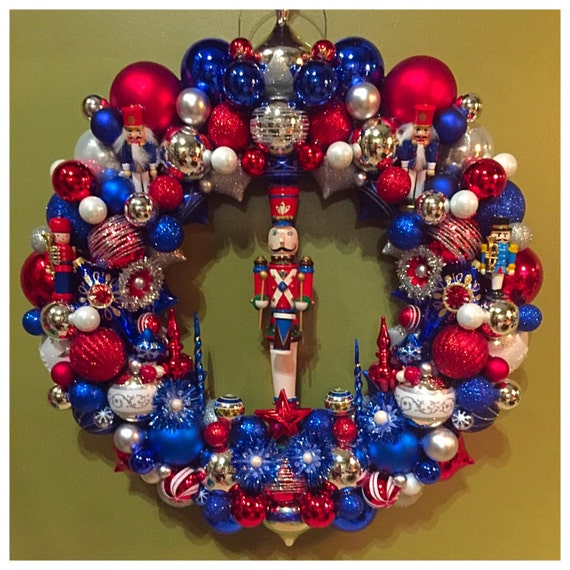 Handmade OOAK Red, White, and Blue
Beautiful handmade OOAK nutcracker Christmas bulb and ornament wreath for your consideration. This wreath is about 22" in diameter. I used a mix of new and vintage ornaments and bulbs, as well as a mix of glass and plastic. All items are secured to a wire wreath frame. See photos for item details. Please view photos and convo me with any questions prior to purchase. Wreath is sold 'as is' and is not returnable.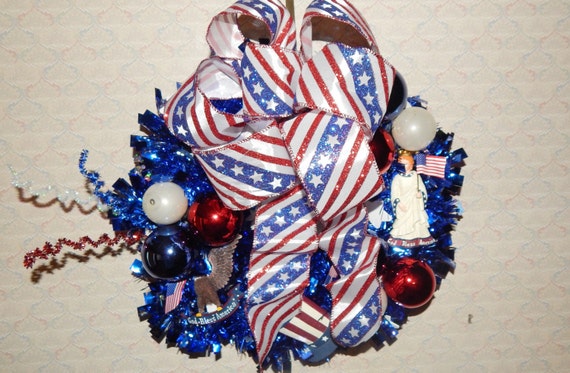 4th of July 15'' Wide Handmade
Handmade by me, Brenda Tunnell, American Holiday Wreath. 15'' blue with stars garland wrapped styrofoam Circle Wreath. Vintage glass ball ornaments in red,white,and blue. Resin ornament shapes are Lady Liberty, Uncle Sam's Hat, Eagle, and Star. Small paper flags, white wooden stars and pipe cleaners also embellish the wreath. Large handmade bow from wide wired flag themed ribbon. Wire hanger on back 15'' wide 7'' thick with bow
Ornament Wreath - Red, White, and Blue
This wreath is approximately 15" in diameter and made with mostly red, white, and blue shatterproof ornaments, featuring a star-shaped, vintage glass Santa Claus ornament. All wreaths are personally hand-made. A lot of time and thought go into the details and making of each one. Even the wreath-shaped foam core that the ornaments are placed on, is wrapped in colored ribbon, so that there will not be any white spots or patches that may distract from the beauty of the wreath. Placement of each ornament is carefully thought out, and because of the intense detail, each wreath takes hours to create.
Are You Looking for
4th of July Mailbox Covers & Swag
?
Are You Looking for
4th of July Lantern Swag
?
Are You Looking for
4th of July Floral Swag
?
Are You Looking for
4th of July Mesh Swag
?
-------------------------------------------------------
Take a peek at these other Patriotic Wreath Styles!:
Patriotic Topiary Trees
Patriotic Burlap Wreaths
Patriotic Mesh Wreaths
Patriotic Yarn Wreaths
Patriotic Floral Wreaths
Patriotic Grapevine Wreaths
Patriotic Berry Wreaths
Patriotic Ribbon Wreaths
Patriotic Fabric Wreaths
Patriotic Pine Cone Wreaths
Patriotic Paper Wreaths
Patriotic Tulle Wreaths
Patriotic Rag Wreaths