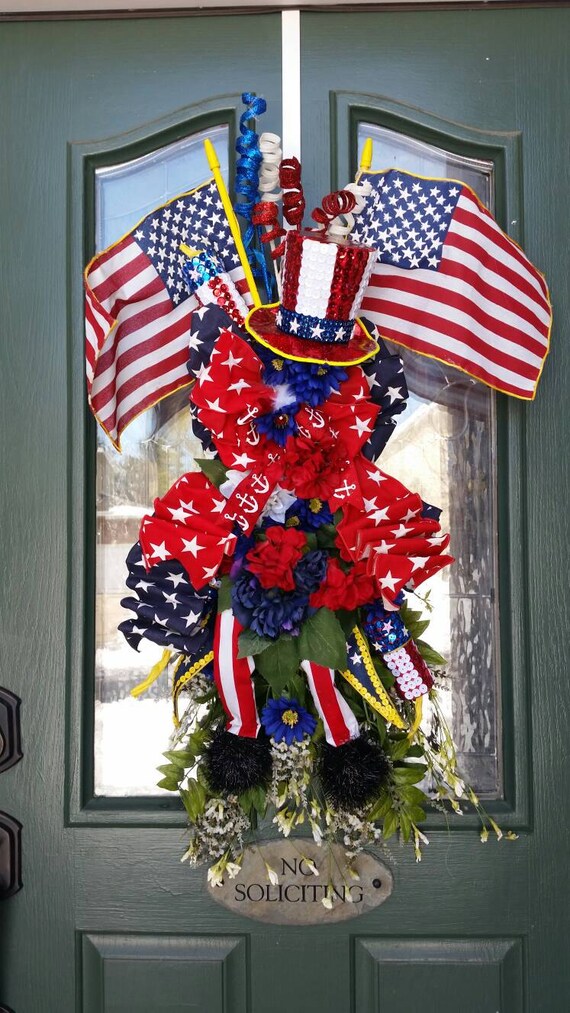 Patriotic Wreath, Uncle Sam Wreath, 4th of July Wreath
Celebrate USA Patriotic Holidays with this Gorgeous "Stars & Stripes" Uncle Sam Swag Wreath. Features my Signature Hat, Legs and Tales in all their Patriotic Glory. Sequin Firecrackers and Spirals along with Old Glory nestled in White Spikes, in an array of Red, White & Blue Roses, Daisies, Hydrangea and Mums. Ribbons are designed by D. Stevens in Red and Navy with White Stars on canvas. I gave the wreath a little more pazaz with Rhinstones, a Anchor and Red Anchor Ribbon. MEASURES 38" Length 27" Width 8" Depth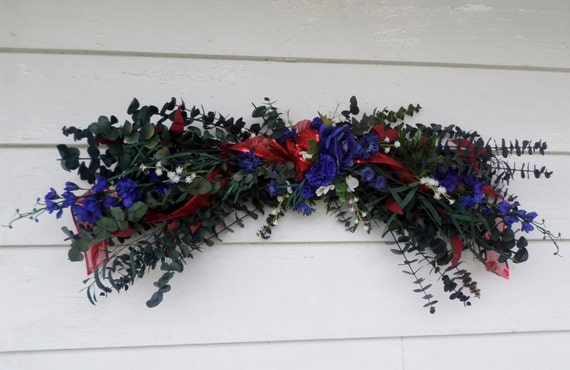 Americana Swag
Accent your home or cabin with Americana! This red, white, and blue eucalyptus swag will be an eye pleasing addition to your special wall, over a door or mantle! Measures approx.: 30" in Length, 9 - 10" Height at ends, 4 - 5" depth.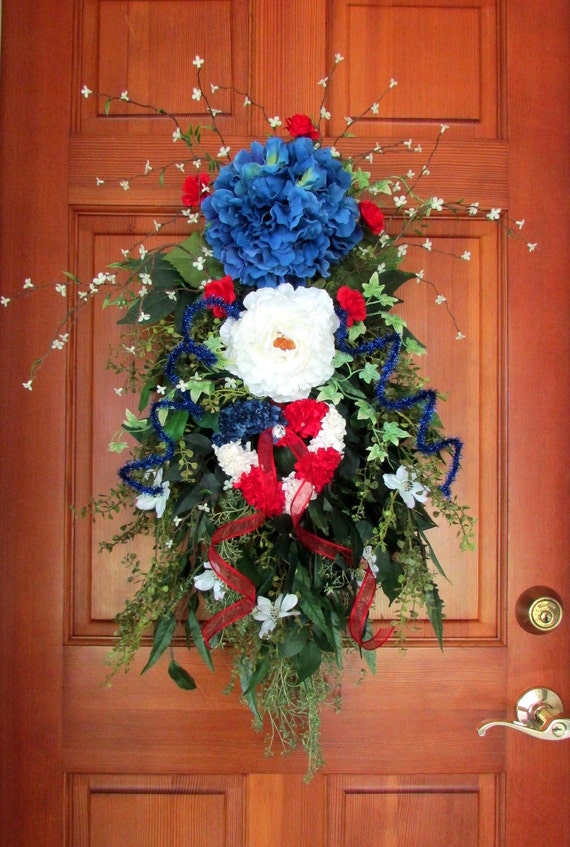 All year wreath swag, "God Bless America!", teardrop patriotic swag
I'm loving this one!! My heart is in it!! God bless America! What better way to express our love and respect- so very much needed today- for this wonderful country and for those who have fought to make it what it is! And, in such an elegant way! I have to say, this swag makes a very bold and "showy" statement! I started with a base of artificial greenery vines of baby tears, and leaf branches which surrounds the blue hydrangea, then drapes to the bottom, along with other various greenery and to which I added the gorgeous white peony. small red roses, filler flowers, and the so realistic twig branches, which are wired and unbreakable. Then, to which I've added the awesome red, white and blue heart decoration which tops it all off! All combined to give you that wispy, airy look which creates such a stunning natural display. This swag measures approx. 34" high by 17" across, twigs may jut a little farther but can always be reshaped. I made the base of this swag with a pine wreath which I bent to shape and I find works well to hold and glue the branches to. All flowers are either hot glued or wired and glued into place. *I always use the best quality materials available.*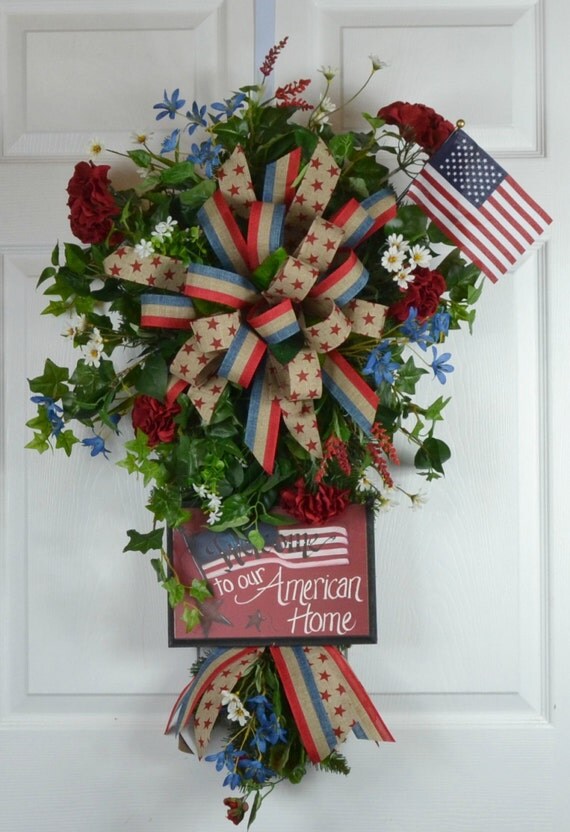 Patriotic Swag - Patriotic Wreath - 4th of July Swag -
One of my best sellers from my Patriotic Collection. This patriotic 4th of July swag sells out completely very fast. It's gorgeous and looks fantastic on a front door. It has red geraniums surrounded by white wild daisies, blue peruvina, ivy and pothos, and other fillers. A sign "Welcome to my American home" was added and to continue your patronage a flag is displayed. This swag makes a powerful statement of style. The measurements for this swag is 38x22x9.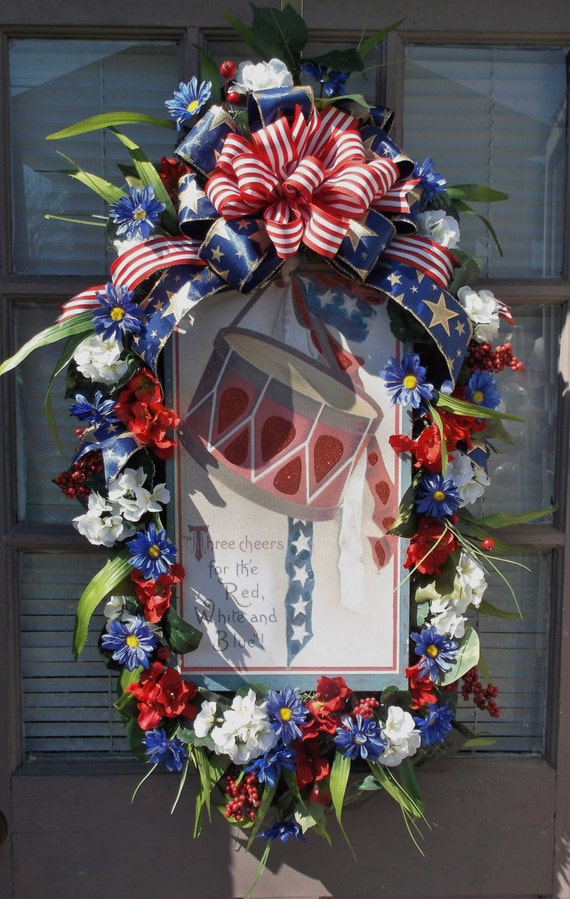 July 4th Patriotic Swag Americana Wreath Nostalgic Sign
3 CHEERS FOR THE RED-WHITE-AND BLUE CUSTOM DOOR SWAG A wooden sign baring a nostalgic, patriotic theme takes center stage on this amazing design. An off white background, with red and blue borders, frames the early American drum that appears to be hanging from the large bow at the top of the swag. Glittered areas add extra appeal. The exclamation, "Three cheers for the red, white, and blue" are displayed in the bottom left hand side of the sign in a Victorian style script. On top, a navy blue wired ribbon with gold stars and a red and white stripe ribbon create a large bow for a dramatic effect. Surrounding the sign is a tasteful arrangement of mixed foliage, red hydrangea blossoms, blue daisies, red glittered berry sprays to compliment the glitter in the sign, and white geranium clusters. The end result is a vibrant, stately, patriotic design that really makes a grand statement. This design measures approximately 24" W. x 7" D. x 37" T.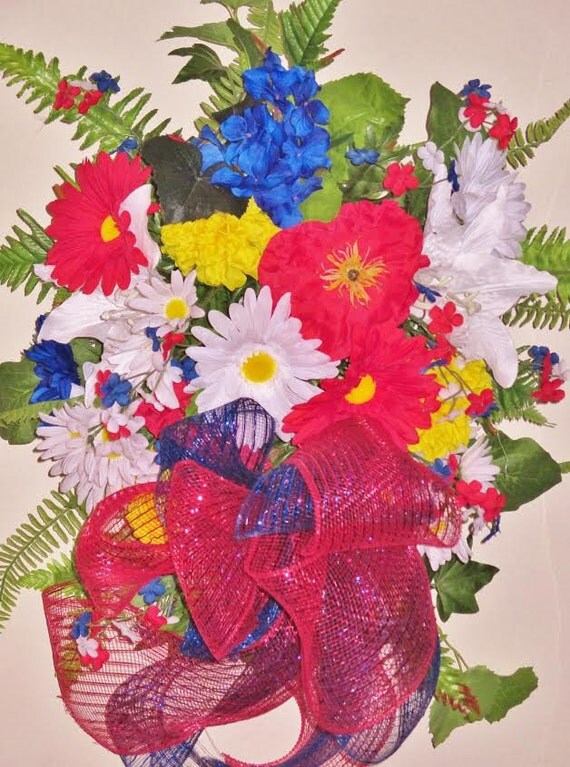 Patriotic All-American 4th of July and All-Year Round 27" Patriotic Swag - FIRECRACKER GERBER DAISIES
Handcrafted Artisan Creation Exclusively for Tony Roberts Tip to Tip Measurement 27" x 27" Realistic High Scale, High-Quality Silk Floral and Greenery Ready to Hang Specialized Accessories and Embellishments. Display a Patriotic Salute to make people smile! -----My All-American Independence Patriotic Pride creation brings a truly original touch to barbeques, 4th of July picnics or any summertime celebration with family and friends. A lovely way to celebrate this coming July 4th holiday that sparks the hearts of all Americans with its patriotic beauty and dazzling color.-----A wonderful splash of Red, White, and Blue crisp silk blooms that burst with Patriotic Color. I always select the most realistic True-Touch Blooms: Red, White and Blue Firecracker Gerbera, Patriotic Blue Hydrangea, Red Poppies, Standard White Daisies, Yellow Carnations and brilliant white Asiatic lilies. Accented with Red, White and Blue field sprays dotted here and there and assorted greens. The three color mesh bow is approximately 12" Wide x 15" Long.-----A gorgeous way to celebrate our Independence Day. Ready for hanging with an attached loop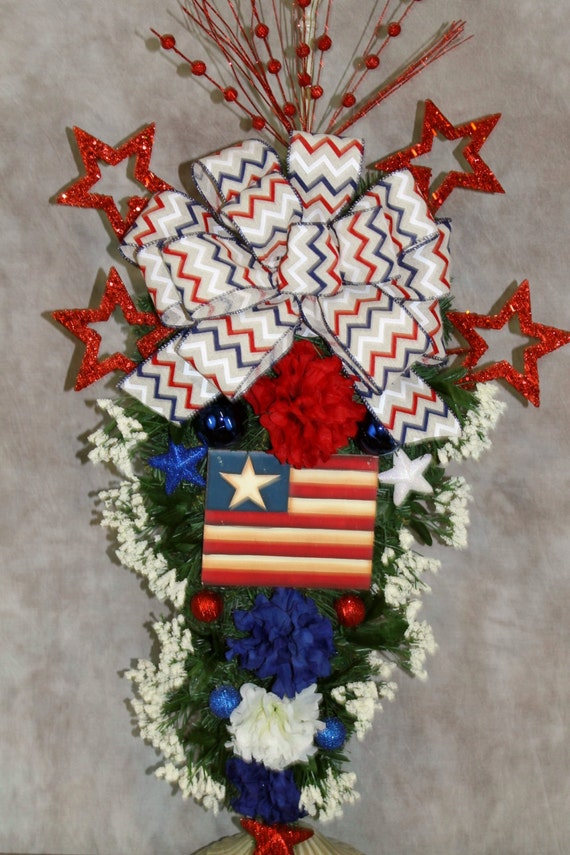 Patriotic decorations - Handmade swag
July the 4th will be here soon. I can already smell the barbeque with my favorite foods cooking, fresh watermelon, and tall cold glasses of fresh squeezed lemonade and sweet tea to drink. As family and friends arrive, they are greeted by a beautiful Patriotic swag on your door. With this swag hanging on your door you are telling everyone that you are "Proud To Be an American" and it is a handmade item and made in USA. This Patriotic door swag measures 28 inches long, 17 inches across the top, and about 5 inches deep. At the top is a large wired red, white, and blue bow with chevron print and coming out of the top of the bow are fireworks with red glitter. I have also embellishments that include shinny and glittered balls, glittered stars, carnations, and white babies breath tucked in the swag on each side all in red, white, and blue.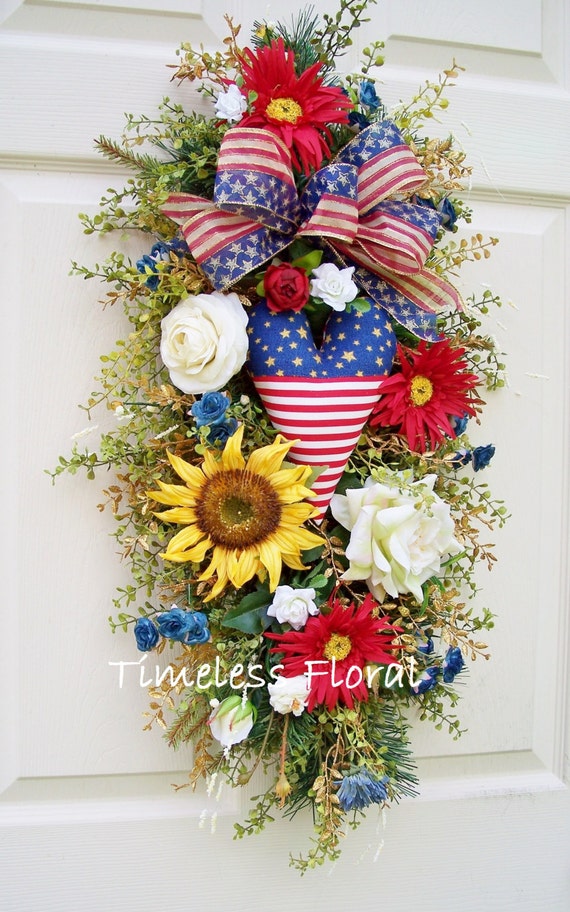 4th of July Americana Swag (Nice wreath alternative) for Summer, Patriotic
Decorating for the 4th of July is a wonderful way to celebrate summer. What is more patriotic than Americana and picnics? This swag has the colors of summer-red & yellow. Add in some red, white and blue in the shape of a heart with a flag motif and you have real Americana. This swag is made on a pine base to which I added baby's grass, gold sparkly sprigs and white little berries on clear filament that reminded me of fireworks. A big beautiful yellow sunflower sits in the middle along with an off white large rose. To that I added blue and white small roses, cream ranunculus and big red spider daisies. The ribbon bow is a sheer 2 1/2" ribbon in a flag design.
Are You Looking for
4th of July Mailbox Covers & Swag
?
Are You Looking for
4th of July Lantern Swag
?
Are You Looking for
4th of July Floral Swag
?
Are You Looking for
4th of July Mesh Swag
?