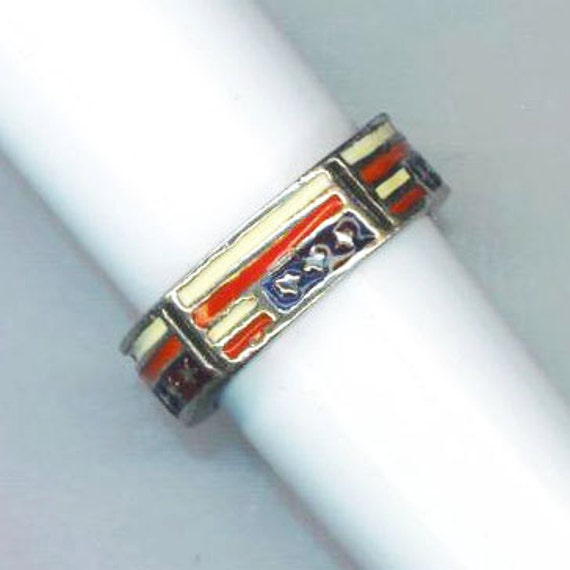 Patriotic Ring . American Flag Red White Blue Ring
A vintage patriotic ring band, featuring the American flag colors. Silver plated band in excellent vintage condition. USA size: 5.5 or 16.0 mm. Circumference 50.3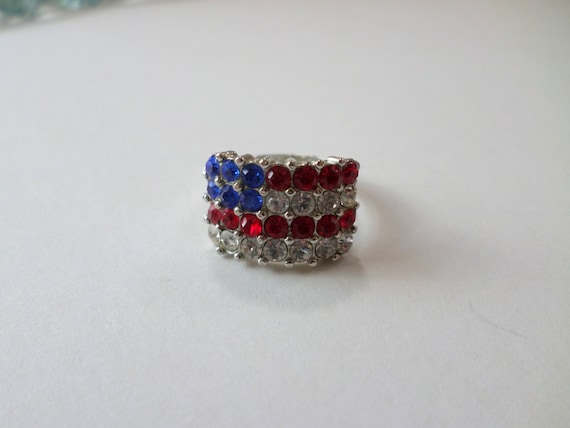 American Flag Ring Red White Blue Rhinestone Size 6
Cute little patriotic American flag ring. Full color red, white and blue rhinestones depict the flag across the front on an adjustable silver tone band. The flag portion measures 15.9mm/.62 inches left to right along the curve and 9.9mm/.39 inches wide. This is presently a size 6 and hasn't ever been adjusted wider though this can be worn up to a size 7.25. In excellent vintage condition.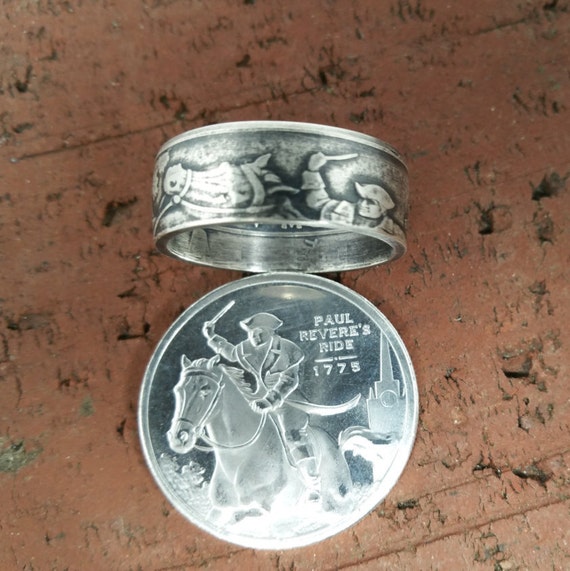 Silver Patriotic Paul Revere Coin Ring - Hand Forged - 1/2 oz Pure .999 Silver
This handsomely detailed patriotic ring was hand forged from a 1/2 oz. pure .999 silver round, and features "Paul Revere's Ride." The ring's outside depicts Paul Revere's famous "Midnight Ride." Revere rode from Charlestown to Lexington on the night of April 18, 1775, to warn fellow colonists of the approach of British troops marching in their direction. In addition to his extraordinary contributions to the American Revolution, Paul Revere was also a prolific and highly skilled Boston silversmith who spent much of his life working with precious metals.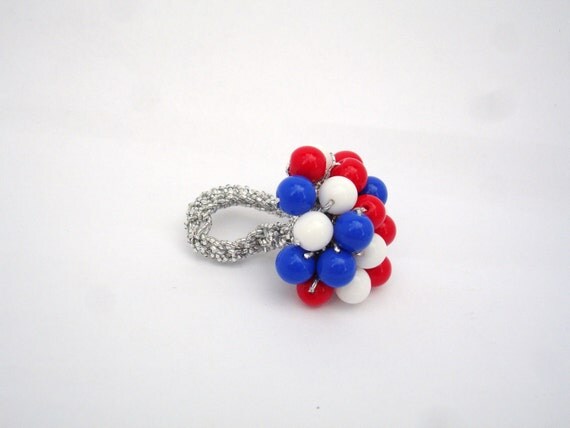 Patriotic Opaque Crochet Cluster Ring
This crochet beaded cocktail ring is made using 6 mm red, white, and blue opaque Czech glass beads and silver elastic. It is approximately 1 1/8 inches in diameter and 5/8 inch high. It comfortably fits a size 7 ring finger, but stretches to fit larger sizes. This ring would be perfect for patriotic holidays or festivities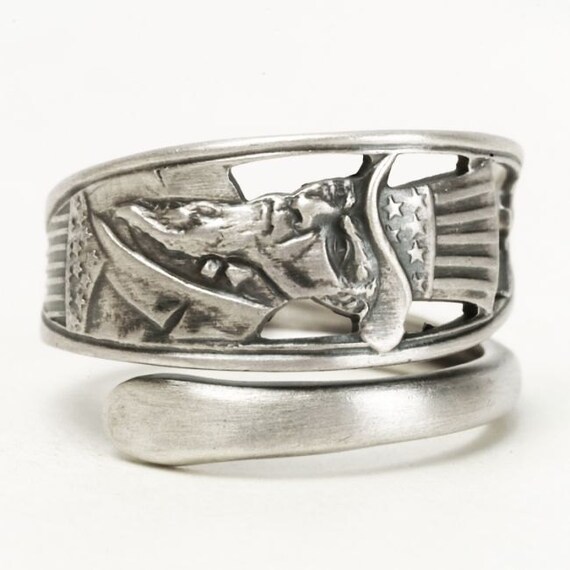 Uncle Sam Ring, Patriotic Jewelry, USA Ring
Sterling silver antique spoon hand crafted into a collectible souvenir ring! Vintage look that goes great with any outfit, this ring has a very detailed ornate Uncle Sam portrait followed by a crest with the American flag symbolism in it and USA. This is a very rare and collectible spoon pattern. The spoon was made by Weidlich in the early 1900s!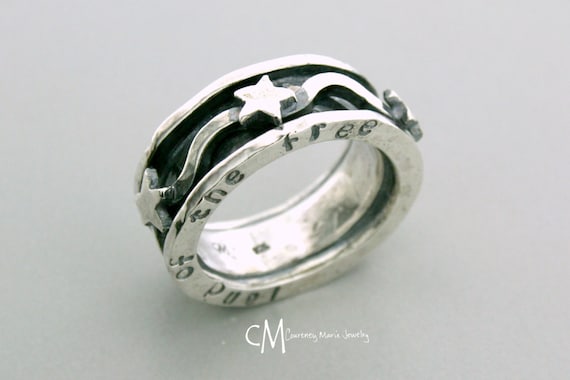 Spinner ring, stars and stripes jewelry, patriotic jewelry
Spinner ring, stars and stripes jewelry, patriotic jewelry, silver ring, wide band ring, hand stamped ring, artisan jewelry, metal smith DESCRIPTION: This wide band, spinner style ring consists of one thin band that showcases hand cu stars. The thin band moves independently from the solid band beneath. The outside of the band is stamped "land of the free" on one side and "home of the brave" on the other. The ring itself measures 3/8" wide and fits a 7 3/4.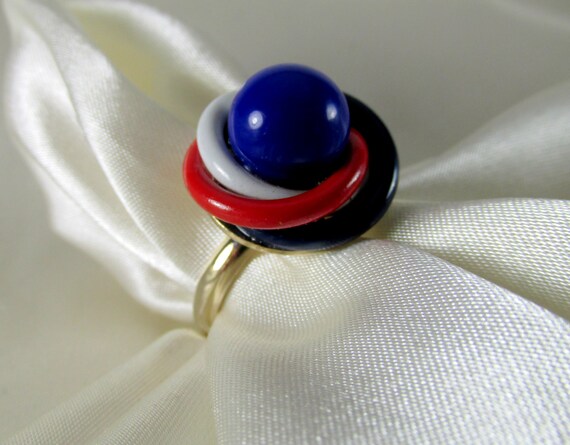 Patriotic Red, White & Blue Vintage Ring
Vintage red, white and blue enamel knot ring. Done in gold tone metal with a blue enamel ball on the top. Some minor wear to enamel, more visible in pictures than with naked eye. Signature/Marks: "UNMARKED" Size: Adjustable up to a size 7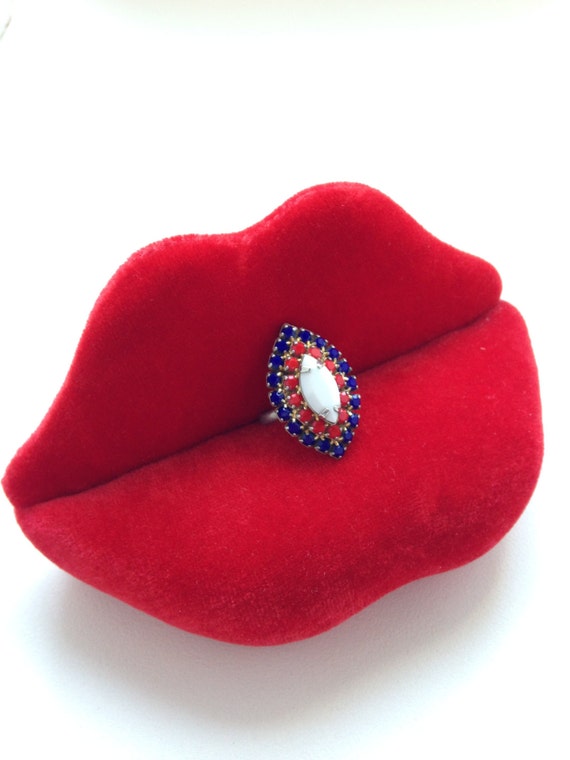 Vintage Milk Glass Cocktail Ring Red White Blue Patriotic Prong Set Adjustable
Vintage Milk Glass Cocktail Ring. Red White and Blue Milk Glass. Prong Set. Adjustable. Fairly Large at Approx 1 1/4 inches x 3/4 inch.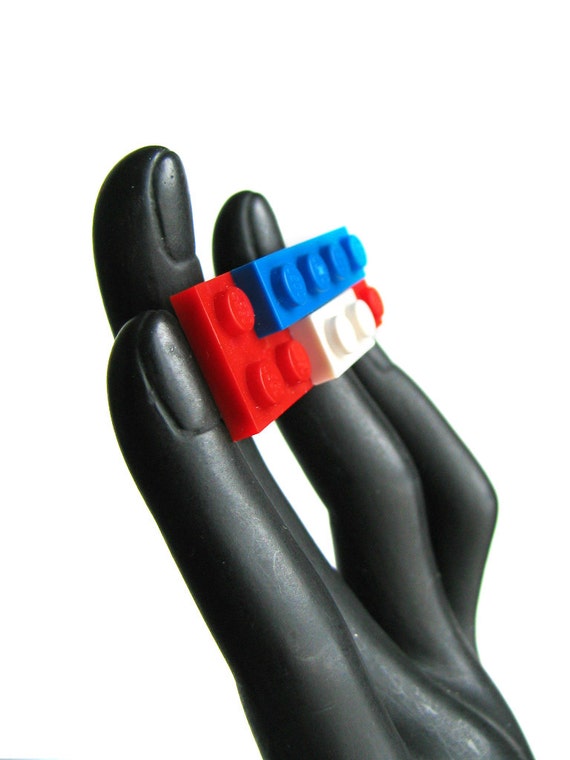 Adjustable Two Finger Block Ring - Retro Toy Ring
"Fashion says 'me too'. Style says 'only me'" - Geraldine Stutz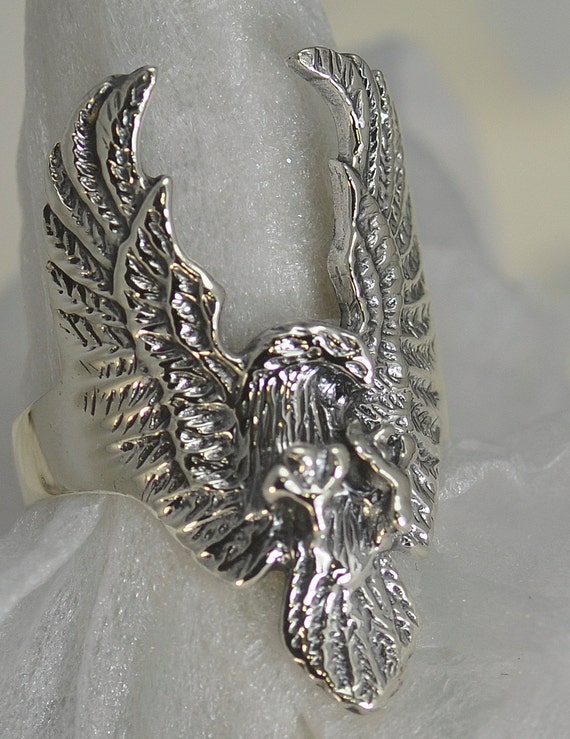 Real Authentic Genuine Sterling silver .925 American USA Eagle Patriotic RING
PICK YOUR RING SIZE! WE HAVE SIZES 3 - 14 (we even do half and quarter sizes as well) please specify the size of ring you need with your payment or you can email me separately. Real Authentic Genuine STERLING SILVER .925 American USA Eagle Patriotic RING Jewelry Army Military pick your size REAL STERLING SILVER .925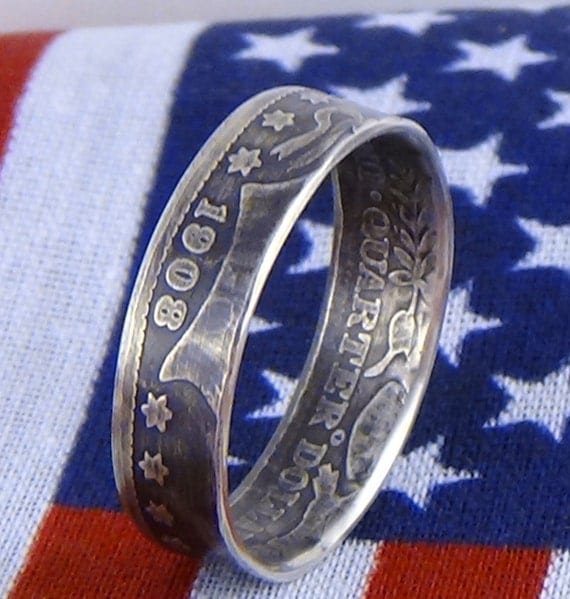 Silver Barber Quarter Double Sided Coin Ring
The Barber quarter was first released in 1892 and was designed by U.S. Mint Chief Engraver Charles E. Barber, whose Barber coins (the obverse design on the quarter also appeared on the dime and half dollar) replaced the Seated Liberty coinage that first appeared in the late 1830s. Due to high collectability and rarity there are no specific dates available. I pick the highest quality coins i can find to make these rings. Please specify wether you would like an antique or plain finish.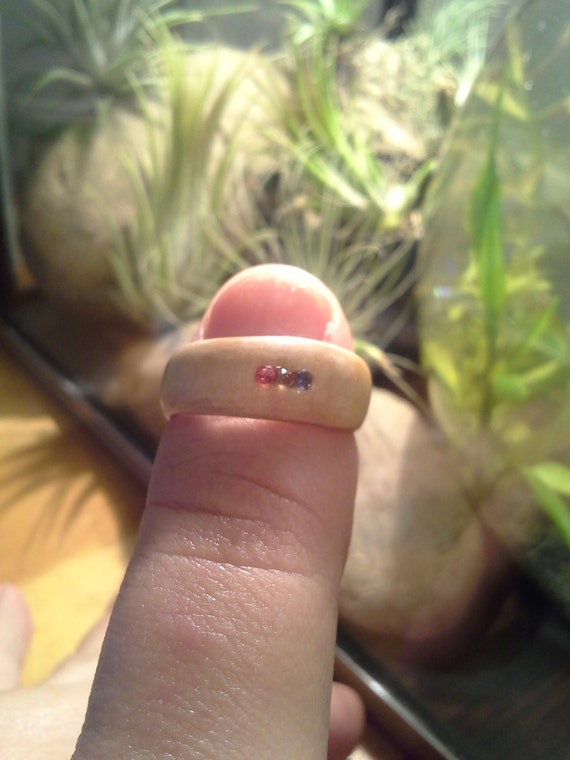 Size 8 Patriotic Ring, with sapphires and ruby
I love to use found sticks and branches to make my rings, and especially pieces that were going to become firewood! That's the story behind this lovely ring, made from a branch that was going to go in the fire. Because it came from a pile of mixed types of wood, I do not know what type of wood this is, but it has a golden color with subtle grain patterns. This beautiful ring proudly displays the colors of America while still being graceful and elegant. The stones have been set into the wood in a way that allows them to sparkle while being out of the way, and less likely to catch on things. The blue and white stones are sapphires, and the red stone is a ruby. It was luck that allowed me to find stones that match so well, and I put extra effort into making sure both the stones and the ring look great. This is a comfortable ring to wear, and it has been sealed and finished using cyanoacrylate (super glue), which helped strengthen the ring and gave it a nice shine.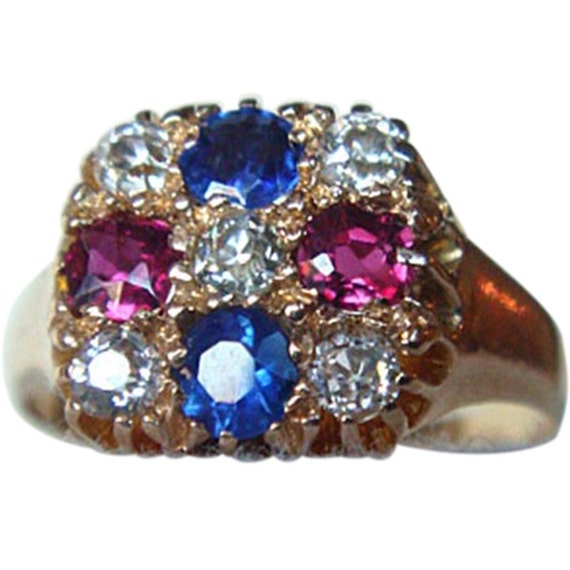 Antique American Patriotic Ring Gold Diamond Ruby Sapph (#4478)
Antique ring. 18 carat gold, diamonds, rubies and sapphires. American Patriotic red white blue. Made in Birmingham, England. Measurements: US size 5 1/2 (sizable). Top measures 8 mm across. Weighs 3 grams. The person who sold me this ring insisted that it was made for the American Centennial celebrations in 1876. However, the date code for Birmingham appears to be a small case 'i' which indicates 1908, so we will call it American Patriotic, but not for the centennial. A series of long 'claws', like a gilded cage, enclose a square composed of diamonds, rubies and sapphires. All natural stones. Very bright colors to gems and lovely sparkle. Very well made.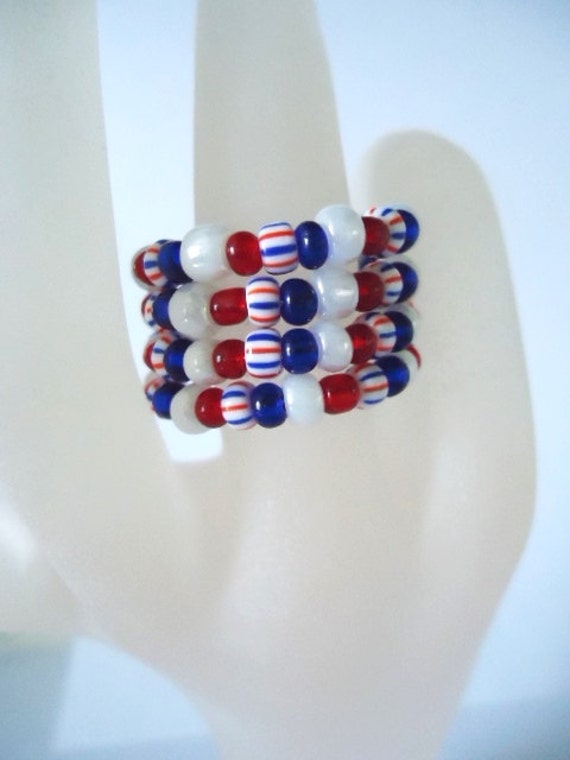 Patriotic Red White and Blue Expandable Stripe Glass Rocaille Memory Wire seed bead Ring
This is a Patriotic Red White and Blue Expandable Glass Rocaille Memory Wire seed bead Ring by JulieDeeleyJewellery on Etsy. It features Red, Pearly White and Blue Glass Rocailles or seed beads and also Red White and Blue Stripe beads. Approx size Q. Ideal for 4th July.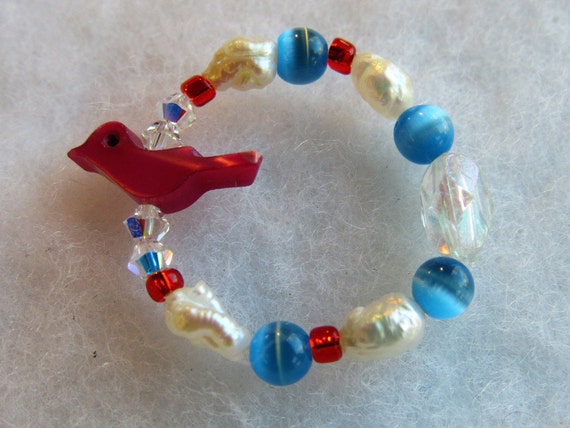 Patriotic Theme Courage Ring
•Design name: Patriotic Courage Ring •Carved Red mother of pearl freedom bird •4 clear crystal accents •red 00 glass beads •4 pearl beads •4mm cat eyed beads in blue •crystal bead on back •Comfortable stretch band •Size 5 - 15 available •Made in USA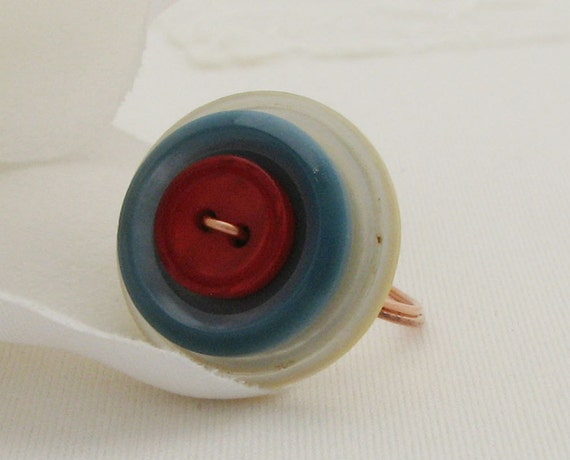 Vintage Button Ring Red White Blue Jewelry by Pixe's Treasure Chest
These are my latest obsession! Cute rings made from vintage buttons; these are all wrapped up in copper wire. Each ring is fun, unique, and one of a kind, just like you! These button rings are so fun to make! I have so much fun sorting through the buttons, and playing to see which combinations look cool!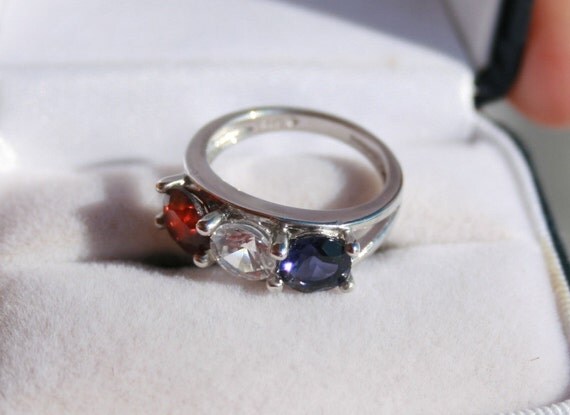 Garnet and Iolite Patriotic Three Stone Ring
One-of-a-kind three stone ring. All stones measure 6mm. .85ct red garnet 1.51ct white diamond cut YAG (YAG stands for yttrium aluminim garnet. It is a synthetic crystalline material of the garnet group)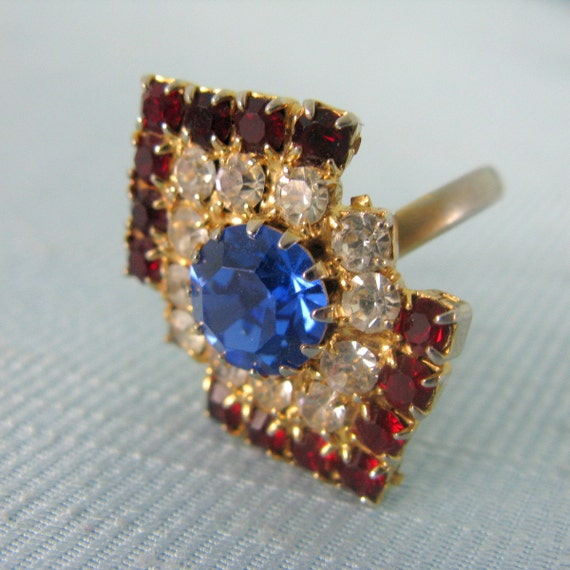 Vintage 1950s 1960s Ring 50s 60s Patriotic RWB Rhinestone Ring Adjustable
FEATURES: RWB sparkling rhinestones prong-set in gold base metal. Skinny adjustable band. MAKER: Unsigned MEASURES: Adjustable CONDITION: Excellent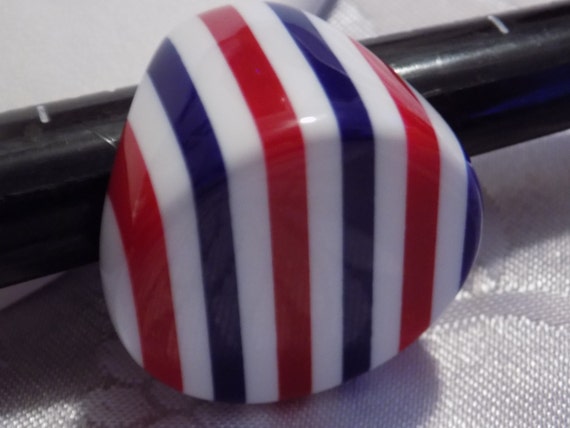 Vintage ring, size 4 & 1/2 red, white, blue 1960s boho lucite patriotic funky ring, statement ring, vintage jewelry
Cool 1960s chunky lucite ring, with red, white and blue patriotic stripes. Size 4 & 1/2 ring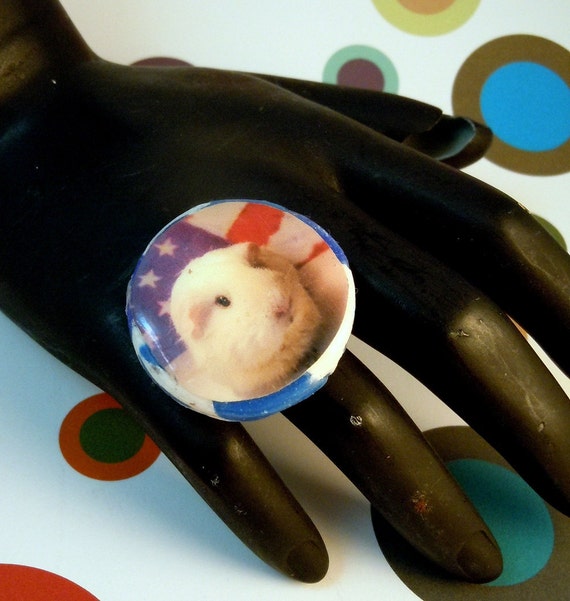 Patriotic USA Flag GUINEA PIG Photo ring - Fully Adjustable Bold Statement Jewelry
Patriotic USA Flag GUINEA PIG Photo ring - Fully Adjustable Bold Statement Jewelry Size: 1"x 1 1/5" body Fully adjustable ring band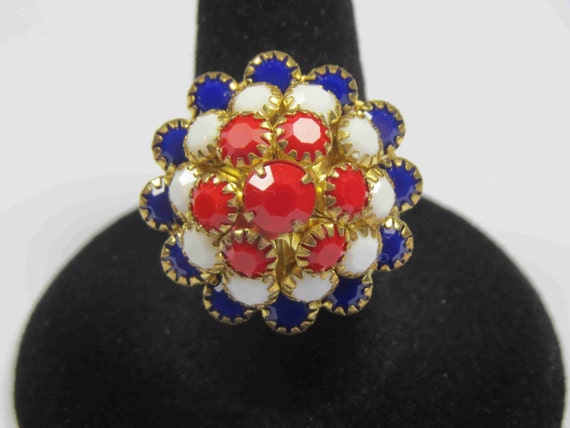 Red, White & Blue Rhinestone Ring - Repurposed
What do you do with a single vintage earring??? Make it into a ring. This lovely and high quality earring was too nice to toss away so I had it made into a ring. The ring is adjustable and is currently size 7 but can be adjusted slightly smaller and larger. The centerpiece sits approximately 1/2" high and is 1" across.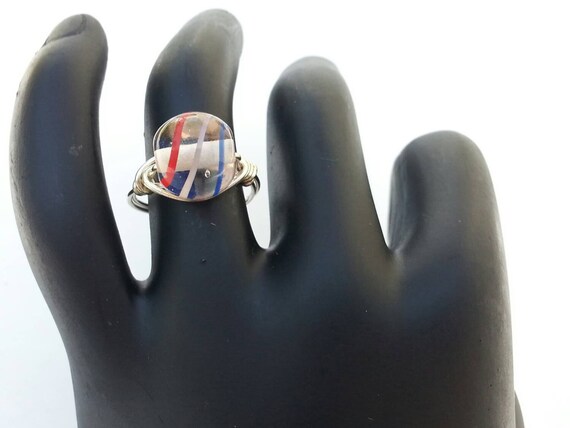 Show Your Stripes Ring, Red, White and Blue Beaded Wire Wrapped Ring.
Handmade with silver plated nickel free wire.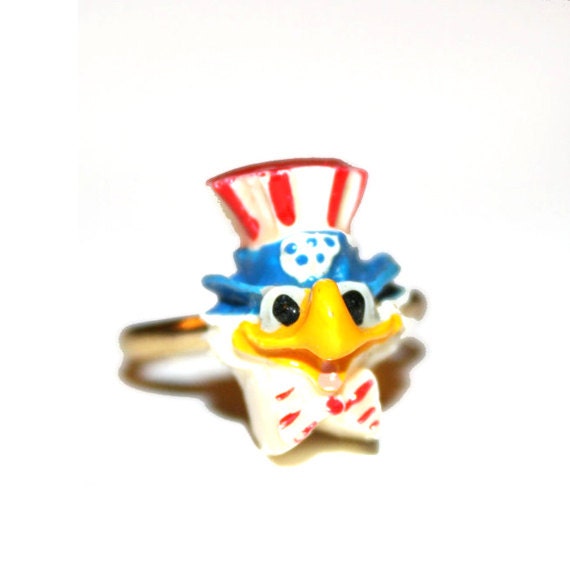 Vintage Uncle Sam Eagle American Ring - Vintage Olympics Ring
Vintage uncle sam eagle pin. Show your patriotic love! This ring is somewhat adjustable and is NEW vintage meaning it is deadstock. Recently found in a jewelry-horders home in Los Angeles for YOU to love! They were featured at the olympics and some of them still have the olympics tag on them. I have 3. One size 7 and one size 6. As I said they can adjust a tiny bit, but not too much. Please let me know what size you would like upon checkout.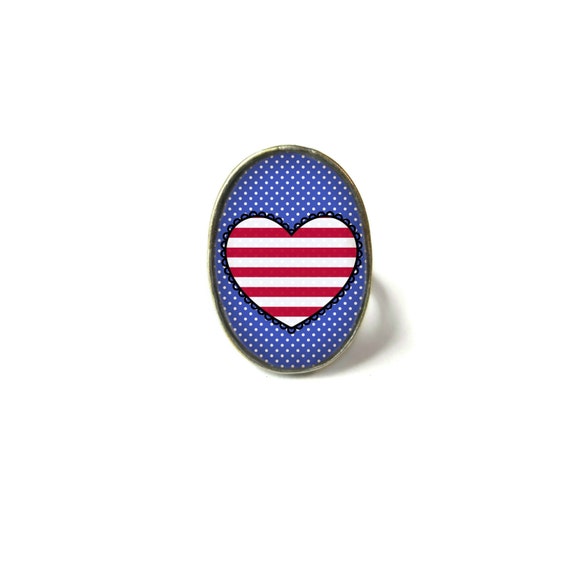 Conversation Heart USA American Flag Ring - Red, White, and Blue
Each ring is completely adjustable. -Ring bezels measure approximately 1in long (28mm) and .75in wide (19mm). -All materials are completely free of lead and nickel. -They are protected using high quality resin so the image will not scratch or fade. -These are made to order, and typically takes less than 72 hours to ship.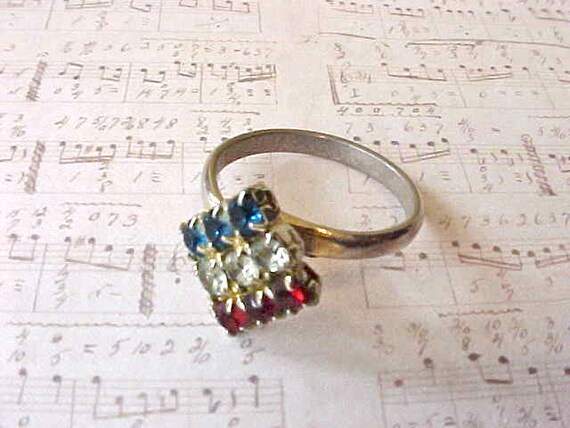 Little Red, White and Blue Costume Jewelry1950's Rhinestone Ring
This little vintage ring is just costume jewelry and it was once gold toned metal but has now worn down to a mellow silver color on the outer areas of the ring. It has Patriotic, Red, Clear and Blue prong set Rhinestones measuring 1/2" wide. It is an adjustable ring which right now is a size 6.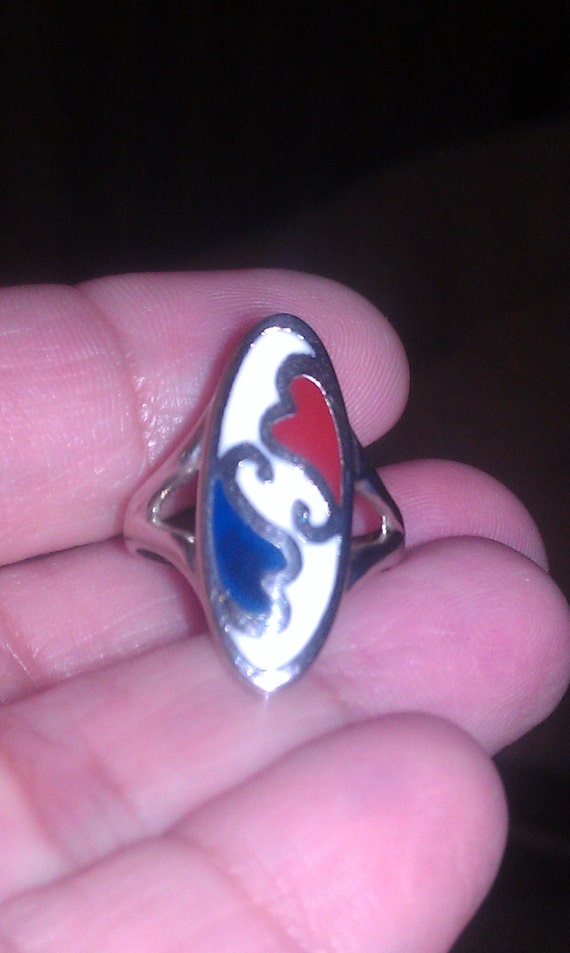 Beautiful Vintage Red White Blue Enamel Hearts Sterling Silver Ring Size 5
This is a beautiful vintage white red blue enamel sterling silver ring. This ring has a lovely hearts design. The ring is in excellent vintage condition. The ring is a size 5. Marked with several stamps and a copyright stamp.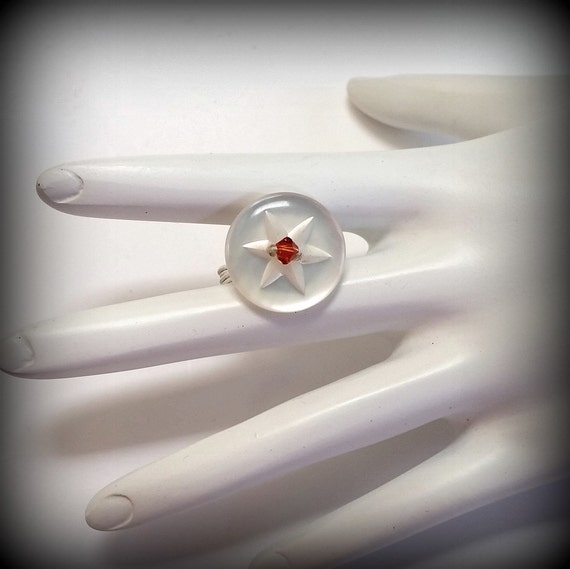 Red and White Vintage Button Wire Wrapped Ring
I used a white luminous vintage button with a recessed star shape for this wire wrapped ring. I placed a red Swarovski crystal in the center. The button is 7/8 inches across. Would make a nice accessory for Memorial Day, 4th of July, etc. The wire used for the ring is non tarnish artistic silver wire.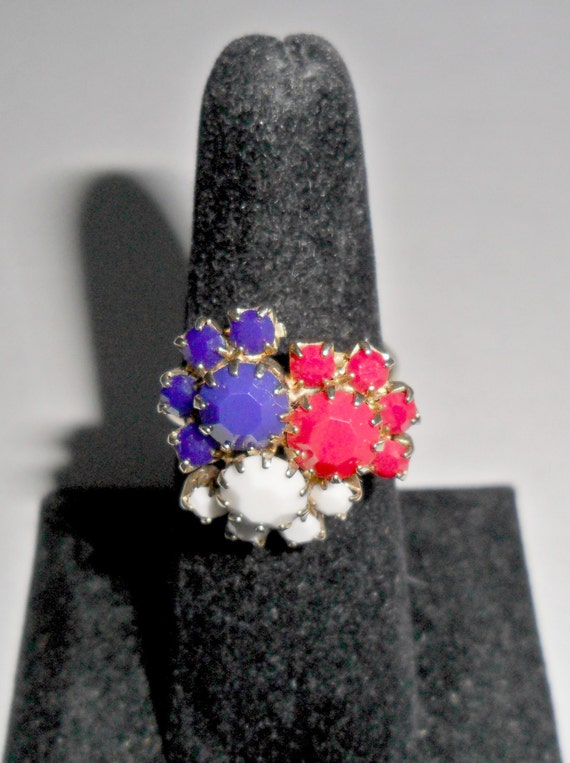 Pretty vintage ladies' goldtone colorful red white and blue glass insets ring size 6 3/4 adjustable
Pretty vintage (circa 1970s) ladies' goldtone colorful red, white and blue glass insets ring. Ring is a ladies' size 6 3/4 at present, slightly adjustable (adjusts up or down a size or so), in very good vintage condition, minor scratches/finish wear in spots, hardly noticeable when wearing; a pretty vintage ring to wear or add to your collection.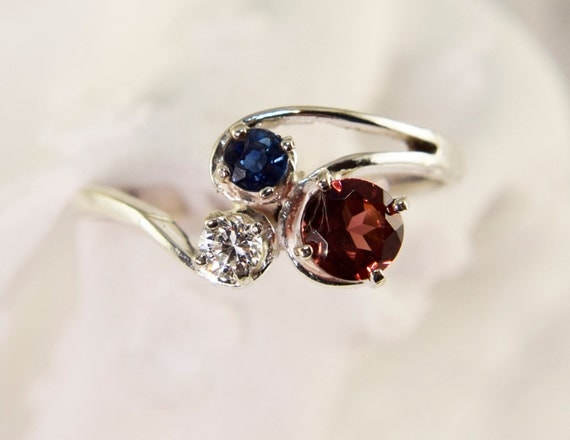 Devon's Patriotic Salute
Three Stones Red Garnet, White Topaz, and Blue Sapphire Sterling Silver Ring 50% of Profits will go to the Wounded Warriors Project Our son Emil and his beautiful wife, Devon both served in the military and we are so proud of them and their sacrifices.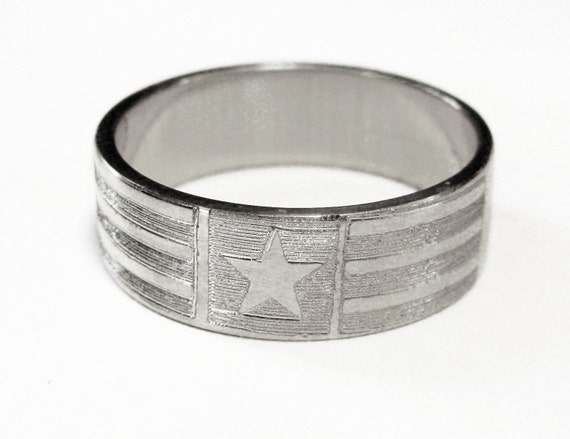 Stars and Stripes Patriotic Engraved Wedding Band 7mm Wide Sterling Silver
This ring is 7mm wide and engraved in fine detail.....a very special patriotic wedding band results. A never ending pattern of single stars and multi stripes encircles this gorgeous ring. Inside we Engrave in a Bold Roman Font, The Pledge of Allegiance to the flag. "I pledge allegiance to the Flag of the United States of America, and to the Republic for which it stands, one Nation under God, indivisible, with liberty and justice for all." Or, as an alternative we will inside engrave the sentiment of your choice up to 225 characters in length. 30
Go To
4th of July Rings Page ONE
Go To
4th of July Rings Page THREE
Go To
4th of July Rings Page FOUR