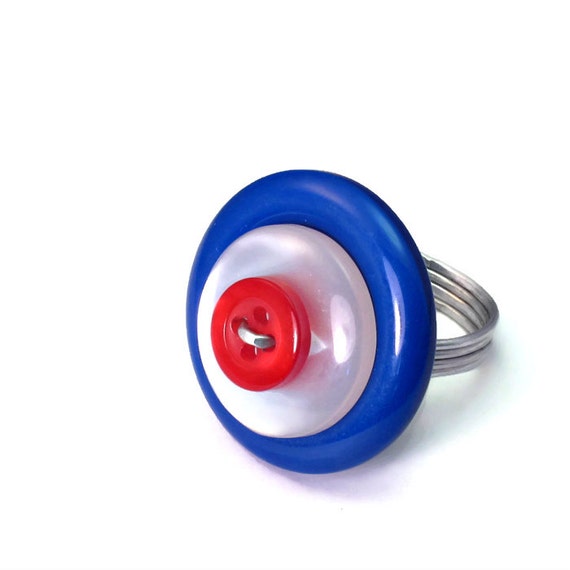 Red White Blue Mod Target Ring, Button Ring
Mod target ring made with repurposed stacked red, white and blue buttons. Totally unique one-of-a-kind button statement ring that no one else will have! No tarnish aluminum wire wrapped shank in size 7, large blue button is 1 1/8". - Size 7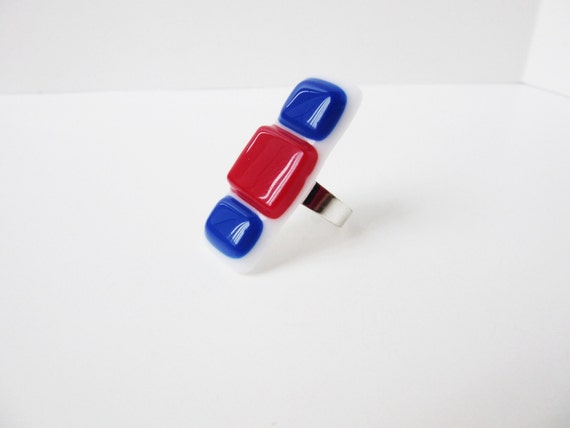 Patriotic Fused Glass Ring - Adjustable Ring - Red White Blue Ring -
Fused glass adjustable statement ring in red white and blue. Show your patriotism by wearing this beautiful one of a kind ring. Fun, cool, unique. You will love this piece because of it's size and you will be noticed when wearing it. You are sure to get many compliments. The fused glass piece is 1 1/2 inch long and 1/2 inch wide and is attached to a sturdy, silver plated ring base which is nickel and lead free. It is not flat or perfect symmetrical on purpose so that each ring is slightly different and unique.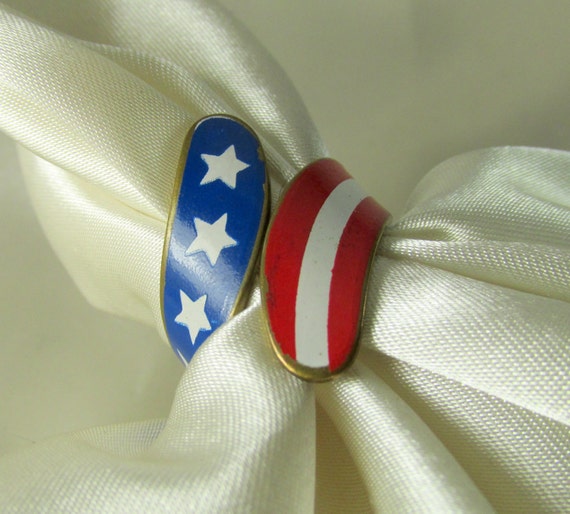 Stars & Stripes Patriotic Vintage Ring
All American stars and stripes wrap ring done in a brass tone metal with enamel stars and stripes. It is "UNMARKED" This is from the 1970's. It is a size 8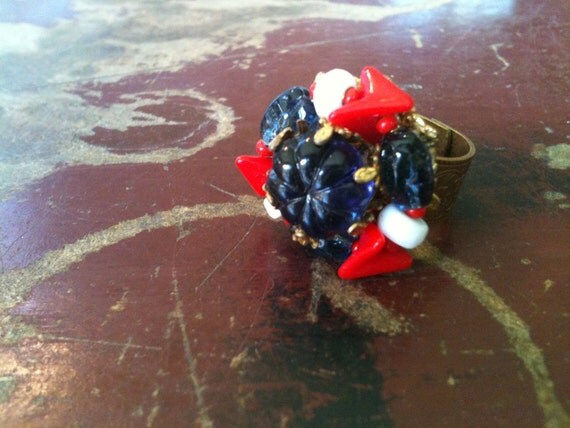 Vintage Red White and Blue Patriotic Adjustable Ring Olympic Team USA
An adorable addition to your ring collection. This patriotic ring has been reconstructed from a clip on earring into a fun ring. The USA piece sits on top of an adjustable antiqued copper color ring. One of a kind. The red white and blue collage measures about 1" wide.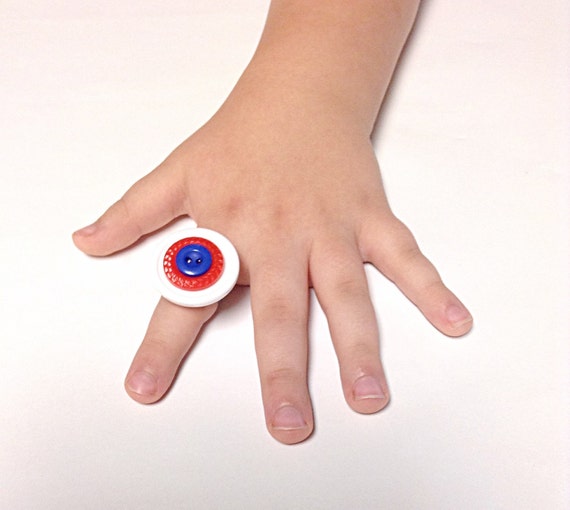 Patriotic ring, American ring, Fourth of July ring, U.S.A. Ring, button ring, red, white, blue ring
What a lovely patriotic button ring !! 1 1/8 inch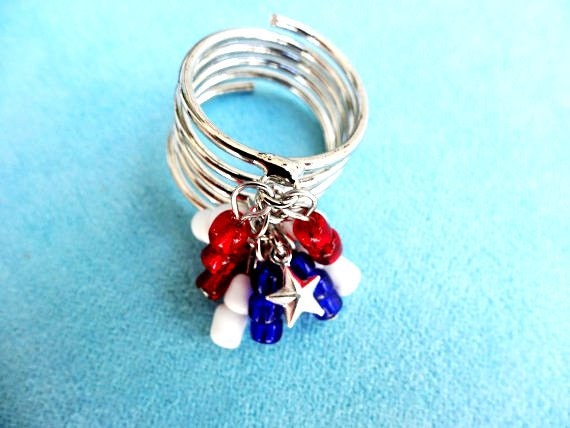 Patriotic Red/White/Blue Stacked Coil Star Charm Cha Cha Ring
Very colorful! This beautiful ring is just full of eye popping color and bling. Colors in the glass beads sparkle in sunlight! Made of red/white/blue glass drum beads and shiny silver tone metal, this ring is a perfect Fourth of July accessory, and also a great addition to colorize any summertime wardrobe. Nice gift idea at a great price for an original, unique, and pretty jewelry piece. One size--measures about 18mm inner diameter...fits approximately 8 or 9 ring size. Makes an excellent thumb ring. Original design.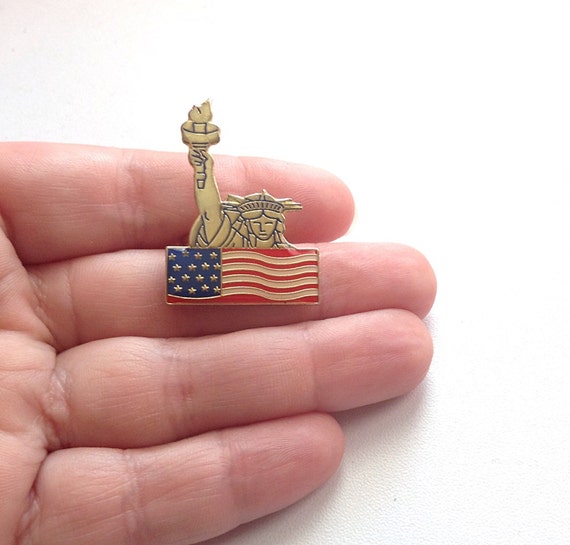 U.S.A ring, American ring, patriotic ring
Cute Statue of Liberty ring. 1 x 1.50 inches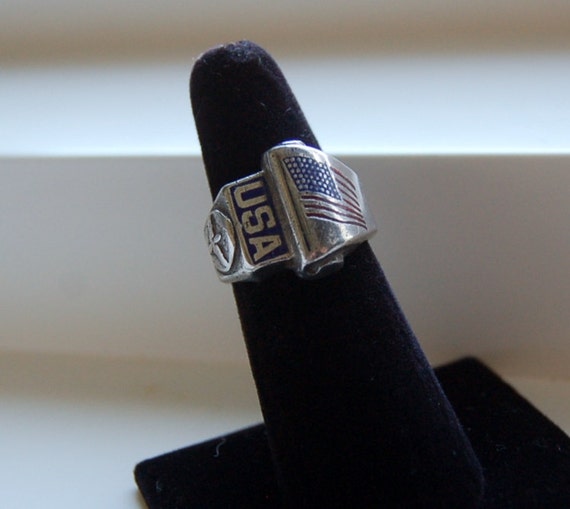 Military WWII Memorabilia Sterling Silver Enameled
Any veteran, soldier or current military person would be proud to wear this WWII 1940's Army Air Corps Ring. This patriotic ring has an enamel inlay design of the American Flag, USA and the US Army Air Corps Propeller and Wings symbol. This stunning ring is 3/4" at its widest point and a size 7. It is marked " "Des.Pat. 134630 Sterling DG".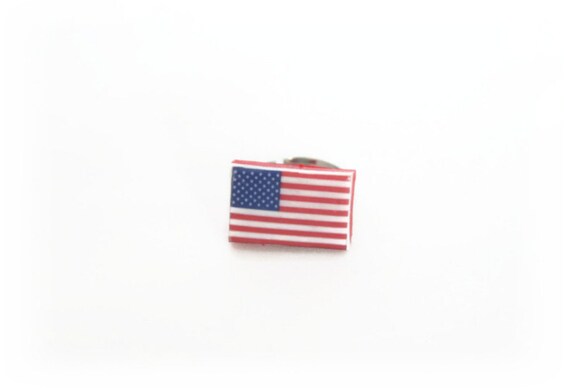 US Ring - Flag Ring - Polymer Clay Jewelry
This unique statement US Flag ring for women featuring the USA flag has been handmade from polymer clay jewelry and finished with an adjustable metal ring base. * US ring size adjustable to suit all sizes * Flag ring size approx. 20x15mm * USA jewelry made from polymer clay, metal ring base * Colour red, white & blue * Handmade by myself Clare Lewis (Lottie Of London)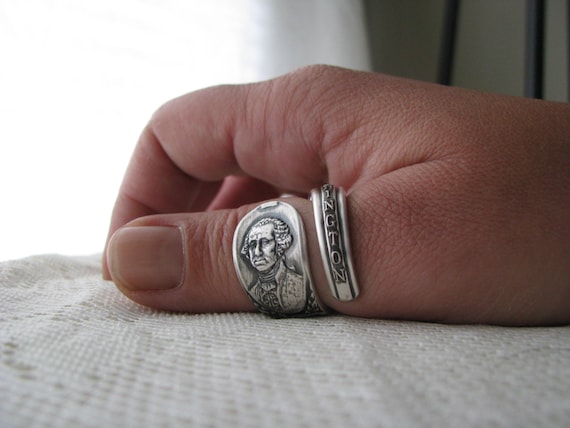 Spoon Ring, Spoon Jewelry, President ring
Size is 9, but we are happy to adjust it for you. Sizing is, as always, free of charge. Please leave your ring size in the "message to seller" section at checkout. The main focus of this ring is George Washington. The band reads "George Washington", the inside of the ring is detailed too. The width of this ring at its widest point is .75", that includes the second spiral.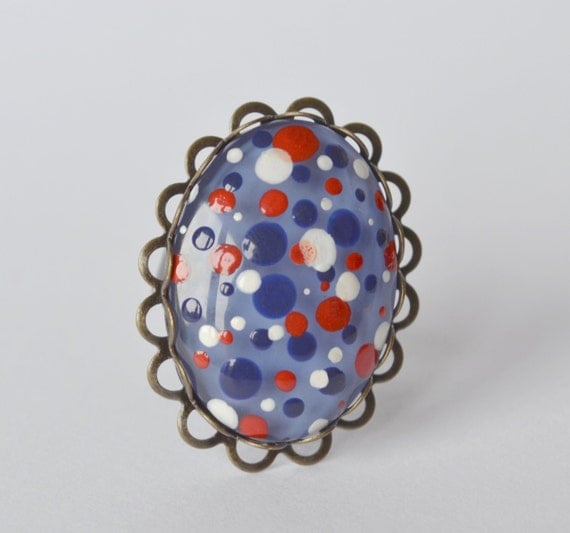 Domed Glass Jewelry,Hand Painted Glass Ring,Glass
This little hand painted glass domed ring is just sooo pretty. The red, white and blue colors are so vibrant and 'happy' that it is guaranteed to bring a smile to your face! Very patriotic! Hand painted by myself. Painted glass cabochon is a very pretty and also tactile little piece.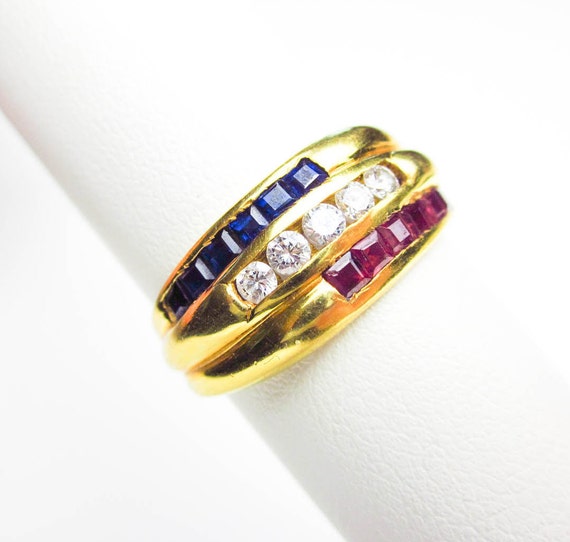 Art Deco 18K & Sapphire, Diamond, Ruby Ring
The ring flows like a banner in the wind. It flies the red white and blue of the US flag. This was very much the sentiment during WWII when this ring was made. The gemstones are very high quality natural gems (Ruby, Sapphire, & Diamond)* set into a lovely rich 18K gold setting. The ring can be stacked with other bands or worn alone... not good with solitaires.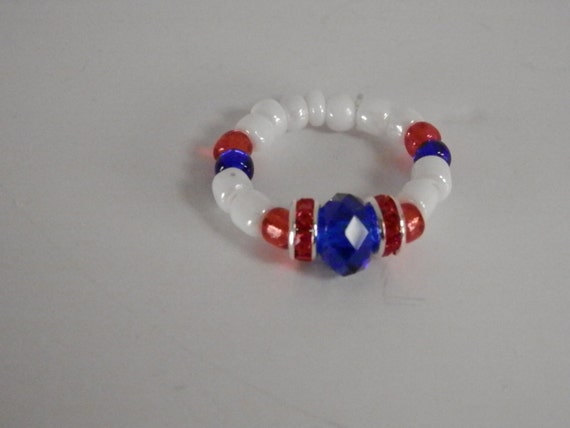 Blue Crystal Stretch Ring, Swarovski
6mm x 8mm center Swarovski blue crystal Red, white and blue seed beads, 6mm crystal rondelles on each side of the crystal These are great for the person who has problems getting rings over your knuckles due to arthritis, etc.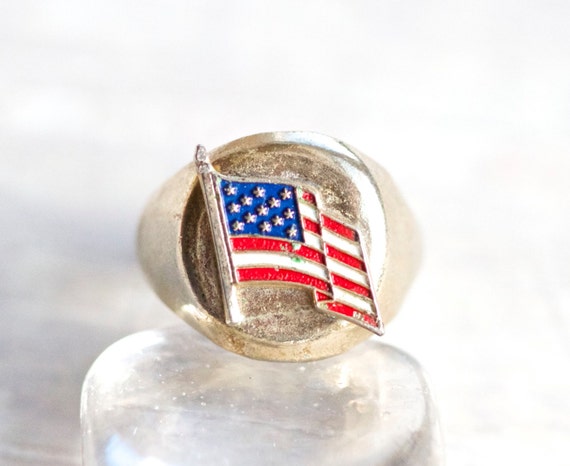 American Flag Signet Ring
This vintage ring is in great vintage condition. Of a pale tone of gold, with a raised North American Flag in blue, white and read enamels. The oval top platform is 0.5" wide and 0.55" long Small amounts of patina due to age on the inside.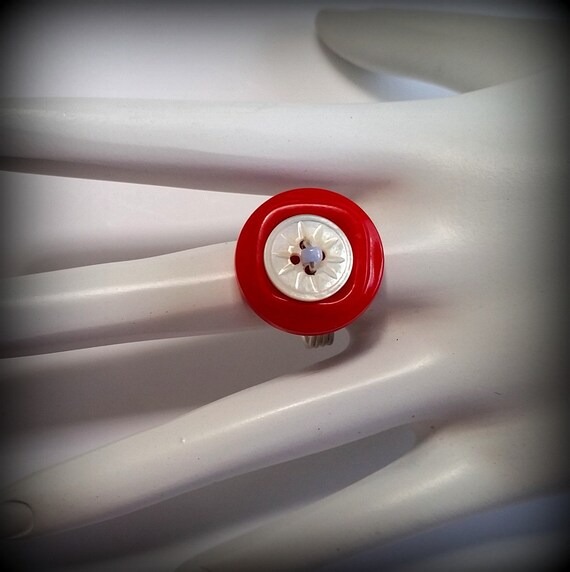 Red and White Vintage Button Wire Wrapped Ring - Luminous Starburst vintage button
This fun wire wrapped ring is perfect for those Patriotic days. I made it out of a red vintage button topped with a white vintage button with a recessed starburst design. A subtle light blue bead is in the center. The red button is 7/8 inches across. Fits a size 7.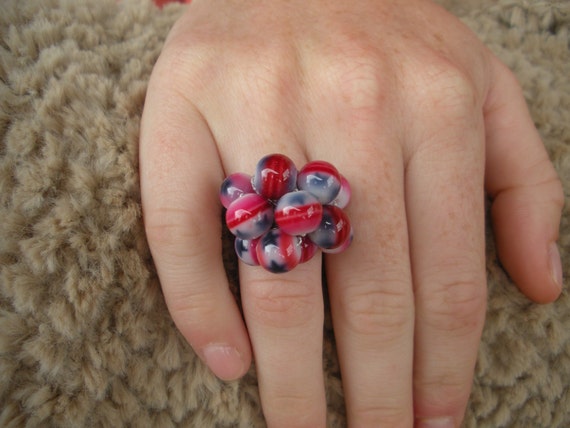 Patriotic crochet cluster ring
This patriotic ring is perfect for showing your American pride. It was made using 8 mm glass beads and silver elastic. It is approximately 1 inch in diameter and 3/4 inch high. It comfortably fits a size 6 ring finger, but stretches to fit larger sizes. The beads are red and white with blue stars.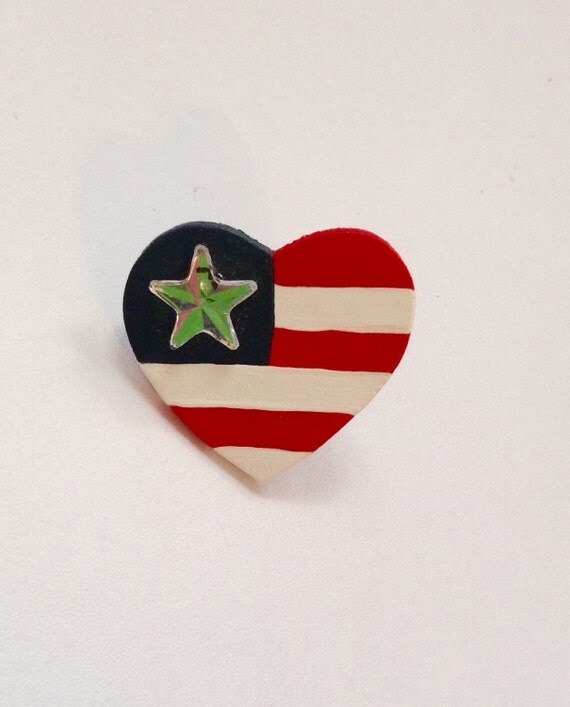 Patriotic ring, U.S.A. ring, American ring, upcycled ring, repurposed ring
Wooden patriotic ring. 1.50 inches in size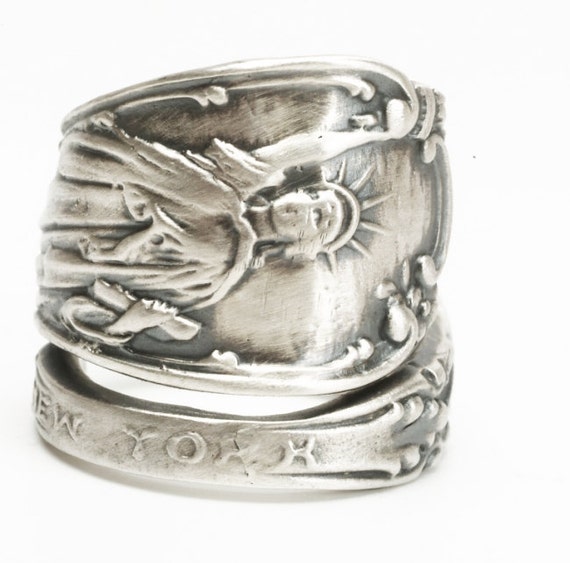 Statue of Liberty Ring, Sterling Silver Spoon Ring
Solid Sterling Silver Spoon Ring Depicts Lady Liberty herself, followed by an eagle and the New York state seal and ending with the words, "New York" in a great stylized fashion! We hope you enjoy and appreciate the specialty of this pattern as much as we do! Made of and stamped Sterling Silver, I put a brushed finish on these rings to even out the surface for a brilliant matte look! Simply stunning with the patina we've added to help the design really pop!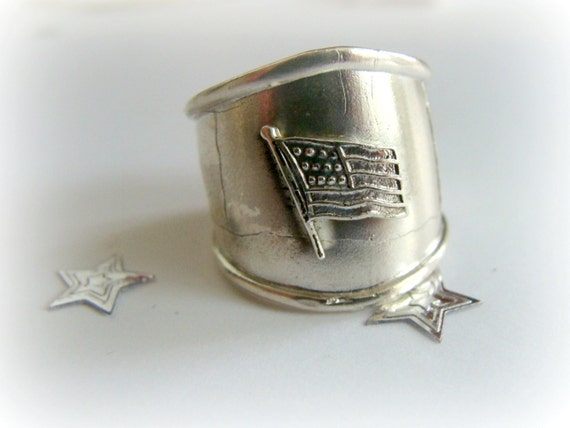 American Flag Ring - Fourth of July ring
American Flag Ring - Fourth of July ring - American Patriotic Jewelry - Sterling Silver American Flag Ring - Patriotic Silver Jewelry This item is made out of recycled silver.It is totally hand made. The ring fits sizes 7-9 because it is open band and can be adjusted. On the top you can see the American flag,also hand made and soldered with fire,flux and solder.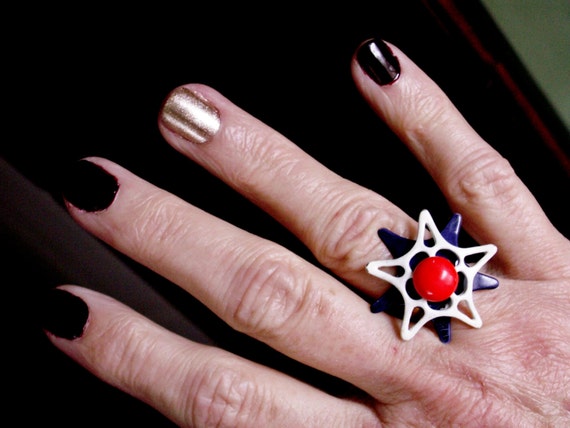 1960's Flower Power Patriotic Red White Blue Enamel Layered Star Ring - Adjustable Size
How cute is this ring of red white and blue enamel? A star shaped retro ring from the 1960's, it is in very good condition with just a few tiny dots of enamel loss. Brightly polished gold tone band is adjustable. Add this unique ring to your collection!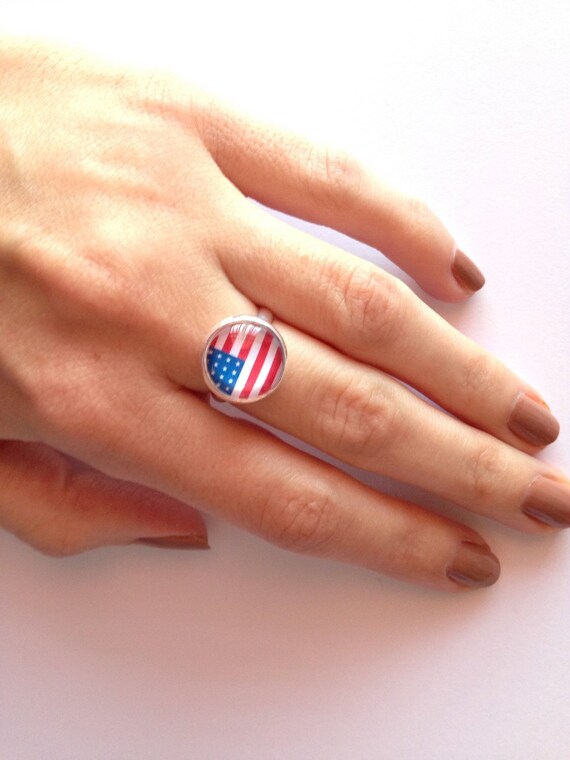 American Flag Ring
Rings are silver plated and adjustable from around a size 6.5 (US) upwards. ♥ I try to ship items as soon as possible, usually within a day or two of purchase, so please be sure your shipping address is correct.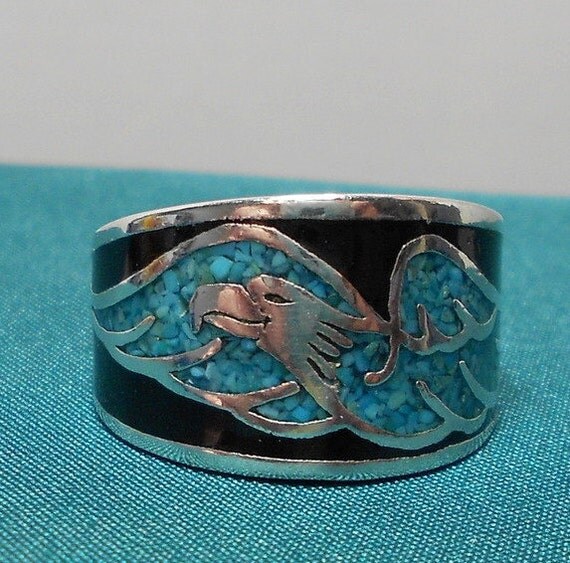 Patriotic or Tribal Vintage Silver Turquoise Eagle Ring - Size 9 3/4
Metal: Silvertone (I believe it to be sterling silver, but it is unmarked) Stones: turquoise mosaic stones Size: 9 1/2 to 9 3/4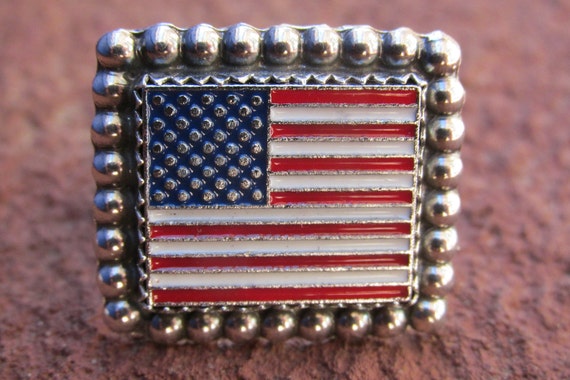 Sterling Silver American Flag Ring Cowgirl Southwestern Jewelry Patriotic
This big, bold cocktail ring is hand crafted in sterling silver and features a colorful upcycled vintage enamel American flag from the 1960s-1970s in a handmade sterling setting. Available in whole and half sizes 4-10.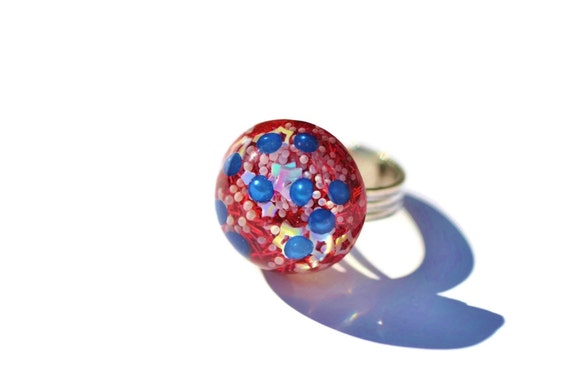 4th of July Jewelry Red White Blue Ring Patriotic Glitter Ring
This holographic ring is definitely a stunner! It is made from super clear, hard as a rock resin. It was cast by hand with beautiful glitter. An adjustable silver tone ring base was very securely fused to the back with an incredibly strong bonding agent. I can't get these apart if I try! This is a smaller dome. About 3/4". It is very comfortable to wear. If you love my rings, but want a smaller, more subtle piece, this is the one for you!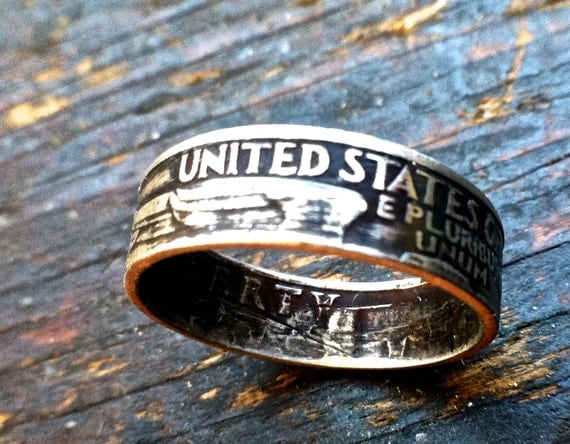 Patriotic Custom Quarter Ring pick your size
USA! silver colored quarter ring made from circulated United States Quarter. Valentines Day gift, birthday gift. These are so unique and different. Tooled and worked into a double sided coin ring. The outside shows the eagle wings with United States Of America. This is the perfect patriotic gift. These are for men, woman, kids. Each ring is finished in a vintage patina to show off the art of the coin. Perfect gift for the Veteran in your family.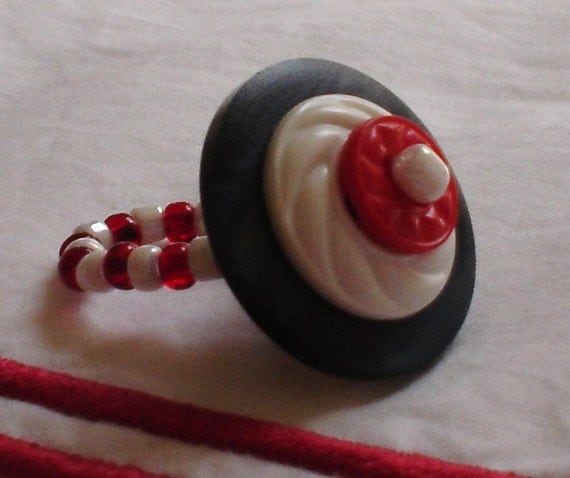 Red, White, Blue Vintage Buttons Ring, RWB, Patriotic
This fun ring will be perfect for any patriotic holiday. Of course, you could wear it on any day. Made by stacking 3 awesome vintage plastic buttons, Red, White, & Blue. I will let the photos describe these buttons. I have used Stretch Magic jewelry cord to hold the large glass Red, and White beads to the buttons. This method does not damage or alter the vintage buttons. This ring is a size 7.5, as shown on the sizer,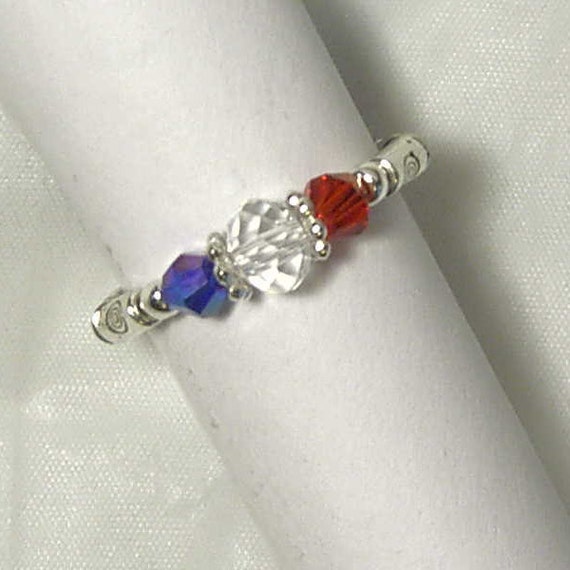 Cynthia Lynn "GIVE ME LIBERTY" Red White & Blue Glass
CYNTHIA LYNN "GIVE ME LIBERTY" SILVER PLATED JULY 4 RED WHITE BLUE CRYSTAL PATRIOTIC STRETCH RING (choose size) Look for more "Give Me Liberty" pieces in my store. CYNTHIA LYNN DESIGN FROM THE SUMMER COLLECTION ABOUT THE SUMMER COLLECTION Summer is the time of year for fun in the sun. Holidays like Memorial Day and July 4th bring us out to enjoy the rays and cook on the grill. Swimming, boating, camping, and picnics bring loved ones together and provide opportunities to for outdoor adventure. Pieces in this collection are inspired by summer and all the color beauty and fun that it can bring.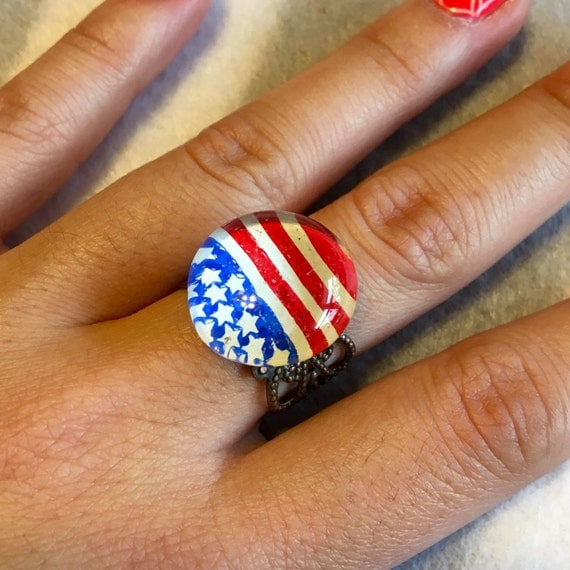 Proud American Ring
Proud American Ring* Polished and Perfected personally by me. Glass stone is approximately 19 mm and secured onto a very intricate and adjustable band. This is a delicate ring and should not be washed or worn in the shower.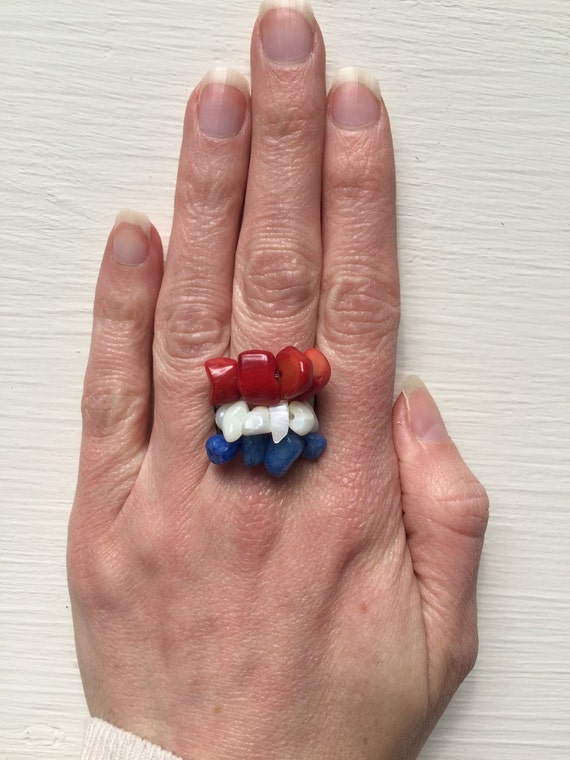 Red White & Blue Patriotic Compassion Ring, Statement Ring, size 10-12
Oh Say Can You See!!! A chunky patriotic cocktail ring made with red coral, mother of pearl and blue quartzite on a black beaded band. Casual and comfy for everyday chic patriotism!!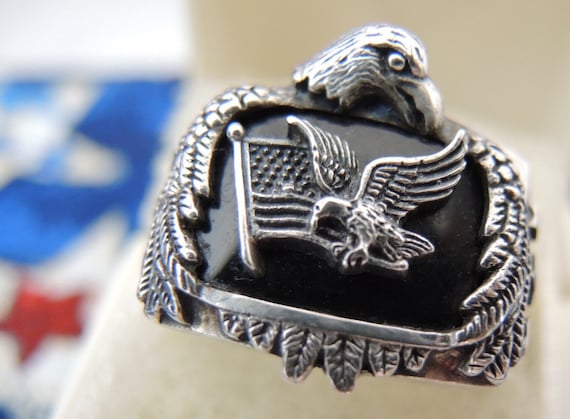 Size 13 Ring Patriotic American Eagle Men's 925 Sterling Silver
A majestic Majestic soaring eagle and our Nations Flag. Perfect combination. Size 13 Vintage Heavy Ring which weighs 18.9 grams Set in Fine 925 Sterling Silver with Onyx Accent Wear your pride for your country every day as ring is inscribed "God Bless America" Symbolic Stars and Stripes design on the side is exceptional. Certainly a piece to bring many compliments as well as a Family Heirloom Treasure. Some Tarnish/wear/use and a ton of character! 30
Go To
4th of July Rings Page ONE
Go To
4th of July Rings Page TWO
Go To
4th of July Rings Page FOUR