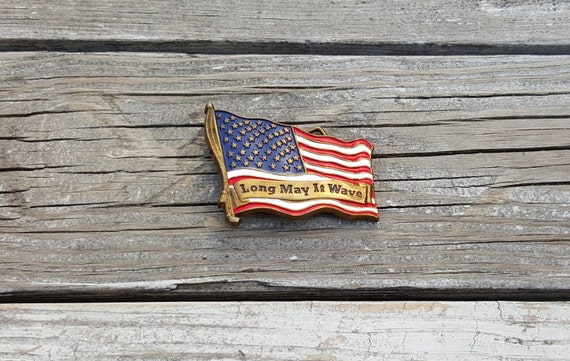 Vintage American Flag Belt Buckle - Long May It Wave - Baron Buckles - Patriotic - USA
Vintage American Flag Belt Buckle - Long May It Wave Nice, pre-owned condition. Sharp colors. Reads: Long May It Wave Baron Buckles 1981 Great collectible piece. Measures approximately 3" x 2.5".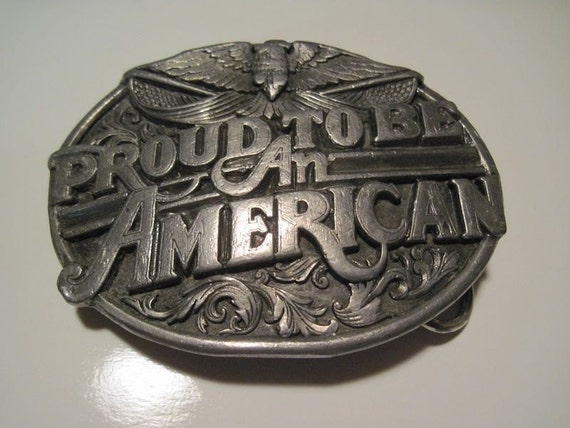 Vintage Patriotic Proud To Be An American Belt Buckle Siskiyou Buckle Co USA
VINTAGE PATRIOTIC "PROUD TO BE AN AMERICAN" BELT BUCKLE.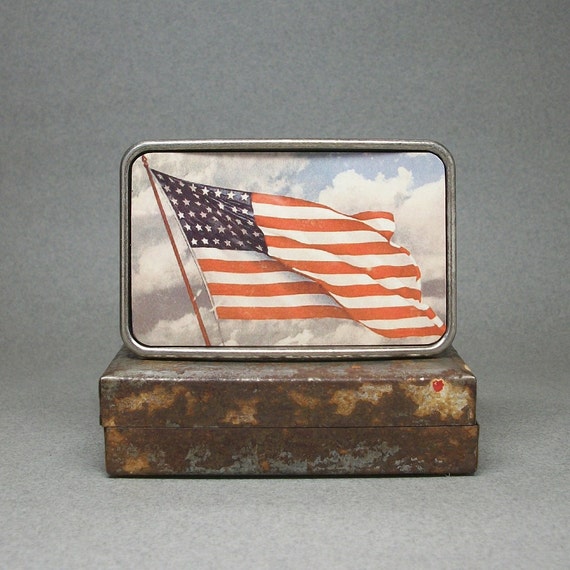 Belt Buckle American Flag Old Glory Patriotic Stars and Stripes
Belt Buckle American Flag Ready to ship in 1 - 2 business days. Gift box included. The buckle measures approx. 2 x 3 inches (5x7.6 cm) and will fit up to a 1 3/4 inch (4.4 cm) snap belt. Snap belts allow you to change the buckle. This belt buckle was created using a unique dye process that fuses the ink directly into the surface of the aluminum. The end result is a durable belt buckle that will last. My buckles are; fun unique and handmade with care.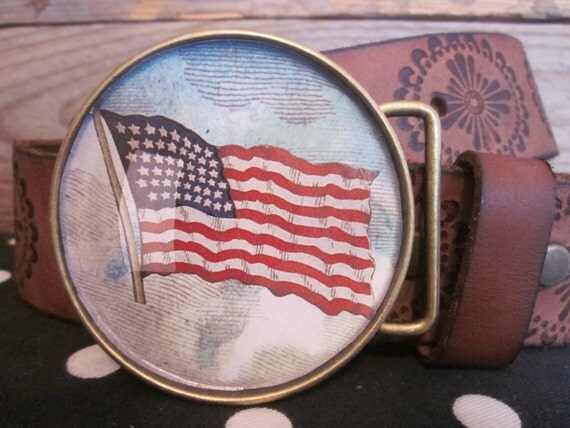 American flag antiqued brass round patriotic belt buckle
This American flag belt buckle measures 2 and 3/4" in diameter and fits a belt strap width up to 1 and 1/2 inches. All of my buckles are sealed with an industrial strength high gloss finish.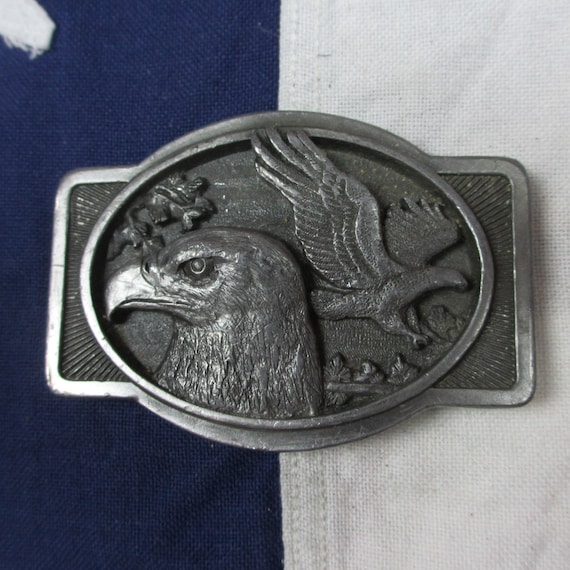 Bald Eagle Belt Buckle Solid Pewter Buckles of America Bergamot Brass Works
Flat Measurements: Height: 2.25" Width: 3.25" Materials: Solid Pewter Condition: Good vintage condition.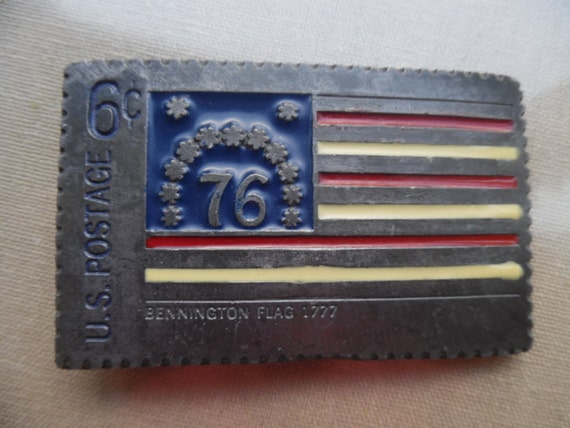 PATRIOTIC BELT BUCKLE
1976 BI CENTENNIAL 6 CENT STAMP BELT BUCKLE. GREAT CONDITION.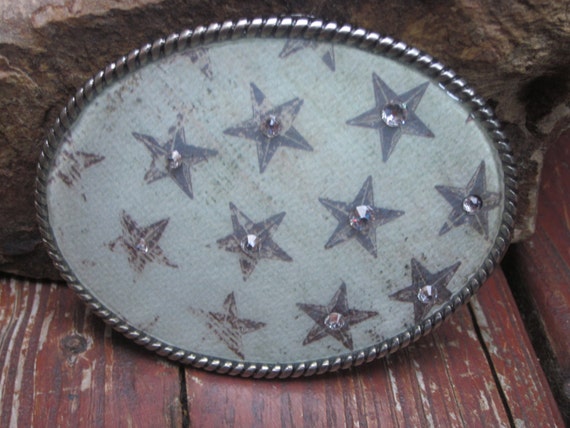 Rustic stars with bling Bohemian country western rodeo
Rustic stars on a faded background embellished with clear swarovski crystals. This antiqued silver rope edged buckle measures 3 and 5/8" X 2 and 3/4". All of my buckles are sealed with an industrial strength gloss finish and fit a belt strap width up to 1 and 1/2 inches.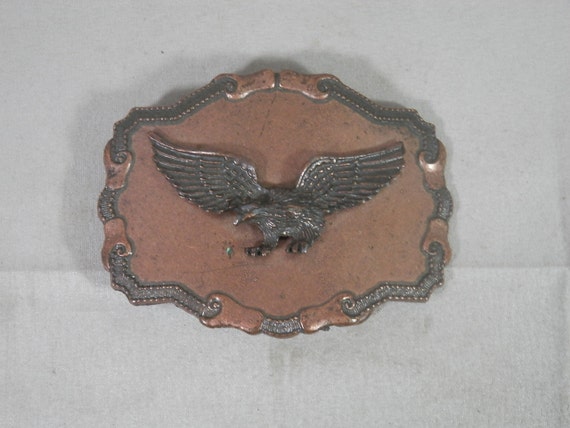 Vintage Copper Eagle Belt Buckle American Patriotic Motorcycle Western Cowboy
Love the item but not the price? Contact me with your best offer. Vintage Copper Belt Buckle with Eagle. This is a pre-owned item that shows wear from age and use. There are scuffs, scrapes and marks present. Oxidation is visible on the front of the eagle by the foot as evident in the pictures. The eagle is a separate piece and the mounting is secure. The buckle shows an all over patina true to age and use. No makers marks are present. Please inspect all pictures closely as they will describe the cosmetic condition, and defects best. Measures: 3 5/8 inches x 2 3/4 inches Weighs: 3.4 ounces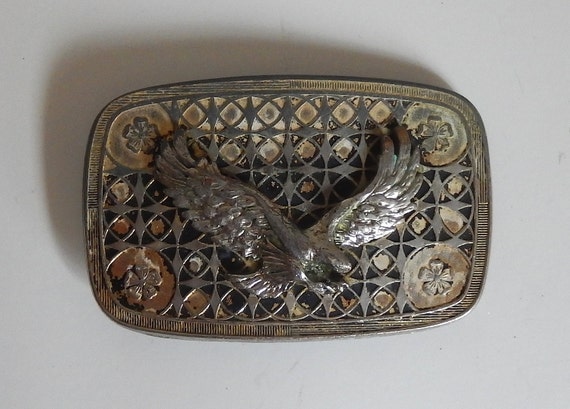 Vintage 1970's Cast Metal Bald Eagle Belt Buckle
This is a Vintage 1970's Cast Metal Bald Eagle Belt Buckle. It measures 3-3/8" wide x 2-1/8". It holds a belt that is up to 1.75" wide. t has some surface wear from use but overall it is in good condition. Bald eagle in the middle. Flowers on the corners. It is not marked.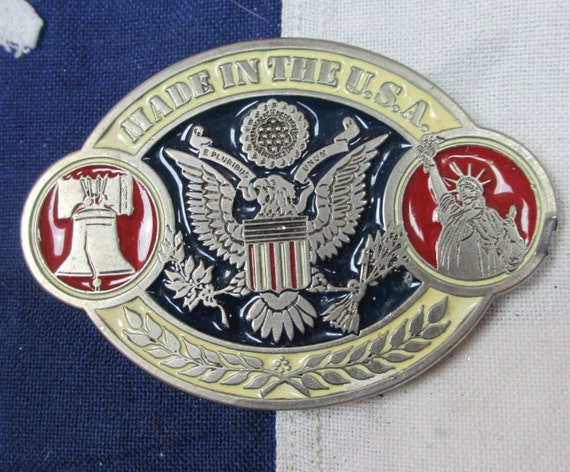 Vintage 1980's Patriotic "Made in the U.S.A." Belt Buckle Pewter
Flat Measurements: Height: 2.4" Width: 3.5" Materials: Solid Pewter and Enamel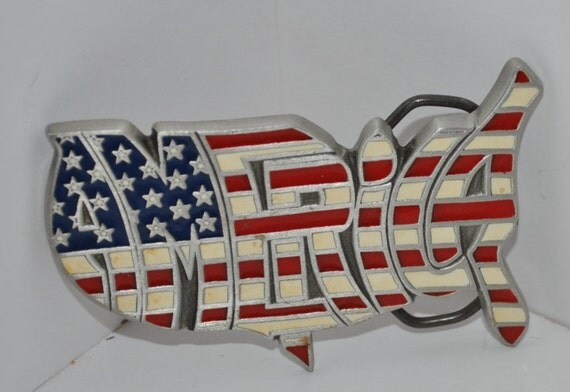 VIntage 1992 America Pewter Belt Buckle - Large!
This is a great 1992 pewter belt buckle made by The Great American Belt Buckle Company. It is approx. 4 inches wide and two inches tall, and weighs right at 3.5 oz. Beautiful red, white, and blue flag pattern of the word AMERICA in the shape of our county (minus Alaska and Hawaii).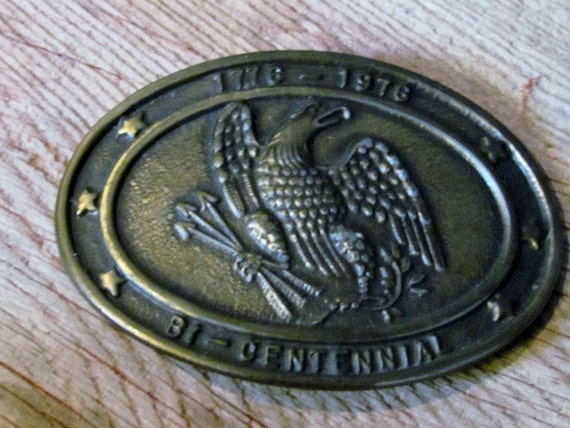 Vintage 1970's Bald Eagle Bicentennial Belt Buckle
Vintage, 1970's bald eagle, bicentennial belt buckle. A belt buckle that pays tribute to the historical events leading up to the creation of the good ol' U.S. of A! Unfortunately for me and my advancing age, I was old enough to remember the bicentennial but not as my son would have you believe, the actual signing of the Declaration of Independence. This 1970's brass-plated belt buckle measures 3.5"L x 2.5"W. In excellent condition.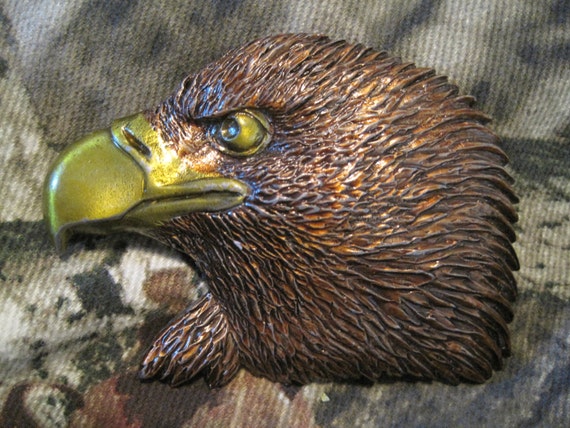 Vintage Eagle Head Belt Buckle by Great American Buckle Co.
Vintage Eagle head buckle, made in the good ole USA!!! What a collectors piece. Great for the patriotic, or someone who has a sports team called the Eagles!! Perfect collectors gift! Unique Father's Day or Birthday gift for a man who's patriotic or loves eagles..or just loves a big belt buckle!!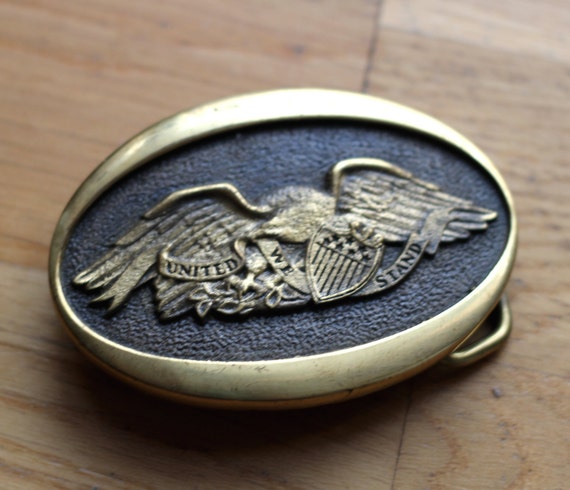 Vintage Solid Brass Buckle Patriotic Eagle United We Stand 1976
This is the buckle for the dude who loves the USA and is not afraid to show it! It is a solid brass buckle made by Heritage Mint Ltd. It is from the Registered Collection and is the American Eagle model. The serial number is A-5273. It has an American Eagle on the front holding a shield and has the words United We Stand on a banner across the bottom. It is a little worn on the top and bottom of the front from someone who wore it proudly. Other than that it is in good vintage condition. It measures 3 3/8" by 2 3/8".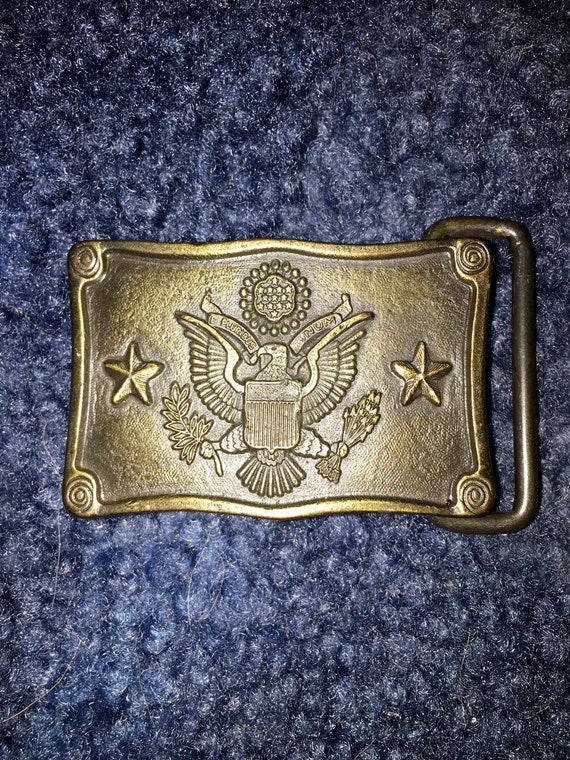 vintage child sized patriotic metal belt buckle E Pluribus Unum seal of united states
This week I will be putting up some vintage belt buckles. This one is a child sized metal Buckle with the seal of the united states on it. It has the Eagle and says E. Pluribus Unum on it. This is excellent condition for its age.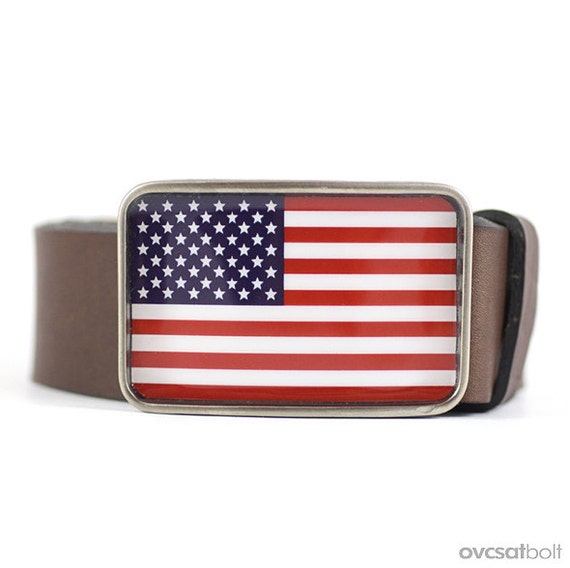 American Flag Belt Buckle, United States belt buckle
This handcrafted belt buckle features the flag of the United States of America. DIMENSIONS - 2 x 3" (5 x 7.7 cm) - fits any 1 1/2" wide or smaller snap belt (NOT INCLUDED) MATERIALS - jewelry grade glossy RESIN, making the buckle durable and water resistant - nickel plated metal - printed image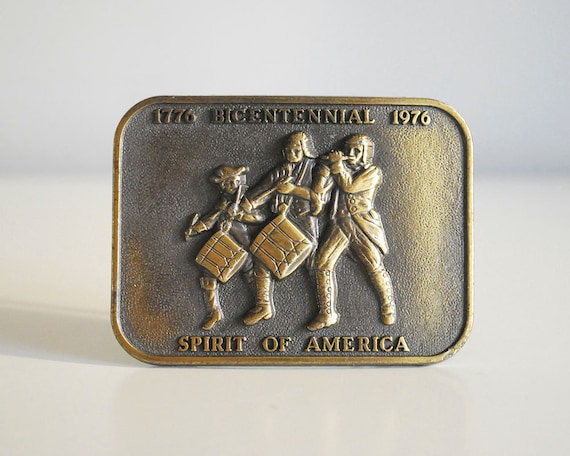 1970s Bicentennial Brass Belt Buckle Spirit of America Revolutionary War
Cool vintage brass belt buckle from 1976 celebrates America's bicentennial with a relief portrait of a fife and drum corps from the Revolutionary War. The buckle has textured background and a nice bronze patina, with brassy highlights. It's easy to slip on and off a belt, or makes a nice patriotic collectible. The buckle is in very good condition, with a bit of surface wear. Size: About 3 x 2 1/4 inches (7.5 x 5.5 cm)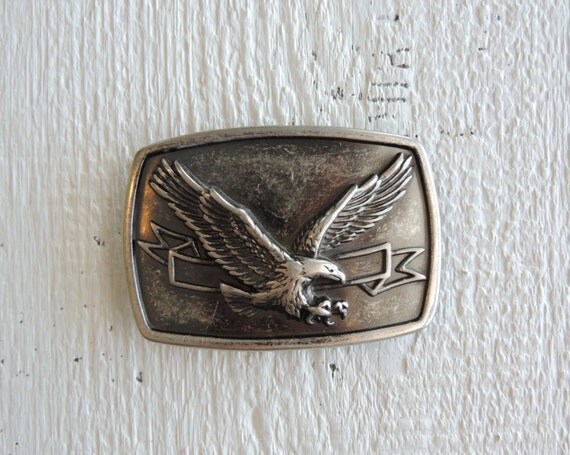 Silver Eagle Belt Buckle/Retro Rocker Belt Buckle
1970's vintage belt buckle with soaring eagle design. 3 1/2" x 2 1/2"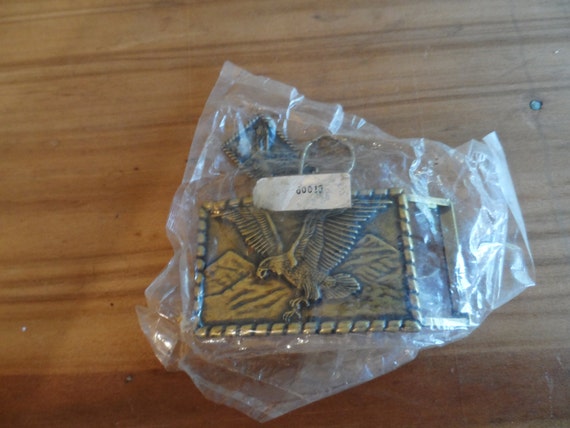 Vintage Brass Eagle and Mountains Scene Belt Buckle with Keychain
Vintage eagle and mountain scene belt buckle has never been opened and includes a keychain. In excellent condition. Very patriotic.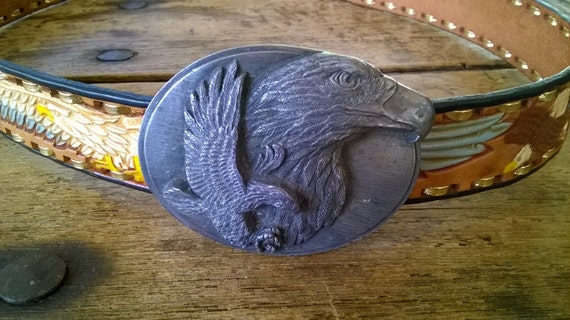 Vintage Siskiyou 1990 American Bald Eagle Belt Buckle
Show your patriotism wearing this awesome Bald American Double Eagle Siskiyou belt buckle measuring 3 1/4" L x 2 3/4" H. Nice eagle head buckle latch on back (as seen in last photo). Belt in first photo is not included.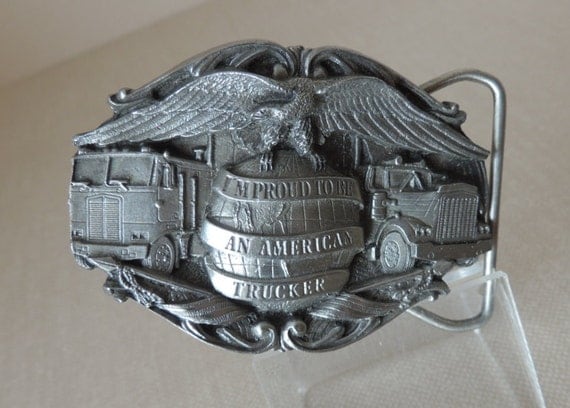 1986 Bergamot Brass Works " American Trucker" Belt Buckle.
This Bergamot belt buckle states "I am proud to be an American Trucker". Really awesome belt buckle. I love the design on this beauty. Really looks Inscription reads: Truckers play a vital role in the economic life of the United States. In 1900, the first freight carrying truck service was begun. Today more than 22 million privately owned trucks and approximately 1 million government owned trucks serve the needs of the country Made in the USA U-42 Bergamot Brass Works 1986 patriotic. Gift box and priority shipping. Measures: 3" across X 2" tall X 1/2" depth Weighs: 5 oz.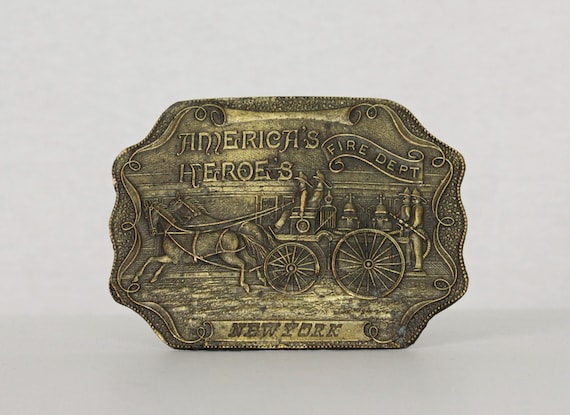 America's Heros Firefighter New York Vintage Belt Buckle
This America's Heros Firefighter New York Vintage Belt Buckle is lovely! This buckle is in good vintage condition having only minor cosmetic wear. Its biggest flaw is the slight oxidation on the back which could possibly be removed however I have not tried. Pictured and priced accordingly! Please feel free to contact me with ANY questions or concerns you may have and we are willing to help in any way possible!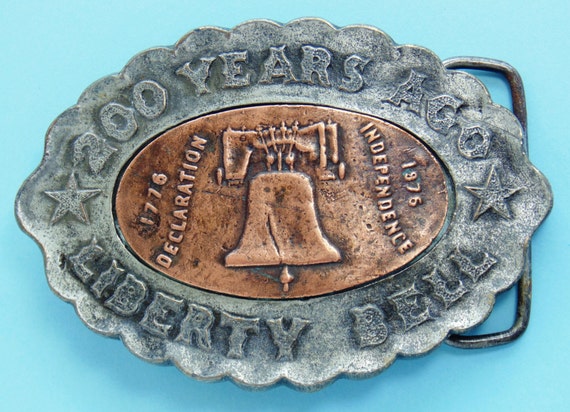 200 YEARS AGO 1776 Independence Day Liberty Bell Belt Buckle Copper Pewter Emperor Napoleon Brand Nice
This buckle appears to have never been worn. The bale has some rust which I am sure can be lightly sanded to remove. It is rather heavy and should be worn with a solid belt that can carry some weight. I am not sure what the metal is, however, I am fairly sure the center section is copper judging by the patina. The outer section is most likely a metal alloy made to resemble an antiqued pewter. It measures 3&5/8" by 2&1/2".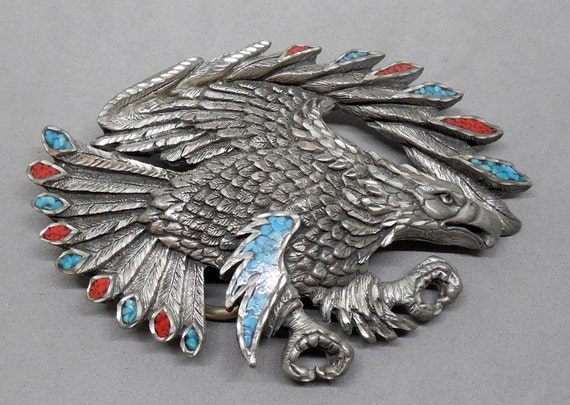 Vintage Silver Eagle Belt Buckle w/ Turquoise & Coral
Here's a nice looking, heavy and ornate belt buckle featuring an eagle with turquoise and coral accents. The eagle's feathers are very textured in both matte and cut steel. It measures 4" by 2.3/4" and is marked, 'EJC 95 Made In U.S.A.'. Excellent condition. Thanks for looking. KBR43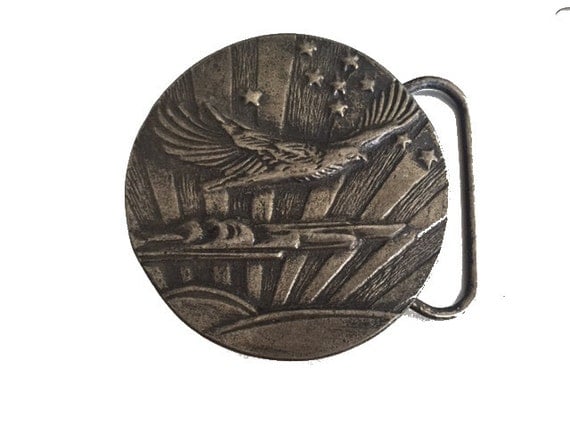 Vintage Eagle Belt Buckle - Men's Gift Idea
This is for a very unique and rare vintage belt buckle. It comes from an estate sale (we have a collection of these 1970s buckles). It is made of solid pewter, is very sturdy and heavy. It features a flying eagle over a sunset and stars. It has an awesome antique finish. It is in perfect wearable condition. It is from the 1970s, it fits with a metal bar and pin (for a snap on belt). Quality guaranteed, picture does not do this buckle justice! Would make a stand out addition to your belt. To find the perfect snap on belt for your buckle check our store! Measurements/Sizing * The buckle measures 3'' X 2 1/2" and it fits up to a 1 1/2'' strap.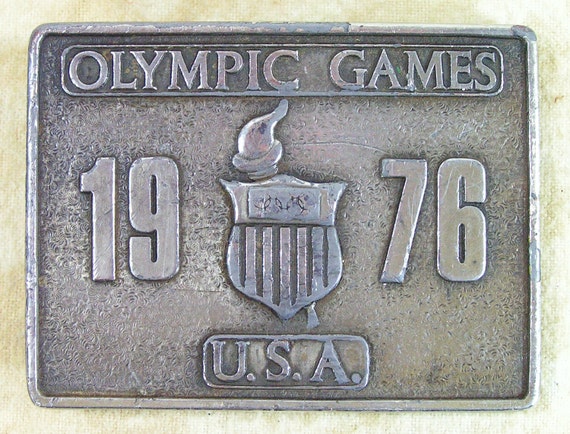 usa olympics belt buckle 1976 brass bicentenial vintage 1970s fashion olympic games
there is a genuine 1976 vintage olympic games usa belt buckle! Genuine brass, it is made by bergamot brass works. It was made to celebrate and commemorate the 1976 Olympic games for the team usa! measurements: length of the buckle from left to right is 3.25 inches height is 2.5 inches.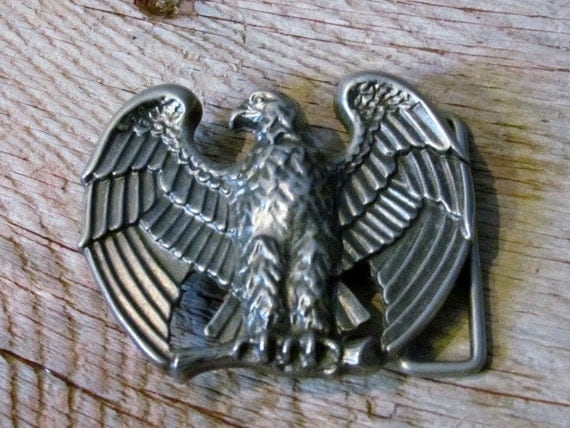 Vintage 1970's Bicentennial Eagle Biker Belt Buckle
Vintage, bicentennial 1970's biker belt buckle by...wait for it...Avon. That's right, forty years ago the Avon lady was getting her biker groove on. Belt buckle is in excellent condition and measures 2"H x 3"W.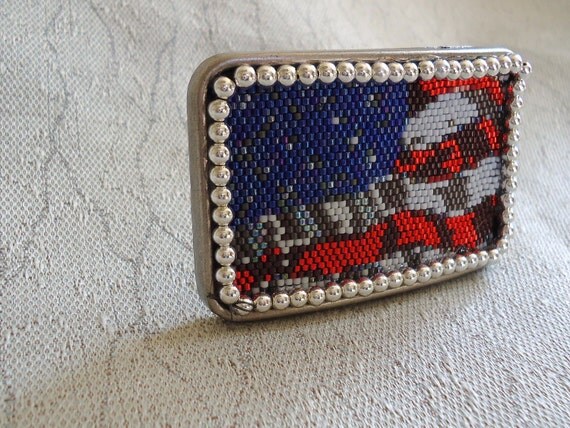 Waving Glory Flag Belt Buckle
Proclaim your patriotic love with this completely original, one of a kind "Waving Glory" belt buckle. The buckle measures 2" x 3" and is stunning with the bling of the 71 silvertone bead trim. This image is hand woven, bead to bead with over 21 color beads in shades of red , white, and blue. Truly unique and funky! A great piece of artwork securly mounted to a Tandy nickle plated belt blank with apoxy for durability. Please note the belt is not included...only the buckle is for sale. This buckle is all hand woven and the design is original.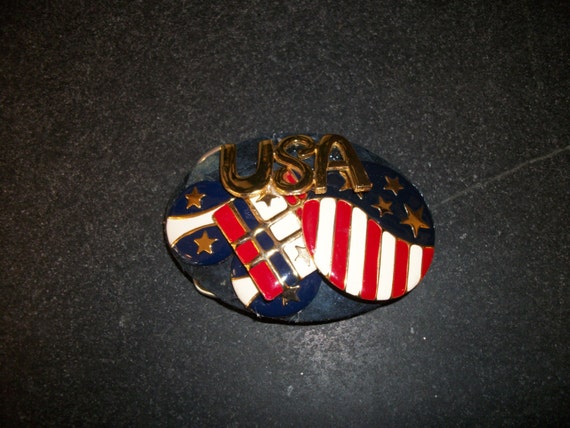 OOAK "Americana" vintage jewelry belt buckle
This One of a Kind Americana USA belt buckle was hand crafted using old costume jewelry earrings, brooches and pins. It measures 3 1/2" x 2 1/2" and is ready for a belt!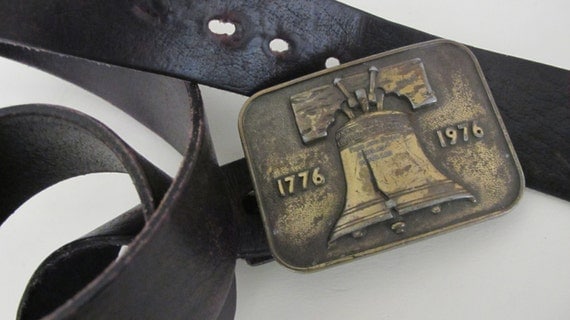 Cowboy Belt Brass Belt Buckle Liberty Bell Buckle 1976 Bicentennial Buckle 32
Men's Belt Brass Belt Buckle Liberty Bell Buckle Black Leather Belt 1976 Bicentennial Buckle 32 Amazing vintage men's black belt and brass buckle with the Liberty Bell and 1776 1976! The belt is worn but in very good shape. Well broken in. Nice and soft. The label is worn so I can't read the maker. Crazy cool artifact from the 1970's and Bicentennial. A little piece of history to show your patriotic pride... Size 32 All Leather
Go To
4th of July Belt Buckles Page ONE
Go To
4th of July Belt Buckles Page TWO
Go To
4th of July Belt Buckles Page FOUR