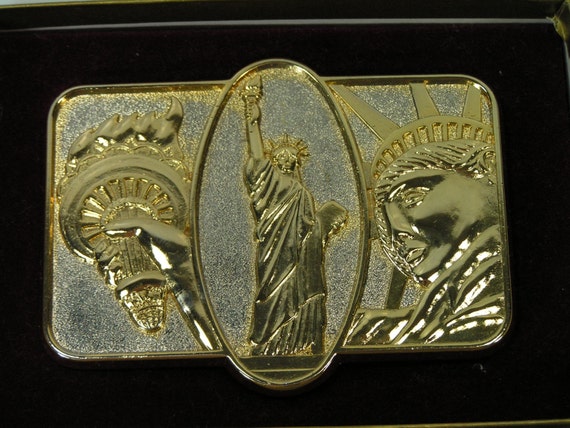 statue of liberty belt buckle 1985 gold color seville collection with box
This is a vintage statue of liberty belt buckle with the date 1985 stamped into the back side. It also has the issue number of 5275. It is issued from THE SEVILLE COLLECTION. It is a beautiful shiny gold color, but the actual material is a basic metal. It has a slim profile as seen in the 4th picture. It has never been worn and has been kept in the original box. measurements: length of the buckle from left to right is 3.75 inches height is 2.75 inches.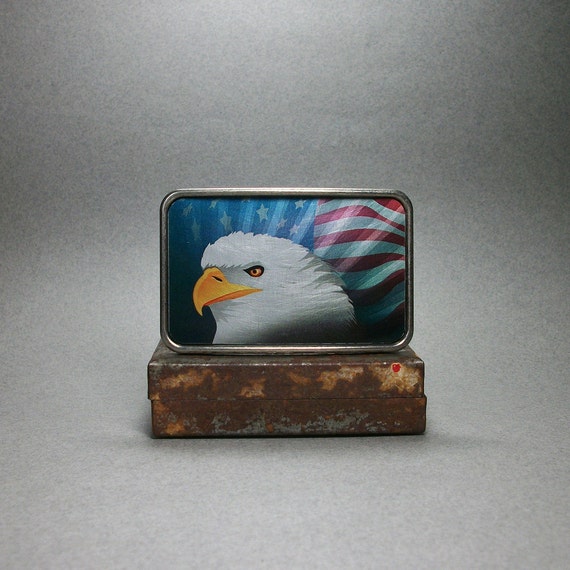 Belt Buckle Bald Eagle American Flag Unique Gift for Men or Women
Belt Buckle Bald Eagle with American Flag Mens or Womens This buckle measures approx. 2 x 3 inches (5x7.6 cm) and will fit up to a 1 3/4 inch (4.4 cm) snap belt. Snap belts allow you to change the buckle. A crystal clear image that I permanently bond to lightweight metal. On metal. Each piece is hand cut and sealed with a premium sealer. The metal background lends a beautiful luminous quality to the buckle.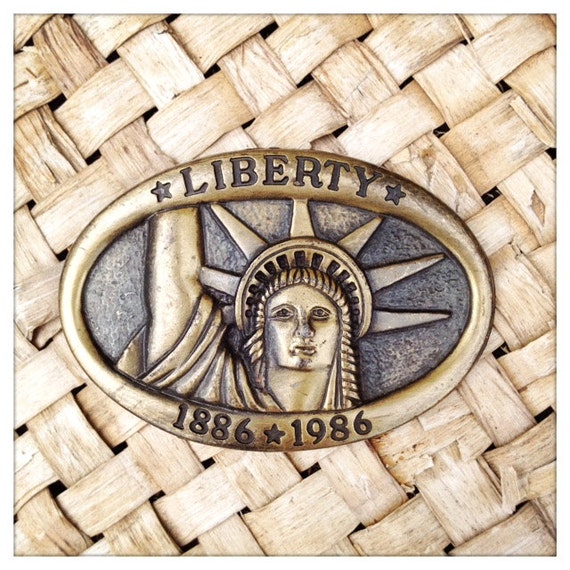 Vintage 80s STATUE of LIBERTY Centennial Oval Western Rocker Brass Belt Buckle Americana
LIBERTY BUCKLE Description: AWESOME Vintage 80s STATUE of LIBERTY Centennial Oval Western BRASS Belt Buckle. 3D STATUE of LIBERTY Centennial Design. Made in the USA. Excellent Vintage Condition. Type says, "LIBERTY 1886 - 1986". "W" marking on back. NOTE: Can accommodate a 1.5" strap.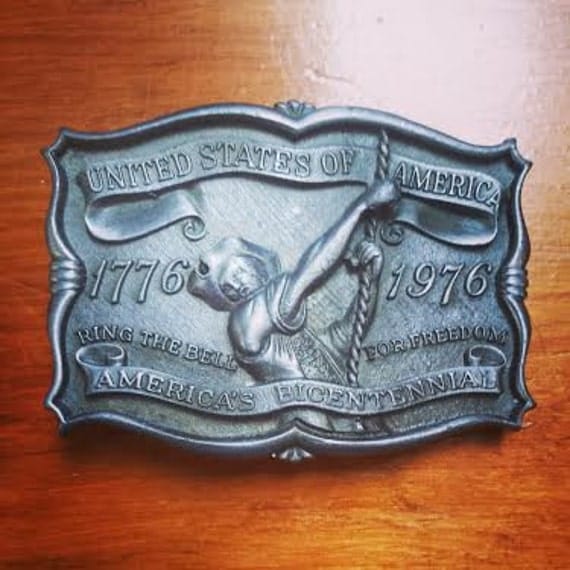 Vintage 1976 Bicentennial Belt Buckle (MINT CONDITION)
Show your love of the U S of A with this vintage 1970s commemorative bicentennial belt buckle. Cast in 1976 in the year of our nation's 200th birthday. Appears to be pewter, but I don't know for sure. Front reads: "UNITED STATES OF AMERICA 1776 1976 RING THE BELL FOR FREEDOM AMERICA'S BICENTENNIAL" Back reads: "TO COMMEMORATE 200 YEARS OF FREEDOM CAST FOR AMERICA'S BICENTENNIAL" Buckle is 3" wide & 2" tall. Fits a 1.5" belt.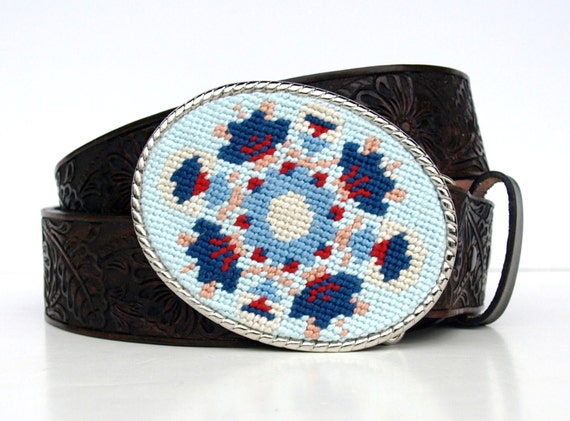 Needlepoint Williamsburg Belt Buckle
This Americana and folksy inspired needlepoint buckle was spurred into completion from a recent trip to Williamsburg, VA. The colors, amount of ornamentation and placement of both remind me of of the touches of colonial beauty found strolling up and down The Duke of Glouchester St. in Williamsburg. Enjoy! The metal belt buckle base measures 3" x 2.5" & should easily fit any 1.5" wide snap-style belt ( which is not included ). The actual needlepoint is hand stitched by me and then blocked/shaped and affixed onto the buckle base with a non-toxic adhesive.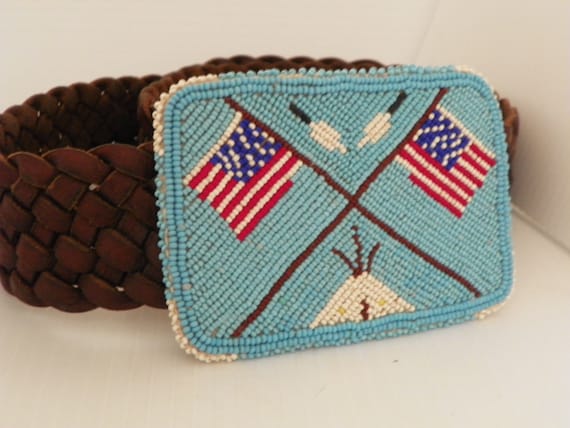 Beautiful cut glass beaded belt buckle
This handbeaded belt buckle was created by the Shoshone Indians, representing both the native and American symbols. Finely crafted, the back is finished with brain tanned leather which is an extremely long process. Vibrant true color comes through with some reflection from the glass beads.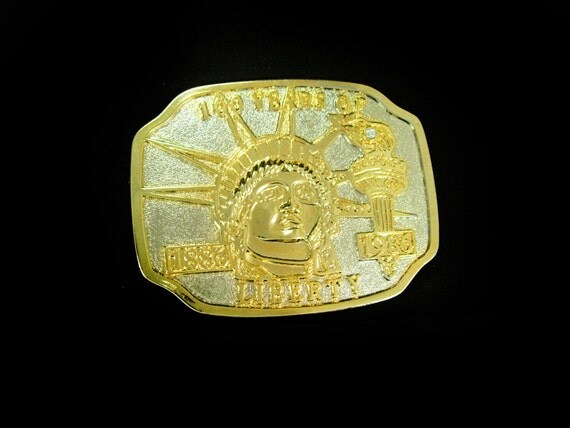 Patriot BUCKLE Vintage Statue of Liberty God Bless AMERICA
Patriot BUCKLE Vintage Statue of Liberty God Bless AMERICA Clothing Accessory gold with silver mens cool gift. If you need a unique gift idea that shows you took the time to care, what better way to give a gift than something classic and vintage. Here is something for that special person that has everything! Not only is it a unique idea because it is Vintage and not something you can buy everyday, but it is something they will know you took the time to find just for them. What a thoughtful gift or perhaps just a perfect addition to a collection.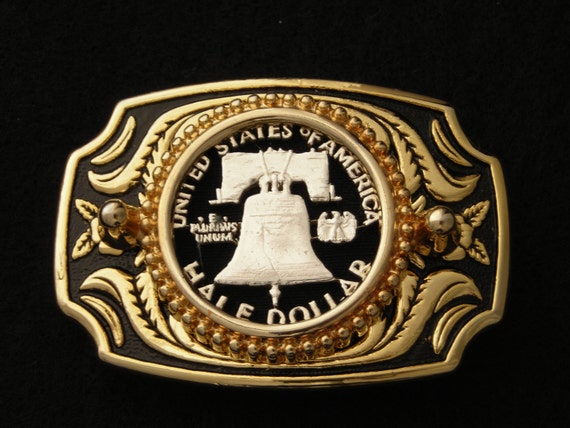 Franklin Half Dollar Rev. Buckle
This is a Franklin half dollar minted from 1948 to 1963. This coin is silver. The fifty-cent piece pictures Founding Father Benjamin Franklin on the obverse and the Liberty Bell on the reverse. A small eagle was placed to the right of the bell to fulfill the legal requirement that half dollars depict the figure of an eagle. Hand cut then polished to smooth the edges and give the coin a brilliant shine. This is placed in a gold tone belt buckle. Sorry I do not have a gift box for this.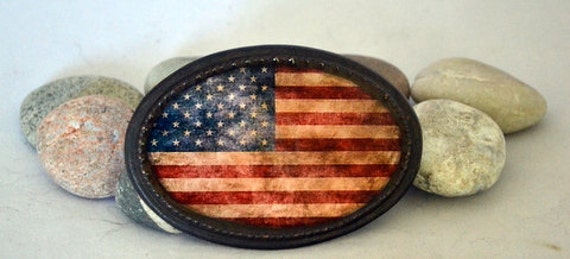 The Betsy R Buckle - Vintage American Flag Buckle
A simple way to add some Va-Va-Voom to your jeans is to add a fun belt! Add some patriotism and you will be unstoppable :) The Betsy R Buckle: The buckle is made from fun, fresh fabric and covered with industrial epoxy/resin to make it scratch resistant and hard as a tack. The colors are a muted/vintage Red, White and Blue Flag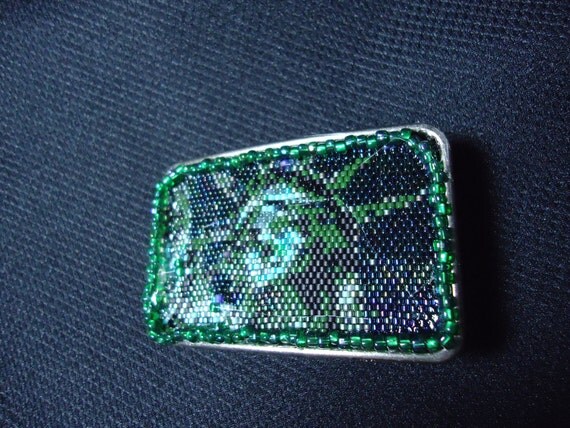 Belt Buckle
Absolute one of a kind....this stunning hand bead woven belt buckle features 1200+ delica beads in a spectrum of 21 different colors to create the "Lady Liberty" belt buckle. The buckle measures 2" x 3" and is stunning with the bling of the triangular green glass bead trim. A great piece of artwork securly mounted to a Tandy nickle plated belt blank with apoxy for durability. Please note the belt is not included...only the buckle is for sale. This buckle is all hand woven and the design is original.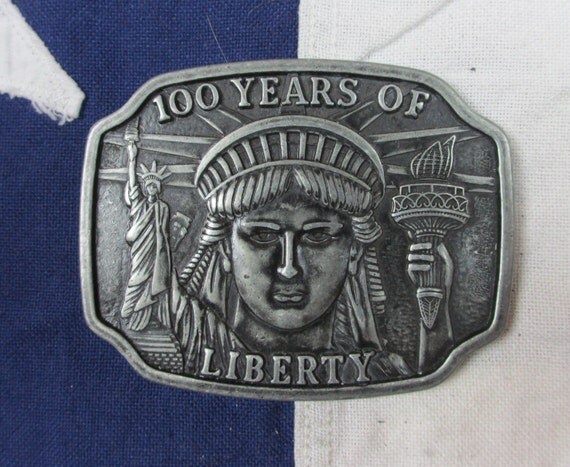 Vintage 1980's Statues of Liberty Centennial Belt Buckle
Item details 5 out of 5 stars. (120) reviews Shipping & Policies Flat Measurements: Height: 2.6" Width: 3.2" Materials: Solid Pewter Condition: Good vintage condition.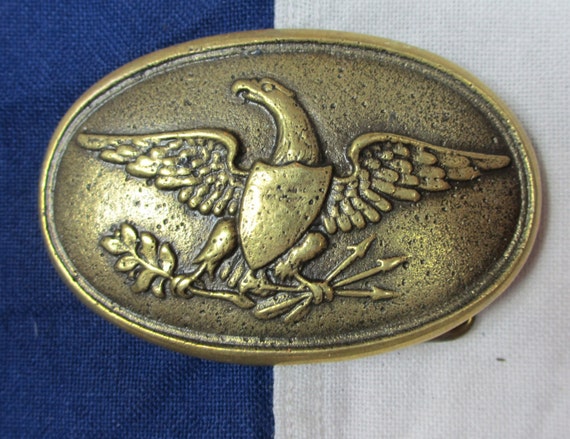 Vintage 1970's Reproduction 1850's Florida Militia Belt Buckle
Flat Measurements: Height: 2" Width: 3.25" Materials: Solid Brass. Condition: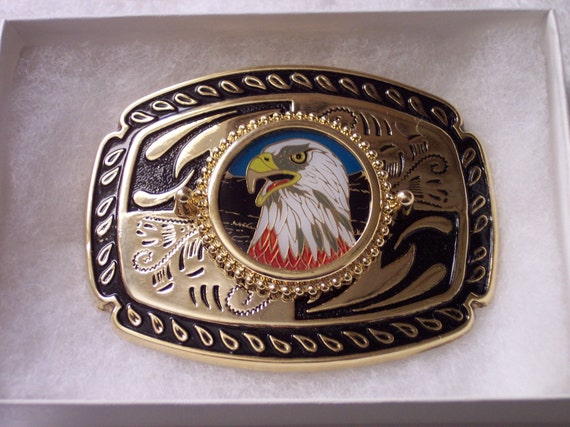 Great Bald Eagle Buckle
This is a large buckle that any man would be happy to wear. 38-mm Enamel Bald Eagle Head on a Gold and Black tone Buckle - With 1-3/4" bar.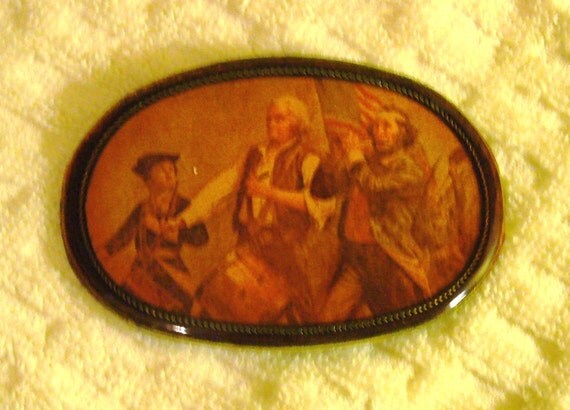 Spirit of '76 Buckle
Lacquer Belt Buckle Apx. 3 1/2" by 2 1/2". Perfect for the 4th of July! Most likely from the 1970's. Fits easily onto 1 1/2" wide belt.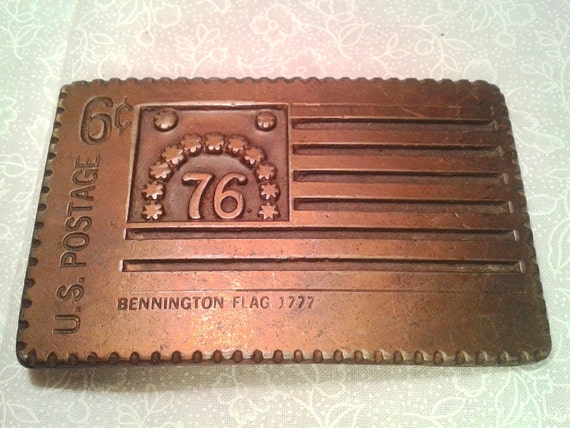 Vintage Brass Postage Stamp Colonial Flag Buckle 1974
A patriotic buckle made in solid brass. It depicts the Bennington flag as it was in 1777 in the form of a postage stamp. Suitable for any patriot or stamp collector alike. It measures 3 1/2" wide by 2 1/4" tall and weighs 5.6 oz. Any questions don't hesitate to ask!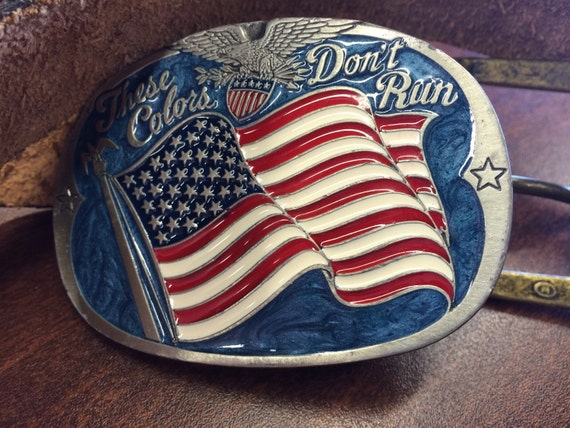 Merica Men's Size 32 custom RICHARD leather belt with USA red white ble flag belt buckle
This vintage belt and buckle is in great shape. The leather inside says Made in USA and size 32.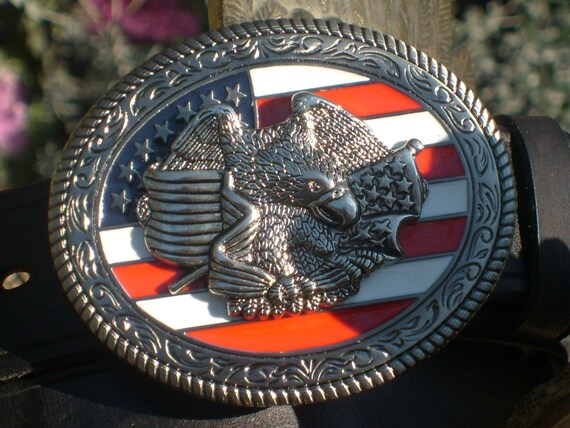 Black Leather Belt w/ Oval Trophy Buckle. American Flag and Eagle
This is a 1 1/2 inch wide heavy leather belt finished in black and featuring a 3-D Patriotic Trophy buckle with an antique silver plated eagle over enameled American flag. This belt can be made to any size and in other dye colors if you wish.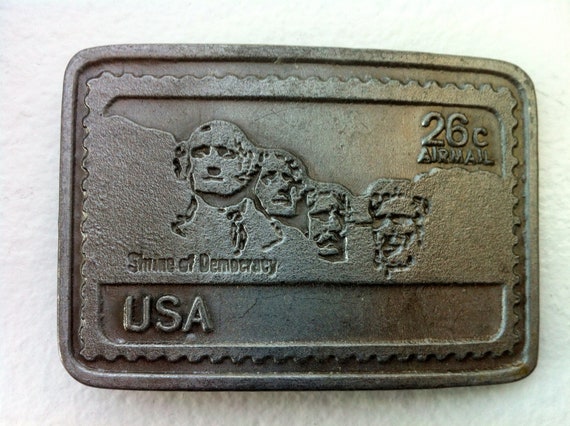 1974 Mount Rushmore Stamp Belt Buckle
Exact Replica "Shine of Democracy" Belt Buckle Perfect for Election Year!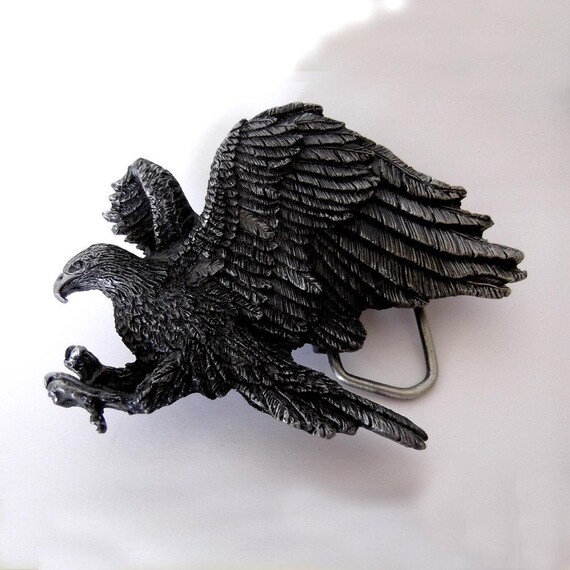 1 3/4 inch 45 mm Bergamot Trophy Bald Eagle Western Belt Buckle
There is nothing that represents the spirit of America so much as our majestic bald eagle. This listing is for a Bergamot Buckle Company pewter trophy style western belt buckle. The large vintage buckle was created in 1980 in solid pewter and is intricately engraved in the image of a bald eagle with talons extended just as it swoops in to catch its prey. Although this buckle dates back to 1980 it is in almost mint condition. Heavy pewter belt buckles rarely show wear and age. This is true of this buckle. The only indication of its true age is the date which is engraved on the back of the buckle.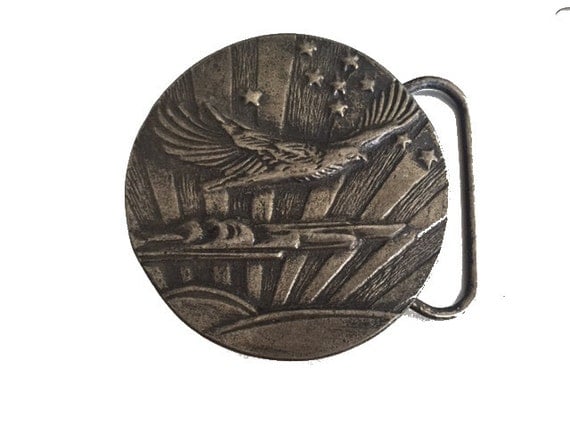 Vintage Eagle Belt Buckle - Men's Gift Idea - Sunset
This is for a very unique and rare vintage belt buckle. It comes from an estate sale (we have a collection of these 1970s buckles). It is made of solid pewter, is very sturdy and heavy. It features a flying eagle over a sunset and stars. It has an awesome antique finish. It is in perfect wearable condition. It is from the 1970s, it fits with a metal bar and pin (for a snap on belt). Quality guaranteed, picture does not do this buckle justice! Would make a stand out addition to your belt. To find the perfect snap on belt for your buckle check our store! Measurements/Sizing * The buckle measures 3'' X 2 1/2" and it fits up to a 1 1/2'' strap.
Go To
4th of July Belt Buckles Page ONE
Go To
4th of July Belt Buckles Page TWO
Go To
4th of July Belt Buckles Page THREE