Decorative Ceramic Hand-Painted Centerpiece for Patriotic Decorations & Gifts
This red, white, and blue hand-painted star-spangled banner ceramic piece will look great in multiple uses - as a desktop accessory stand, a flower vase, a toothbrush stand in the bathroom Crafted by hand on a potter's wheel, a contemporary piece of decor, this tumbler is glazed for a smooth and lustrous finish An excellent patriotic gift idea Not recommended for food/drinks! Dimensions: Length - 3.2 x Width - 3.2 x Height - 6 (Inches)
RedWhiteYou Myvaz Vase
Myvaz expandable flower vases do everything a glass vase does except collect dust chip or break. Myvaz expandable vases are durable and stable enough to hold a flower bouquet. These decorative vases expand with water and are ideal for events weddings and any table top. Myvaz plastic vases are collapsible and economical making it easy to keep a variety of colors and patterns tucked away for any occasion.Features. Type - Myvaz. Material - BPA Free Plastic Vase. Color - Patriotic red white and blue vase. Care Instructions - Rinse with water and dish soap. Leave open to dry store flat.. Dimension - 10.25 L x 6.25 W in.. Item Weight - 0.11 lbs.
Red Blue & Clear Bottle Vases - Party Decorations & Room Decor
Red, Blue & Clear Bottle Vases. Fill them with flowers or let their colors alone fill a room with patriotism. Glass. 10 1/2H. Details: Assorted Colors, Fourth of July, Glass, Patriotic, Americana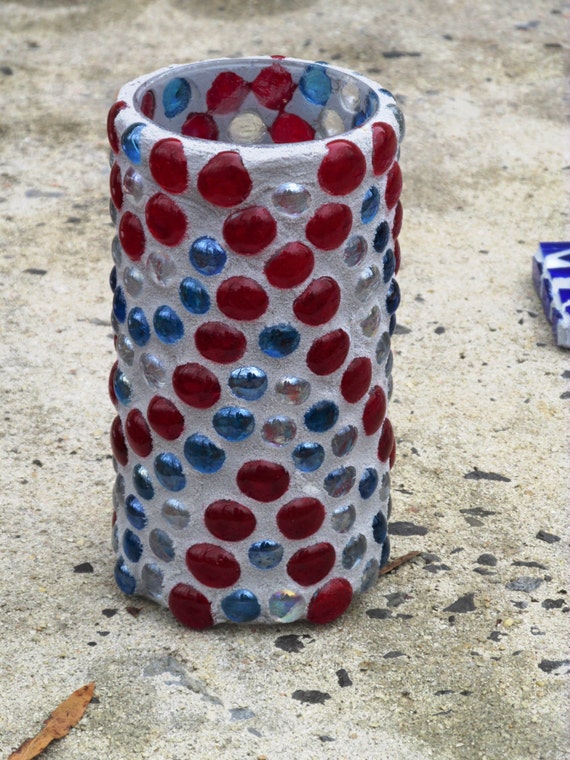 7 inch Red White and Blue Crystal Mosaic Vase or Candle Holder
Made to order mosaic vases in variable colors. As you can see, if you provide a source of light in the vase, it really stands out beautifully. Bringing an extra elegance to your home, this makes for a great gift for a loved one or yourself. You can use them as a vase or a candle holder. This vase is made with silver, blue, and red crystals. with gray grouting. They are 7 inches tall, We will customize your order with the colors of your choice.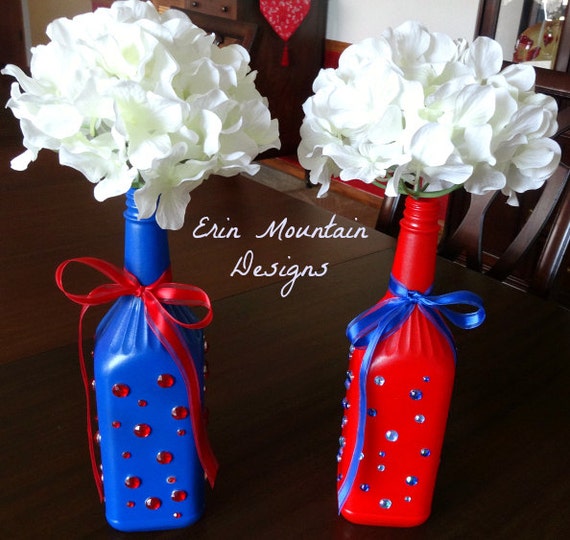 Up-cycled Patriotic Bottles, July 4th Decor
These fun up-cycled bottle centerpieces are perfect for your patriotic celebrations with family and friends. Each bottle was painted with several coats of paint and then sealed. The gems were glued onto all sides of the bottles. Each bottle was decorated with a contrasting ribbon and a lovely large, white hydrangea. The bottles with flower stand 16" tall. The amazing hydrangea measures 8" across. The actual heights of the bottles are 11.5".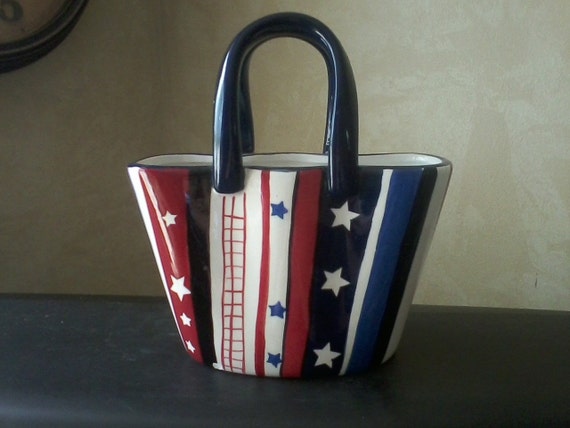 Patriotic Red White and Blue Vase Planter
Great, ceramic vase/planter in Patriotic Red, White and Blue! 7 X 6.5 X 2.5 inches of Americana!! No chips, cracks or repairs. Awesome!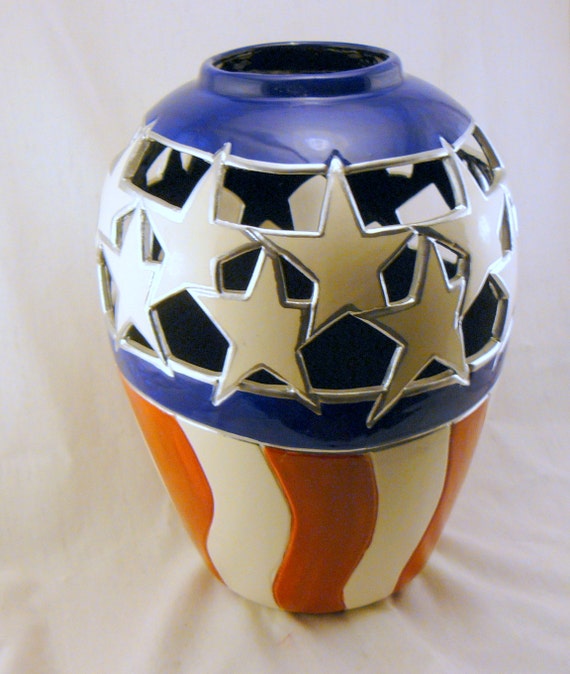 Americana Patriotic Ceramic Vase
The vase is handmade from start to finish. My husband casts the vase from a plain vase mold, cuts a ring of stars and carves the stripes. I then hand glaze it in the traditional red, white and blue. After the final fire the stars are outlined in silver leafing. Dimensions: 10" Tall 7" Diameter at the fullest point

Patriotic Vase
This red, white, and blue vase is suitable for a single rose on that special occasion! Brick red carved upper neck, a spiral body with blue and white glazes running amuck to the bottom. This vase would nicly adorn any table or desk. The piece is wheel thrown and hand carved. Size: 8 1/2" x 2 1/2"w x 2 1/2"l.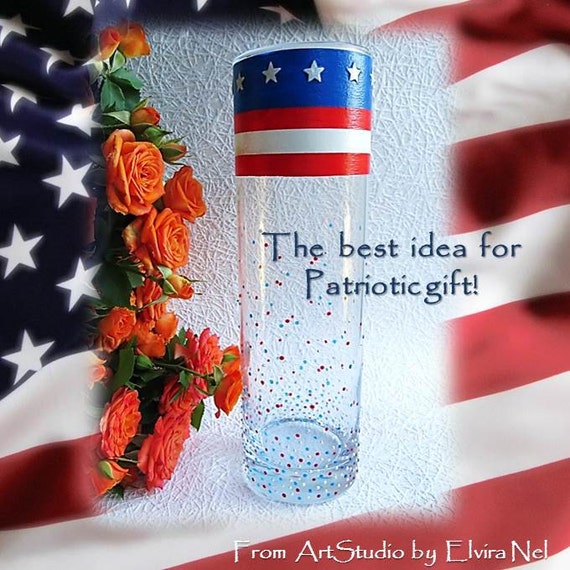 Patriotic vase - 4th of July decor
The Best idea for Independence Day. This vase can be a wonderful addition to your interior, interesting complement the festive mood. This is original patriotic gift for your friends and close people or best idea for theme party. I wish you Merry holidays and good mood! All my works create only in a good mood and made with love!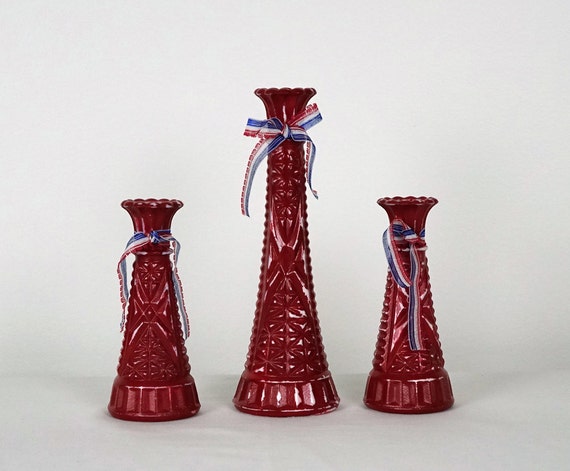 Set of Three Rustic Vases - Vintage Milk
Set of Three Rustic Vases - Vintage Milk Glass - Red Vases - Distressed Hand Painted Vases - Patriotic Vases This listing is for a set of vintage milk glass vases. Painted on the outside and distressed for a vintage rustic look. They have been painted in red, hand distressed, sealed with a gloss finish and wrapped with a three colours lace (red, blue, white). Please do not immerse in water or use in dishwater , just wipe light with a damp cloth. Measures approx.; - The biggest; 9" x 3" (23cm x 7.5cm) - The 2 smallest; 6" 2.5" (15cm x6.5cm)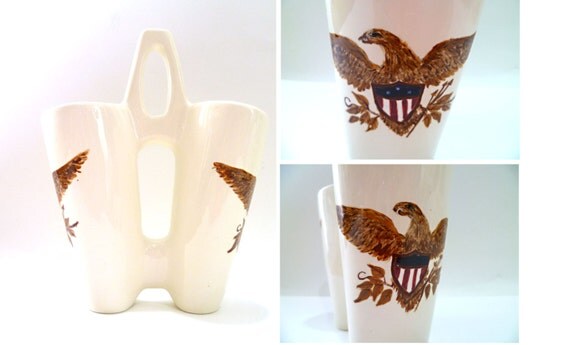 CERAMIC BUD VASE Beige Double Well Hand Painted Patriotic Flying Eagle 1970s Vintage
Fantastic vintage double well glazed ceramic bud vase with attached center handle. The vase is styled so that water is shared by both sides via 2 connecting spaces built into the design of the piece. Vase is a beige / antique white color and has a shiny finish. Each side of the vessel depicts a carefully hand painted eagle in commemoration of the 1976 US Bicentennial celebration. The eagles are done in brown tones with red and blue accents. On the underside of the vase, the date "1976" and the letters "LKM" are present as a signature. These characters appear to have been inscribed prior to the item being fired in a kiln, as they also have a shiny finish over them. Measurements: 7 1/2 inches in height 6 1/4 inches in width 3 1/8 inches in depth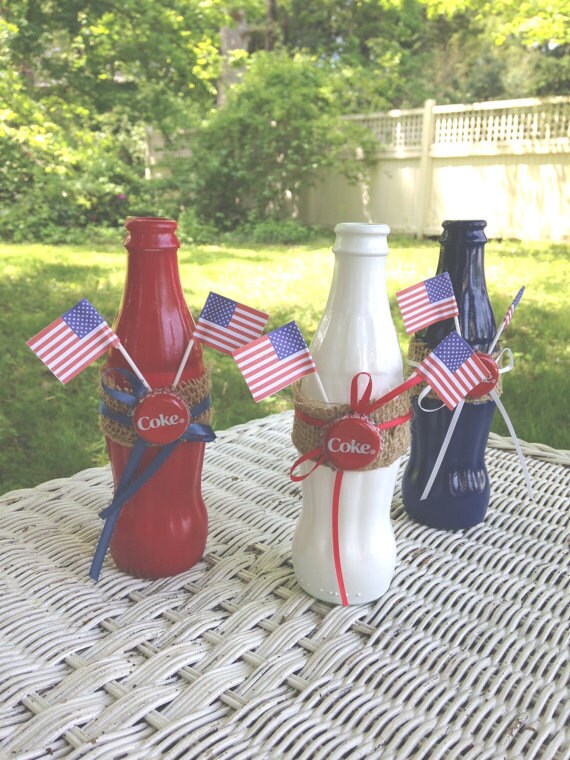 Painted Coke Glass Bottles 4th July Red White Blue bud vase Patriotic Set Coca-Cola
Coca-Cola bottle painted for the 4th of July parties. Festive table decorations for July 4th. Red, white and blue painted Coca-Cola glass bottles. Just set a few fresh flowers for a beautiful table scape. Gives a rustic look to an American celebration, with some chippy paint look, distressed.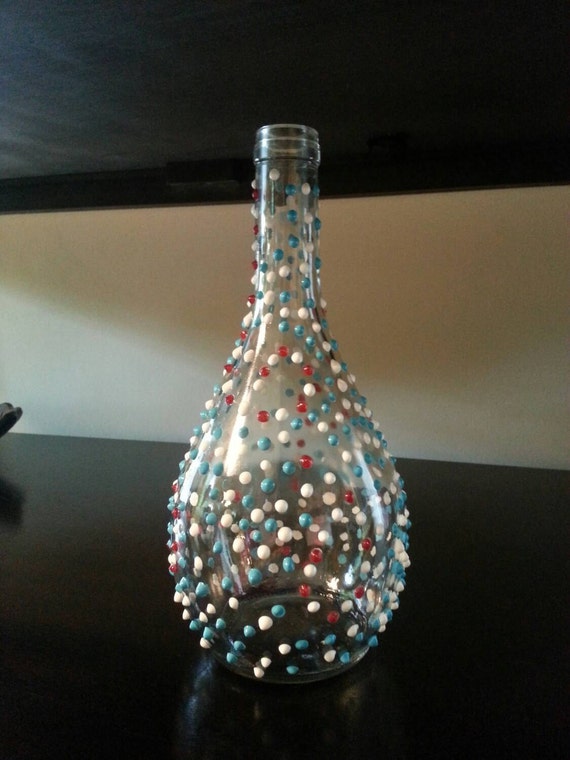 Red, White & Blue Puffy Paint Vase; patriotic, flag
Just in time for the 4th of July, this patriotic upcycled wine bottle vase can be used for just about anything. Crafted using hand squeezed blue & white Puffy Paint (3D Paint) and red glitter glue. Upcycling is a great way to turn trash into treasure. Help take care of our environment, recycle and repurpose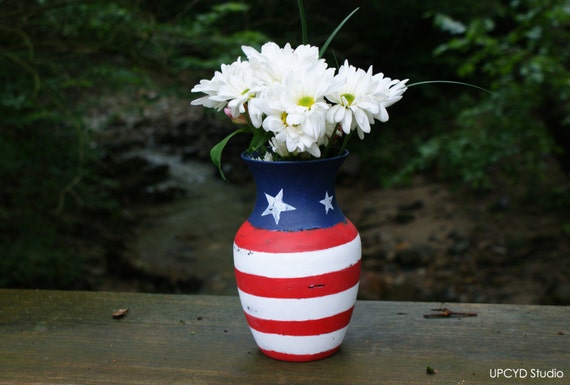 Shabby American Flag Vase/ Patriotic/ 4th of July/ All American Vase
Distressed hand-painted patriotic vase. Give it away as a gift or keep it for yourself! This red, white, and blue accent piece will look great all throughout the summer for 4th of July, and Labor Day! Size is 8" high and approx 5" across at center.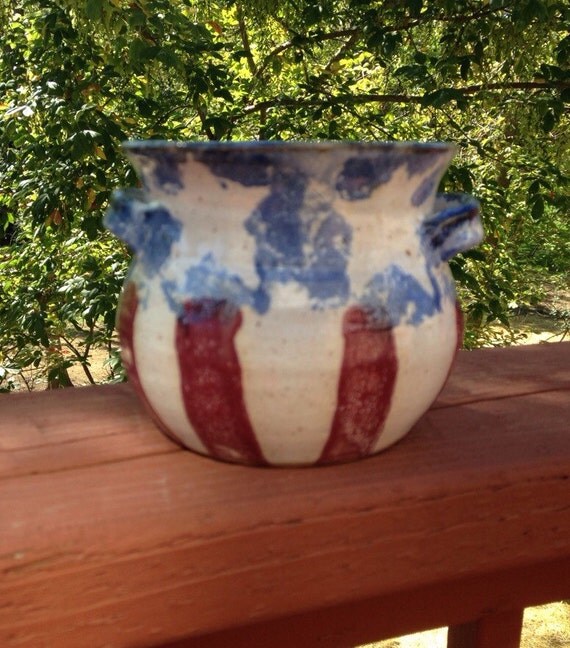 Vintage Americana Pottery Vase. Hand-thrown clay pot
Display flowers, a potted plant,or small American flags in this patriotic hand-thrown pottery vase/ serving piece. Especially nice for patriotic holidays like Veterans Day, but classic enough to leave out all year 'round.Works in a country kitchen or on a desk to hold utensils. Buy for yourself, or as a gift for your favorite veteran or lover of Americana or primitive decor. Wide mouth at top, two handles add interest. Light tan base color with red stripes and blue spongework around the rim.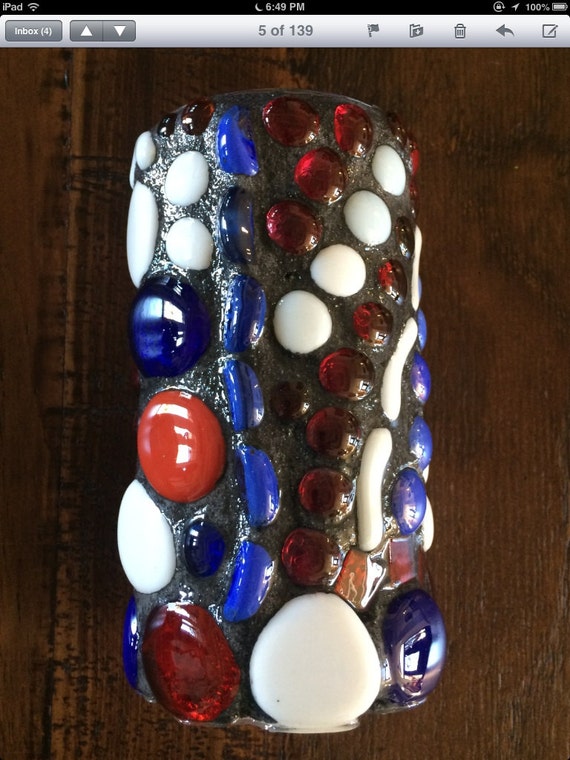 Patriotic Vase
American 4th of July vase. Red, white, and blue. Perfect for decorating for patriotic holidays. Centerpiece. Measures 7.5 inches tall and 13 inches in diameter.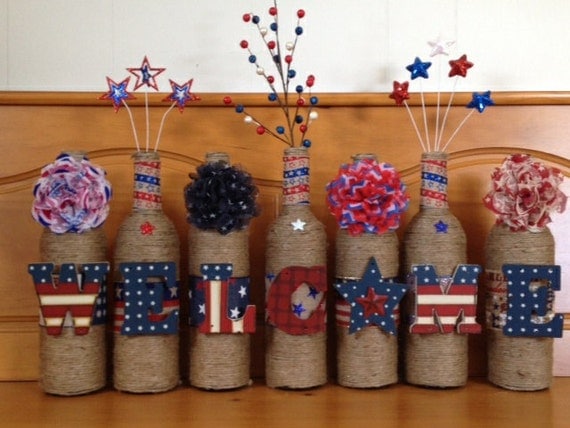 Patriotic Decor, Patriotic Wine Bottles
Standard 750ml wine bottles hand wrapped in twine. Each individual letter spells out WELCOME in patriotic wooden letters. Each bottle neck and "label" individually wrapped with different patriotic ribbon. Four "shabby chic" style Americana silk flowers and stems to add rustic charm to this one-of-a-kind design.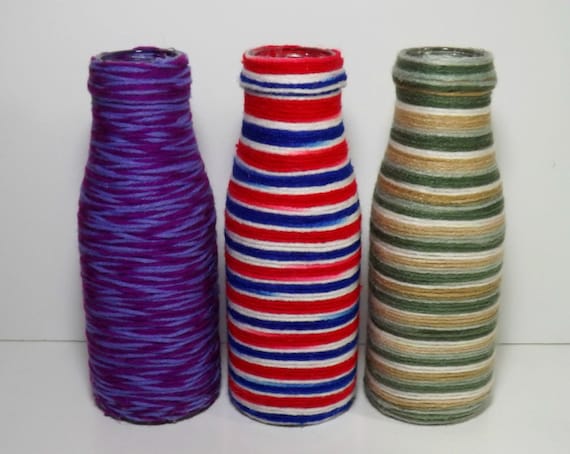 Upcycled Bottle Yarn Vase, Yarn Decor, American Vase
Upcycled glass bottle turned into a decorative yarn vase. Makes a great centerpiece for a patriotic party or just everyday living. Perfect for real or fake flowers. 7 1/2 inches tall, 2 1/2 inches wide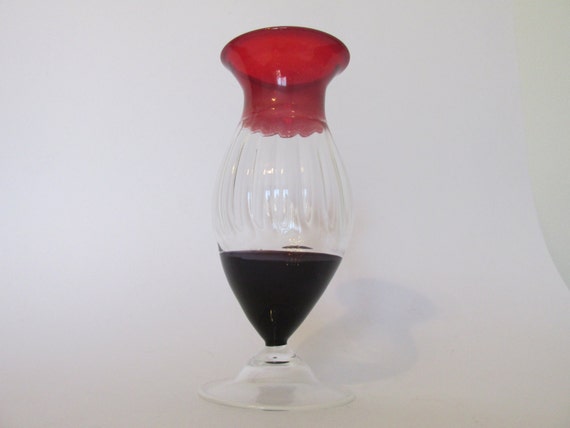 Beautiful Red Clear White and Blue Ribbed Hand Blown Glass Vase Lightweight with Stem
This is a gorgeous hand blown vase that is light as a feather! The top portion is red, middle section clear with a ribbed type of pattern, and the bottom is a deep bluish purple color. The rim of the footed bottom is white. What skill it takes to make something like this! So many variations within one piece is amazing. It is only about 4 ounces and is approximately 6.75" tall. It is in excellent condition. There are some variations in the color in the red portion where it goes from red to clear, which I tried to depict in the last photo.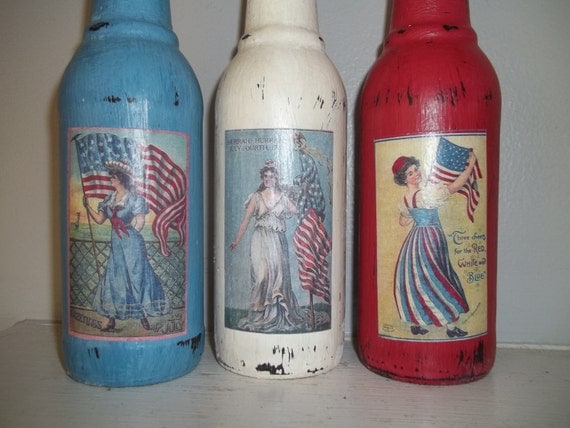 Americana Painted Vase Set of 3 Upcycled Bottles Vintage Fourth of July
Set of 3 upcycled amber glass bottles are washed and then painted with chalk paint in Americana colors of red, white, and blue. After painting, bottles are distressed and decoupaged with a vintage 4th of July paper print. Each bottle stands 9" tall. Can be filled with water and used as a bud vase. Can also hold short taper candles or stick fireworks.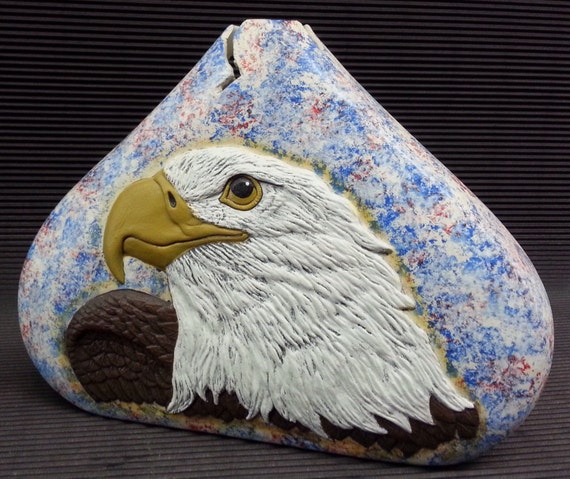 Eagle Vase
This patriotic evil face is decorated with red white and blue in the background.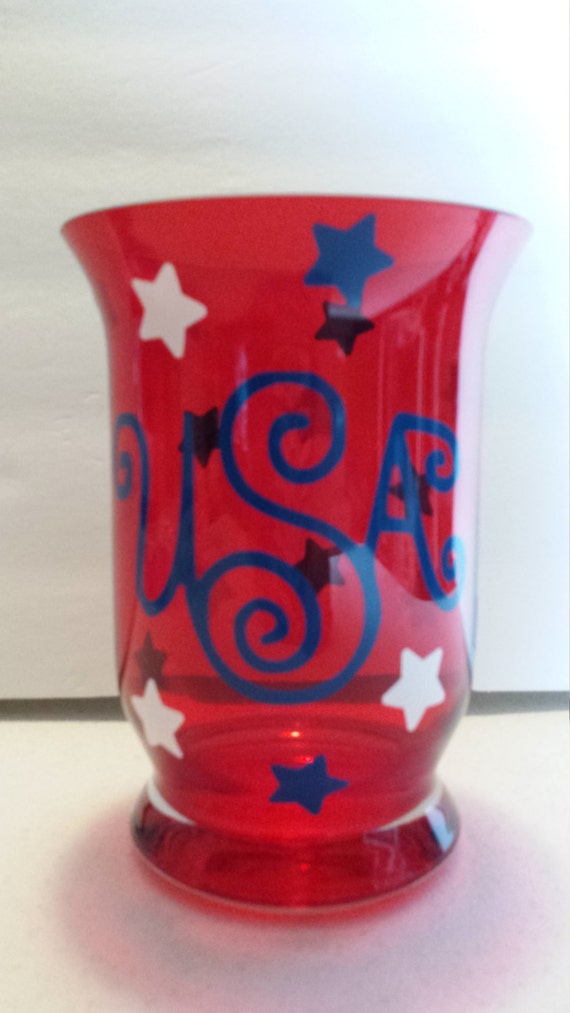 Red Glass USA Fourth of July Vase or CandleHolder
Pretty, red glass vase or candle holder is covered in blue and white stars. On the front is USA in blue. This pieces is suitable for regular of flameless candles. It measures approx. 6" tall x 4 1/2" across the rim.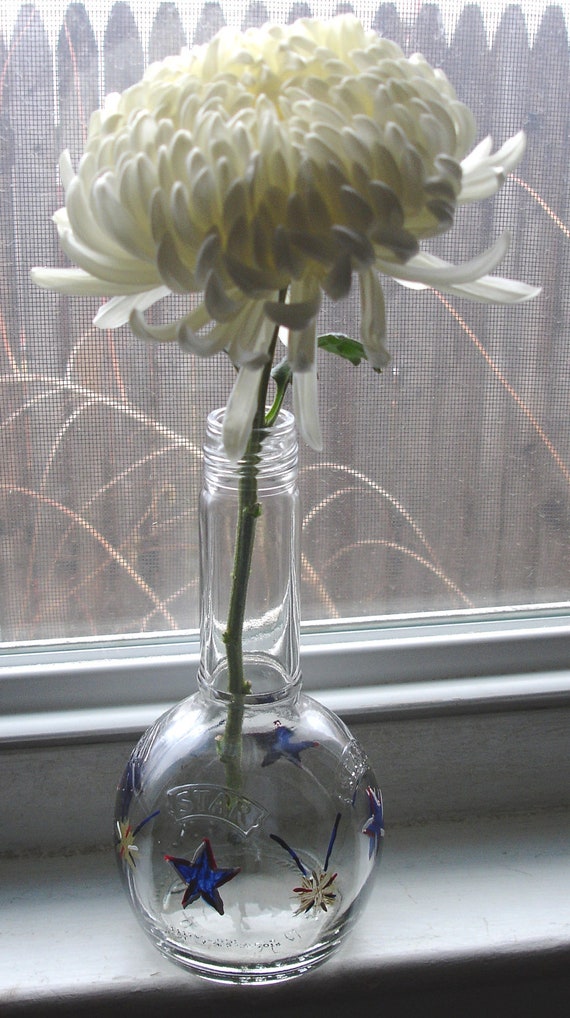 Hand painted bud vase - Stars all american
This upcycled vinegar bottle has been transformed into an all-American bud vase. The vinegar brand is "star" which is what inspired the star and firework design. Painted with glass paint in a heavy brushstroke (impasto technique), this vase can be hand washed and has a height of 7-1/4" and diameter of 3-1/2".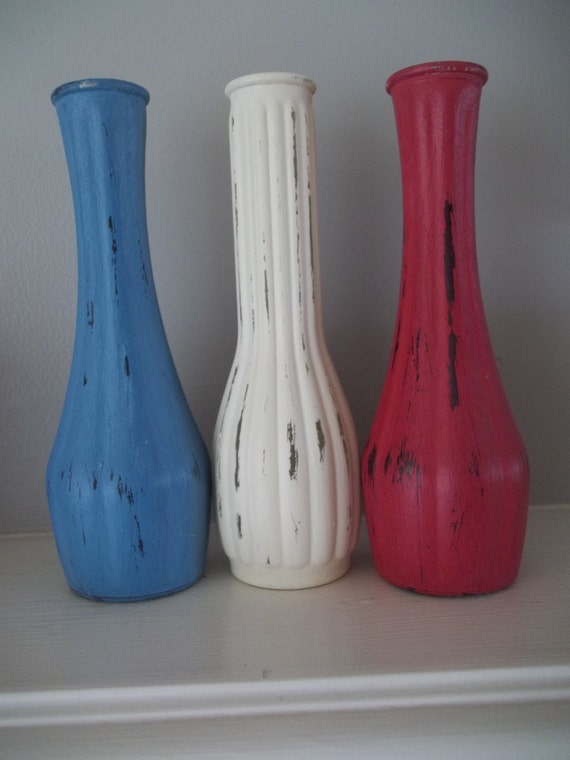 Americana Painted Vase Set of 3 Red, White, & Blue
Upcycled glass florist vases painted with chalk paint in Americana colors of red, white, and blue. After painting, bottles are distressed and sealed. Vases measure 9" tall. Perfect for summer holiday decorating, indoors or out! Do not immerse outside of vase in water, simply wipe clean.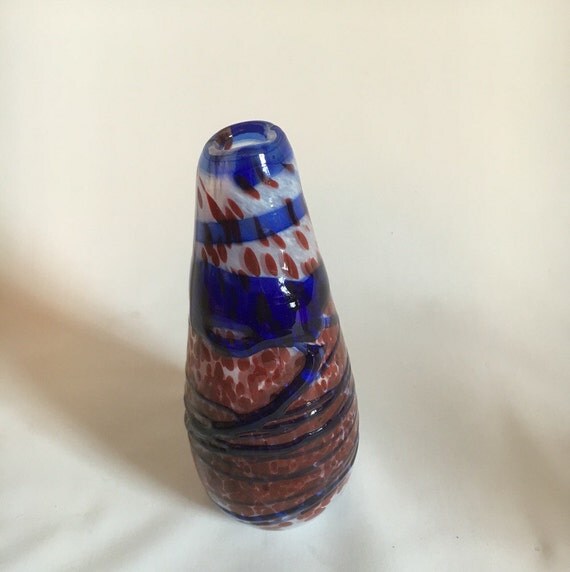 Red, White and Blue hand-blown glass Bud Vase
A simple and colorful bud vase- fill with a stem or two of your favorite blossom, or display as is to add a touch of color to any space. Handmade, never to be repeated pattern created by a student glassblower in Hampton Roads, VA. 7" tall, 2.5" wide Hand wash recommended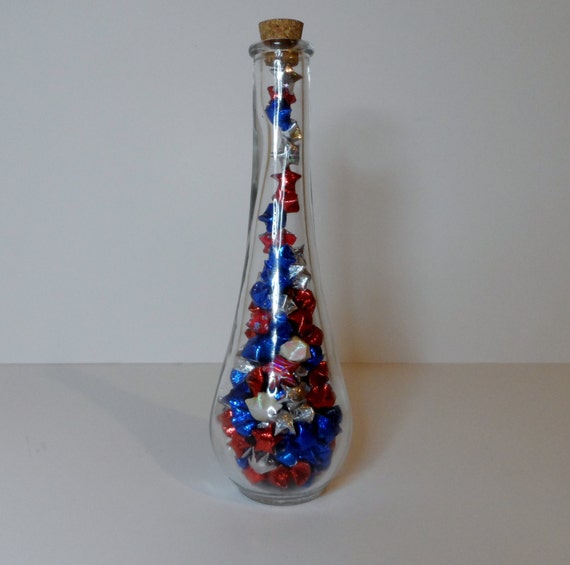 Patriotic Lucky Star Vase
Perfect for decorating a restaurant, business counter, or even at the home! Very patriotic and can be set out year-round of during holidays such as Independence Day, Patriot Day, Memorial Day, or even Labor Day! Show your patriotic side in a very unique way Contains: 134 Hand-folded Red, White, Silver, & Blue Lucky Stars inside a glass vase! Measures 2.5" x 7"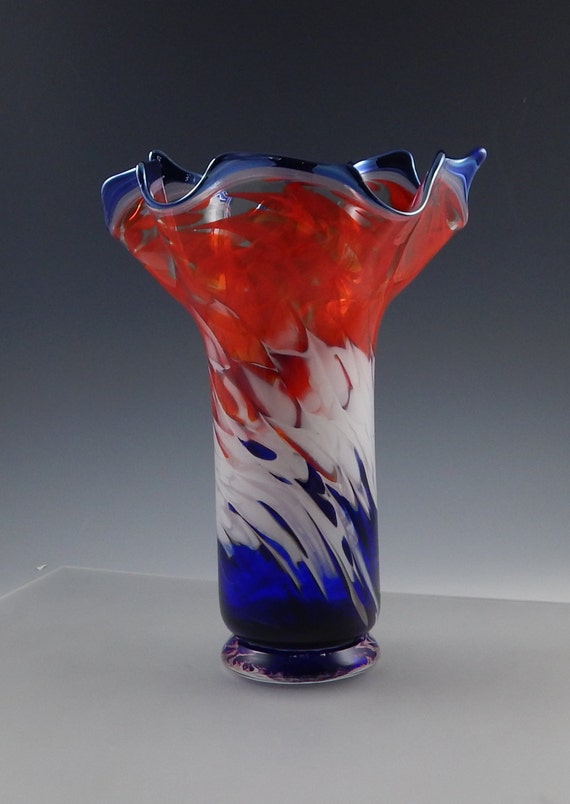 Hand Blown Fluted Cylinder Vase "Patriotic"
Hand Blown in the Pacific Northwest. This vase measures ~ 12"h x 4" dia. at the base, 6.5 "dia. +/ at the top. Optic marbled Red, White, and Blue~~ make this piece stunning when the sunlight shines through the piece.