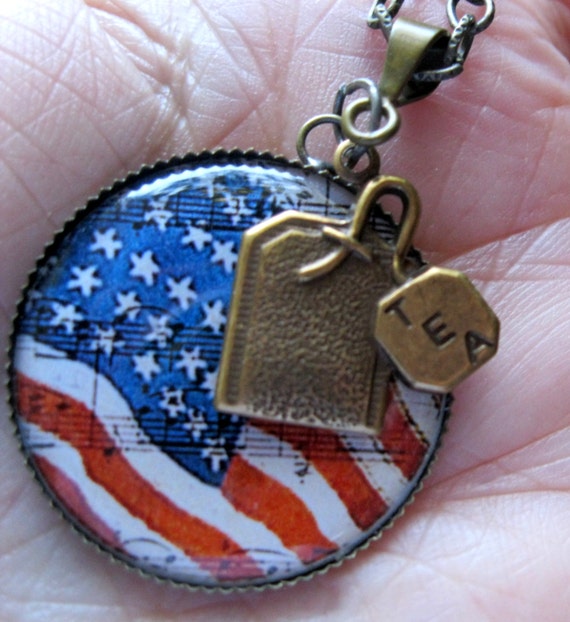 AMERICAN Flag Image with tea bag charm - inch round.
Flag image is set in an inch round brass setting, beneath resin, and suspended on ox brass chain with a lobster claw clasp. Cute brass tea bag charm stamping. The image has musical notes superimposed. 18 inch chain.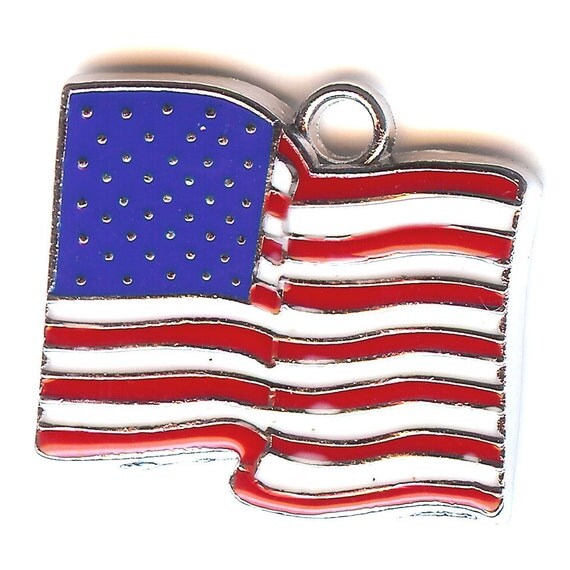 ONE - Silver Plated Enamel Charm. One Sided Waving AMERICAN FLAG. Symbol.
Material: Silver Plated Lead free Zinc alloy. Manufacture: Cast then enameled. Size: 3/4 inches wide 3/4 inch tall (Approx 20mm x 20mm) Condition: New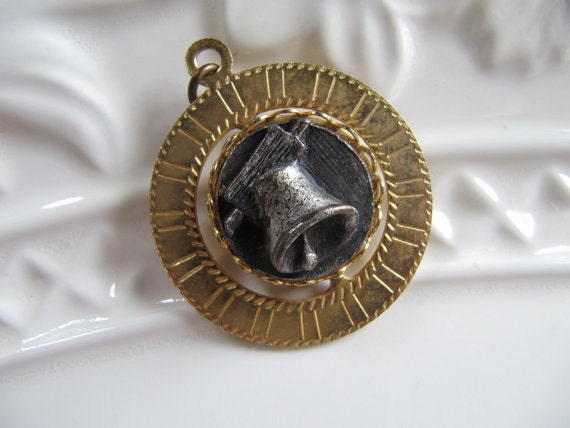 Vintage Pendant Charm
Here is a vintage pendant charm that swivels in the middle. One side has the Liberty Bell and the other 1776. The outside is gold tone metal and the center is silver tone. There is some wear on the bell and numbers but it could be polished up. This would be great for re-purposing. Quantity: 1 Pendant Material: Metal Size: Pendant: 1-7/8 inch Style: Swivel Gold and Silver Tone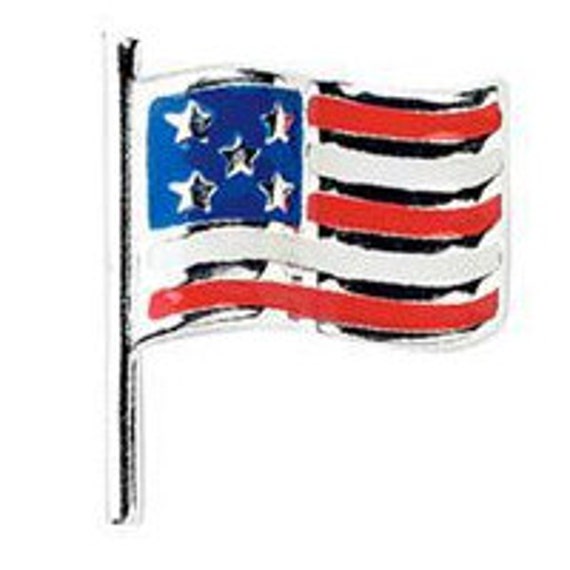 FLOATING CHARMS - Waving Flag Charm
For Floating Lockets Size: 5mm Style: Waving Flag Lead & Nickel Free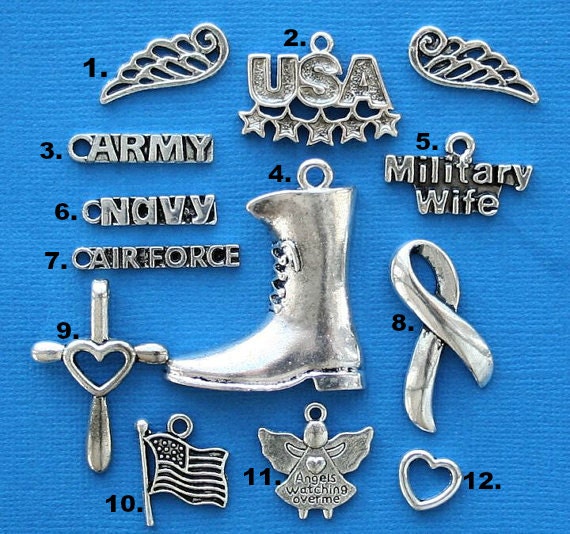 Wire Adjustable Bangle "Military" themed charm bracelet
Adjustable Wire Bangle Charm Bracelet. This is a one of a kind Military themed charm bracelet. It includes your choice of (2) charms, and your choice of (1) Swarvoski Crystal Channel Drop Birthstone Charms. NOTE: When ordering, please make your selections of the first charm and crystal in the drop down box provided, then be sure to write in the comments section of the order your choice of the second charm.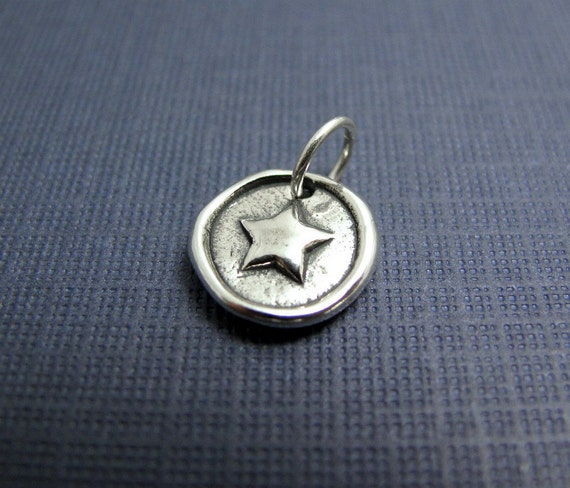 star shine sterling silver charm
At birth your wholeness was like a star shining in the night sky. Your luminous nature is just waiting for your heart to shatter into shimmering galaxies of light and love. Wear a twinkling star and let your brilliance shine forevermore. This star charm was sculpted by me and then hand cast by an American master craftsman. Each star charm is made of 100% recycled sterling silver, approximately 3/8" (11mm) in diameter, and antiqued and polished to produce a gently aged patina. As shown in the photo, this charm comes with an unsoldered 6mm jump ring attached ready for slipping onto your favorite keepsake necklace or bracelet.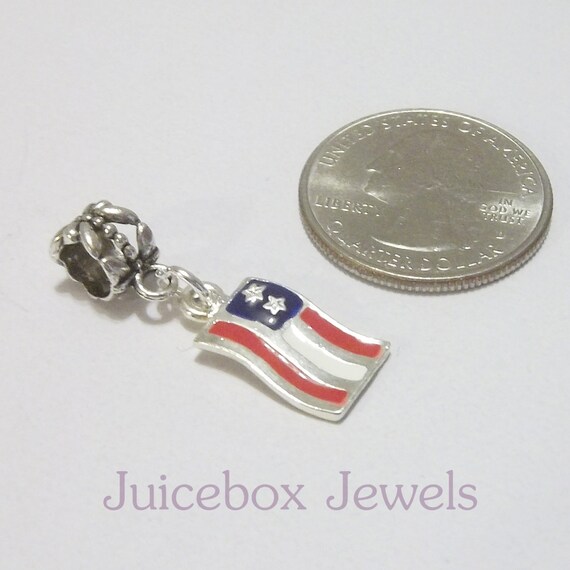 American Flag, USA
This is unbranded but compatible with the majority of European Charm Bracelets. Quantity: 1 Metal: Silver Plated Alloy Enamel American Flag Dangle Bead (one sided) Large Hole : at least 5 mm Handcrafted Also can be used as a Necklace Pendant, or Add a bead bracelets.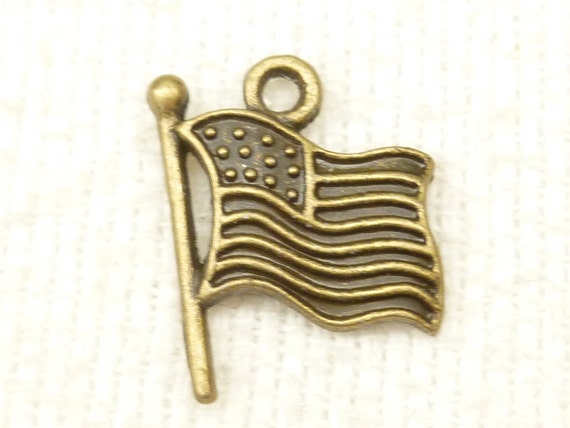 American Flag Charms, Antique Bronze (8) - A34
Simple and beautiful American Flag charms Size: approx 18x15mm Quantity: 8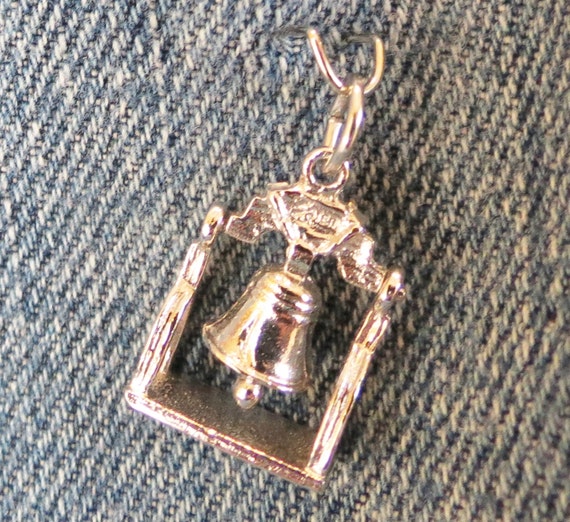 Sterling Swinging Liberty Bell Charm
Great movable charm, Sterling Liberty Bell, great quality. Clearly marked STER Measures 3/4" x 1/2" x 1/4" Thank you for shopping on Cloud 9, where Dreams Come True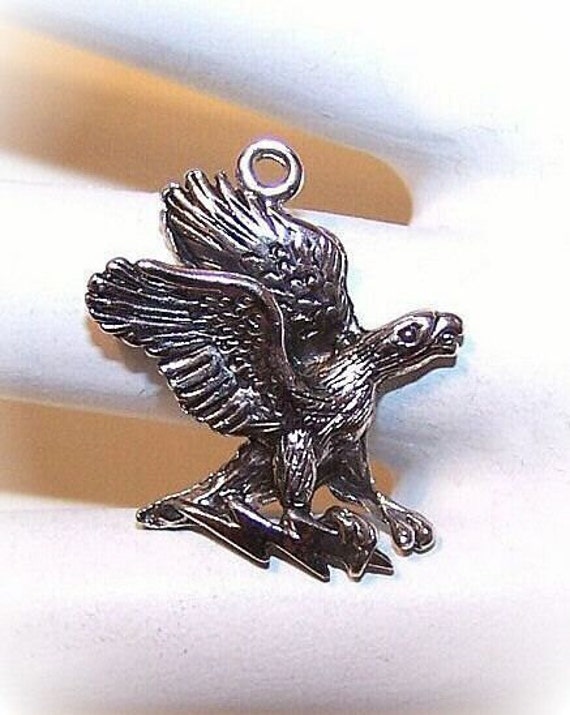 Vintage STERLING SILVER Charm - 3D Eagle with Lightning Bolt in Claws
Welcome to my improved ETSY shop! I'm ROBINS NEST MIDWEST and I want my Buyers to visit often! May I offer… AGE: C.1970 or so ITEM: A silver charm in the shape of an Eagle with a lightning bolt in its claws.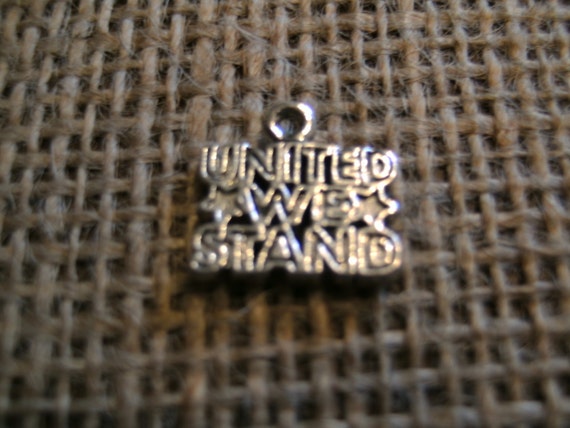 United We Stand charms
You are purchasing 6 United We Stand charms.They are very detailed. Around 1 inch in size. Would be great for making jewelry. Earrings, bracelets and necklaces. Great for scrapbooking !!!! You will receive 6 charms as pictured. Receive a charming surprise with each purchase!!!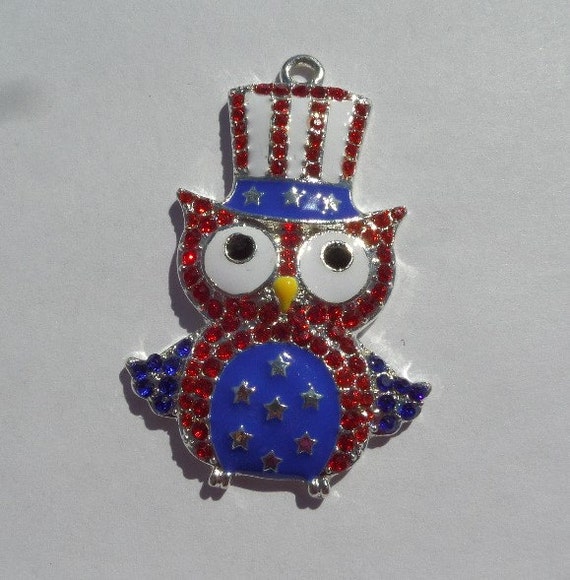 48mm*35mm Red, White and Blue Patriotic Owl Rhinestone and Enamel Pendant
48mm*35mm Red, White and Blue Patriotic Owl Rhinestone and Enamel Pendant, Statement Piece, Red, white and blue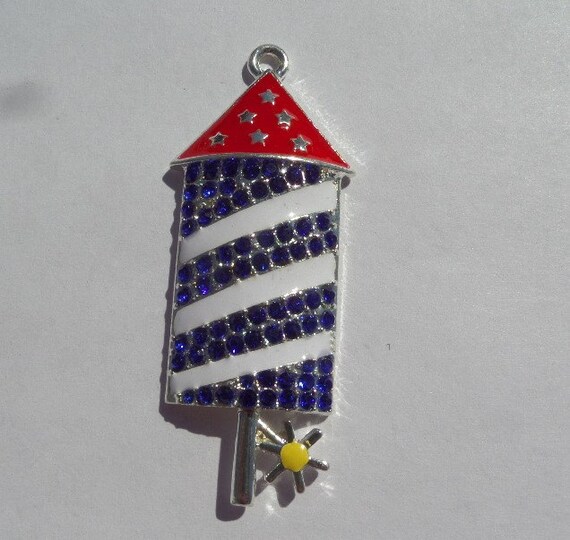 4mm*21mm Red, White and Blue Fireworks, Fire Cracker, Sparkler, Rocket
54mm*21mm Red, White and Blue Fireworks, Fire Cracker, Sparkler, Rocket. Rhinestone and Enamel Pendant, Statement Piece, Red, white and blue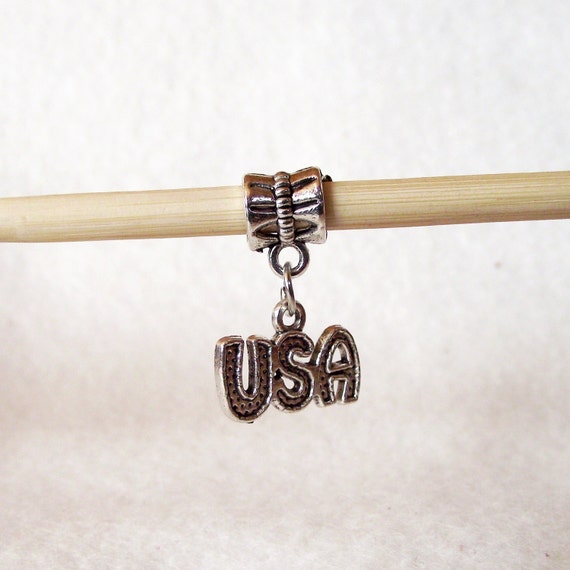 USA Charm Pendant in Antique Silver-Tone For European Charm Bracelets
Awesome USA charm pendant in antique silver-tone. Great for a 4th of July bracelet or to wear every day. Fits European charm bracelets. Material: Zinc Metal Alloy (Lead and Nickel Safe) Size: Approximately 15mm x 18mm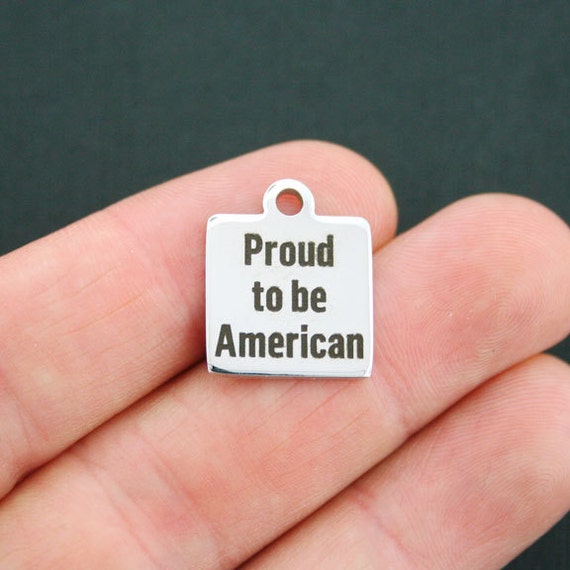 Proud to be American Charm Polished Stainless Steel
mportant Notice: Although we will make every effort to ship your order within 1-2 working days, any orders including a number of laser charms may take 3-4 business days to produce, as they are custom made to order. Please convo us if you have any questions! Thank you so much for your patience and understanding. These thoughtful "Proud to be American" charms are from our new exclusive line, specially designed for Bohemian Findings.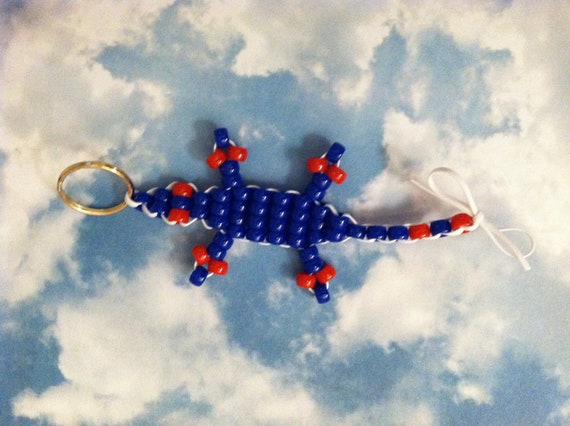 In Honor of America - Small "Lucky Lizard" With a Blue Body, Red Eyes and Accents & White Craft Lace
This handmade one-of-a-kind "LUCKY LIZARD" is based on a true story, a copy of which will accompany your purchase. (It is also below for your reading pleasure!) It is this TRUE STORY that makes "LUCKY LIZARDS," handmade by Caryn "CJ" Jaffe, incredibly special. Some people use it as a key chain; some people hang it on their ID tag at work; Kids love to use it as zipper pulls on their favorite back pack (Adult athletes have been known to hang them on their gym bags!) (Adult fashionistas will put them on the zippers of their purses!); Some people hang it from the rear view mirror of their car; others hang it on their wall or over their desk for good luck. I have one hanging from my bike to remind me of the power it once brought a sick boy as I ride the 112 mile cycling segment of the Ironman Triathlon; One man keeps it in his clothing drawer to ward off the cancer that once plagued him; I have friends who use them to cheer up friends, family, and colleagues when they are having a rough day. So really - There is no limit to what you can do with your "LUCKY LIZARD!"
Go To
4th of July Jewelry Charms Page ONE
Go To
4th of July Jewelry Charms Page TWO
Go To
4th of July Jewelry Charms Page THREE
Go To
4th of July Jewelry Charms Page FOUR