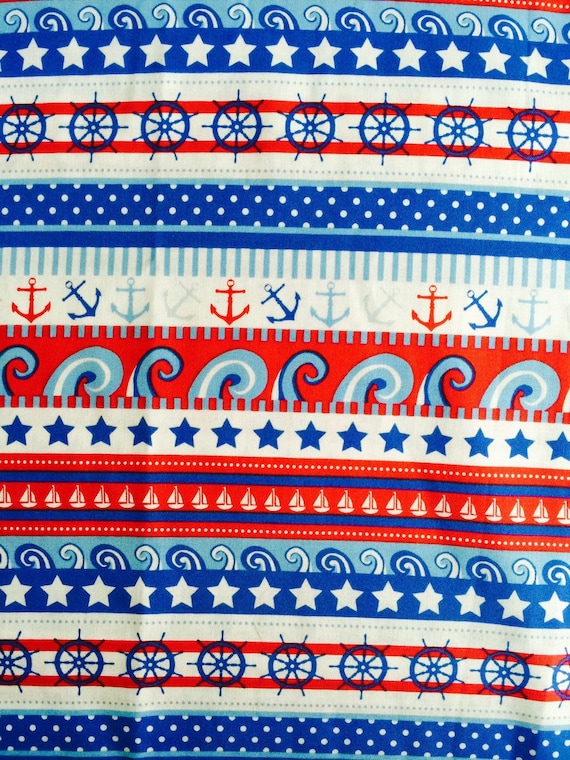 Red, White Blue Anchor Nautical Patriotic Fabric Fabric by the Yard Fat Quarter Yardage Half Yard
Patriotic Anchor Nautical fabric. 100% cotton fabric perfect for quilting, apparel, pillows, valances and crafts. All fabrics are 44 inches wide and come from a 100% smoke free environment. Machine wash warm. Tumble Dry.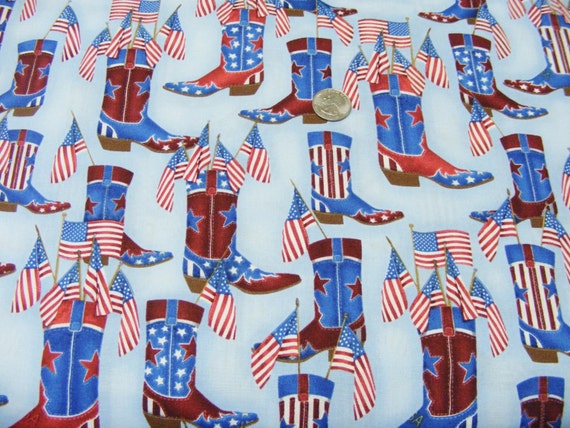 Robert Kaufman red white & blue fabric by the 1/2 yd western cowboy boots with flags patriotic Mary Lake
Robert Kaufman's, "Red White & Blue Americana" fabric collection by designer Mary Lake. This fabric is retired and no longer in print. The medium size print has patriotic cowboy boots with the American Flags and stars and stripes. The boots and flags are in shades of red white and blue on a sky blue background. Although we try our best to get actual colors in our photos, the colors may vary with individual monitors which is beyond our control. This fabric is sold by the 1/2 yard lengths. Any purchase over 1 will be cut in a continuous length. 100% quality cotton New & cut from the bolt Smoke free shop. Width 44/44"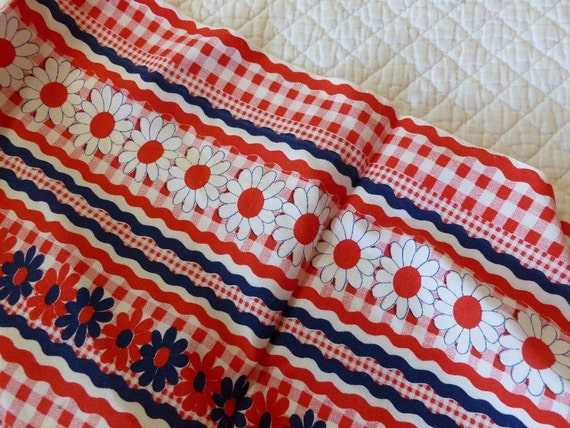 Vintage Fabric Striped Daisy Ric Rac Red White and Blue 84" x 24"
Vintage fabric in a striped pattern of daisies, red gingham checks, and ric rac. 84" x 24". Most likely from the 1970's. Feels like cotton. Beautiful bright colors of red, white ans dark blue. This fabric has lots of possibilities-----cut out the different "stripes" and use them for trim, straps on a dress, ruffles, etc. Fabric was probably 45" wide originally, but was cut in half leaving a 24" width.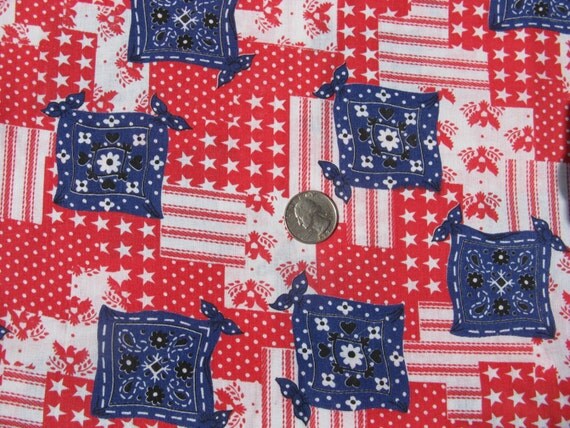 vintage red white and blue fabric cotton 4th of july patriotic 60s kitsch 2 yards sewing quilting early american
very patriotic.very 60s kitsch. measures 2 yards and 1 inch long and 44 1/2 inches wide. long edges are selvaged. very clean and fresh. no holes or tears. would make cute dresses for little girls.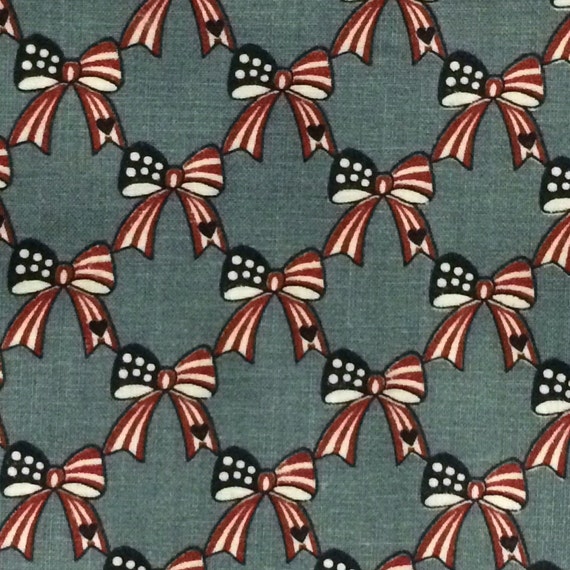 Patriotic American Cotton Fabric
Blue gray background with red, white and blue bows! The Country Homespun Collection Weilwood Industries Inc. Carolyn Carpin This listing is for approximately 1 1/2 yards by 44/45.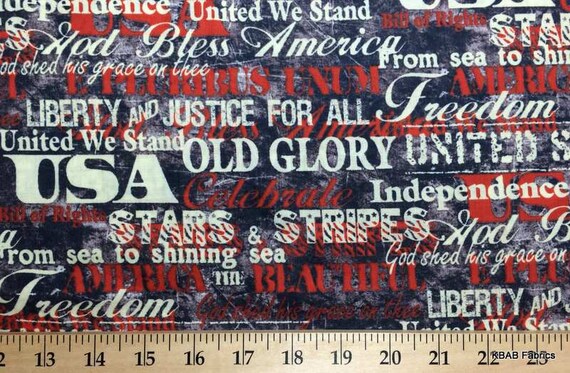 PATRIOTIC WORDS Fabric By the Yard, Half, Fat Quarter Old Glory USA Stars
ATTENTION: Some listings may show finished items shown in the print that is for sale - usually taken outside with better lighting - showing more accurate colors. The finished item is NOT for sale on this page - just gives an example of item sewn in this particular print. This sale is for the fabric ONLY - for you to make your own creation with this beautiful cotton fabric. USES: apparel, quilting, general crafts and sewing, home decor projects and clothing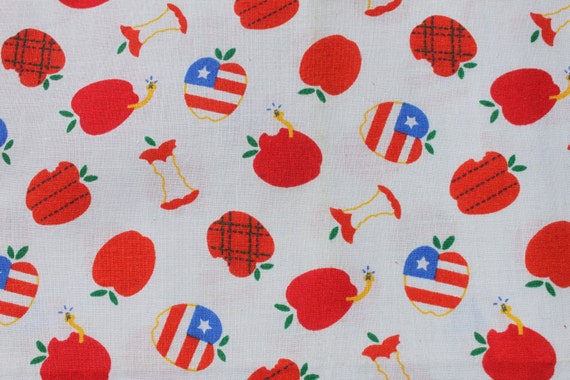 Vintage American Flag Apple Cotton Fabric Red White Blue 4th of July
You may still browse my Super cute vintage fabric with red apples and american flag on a white background. Material appears to be a light cotton blend. Perfect for aprons, pot holders, curtains,making doll clothes, crafting, quilting or various sewing projects. This is in vintage unused condition, 1 yard x 44"W.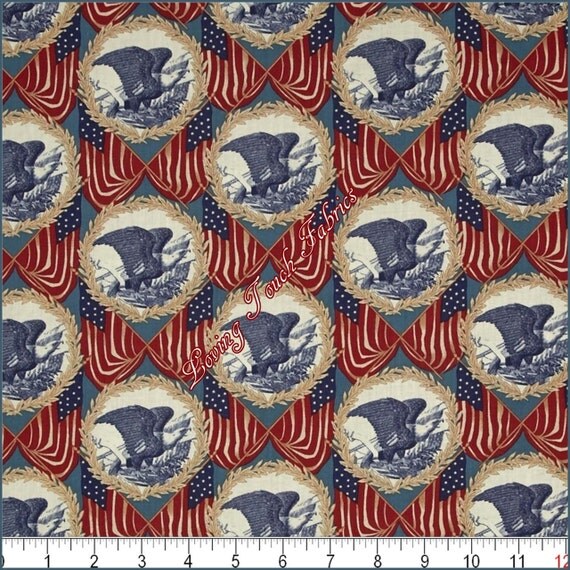 Windham "Let Freedom Ring" #40947 Patriotic Eagles US Flags Cotton Fabric 1/2 Yd. 18" x 44"
THIS FABRIC IS PRICED PER 1/2 YARD (18" X 44"). WHEN MORE THAN 1/2 YARD IS PURCHASED THE FABRIC WILL BE CUT IN ONE CONTINUOUS PIECE FROM THE BOLT WHEN POSSIBLE. THE CIRCLES MEASURE APPROX. 3" ACROSS. THIS MEASUREMENT INCLUDES THE RING OF LEAVES AROUND THE CIRCLE. MANUFACTURER: WINDHAM FABRICS / "LET FREEDOM RING" SERIES COLORS: SHADES OF BLUE, CREAM AND RED.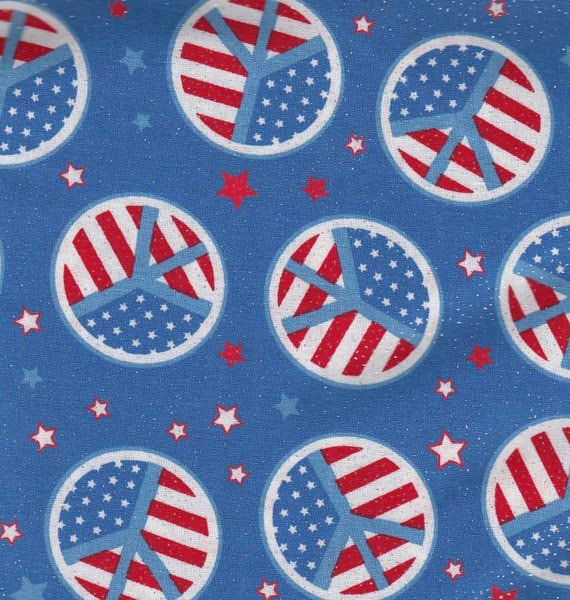 Eustheelf Sale Sparkly 4th of July Patriotic USA Peace Sign Flag Red White & Blue Cotton Quilt Fabric 85
100% Cotton 1/2 yards 18"x44" Jo-ann We do not cut the fabric until you order it so you will receive it in the length you need. I can get 8 yards of cotton in a flat rate envelope. Please contact me to insure we get you the best price for shipping.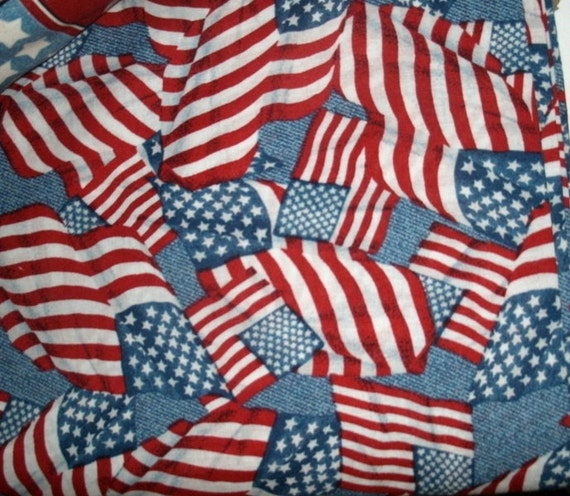 Patriotic Flags Cotton Fabric by the yard red white and blue 4th of July
This listing is for one yard of this patriotic fabric with the American Flag allover. It is a nice cotton great for quilts, blankets, bandanas, aprons, 4th of July celebrations, and so much more! This cotton is 44 inches wide.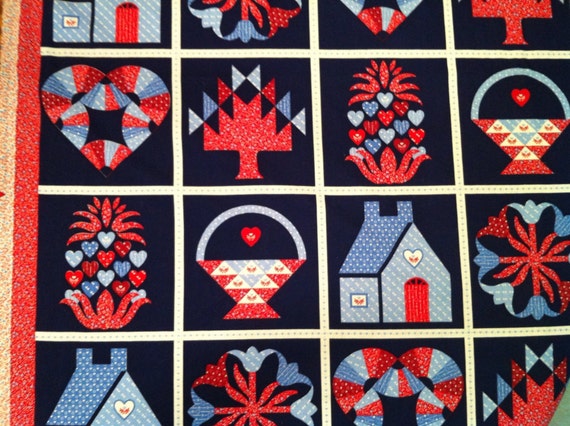 Cotton Fabric Patriotic Country Fabric
Fun Country Fabric from Spring Industries in Red, White and Blue! Each square is approximately 5 3/4 inches square. This listing is for over 2 yards by 44/45.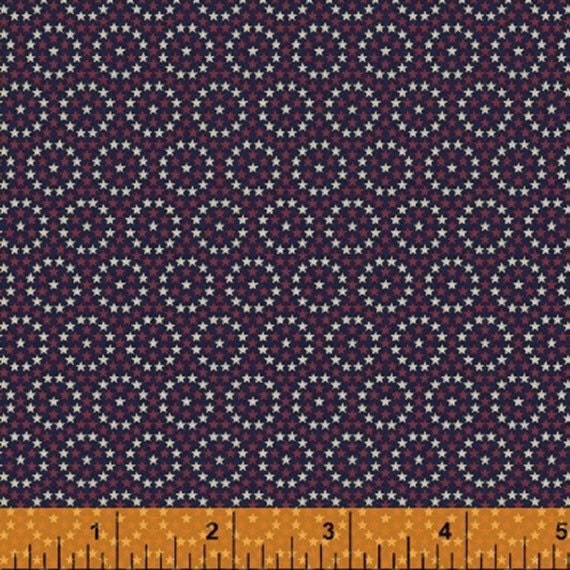 Half Yard Let Freedom Ring - Circle Stars in Navy Blue
Size - 1/2 YARD - approx. 18" x 44/45" Collection - LET FREEDOM RING Print - CIRCLE STARS Color - NAVY SKU - 40953-1 Maker - by NANCY GERE for WINDHAM FABRICS Type - 100% COTTON QUILT FABRIC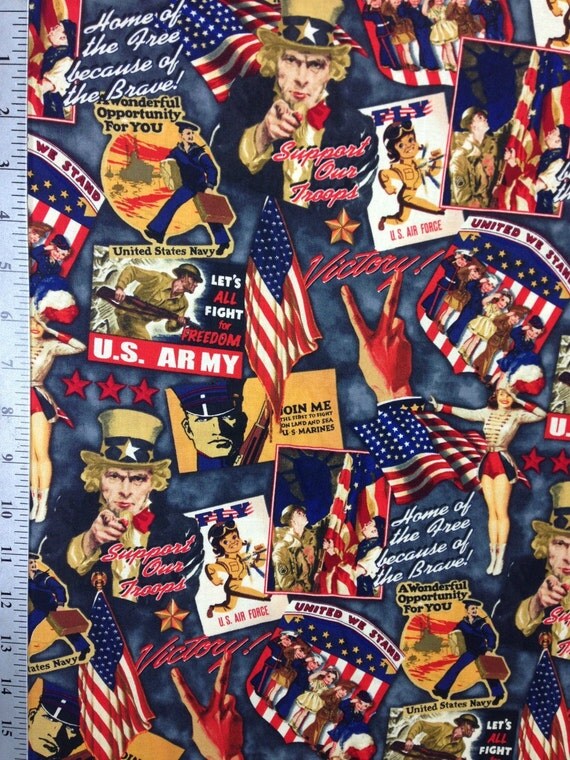 Cotton fabric by the yard
Patriots by Kate Ward Thacker for Next Day Art is a high quality cotton print featuring various patriotic themes like Uncle Sam and various recruitment posters for the US Army. See picture for details and scale. This listing is for one yard (36 inches) 100% cotton Approximately 44" wide Stored in a pet free and smoke free environment.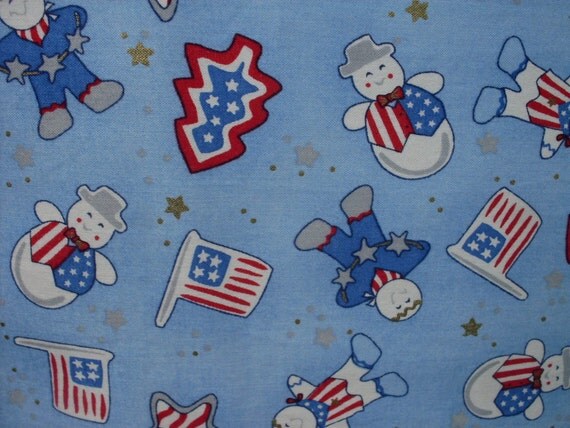 Patriotic Snowmen, Gingerbread Men, Flags, Stars, and Christmas Trees Fabric - BTY
Gingerbread men, snowmen, trees, flags, and stars sporting the red, white and blue scattered on a light blue background. There are gold and silver stars between the other items. The stars are gold & silver metallic. There is a single border that has red & white ribbon outlined with a metallic gold and in between the ribbons are gingerbread men (wearing a red, white, blue shirt/vest), stars with the American flag on it, a white/gold bow tie, and a white/silver bow tie. Approximate size: BTY x 42 inches wide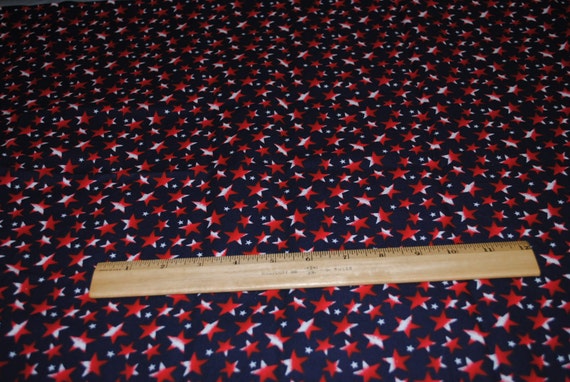 Patriotic Red, White and Blue Cotton Fabric 33" x 44"
This is a cotton patriotic fabric measuring a little over 1 yard. It features red/white stars on a navy blue background. This is new and unused cotton material, kept in clean and dry environment. If you have any questions, please contact our shop.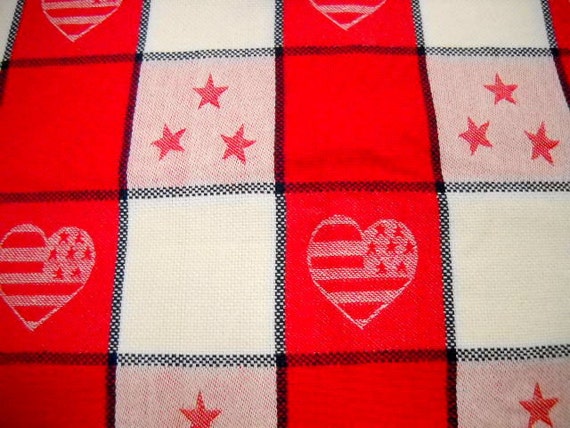 Red Plaid Fabric, 1 yard Remnant, Sewing Notions, Mystery Fabric
This remnant is woven with red, cream and black. The pattern includes stars and a flag design inside a heart shape. I found this at a local estate sale, with no information about the piece, so it is truly a Mystery fabric. It has a lovely soft feel, and drapes beautifully. I have just this one piece, measuring 1 yard long, by 46" wide.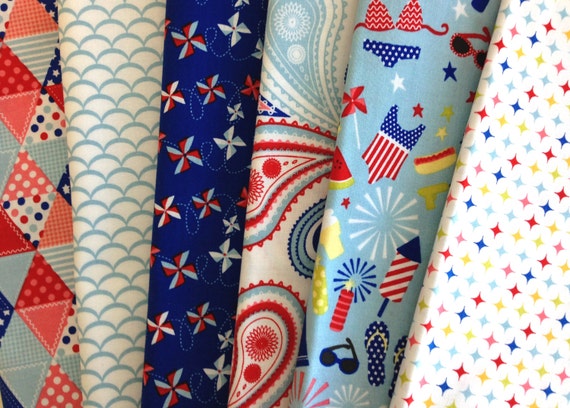 Summer a Collection By Riley Blake. Fabric Bundle
Six, 18"x44"/45" pieces of fabric from the "Summer" Collection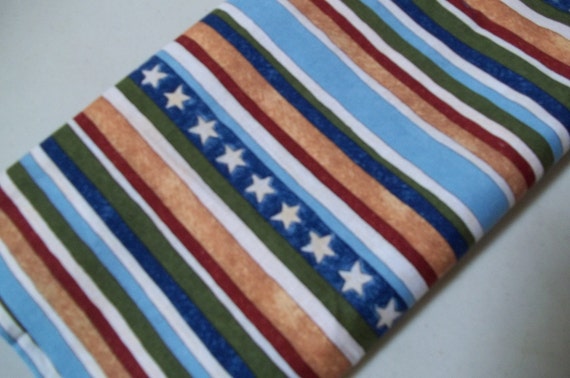 Fabric, Stars and Stripes Susan Winget Quilting Fabri
Stars and Stripes with a Southwestern flair cover this directional print fabric at Aunt B's Attic. Dark tan, cream, barn red, blue and olive green are featured on this cotton fabric by Susan Winget. 100% cotton 1 yard X 44 inches "Serve and Protect Stripe" by Susan Winget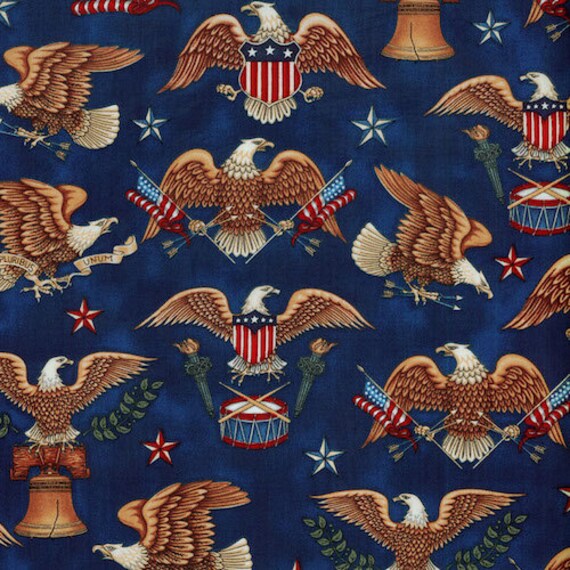 Fabrics Dan Morris Pride & Glory
The price is for one yard of premium 1st quality quilt-shop fabric. This fabric is 43/44 inches wide. This fabric is new, continuous on the bolt and stored in a smoke and pet-free workroom. Please see Policies page for shipping rates. Purchases are always combined for shipping discounts. Shipping overages are refunded.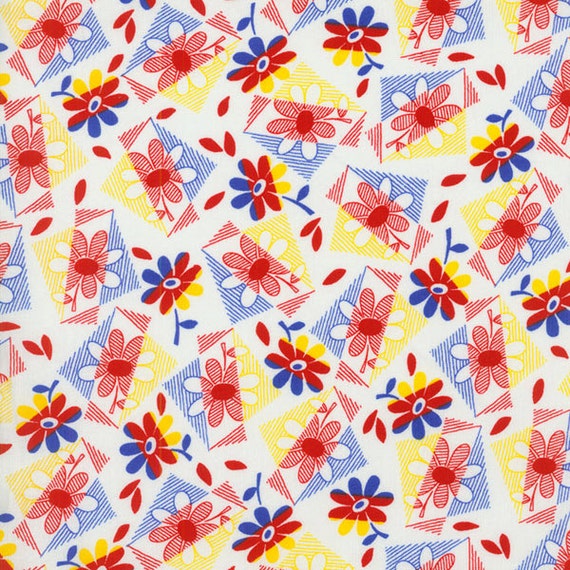 RJR Fabrics Yuko Hasegawa 1930's E.B.T.K.S IX 1578 01 by the Yard
The price is for one yard of premium 1st quality quilt-shop fabric. This fabric is 43/44 inches wide. This fabric is new, continuous on the bolt and stored in a smoke and pet-free workroom. Up to 9 yards can be shipped in a flat rate Priority Envelope, up to 20 yards in a medium flat rate Priority Box.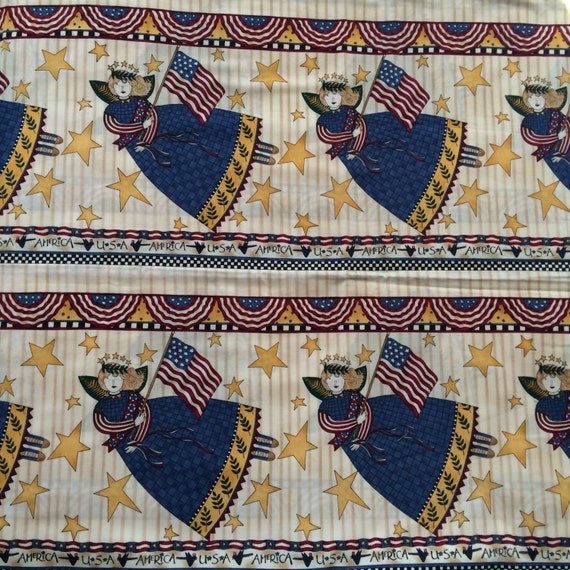 Debbie Mumm Prim Patriotic Angels US Flag Quilt 100% Cotton
100% Cotton 35" x 42" The Angel is about 7" at it's longest point.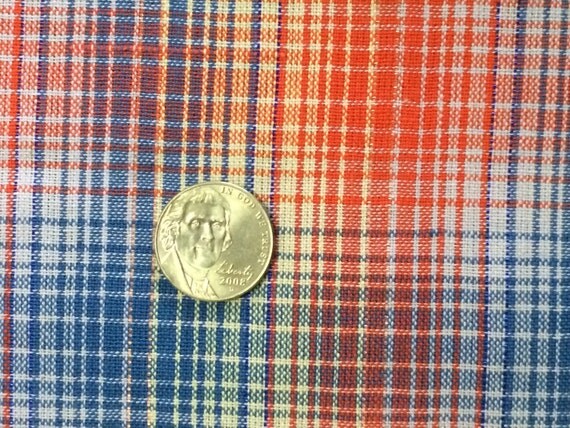 Patriotic Cotton Fabric Woven Red White and Blue Metallic 1 Yard
Plaid Patriotic Cotton Fabric, Red White and Blue! The white is not a bright white, but more of a vintage or off white. There are also red and blue metallic threads running through the plaid! This listing is for 1 yard by 44/45.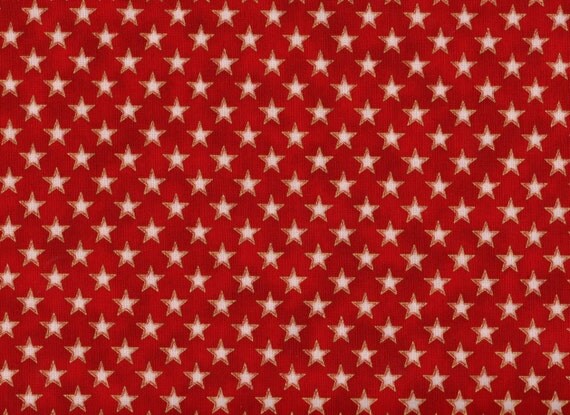 Gold Star Fabric, Red Star Fabric
Now offering 1/2 yard cuts... If you need more simply change the quantity when adding the fabric to your cart. I will cut as one continuous piece. Peoples House Robert Kaufman 100% Cotton D12045 1/2 yard (18" x 44/45") 01327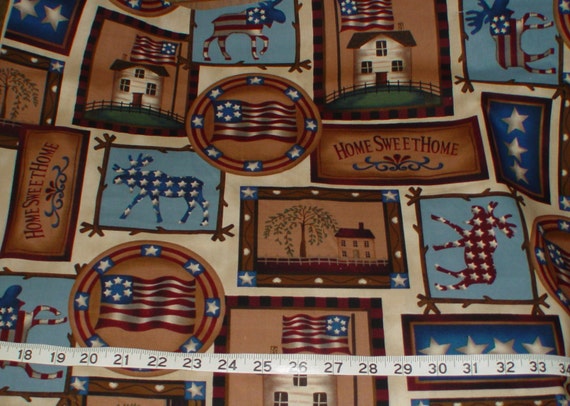 Home Sweet Home Americana Fabric - 2 yards
2 yards of Home Sweet Home cotton fabric. It has not been washed. Fabric measures approximately 72 x 44/45 inches.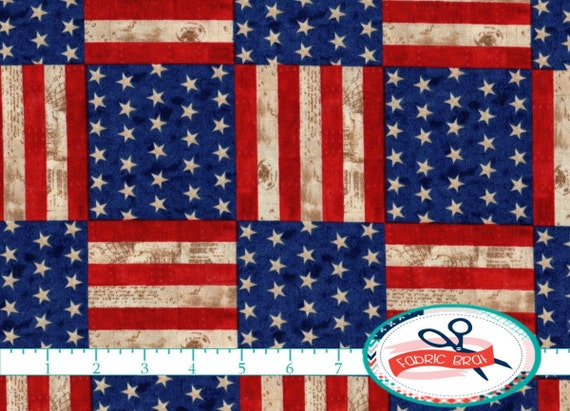 AMERICAN FLAG Fabric by the Yard, Fat Quarter 4th of July Fabric Red & Blue Fabric
AMERICAN FLAG FABRIC by the YARD, FAT QUARTER, OR HALF YARD - You Choose - FLAG PATCH RED & BLUE Fabric - Premium Quilting Fabric and Apparel Fabric, 100% Cotton Fabric! 44-45 inches wide, Woven Cotton Print Fabric. More yardage usually available by using the drop down quantity selector during the checkout!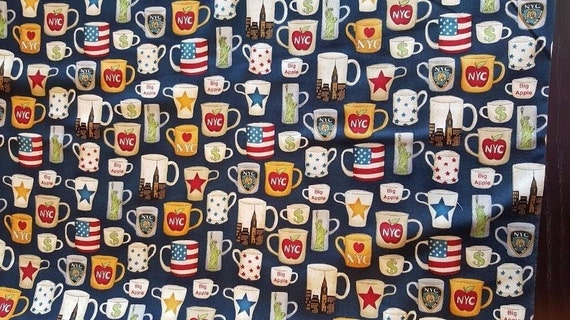 Coffee Cups on Navy Blue ~ Patriotic, Stars, US Flags
Patriotic Coffee Cups on Navy Blue with some of the most recognizable Landmarks in the US. Coffee cups are designed with the Statue of Liberty, US Flags, Stars, The Big Apple, NYC, NYCPD and more! A nice addition for a Quilt of Honor Makower UK, 100% Cotton Fun Novelty Print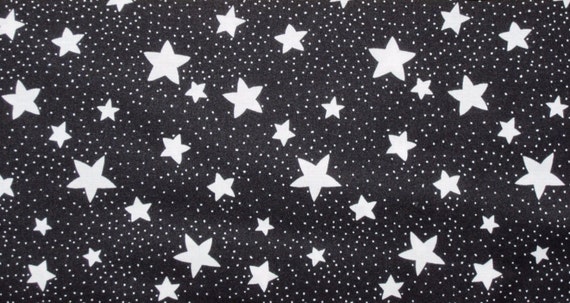 Star Fabric, Black and White ~ Starlight by Free Spirit Fabrics
Multi-sized white stars and tiny distant planets (dots) swirl in the night sky (across this black fabric)...perfect as a blender or accent fabric! Free Spirit Fabrics, 100% Quilting Cotton Sold by the Yard When purchasing more than 1 Yard, it will be cut as one continuous piece, unless the buyer requests additional cuts.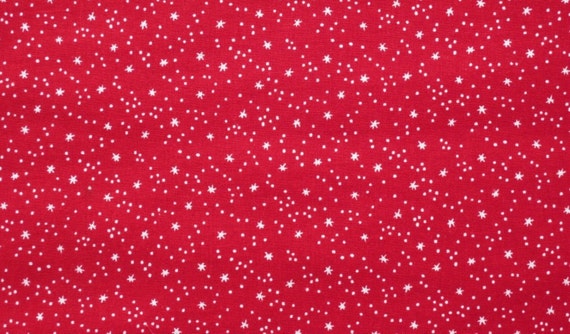 Star Fabric, Red and White ~ Starry Sky by AE Nathan Fabrics
Small white stars and tiny distant planets (dots) dance across this red fabric...perfect as a blender or accent fabric! A.E. Nathan 100% Quilt Shop Quality Cotton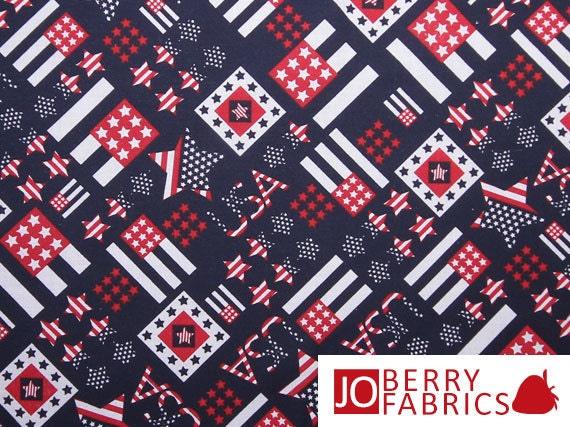 USA Fabric
This listing is for 1 yard of 100% Cotton Fabric, 42-44" wide. This is a very pretty print with USA, Flags and Stars on Navy. This is from the Patriotic Collection by Choice Fabrics. Make this part of your next Americana quilt or project. 30
Go To
4th of July Fabric Page ONE
Go To
4th of July Fabric Page TWO
Go To
4th of July Fabric Page THREE
Go To
4th of July Fabric Page FOUR
Go To
4th of July Fabric Page FIVE
Go To
4th of July Fabric Page SIX
Go To
4th of July Fabric Page SEVEN
Go To
4th of July Fabric Page EIGHT
Go To
4th of July Fabric Page NINE
Go To
4th of July Fabric Page ELEVEN
Go To
4th of July Fabric Page TWELVE
Go To
4th of July Fabric Page THIRTEEN
Go To
4th of July Fabric Page FOURTEEN
Go To
4th of July Fabric Page FIFTEEN
Go To
4th of July Fabric Page SIXTEEN
Go To
4th of July Fabric Page SEVENTEEN
Go To
4th of July Fabric Page EIGHTEEN
Go To
4th of July Fabric Page NINETEEN
Go To
4th of July Fabric Page TWENTY