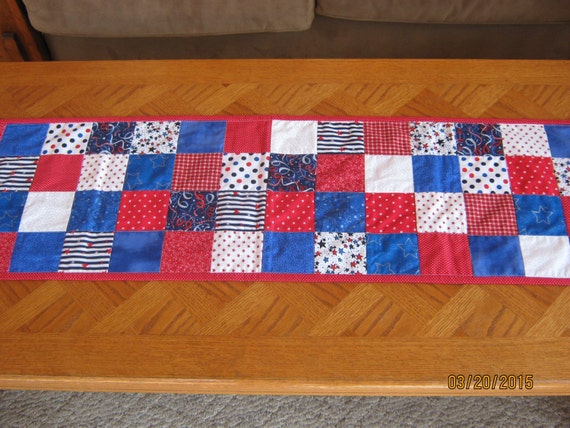 Patriotic Patchwork Table Runner
This table runner measures 12 ¼" by 41 ½ inches. Use it as a table runner for your dining room or kitchen table or island or coffee table. Flip it over for a completely different look. It can also be used as a wall hanging. It would look great draped over a chair or lay it on a dresser to add some patriotic flair to your room.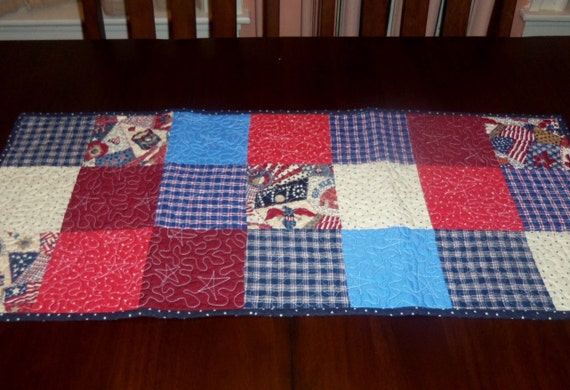 Quilted Table Runner, Handmade, 16x37 inches
Quilted Table Runner, Handmade, 16x37 inches, Americana, Patriotic, Table Topper, Machine Quilted Machine quilted in a stipple and star design. ♦ Great for country, rustic, primitive décor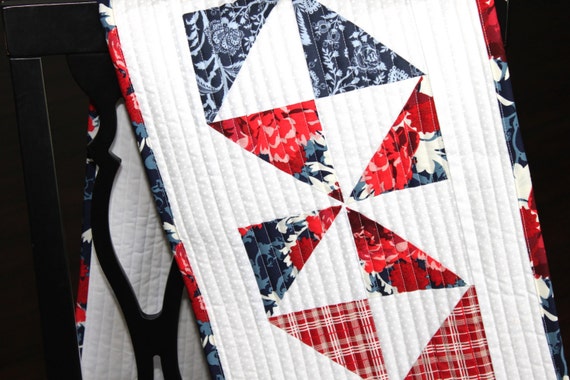 Summer Pinwheel Table Runner
Bring on summertime fun with this pinwheel table runner in navy, red, and white. 5 pieced pinwheels from designer fabrics have been quilted onto white on white dot fabric. All natural cotton fabric is in the center, white muslin on the back, and gorgeous floral printed binding. Runner measures 12.5" x 35"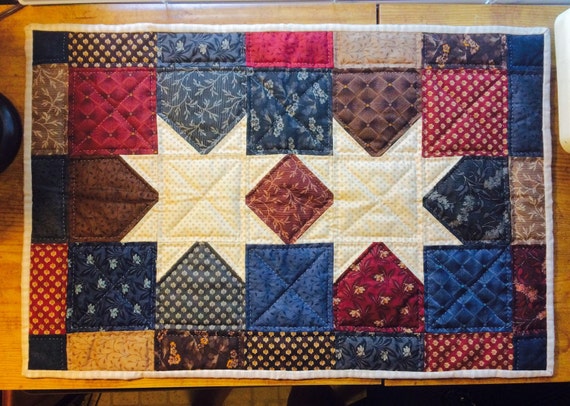 Primitive Star Quilted Table Runner
Add this little quilt to your primitive collection. It would look nice on a shelf or on the table with a candle or other small centerpiece. An original design I created while playing with this collection of 5" charm squares. This quilt was made from A civil war fabric collection. With a tan and white fabric plaid used for the backing and binding. shown in photo). Machine pieced then hand quilted by me! It measures 26" x 17.5".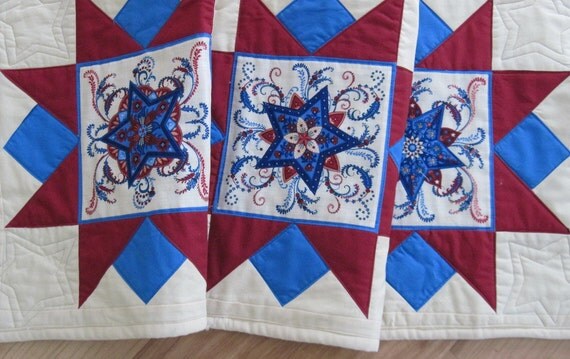 Quilted table runner Stars patriotic
A quilted table runner in patriotic red and blue stars on a cream background. Red, cream and blue machine pieced stars on a cream background. The center of the stars is a printed block "Sweet Land of Liberty " by Henry Glass fabrics. A very nice patriotic holiday runner, but pretty enough that it can be displayed all year. It is machine quilted around the pieced stars, and quilted stars in the borders. It measures 16 X 40 in. and is machine washable. Touch up with an iron to keep flat.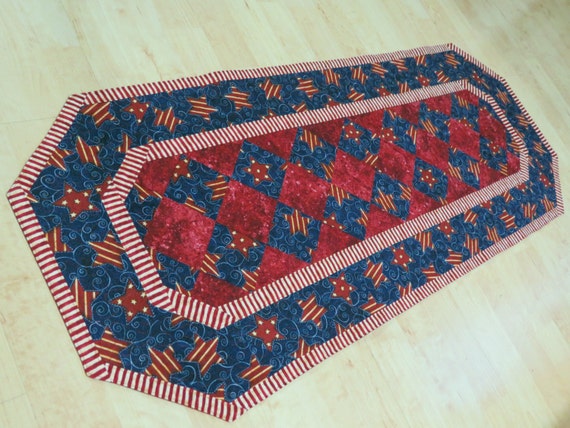 Quilted Table Runner Americana Patriotic 292 Stars & Stripe
Quilted table runner in quality patriotic fabrics which will make a beautiful addition to your Independence Day decor or anytime throughout the year. A red Stonehenge fabric by Northcott was used for the back of this beauty making it reversible for different tables in your home or office. * Measures 17" x 42.5".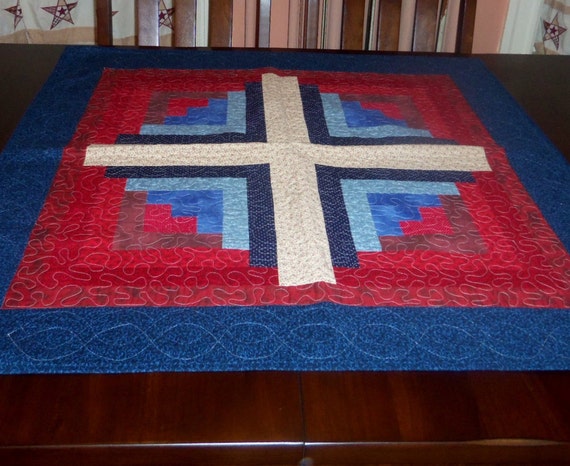 Quilted Americana Table Runner, Handmade, Patriotic
Quilted Americana Table Runner, Handmade, Patriotic, 35x35 inches, Square Table Topper, Log Cabin Block, Sale Priced, Machine Quilted ♦ Square quilts look stunning on round tables. ♦ Sorry I can not offer newly made items at these prices.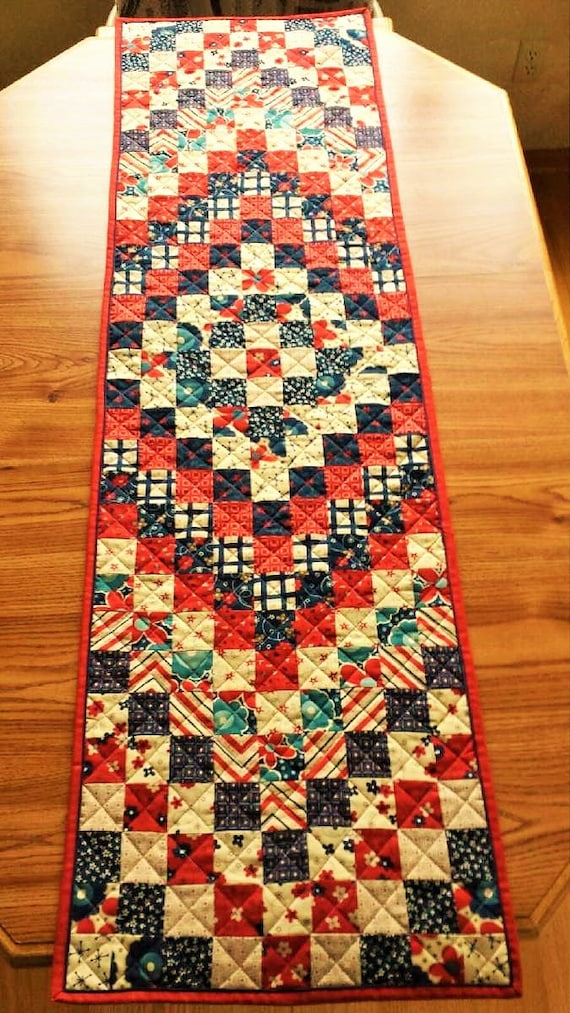 AMERICANA PATRIOTIC colors table runner decor'
QUILTED AMERICANA, PATRIOTIC, 4th OF JULY themed TABLE RUNNER or WALL HANGING quilt made from beautiful shades of Burnt RED, CREAMY WHITE AND NAVY BLUE fabrics BY Sandy Gervais line called ZIPPITY DOO DAH for MODA fabrics which is perfect for all the Patriotic seasons! Flowers, geographic prints, and stripes designs are found in the prints. Patriotic décor around your home can be displayed from Memorial Day in May, Flag Day in June, 4th of July all the way to Labor Day! AND for many year round among all your patriotic decor'. Also a GREAT Hostess gift! Use outdoors on the picnic table or on your front porch for the family gatherings or parties with friends. This rectangle table top quilt was machine sewn and quilted by me. This beauty is made from 100% quilter's quality cotton fabrics in shades of burnt red, navy blue and creamy white prints. I used 100% polyester batting which provides the middle layer of this quilt and is washable and non-allergenic. The back of the quilt also includes 100% cotton fabric. The quilt is machine quilted by me using Aurifil 100% cotton RED, WHITE & BLUE variegated thread to blend in. The binding is called MAGIC BINDING,is double folded and machine stitched on the back, folded over and machine stitched on the front. It is two toned in burnt red and navy blue. It's like putting a mat inside your picture frame. SIZE: 18" x 62" rectangle.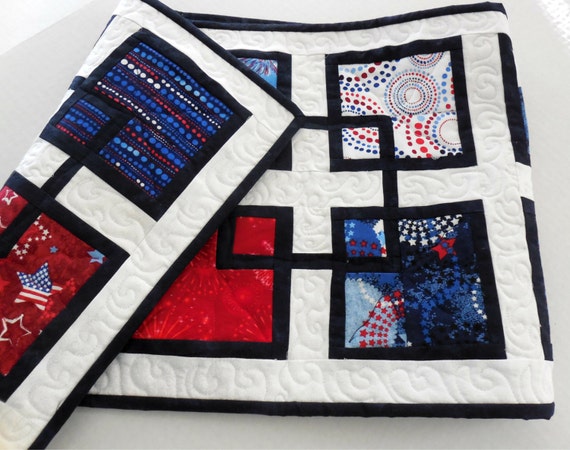 4th of July Table Runner-Reversible-Free Shipping to US and Canada
This lovely runner, will look great on your table for Memorial Day, the 4th of July, and Veterans Day. This lovely runner has a white on white swirl fabric for the background, with six different patriotic fabrics in the squares. The squares were framed with a navy blue fabric. On the back, is a navy and white flower print, giving you another look for your non-patriotic days. Between the layers is Warm and White quilt batting because it is the best. The quilting was done with threads in white, red and blue. Note that all those thread colors show on the back. The thread colors are very discreet but the red quilting does show on the back, although obscured by the floral print. The last picture shows a close up of the quilting. I quilted a fireworks like swirl on the patriotic prints and used my own swirls and curls design on the white fabric. All threads are 100 percent cotton. The binding is the same navy blue as in the framing. The binding was machine attached and hand sewn to the back. This is really a unique piece and is very pretty. Measures 13 inches wide and 38 inches long.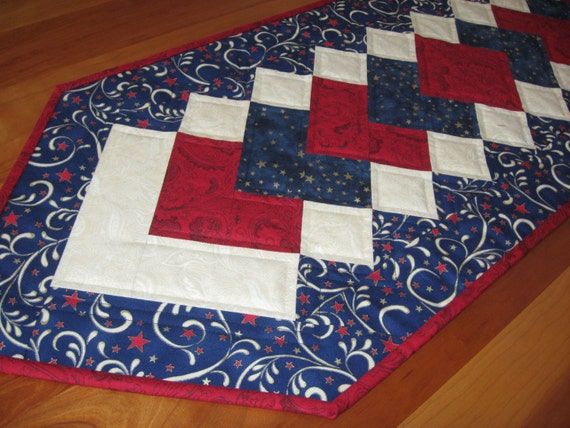 Quilted Table Runner, Red, Cream and Blue, Patriotic
Table Runner, Red, Cream and Blue – Patriotic 100% cotton fabrics, red, cream and blue. The backing fabric is a white patriotic print. The batting is 80% cotton / 20% poly and it is machine quilted with a straight stitch with red, cream and blue threads. The traditional double-fold binding is machine-stitched to the front and invisibly hand-stitched to the back. This runner measures 13" x 39.5". It can be used on any table including the coffee table to catch the remote. It can be machine washed in cold water and dried on medium. I take my quilts out of the dryer when still a little damp, and lie flat to dry thoroughly.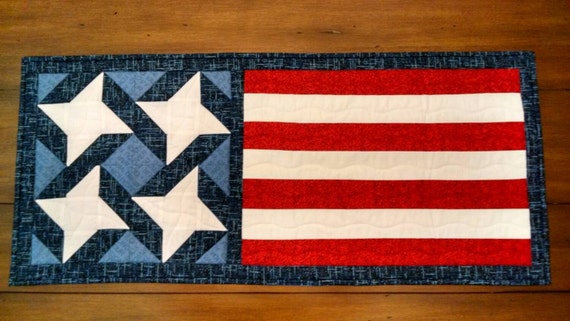 Let Freedom Ring Quilted Table Runner or Topper or Wall Hanging
Show your patriotism with this eye catching piece in traditional American colors. Four white friendship stars and seven alternating Red and white stripes come together with shades of blue making this a sure favorite all year long. I custom quilted it with red, white, and blue threads on my long arm quilting machine. The backing is a blue tone on tone fabric with words of appreciation to all of our Veterans! I bound it in the same blue fabric as on the front. I also attached a sleeve to hang it should you choose to. Measures: 15 1/2" x 35 1/2"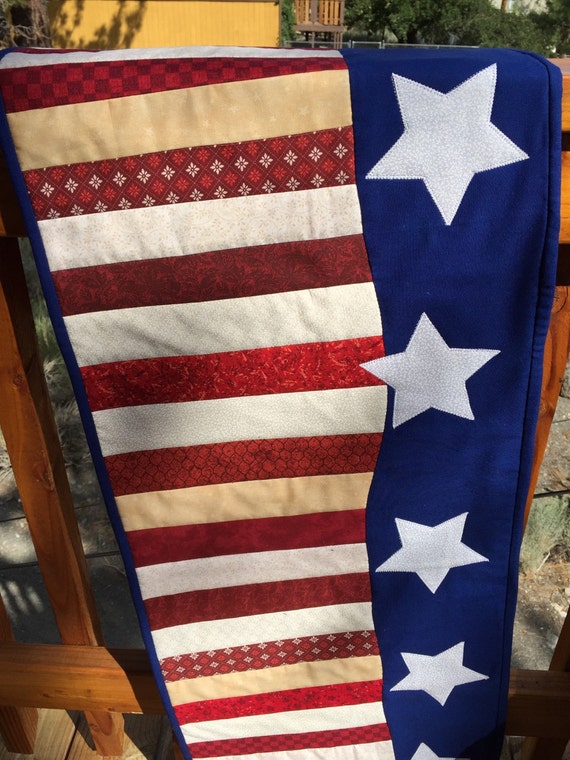 Patriotic Quilted Stars and Stripes Table/Bed Runner
This is a one-of-a-kind quilted runner that is long enough to cover a table as well as a twin size bed. I used 100% cotton fabrics with various patterns in red, white and blue, to create a stunning piece that will certainly be perfect to decorate your home for a perfect Fourth of July celebration, or any other patriotic festivities. It can also be used as a wall hanging. It was machine pieced and quilted using the quilt as you go technique, the white stars were appliqued and machine embroidered. All borders are hand stitched to ensure a perfect finish. Perfect colors to decorate your home for Summer and all the Patriotic holidays, also perfect as a gift. Measurements: 55"x 15.5"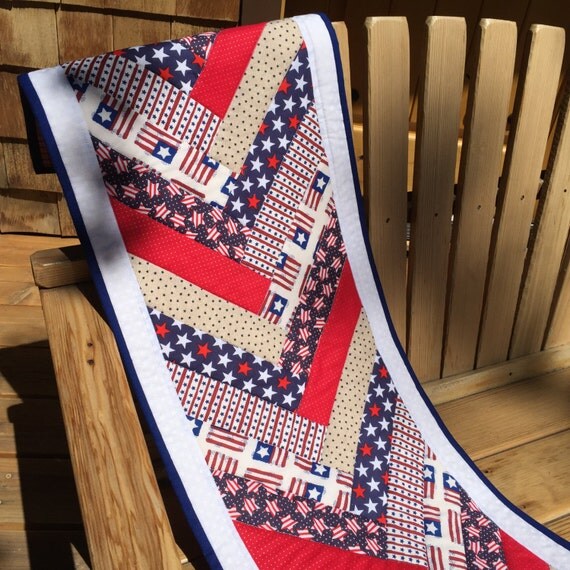 Patriotic Quilted Table Runner - Red White and Blue-
This is a one-of-a-kind quilted table runner with a modern, friendship braid pattern. I used 100% cotton fabrics with various patriotic designs, to create a stunning piece that will certainly be perfect to decorate your table for a perfect Fourth of July celebration. It was machine pieced and quilted using the stitch-in-the-ditch technique. All borders are hand stitched to ensure a perfect finish. Perfect colors to decorate your home for Summer and all the Patriotic holidays, also perfect as a gift. Measurements: 51" x 14.5"
Quilted Table Runner Holiday Fourth of July Memorial Day Red White and Blue Long
This table runner is machine quilted in 100% cotton material and batting sandwiched between. Stitched with Navy cotton thread. Strips of colors in Red, White and Blue prints. Sewed together and bordered in a Navy Blue and is backed with the same material. Stipple stitched to quilt the top, batting and backing together. This piece measures 15 1/4" wide and 43 1/4" long. This will add that Patriotic touch any room. Also great for that Fourth of July picnic or other holiday party or just because you love the Red, White and Blue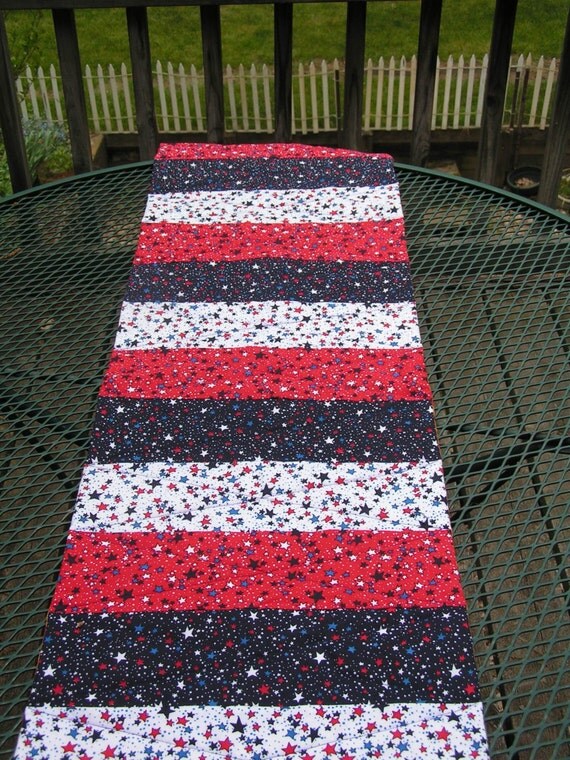 4th of July Red White & Blue Table Runner Reverses to Floral Print
This Red, White and Blue 4th of July table runner Reverses to a lovely floral and butterfly print which can be used for the balance of the year. This colorful and fun table runner measures a generous 13 1/2 x 47 " and would fabulous on your dining room table or across the picnic table for your special 4th of July party! I quilted the runner by quilting diagonally through each color creating a large X pattern.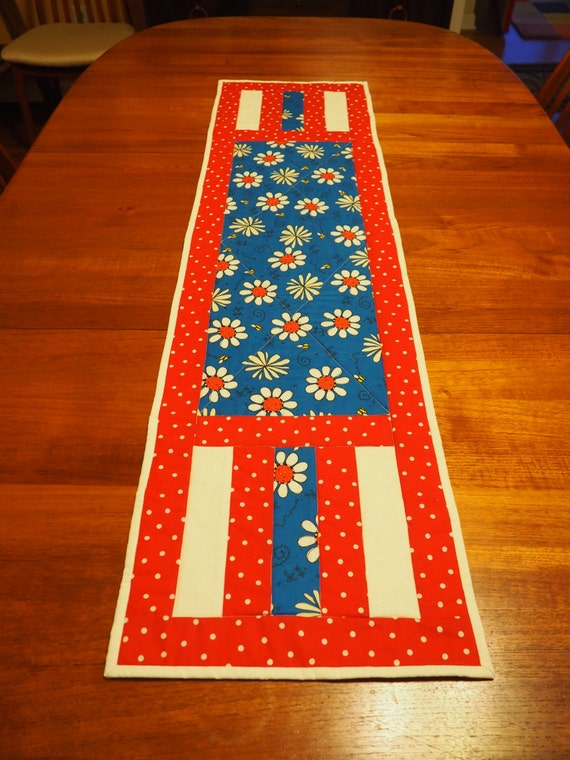 Red white and blue daisies table runner
This table runner is a personal favorite of mine. The color combination of red white and blue makes it perfect for your July 4th table. The cheerful daisies make it appropriate whenever you or your table need a pick me up. The back side is a red and white polka dot print. The runner is machine quilted, but I hand finished the binding. It measures approx. 13.25 inches by 35 inches. It is machine washable, gentle cycle, cold water. Dry low.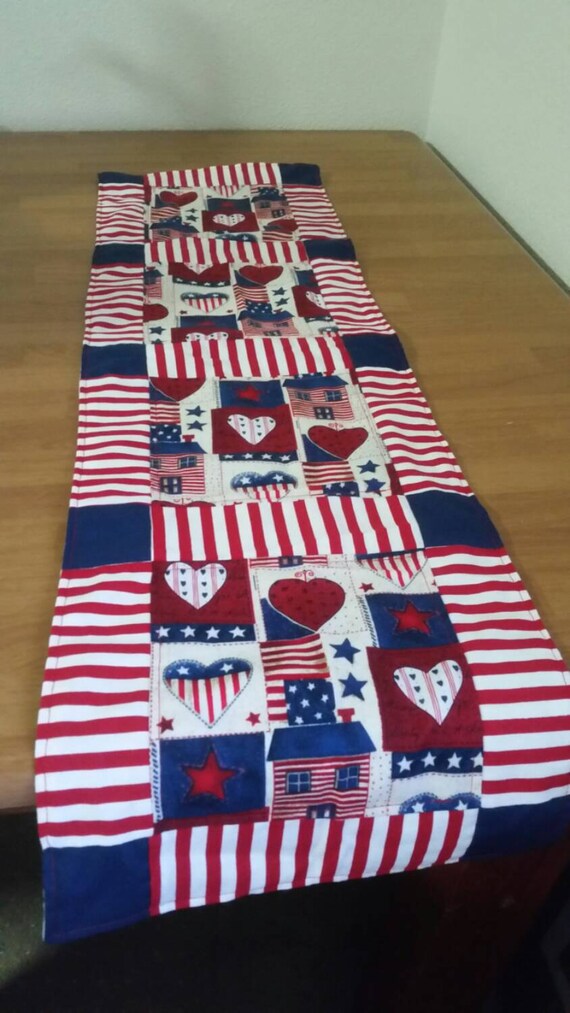 Country Pop Table Runner
The country Pop Table Runner is a great touch to your dinner table. It will give you a pop of color with an Americana feel.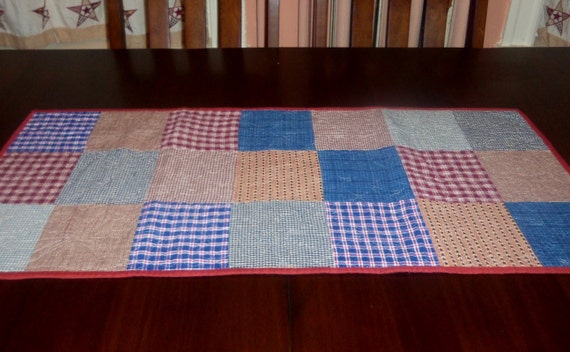 Quilted Americana Table Runner, 16x37 inches
Quilted Americana Table Runner, 16x37 inches, Handmade, Patriotic, Primitive Decor, Machine Quilted, Table Topper, Homespun Fabrics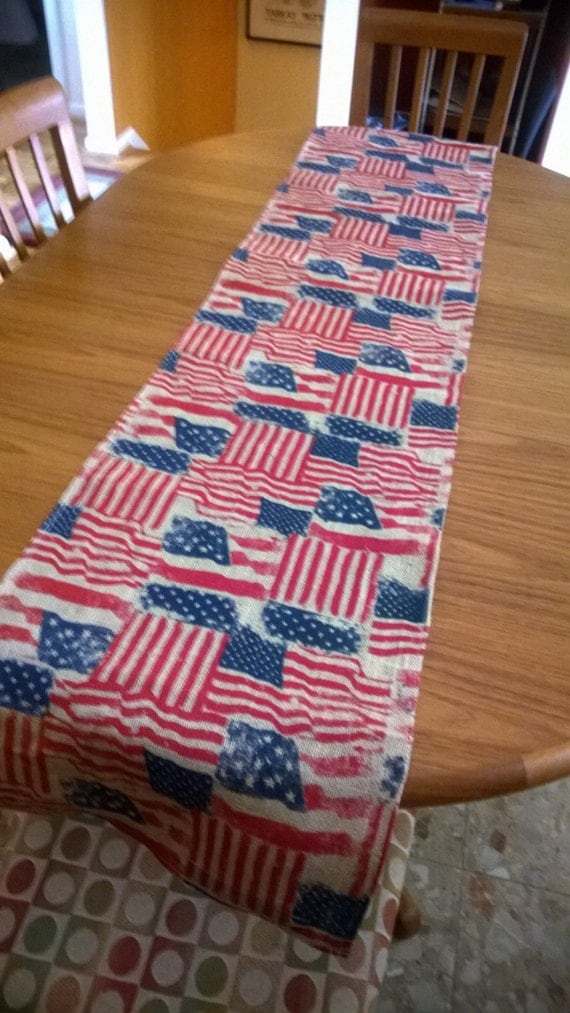 72" Natural Burlap Table Runner with Old Glory All Over It
Item is a 72" table runner in natural burlap with red and blue the flag of The United States of America printed on it.. This will definitely add to your groove. These runners are about 14-15" wide.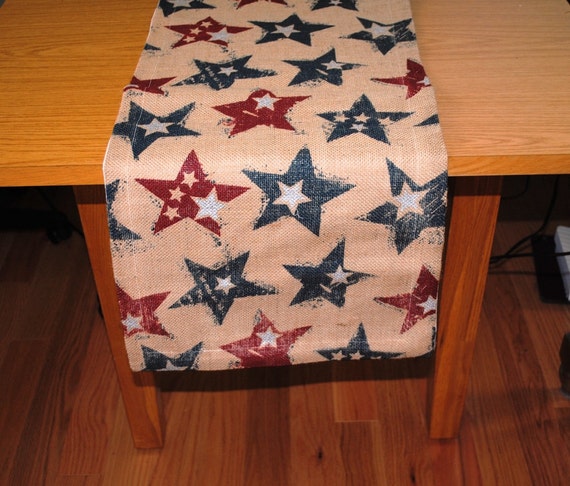 Burlap Table Runner Natural Stars Americana Red Blue Beige White One of a Kind
This burlap is so much fun, I had to buy it. It is natural color with red and brown holly. The design is modern and perfect for the holidays, but could easily be used all year. I have made these is 4 sizes, so check my shop if you want a different shape or size. There is only one of this runner . This runner measures 16"'x46" (36x114cm) It is backed with unbleached muslin.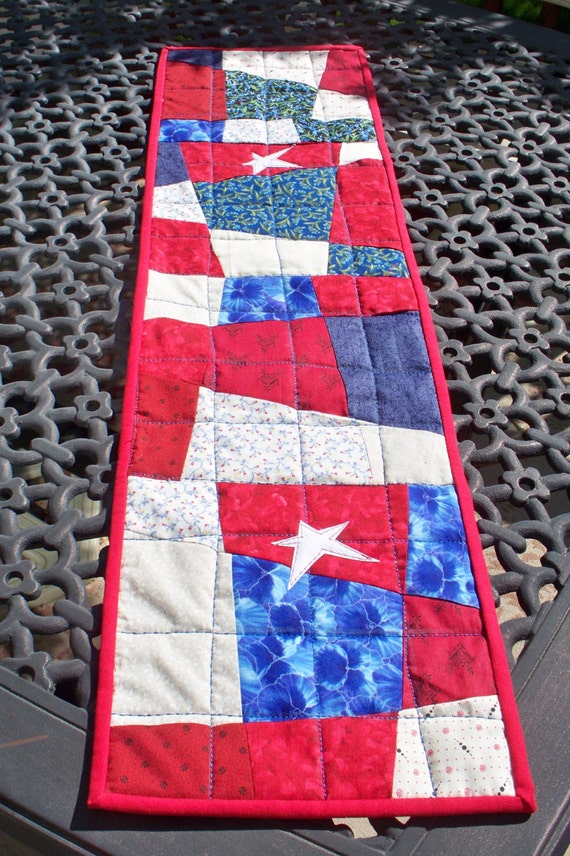 LIBERTY STAR RUNNER, 32 x 8 Red, White, and Blue Handmade Quilted Table Runner
Decorate your summer table with a 100% cotton red, white and blue quilted mat. Scrappy pieces are pieced in a wonky 9 piece block and quilted in a royal blue checkerboard pattern. The white stars are raw edged appliqued. The red binding is double bound and hand sewn to back. The back of the mini quilt quilt has a patriotic theme. The quilt can be machine laundered and dried to give a vintage pucker. Use as a wall hanging, candle mat, table topper, or trivet. It will give a pop of Americana to any party or room.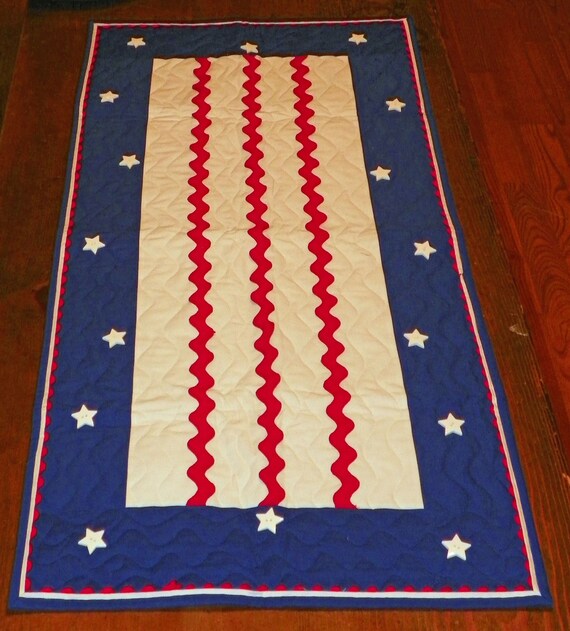 Reduced Price - Ric Rac and Stars table runner
This red, white & blue table runner measures21" x 41". It is made from high quality100% cotton fabrics, polyester blend ric rac and plastic star buttons. The backing is red and blue stars on white. It is quilted in a wavy pattern across the entire quilt. The binding is attached and finished by machine creating a small white piping and includes more red ric rac. There are 16 star shaped buttons scattered on the border.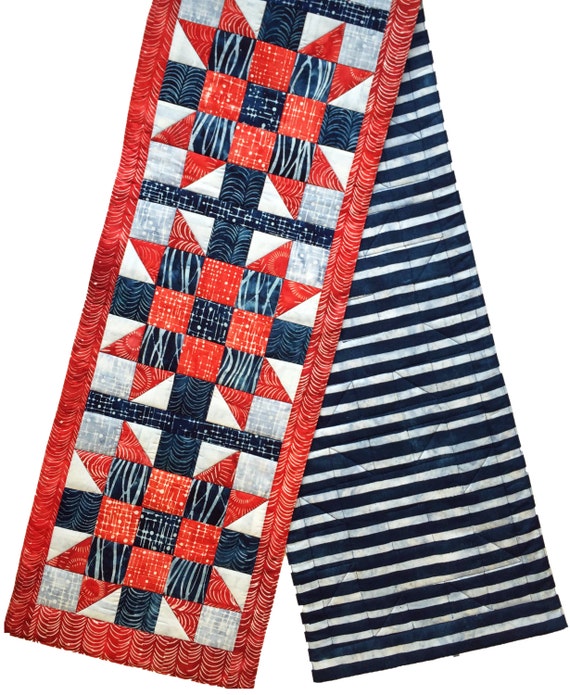 Kaufman Batik Star Burst Table Runner Kit - Patriotic Batik
This kit has all the pre-cut pieces needed to make a reversible table runner. Includes 6 Star Burst blocks, borders to go between and around the blocks, backing, and instructions. The blocks each have 9 Bali Batiks from Robert Kaufman Fabrics. Batting or fleece is not included. The table runner has a finished size of about 13 by 64 inches.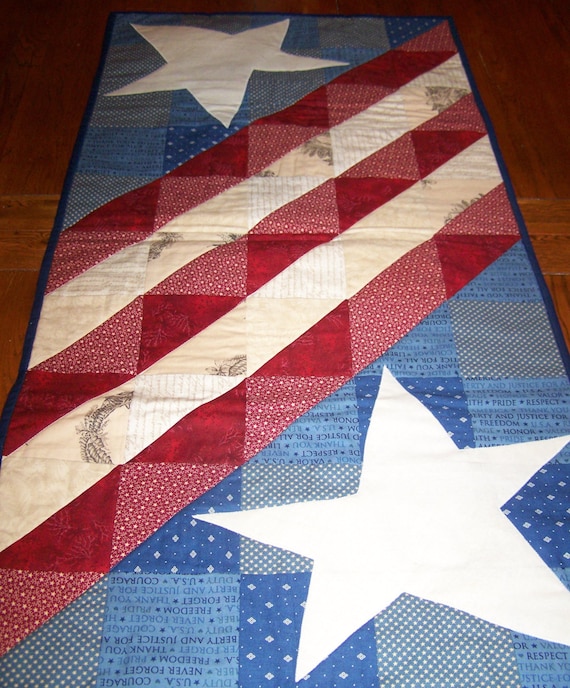 HANDMADE Americana Quilted Table Runner with Applique Star, Primitive Decor, Red White Blue, July 4th USA, Memorial Day, Patriotic
A Primitive Americana Table Runner made with scrap 100% Cotton Fabrics of Red, Off White & Blue. There is also 2 Large off-White Appliqued Stars on each end of the runner. The binding is navy blue and it has been hand stitched on the back. The backing is antiqued muslin in a off-white color. It is a perfect size of 39 1/2" x 19 1/2" will fit most tables.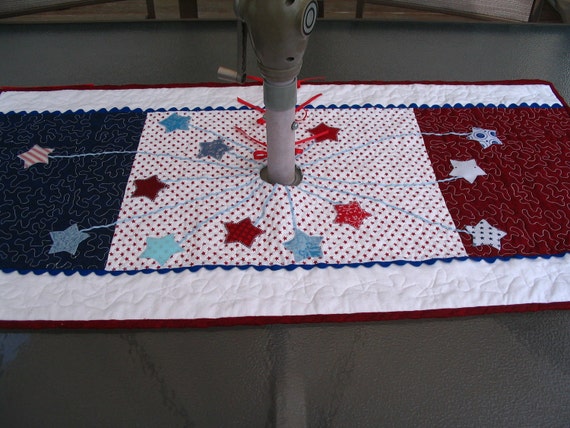 Primitive Americana, Patriotic Decor, Quilted Fireworks, Picnic Table Runner, Americana Decor, Independence Day, Red, White, Blue
Quilted table runner measures 19" x 38" and is made to accomodate your picnic table that uses an umbrella in the center. Fabrics used are cotton and are red, white and blue with various printed firework stars. Table runner is quilted with a meandering stitch as well as meandering stars in the borders. Perfect for your holiday table. Three ribbon ties to hold your runner secure to your picnic table.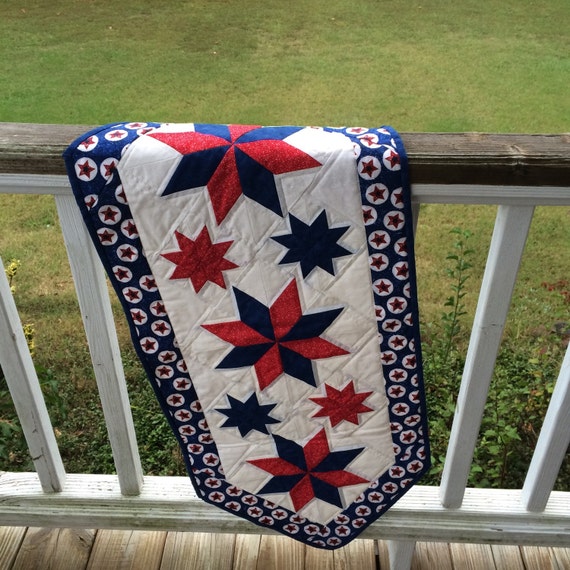 Stars Tablerunner
This patriotic table runner is made up of three red and blue stars and four additional stars of blue and red. It has a border of star fabric. It measures 16" x 41".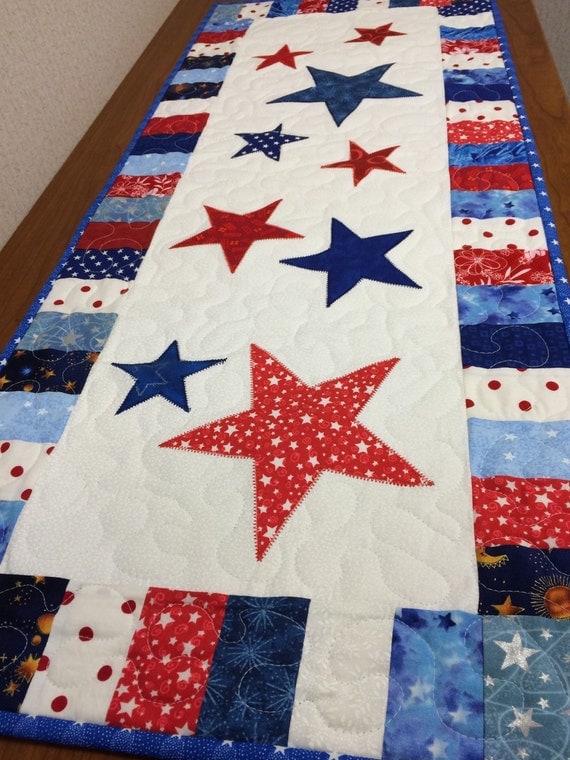 Patriotic Table Runner or Wall Hanging
This Patriotic table runner or wall hanging is full of red, white and blue colors to decorate your home for your 4th of July celebration. The bright colors will be a stunning statement for your home. It measures 15" x 37".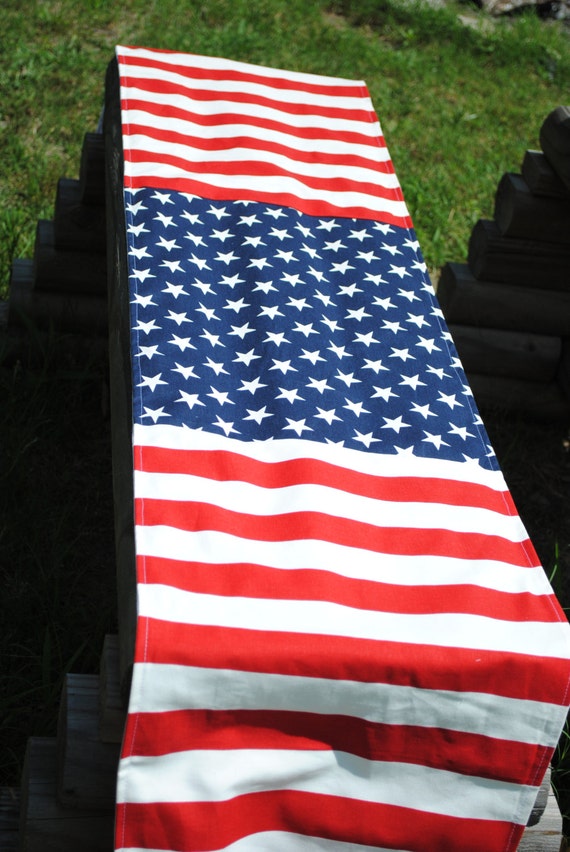 Patriotic flag table runner
Patriotic flag table runner celebrate the USA anytime! This patriotic flag table runner is approximately 14x72. It is fully lined, top stitched and has squared ends. Custom lengths available. Just convo me. Also see coordinating pillow covers.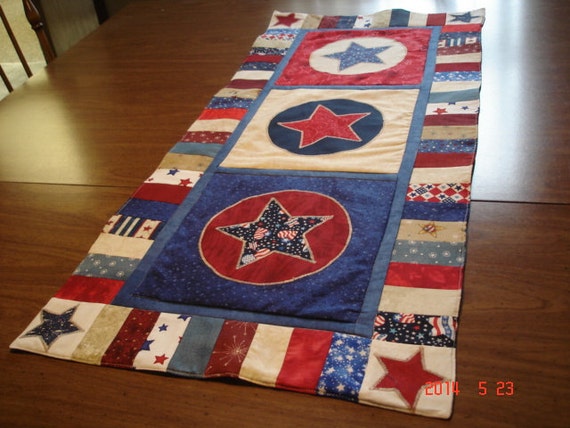 Patriotic tablerunner
This very colorful table runner measures 36" x 16" and would be great for that 4th of July celebration or simply decorate your table to show your patriotism. There are many shades of reds, blues, and whites and the backing is a blue on blue print. The fabrics are all washable, dryable, and may be pressed with hot iron when needed. Pellon batting is used for stability.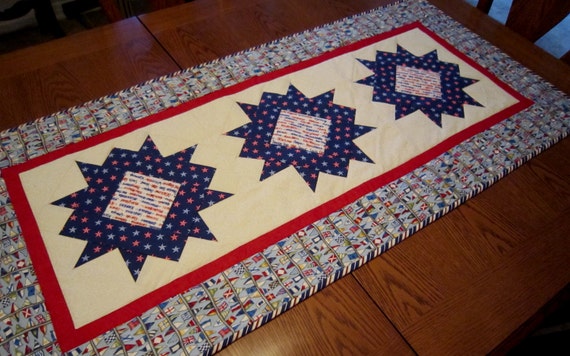 PATRIOTIC STARS Bold and Modern Table Runner from Quilts by Elena Wall Hanging
Can you imagine this table runner being the "star" of the show on your 4th of July table? Picture it on your picnic table as you get the BBQ ready, or perhaps you will hang it on the wall for a splash of red, white and blue in your kitchen. The stars are an original design from my Hill Country Stars pattern. The center of each star is a fabric listing all the names of the States and the backing fabric is the Pledge of Allegiance. Machine washable with line drying recommended, this table runner measures 23" x 48". This quilt has been sewn with cotton thread and lined with a premium cotton batting.
Go To
Fourth of July Table Runners Page ONE
Go To
Fourth of July Table Runners Page TWO
Go To
Fourth of July Table Runners Page THREE